JAASEP FALL 2014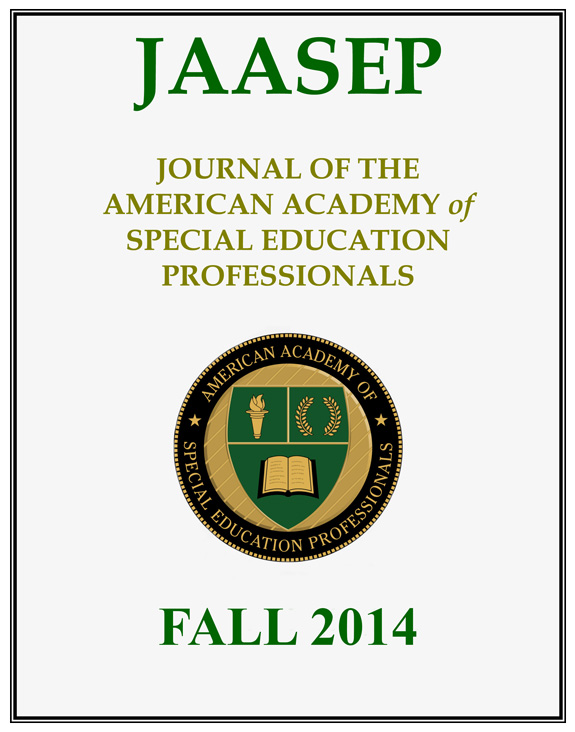 ---
Lesley Sylvan, Ed.D, CCC-SLP
---
Clarissa E. Rosas, Ph.D. and Kathleen G. Winterman, Ed.D
---
Vickie Miller-Warren, Ed.D.
---
Amanda Malfitano
---
Vita Jones, Ph. D., Kyle Higgins, Ph.D., Randall Boone, Ph.D., Susan P. Miller, Ph.D., & Nancy Sileo, Ed.D.
---
Karena Cooper-Duffy and Glenda Hyer
---
Brittany L. Hott, Anya Evmenova and Frederick J. Brigham
---
Margaret M. Flores and Toni M. Franklin
---
Randa G. Burks-Keeley, M.A. and Monica R. Brown, Ph.D.
---
Kimberly E Bryant Davis
---
Casey M. Breslin and Alice M. Buchanan
---
Dr Mohammed Alzyoudi, Professor  AbedAlziz. Sartawi and Dr. Osha Almuhiri
---
---
---
Download this Issue of JAASEP - Download Page
---
If you are a member of NASET, please login to freely access this and all archived issues of JAASEP
If you are NOT A MEMBER of NASET you may purchase this issue of JAASEP for $19.95 (use the Buy Now button below) or Join NASET for free access to this and all past issues of JAASEP.
---
JAASEP Editorial Board of Reviewers
JAASEP Executive
Editors
Roger Pierangelo, Ph.D.
George Giuliani, J.D., Psy.D.
JAASEP
Editorial Board
Nichole L. Adams, Psy. D.,
Nicholas Agro, J.D.
Dr. Mohammed Alzyoudi
Naomi Arseneau M.S. Ed
Vance L. Austin, Ph.D.
Faith Andreasen, Ph.D.
Diana Basilice, Ed.M.
Heather Bausano, Psy.D.
Rhonda S. Black, Ed.D.
Brooke Blanks, Ph.D.
Kara Boyer, M.S.Ed.
Casey M. Breslin, Ph.D.
Monica R. Brown, Ph.D.
Renee Brown, Ed.S.
Alice M. Buchanan, Ph.D.
Maricel T. Bustos, NBC
Debra Camp-McCoy, Ed.S.
Lynn Carlson, M.S.
Keri Chernichun, Psy.D.
Robert Colucci, D.O.
Lisa Dille, Ed.D.
Russell G. Dubberly, N.B.C.T., Ed. D.
Anne Durham, MM., MS. ME.
Tracey Falardeau Lindroth, M.A.
Neil Friesland, Ed.D.
Jeffrey Froh, Psy.D.
Leigh K. Gates, Ed.D.,
Anita Giuliani, M.S., S.A.S., S.D.A
Lola Gordon, Ed.S.
Matthew Glavach, Ph.D.
Sean Green, Ph.D.
Brittany L. Hott, Ph.D.
Victoria W. Hulsey, Ed. D.
Nicole Irish, Ed.D.
Julie Ivey-Hatz, Ph.D.
Bradley Johnson, Ph.D.
Christopher Kearney, M.S.
Noel Kok Hwee Chia, EdD, BCET, BCSE, FCP, FCoT, FCollP
Randa G. Keeley, M.A. (Doctoral Candidate)
Louisa Kramer-Vida, Ed.D.
Debra Leach, Ed.D.
Gloria Lodato Wilson, Ph.D.
Pamela E. Lowry, Ed.D. LDTC, NCED
Matthew Lucas, Ed.D., C.A.P.E.
Richard Lucido, Ph.D.
Jay R. Lucker, Ed.D., CCC-A/SLP, FAAA
Elisabetta Monari Martinez, Ph.D. Candidate
Scott Markowitz, J.D.
Alyson M. Martin, Ed.D.
Cara E. McDermott Fasy NBCT, Ph.D.
Cory McMillen, M.S.Ed.
Richard L. Mehrenberg, Ph.D.
Lisa Morris, M.S.
Shirley Mullings, Ed.D/CI
Lawrence Nhemachena, MSc
Myrna R. Olson, Ed.D.
Darra Pace, Ed.D.
Philip P. Patterson, Ph.D.
Denise Rich-Gross, Ph.D.
Clarissa E. Rosas, Ph.D.
Audrey C. Rule, Ph.D.
Edward Schultz, Ph.D.
Carrie Semmelroth, M.A.
Emily R. Shamash, Ed.D.
Dr. Mustafa Serdar KOKSAL
Cynthia T. Shamberger, Ph.D.
Tanya Spadaro, Ed.M.
Trisha Spencer, M.S.Ed.
Michelle Stephan, Ed.D.
Kristine Lynn Still, Ph.D.
Roben W. Taylor, Ed.D.
Amanda D. Tedder, M.ED.
Jessie S. Thacker-King, MED.
Raschelle Theoharis, Ph.D.
Vicki A. Urquhart, M.Ed.
Danielle Warnke, M.S. (Ph.D. Candidate)
Kathleen G. Winterman, Ed.D
Perry A. Zirkel, Ph.D., J.D., LL
JAASEP ManagingEditor
Richard Scott
---