Q & A Corner - Issue #11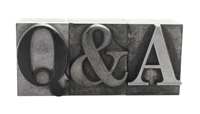 Issue #11 Questions and Answers about The Individual Evaluation Process for Special Education
This NASETQ & A Corner will provide you with the answers to the following questions about Individualized Evaluation Process for Special Education:
What is an Evaluation for Special Education?
What are the Components of a Comprehensive Evaluation?
How Should Parent/guardians go about Obtaining School Records on his or her Student?
What Should a Parent/guardian Expect and Provide for the Parent/guardian Intake or Interview?
NASET Members - Login to access this issue of the NASETQ & A Corner