Q & A Corner - Issue #1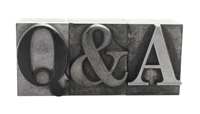 This weeks' issue of
NASET

Q & A Corner presents the following questions.
NASET Members - Login to access this issue of the NASETQ & A Corner
Issue # 1 Questions:
I was talking to a parent about her son's recent referral for an evaluation for a suspected learning disability. She said she gave consent to do it. Is consent just a parental signature or is there more to it? What does it really take to give "consent"?
I was recently speaking to a parent of an 18 month old boy. She is knowledgeable about signs of autism when children are 2 or 3 years of age but wanted to know what the most common early indicators of autism were. Are there any "early indicators" of autism?
Recently at an IEP meeting for a child, the child's foster parent attended. Is this person consider the "parent" under IDEA 2004?
I'm looking at an educational report of a child and it reports stanines. What is that?
There is a child in our school that we feel needs to be evaluated for a possible disability. The parents refuse to give consent. Do we need their consent?
I keep hearing about all the kids with ADHD. Bottom line, how many kids are actually diagnosed with ADHD? Is it really so many more boys than girls?
What classification of disability has the largest disparity between boys and girls in special education?
Is it true that African American males are overrepresented in the special education classification of Emotional Disturbance?
Administrators in our school have been talking about "high risk" students. Yet, there is no such term as a special education category? What does it mean to be a "high risk" student?
We use the word "hyper" all the time to describe an active child. Yet, I know that a child with ADHD will often have "hyperactivity." How is "hyperactivity" different from just boys being boys or kids with just more energy than others?