Week in Review - March 22, 2019

NASET
WEEK IN REVIEW
National Association of Special Education Teachers
March 22, 2019 Vol 15 Issue #12
---

---
Dear NASET News,

Welcome to NASET's WEEK in REVIEW. Here, we provide you with the latest publications fromNASET to read and or download, as well as some of the most interesting articles that have happened this week in the field of special education. We hope you enjoy this publication. Feel free to send us articles for this publication or let us know your thoughts about the WEEK in REVIEW at news@naset.org. Have a great weekend.

Sincerely,
---

---
NEW THIS WEEK ON NASET
NASET's Practical Teacher Series
Positive Student-Teacher Relationships: An In-Depth Look into a Behavior Program and its Implications for Teachers of Students with EBD
---
This issue of NASET's Practical Teacher series was written by Nancy Reigel from the University of South Carolina. Students with Emotional and Behavioral problems struggle in the classroom for a variety of reasons. Research shows that teachers can react negatively or positively in situations. A Positive Teacher relationship has been shown to be highly effective in increasing academic gains of students with Emotional and Behavioral Disorders (EBD) but the research is fairly inconsistent. A look into a behavior program primarily designed for students who display severe forms of verbal and physical aggression. A deep look into the program and how teachers form strong lasting relationships with students. Research shows that teacher relationships, teacher intervention strategies along with strong social skills components are crucial to developing lasting skills with students with EBD. The findings of this program will reveal a deep commitment and understanding by the teachers and students in the program with regard to teacher-student relationships and impact on the students' academic development. Read More
---
Students with Disabilities Fear Blowback from College Admissions Scandal
Allegations of a complex and illegal scheme by wealthy families to get their children into top universities has students with disabilities, their families, and advocates worried about the backlash. In a lengthy indictment released Tuesday, federal authorities charge that some students lied about having disabilities so they could get special accommodations on college admissions tests. As the details spilled out, people with disabilities took to social media to say that unsympathetic teachers, test officials and professors already make it hard enough on students with disabilities, particularly disabilities that are "invisible," such as dyslexia or attention deficit hyperactivity disorder. Having accommodations and disabilities linked to this elaborate scam is devastating, they said. "It's so frustrating, because the people who will be hurt by this will the ones who need the accommodations," said Lindsay Jones, the chief executive officer of the National Center for Learning Disabilities. "And it's not going to be in the news when they're hurt by this. It will be in those quiet moments, where they're sitting in the disability office" at a college or university, she said. Read More
---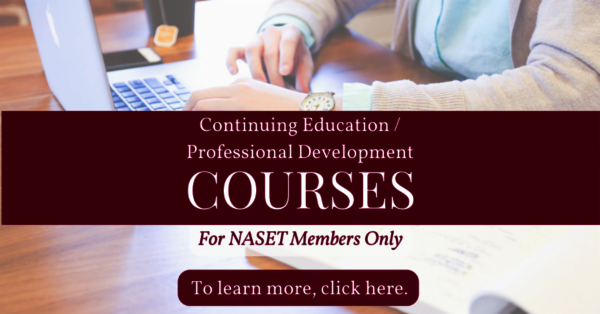 ---
In Wisconsin, Supporters Testify about Bill to Remove Derogatory Word for People with Disabilities
Families and advocates for people with intellectual disabilities gathered at the State Capitol on Wednesday to voice their support for Assembly Bill 20. The bill would remove words like "mental retardation" and "retarded" from state agency documents. The Committee on State Affairs held a public hearing on the bill. Marybeth Mielke and her 18-year-old son Brock traveled from Hartland, Wis. to show their support. They said the "r-word," even if it is not directed at people with disabilities, is still hurtful. "The r-word means bad feelings," Brock said. "It hurts me." Brock has Down syndrome, but his disability does not stop him from being successful. Read More
---
Treating Generalized Anxiety Disorder in Kids
Anxiety disorders are very common in childhood. One of every 5 children will develop an anxiety disorder, and left untreated, it can persist into adulthood. Most anxiety disorders first develop when a child is 6 to 12 years old. There are several different disorders that can arise, but they all have a few symptoms in common. Hypervigilance, the state of being exceedingly alert to any potential danger, is common to all anxiety disorders. This is the child who startles easily, is always looking to see if anyone is angry or overreacts to everything going on around them because he or she is concerned it could mean something is wrong. Anxious children have difficulty with new situations of any kind; they tend to find novelty uncomfortable or scary. They also tend to see their world in more threatening ways than other children do. Read More
---
Expectant Mothers Can Prevent Fetal Brain Problems Caused by the Flu, Study Finds
Choline, an essential B vitamin nutrient, can prevent fetal brain developmental problems that often occur after prenatal maternal infections such as colds and influenza (flu). The study, published today in the Journal of Pediatrics, is led by members of the University of Colorado School of Medicine faculty at the CU Anschutz Medical Campus. The findings are critical because viruses, such as the flu, in pregnant women, have been linked with fetal brain problems and mental illness like Attention Deficit Disorder and Schizophrenia later in life. Read More
---
---
TRIVIA QUESTION OF THE WEEK
This Week's Trivia Question:
According to researchers from Ann & Robert H. Lurie Children's Hospital of Chicago, deaf children who received this device before 12 months of age learn to more rapidly understand spoken language and are more likely to develop spoken language as their exclusive form of communication. In their study, published in Otology and Neurotology, this was true even for children with additional conditions often associated with language delay, such as significantly premature birth. What is the device?
If you know the answer to this week's trivia questions, email it to us at contactus@naset.org by March 25, 2019. If you are correct, you will be acknowledged in next week's NASET's Week in Review
---
'Ability Day' Lets Students Observe the Challenges that Those with Disabilities Face
Local kids are getting a look at how classmates with challenges live their daily lives. It's through a program called "Ability Day" at Northridge Middle School. The event was held in a carnival-like atmosphere, with a lot of activities on tap. The 6th and 7th graders learned how to use a wheel chair in a disability simulation. The 8th graders were paired up with younger special needs students with in Pre-K through elementary. They worked on activities together. "It's definitely about learning and learning how to access others with disabilities, but how to be a good friend," said Tiffaney Ray, life skills teacher. "It's really about learning how to be a good friend to people with disabilities." Read More
---
Mental Health Woes Are Rising in Young Americans -- Is Social Media to Blame?
Young Americans may be more vulnerable to depression, distress and suicidal thoughts or attempts than their parents' generation, and social media might be fueling that troubling trend. So claims a review of a decade's worth of data on roughly 200,000 teens between the ages of 12 and 17, and 400,000 young adults over 18. Investigators found that beginning in the mid-2000s, those under the age of 26 started reporting a huge rise in symptoms related to all three mental health problems. The spikes ranged from about 55 to 70 percent. No such jump was seen among adults over the age of 26. Read More
---
Latest Test of Promising Autism Therapy Shows Only Mild Benefits
A much-touted behavioral therapy for autism, the Early Start Denver Model (ESDM), may not be as effective as its creators had hoped. In the latest study of the therapy, it did not improve children's intelligence quotients (IQ) or adaptive behavior any more than other treatments. Children treated with ESDM showed some improvement in their language, but only at two of the three study sites. Independent experts say the results are disappointing, and they question some of the methods used to generate them. Read More
---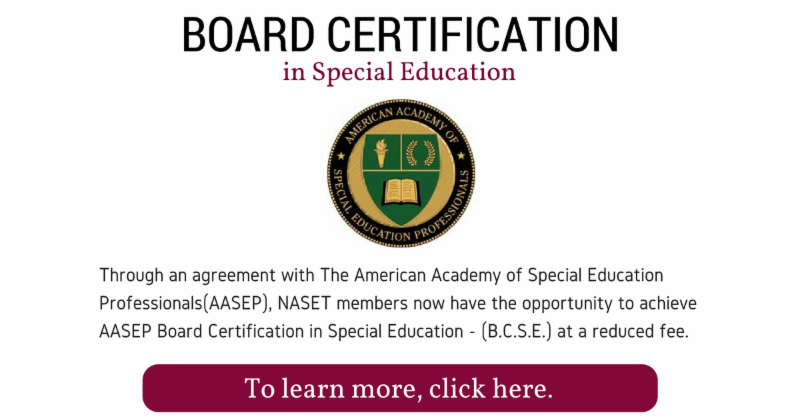 ---
Simple Directions from Parents Can Guide Children's Discovery
Whether it's probing a child's understanding of a topic through questions or engaging in hands-on activities alongside them, parents can guide their children to learn in new ways through simple directions, according to a study by psychology researchers at The University of Texas at Austin. Prior research shows that children use both exploration and explanation when learning, oftentimes using exploration to generate new explanations and using explanations to spark further exploration. A new study published in Child Development examines this interplay to show how simple cues from parents for their children to either "explain" or "explore" influences their children's learning behavior and abilities, particularly as it relates to scientific reasoning. Read More
---
Board Certification in Special Education Available to NASET Members

Through an agreement with The American Academy of Special Education Professionals(AASEP), NASET members now have the opportunity to achieve AASEP Board Certification in Special Education - (B.C.S.E.) at a reduced fee. AASEP Board Certification in Special Education - (B.C.S.E.) is a voluntary choice on the part of the candidate. The candidate for Board Certification wishes to demonstrate a commitment to excellence to employers, peers, administrators, other professionals, and parents. From the standpoint of the Academy, board certification will demonstrate the highest professional competency in the area of special education. Board Certification in Special Educationestablishes a much needed standard for professionals, across disciplines, who work with exceptional children. Read More
---
IQ a Better Predictor of Adult Economic Success than Math for Very Preterm and Very Low-Weight Babies
IQ in childhood is a better indicator of adult wealth than math for very preterm and very low-weight babies, according to a new study in PLOS ONE. These findings contrast with previous evidence suggesting the specific importance of math skills for economic achievement. "Considering preterm and low-birthweight individuals' multiple neurocognitive difficulties, our results suggest that IQ is a more significant predictor of adult wealth than the ability to solve specific math problems," said Julia Jaekel, associate professor of child and family studies, who coauthored the study with Nicole Baumann and Dieter Wolke from the University of Warwick and Peter Bartmann from the University of Bonn. Read More
---
Can a Robot Help Children with Autism Connect?
Holding the 10-year-old boy by the hand, occupational therapist Krista Stephens leads Joshua into her classroom, where a two-foot-tall talking robot awaits them. "You ready to work with Milo?" asks Stephens, guiding Joshua to a seat at a small table where he and Milo the robot practice standard greetings and social behaviors that would seem basic for most children-but not for autistic kids. "Say hi to Milo," Stephens prompts, as Joshua reaches to touch the robot's hand when it waves to him, then mimics the wave with his own hand. "Say hi to Milo," Joshua repeats. Fourth grader Joshua is one of 10 students with autism working with Milo at Lester Elementary, a 445-student school in Florence, South Carolina, where one in four students is autistic. Sixteen districts in the state are test-driving Milo as part of a three-year pilot with the state Department of Education that will determine if there's enough student benefit to bring the robot to more schools. Read More
---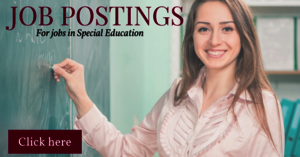 ---
Potential Cystic Fibrosis Treatment Uses 'Molecular Prosthetic' for Missing Lung Protein
An approved drug normally used to treat fungal infections could also do the job of a protein channel that is missing in the lungs of people with cystic fibrosis, operating as a prosthesis on the molecular scale, says new research from the University of Illinois and the University of Iowa. Cystic fibrosis is a lifelong disease that makes patients vulnerable to lung infections. There are treatments for some but not all patients, and there is no cure. The drug restored infection-fighting properties in lung tissue donated by human patients as well as in pigs with cystic fibrosis. It has potential to become the first treatment to address all types of cystic fibrosis, regardless of the genetic mutation that causes the protein deficiency. Read More
---
Binge Drinking in Adolescence May Increase Risk for Anxiety Later in Life
A growing body of evidence supports the idea that alcohol exposure early in life has lasting effects on the brain and increases the risk of psychological problems in adulthood. Now, researchers at the University of Illinois at Chicago have found that adolescent binge drinking, even if discontinued, increases the risk for anxiety later in life due to abnormal epigenetic programming. The findings of the study, which was conducted in animals, was published in the journal Biological Psychiatry. "Binge drinking early in life modifies the brain and changes connectivity in the brain, especially in the amygdala, which is involved in emotional regulation and anxiety, in ways we don't totally understand yet," said Subhash Pandey, professor of psychiatry in the UIC College of Medicine, director of the UIC Center for Alcohol Research in Epigenetics and lead author of the study. Read More
---
Families and Schools May Play Key Roles in Promoting Adolescent Self-Confidence
Self-confidence is critical for teens as they prepare for the challenges of adulthood, and both families and schools may together play a vital role in boosting adolescents' confidence even in the face of difficulties with family, according to researchers. The researchers examined how a variety of factors affected adolescents' self-efficacy -- a person's belief that they have the ability to overcome challenges and be successful, similar to self-confidence. They found that adolescents who frequently witnessed their parents arguing or engaging in other forms of conflict experienced lower self-efficacy later on. But, success in school and support from peers were able to help compensate for family problems, and even boost self-efficacy higher than those losses. Read More
---
First Double-Blind Controlled Trial of Trigeminal Nerve Stimulation (TNS) Shows Reduced Symptoms in Some Children with ADHD
Currently approved in Canada and Europe for adults with medication-resistant depression and seizures, trigeminal nerve stimulation (TNS) has been found to be an effective and safe means of treatment for children with attention deficit hyperactivity disorder (ADHD), reports a study published in the April 2019 issue of the Journal of the American Academy of Child and Adolescent Psychiatry (JAACAP). TNS utilizes a small stimulator worn on a child's clothes to emit a low-level current, powered by a 9-volt battery. Thin wires are connected to the device with an adhesive electrode patch worn across the forehead during sleep. Mild stimulation to the skin, barely or not perceptible to the child, led to activation of deeper brain areas associated with concentration and impulse control. Children wore the patch an average of eight hours nightly and patches were removed each morning. Read More
---
Brain's Ability to Synchronize Voice Sounds Could Be Related to Language Learning
Researchers from the Institute of Neurosciences of the University of Barcelona (NeuroUB) and the Bellvitge Biomedical Research Institute (IDIBELL) and from the New York University (USA), studied the synchronization of speech motor rhythms, i.e. the coordinated movements of the tongue, lips and jaw that build up the speech, with speech audio rhythms. Results show some people's brains adapt spontaneously to align with the rhythm of the voices they hear, while others do not. According to the research study in Nature Neuroscience, these patterns show differences in functional and structural aspects of the speech network in the brain, as well as the ability to understand new words. These findings would help assessing the speech and cognitive development in kids. Read More
---
Honor Society for Special Education Teachers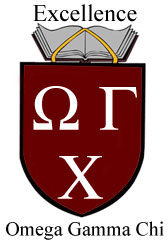 ---
Infants' Advances in Speech Processing Play Role in Language-Cognition Link
A new Northwestern University study provides the first evidence that infants' increasingly precise perceptual tuning to the sounds of their native language sets constraints on the range of human languages they will link to cognition. According to the researchers, this reveals that as early as 3 to 4 months, infants' advances in speech processing play a central role in their establishment of a language-cognition link. Previous work in the researchers' lab had found that for infants at 3 to 4 months, listening to both human vocalizations (their native language) and nonhuman primate vocalizations (lemur calls) boosted cognition. But it remained unknown whether all human languages would have this advantageous effect. Read More
---

---
LATEST JOB LISTINGS POSTED ON NASET
*Director of Special Services - Elmwood Park School District, a K-12 Suburban District, is seeking a Director of Special Services for the 2019-2020 School Year. Starting July 1, 2019. Candidates for this position are required to have New Jersey Supervisor and Principal Certification. To learn more - Click here
*Special Education Teachers - Responsible for providing an educational atmosphere where students have the opportunity to fulfill their potential for intellectual, emotional, physical, spiritual and psychological growth. This person is responsible for organizing and implementing an instructional program that will maximize the learning experience of students with special needs. To learn more - Click here
* Special Education Teacher -Seattle Public Schools is seeking gap-closing, equity-focused educators to lead the way in eliminating opportunity gaps for our students. As an educator in SPS, you have the opportunity to have a profound and lasting positive impact on the lives of Seattle students. To learn more - Click here
* Teacher - Special Education (All Areas) - Approximately 100 positions! -We are looking for highly motivated and skilled talent to join our team at District of Columbia Public Schools (DCPS). We seek individuals who are passionate about transforming the DC school system and making a signifiant difference in the lives of public school students, parents, principals, teachers, and central office employees. To learn more - Click here
*Special Education Teacher - $50,000/school year (185 days), summers off with year round pay and year round appreciation. Special Education Teachers needed in Arizona (Phoenix and surrounding cities). Needs are in the self-contained and resource settings serving students with emotional disabilities (ED), Autism (A), Severe/Profound (S/P), and Intellectual Disabilities (ID). To learn more - Click here
* Physical Education Teacher - Jewish Child & Family Services (JCFS) provides vital, individualized, results-driven, therapeutic and supportive services for thousands of children, adults and families of all backgrounds each year. To learn more - Click here
If you are an Employer looking for excellent special education staff - Click here for more information
---

---
Food For Thought..........
I'm dejected, but only momentarily, when I can't get the fifth vote for something I think is very important. But then you go on to the next challenge and you give it your all.
Ruth Bader Ginsburg
---