Cyberbullying: What Parents Need to Know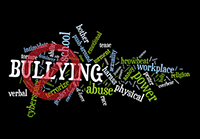 Bullying of Children
topic presented
in this issue:
The Roles Children Play in Bullying
---
Cyberbullying is bullying that takes place using electronic technology. Electronic technology includes devices and equipment such as cell phones, computers, and tablets as well as communication tools including social media sites, text messages, chat, and websites.
Examples of cyberbullying include mean text messages or emails, rumors sent by email or posted on social networking sites, and embarrassing pictures, videos, websites, or fake profiles. Kids who are being cyberbullied are often bullied in person as well. Additionally, kids who are cyberbullied have a harder time getting away from the behavior. This issue of NASET's Bullying of Children comes from the U.S. Department of Health & Human Services and will focus on cyberbullying and can be used as an excellent resource guide for parents.
If you are a member of NASET, please login to freely access this and all archived articles.
If you are NOT A MEMBER of NASET you may purchase this article for $.99 (use the "Buy now" button above) or Join NASET for free access to this and all articles within past publications..
NASET Members may access this Bullying of Children by Logging in (see Login area to the right). Visitors can access a sample issue by Clicking Here