Becoming a Teacher Ambassador to Combat Bullying of Students with Special Needs in an Elementary School Setting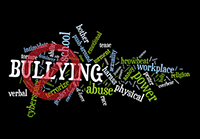 Bullying of Children
topic presented
in this issue:
Becoming a Teacher Ambassador to Combat Bullying
---
By Allison Griffin Ellenwood
University of South Carolina
This issue of NASET's Bullying of Children series was written by Allison Griffin Ellenwood of the University of South Carolina. Many students with disabilities are bullied within their schools. This can lead to a negative self-image, depression, and even suicide. A way to combat the bullying of students with special needs, specifically Autism, is to help build a culture or acceptance and awareness within the school environment. This article summarizes the steps taken in one elementary school in Irmo, South Carolina to build acceptance for students with Autism. These steps are offered to give other educators of students with Autism or other special needs ideas of how they might build an inclusive and accepting community within their own schools.
NASET Members may access this Bullying of Children by Logging in (see Login area to the right). Visitors can access a sample issue by Clicking Here