Week in Review - June 16, 2023

NASET's WEEK IN REVIEW
June 16, 2023 | Vol 19 Issue #24
---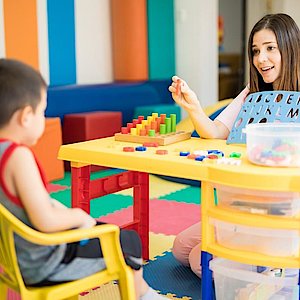 NASET Member!
Welcome to NASET's WEEK in REVIEW. Here, we provide you with the latest publications from NASET to read and or download, as well as some of the most interesting articles that have happened this week in the field of special education. We hope you enjoy this publication.
Feel free to send us articles for this publication or let us know your thoughts about the WEEK in REVIEW at news@naset.org.
Have a great weekend!
---
WHATS NEW AT NASET
Table of Contents
JAASEP SPRING/SUMMER 2023
---
Top Stories of the Week
A New Employment Model for People with Autism and Intellectual Disabilities
How Administrators Can Support Early Childhood Teachers
Governor Creates State's First Office of Special Education
More than 10,000 Preschool Kids Missed Required Education Services this Year
Tracking Symptom Severity in ADHD
Kids with ADHD, Behavior Issues have Poorer Trajectories as Adults
How Does Attention Dysregulation Impact Anxiety, Cognition, and Low Mood Among Adolescents?
Using Inquiry to Create Inspiring Field Trips
How Important was Your Favorite Teacher to Your Success? Researchers have Done the Math
---

---
TRIVIA QUESTION OF THE WEEK

Congratulations toBernice Coleman, Katrina Snider, Barbara Cole, Patsy Ray, Lauro Esquliona III, Karen Frantz-Fry, Saisha Khanna, Ellen Kay, Wendy Schilling, Robin Martin, and Nikita McFarland who all knew the answer to last week's trivia question:
The first person with a double above-the-knee amputation to climb this mountain recently returned pledging to dedicate the rest of his life to helping people with disabilities. Hari Budha Magar, a former Gurkha soldier who lives in Britain, reached the peak of this mountain stating, "My main aim for the rest of my lifetime is going to be working to bring awareness about disability". As a soldier in a Gurkha regiment in the British army, Magar lost both his legs in Afghanistan when he accidently stepped on an improvised explosive device in 2010. What mountain did Hari Budha reach the peak of as the first person with a double above-the-knee amputation?
Answer: MOUNT EVEREST
This week's trivia question:
According to the latest research in the field, growing up with this undiagnosed disorder negatively impacts women's self-esteem, mental health, well-being, and relationships, while diagnosis and treatment for the disorder increase feelings of self-acceptance and self-worth. Women with this undiagnosed disorder are most likely to experience impairment in the areas of social-emotional well-being, relationships, and life control, according to the research — the first of its kind to examine how under-diagnosis impacts the mental, emotional, and physical health of women. What is the disorder?
If you know the answer to this week's trivia questions, email it to us at contactus@naset.org by June 20, 2023. If you are correct, you will be acknowledged in next week's NASET's Week in Review
---
---
Children with Behavior Problems Earn Less, have Less Education and Poorer Health as Adults, Research Suggests
Newly Discovered Brain Mechanism Linked to Anxiety, OCD
Offering Meaningful Work Opportunities for People with Disabilities
Teachers are on the Front Lines of a Battle to Change how Teens Use Social Media
Key Concepts in Designing AI-Based Learning Strategies
Collaborative and a Bit Noisy: Mass. School Districts Explore Alternatives to Exams
NYC's Literacy Mandate: Why One Reading Program is Gaining the Most Traction
Baseball Program Offers Kids with Disabilities the Chance to Swing for the Fences
---
Exploratory Survey Study on Settlement of IDEA Legal Disputes
Simple, quick survey that takes less than 10 minutes. For attorneys, parent advocates, and other third-party neutrals who have participated in at least 8 settlements of IDEA disputes in the past 10 years. Please contact Annie Lockwood at (512) 922-2060 or avlockwood@gmail.com
---
Latest Job Listings on NASET
* [2023-2024] Middle School ELA Learning Specialist - Reporting to the Academic Dean, the Middle School ELA Learning Specialist will be responsible for providing tailored support to students with special education needs, through integrated co-teaching, in small group settings, or a combination of both. This is an exciting opportunity for a seasoned educator who is passionate about ensuring all students succeed and thrive in school. To learn more- Click here
* Dual Language (Spanish/English) Resource Specialist Demonstration Teacher-Elementary - The Dual Language Resource Specialist Demonstration Teacher will spearhead the implementation of models of differentiated instruction, progress monitoring tools, and various assessments to support specialized, small-group instruction in reading, writing, and math and work to identify, introduce, and maintain blended learning models to enhance opportunities for personalized learning. To learn more- Click here
* Special Education- Preschool, Preschool Autism (PAC), Visual Impairment Teacher - Provides and is accountable for the planning, assessment, instruction, communication, human relations, safety, and management of a classroom or assigned instructional setting. Supports FCPS mission to "inspire, enable, and empower students to meet high academic standards, lead ethical lives, and demonstrate responsible citizenship." To learn more- Click here
* Special Ed – Middle/High School ED/ID/LD/MD/Severe Disabilities Teacher - Provides and is accountable for the planning, assessment, instruction, communication, human relations, safety, and management of a classroom or assigned instructional setting. Supports FCPS mission to "inspire, enable, and empower students to meet high academic standards, lead ethical lives, and demonstrate responsible citizenship." To learn more- Click here
* Special Ed – Elementary School ED/ID/MD/Severe Disabilities Teacher - Provides and is accountable for the planning, assessment, instruction, communication, human relations, safety, and management of a classroom or assigned instructional setting. Supports FCPS mission to "inspire, enable, and empower students to meet high academic standards, lead ethical lives, and demonstrate responsible citizenship." To learn more- Click here
* Special Education Teacher (Phoenix, AZ) - Great Hearts Academies is committed to serving the students within our special education population in a manner that reflects and affirms their dignity and rightful participation within the larger student body. Through the use of consultation, resource, and inclusion models in a variety of academic environments, the Special Education team aims to provide support for students while working to ensure as much time as appropriate is spent within the general classroom. To learn more- Click here
* Special Education Teacher (San Antonio, TX) - At Great Hearts, our Special Education Teachers and Coordinators are integral members of our faculty, participating in all faculty-wide events and PD, while also bringing the specialized expertise that is necessary for the success of all our students. To learn more- Click here
* Special Education Teacher (Dallas/Ft. Worth, TX area) - Great Hearts Academies is a growing network of 43 public, open-enrollment, tuition-free schools in San Antonio (TX), Dallas/Ft. Worth (TX), Phoenix (AZ), and (opening in fall 2023) Baton Rouge (LA). We currently provide over 24,000 K-12 students with access to a high quality, classical liberal arts education, without the barriers that often come with private prep schools. To learn more- Click here
* Special Education Teacher (Windsor, CO) - Do you want to grow your career in an American Classical Education, helping students to live responsible, courageous and virtuous lives? Ascent Classical Academies seeks additional dedicated special education teachers who love the content-rich curriculum, explicit phonics, and a truly supportive environment for its K-11 Northern Colorado campus in Windsor, Colorado. To learn more- Click here
* [2023-2024] High School Science Learning Specialist - Reporting to the Academic Dean, the High School Science Learning Specialist will be responsible for building meaningful relationships with students, implementing a Common Core-aligned curriculum, and working with their grade team to analyze data to drive instruction. This is an exciting opportunity for an educator who is passionate about improving student outcomes by leading excellent instruction and building a positive school culture. To learn more- Click here
* Special Education Teacher (Sub-Acute Adolescent Care Unit / Hospital Setting) - Uphold all principles of confidentiality, Health Insurance Portability and Accountability Act (HIP AA), and patient care to the fullest extent. Adhere to all FDIHB policies and the professional and ethical behavior standards of the healthcare industry. Interact in an honest, trustworthy and dependable manner with patients, employees and vendors. To learn more- Click here
* [2023-2024] High School Dean of Student Supports- Like all DREAM employees, the Dean of Student Supports should demonstrate a strong commitment to the mission and values of DREAM and have substantial expertise in all areas of responsibility. Candidates must also value DREAM's comprehensive approach to education and desire to make a lasting impact in underserved communities as part of a growing organization. To learn more- Click here
* [2023-2024] Dean of Student Supports - Reporting to the Principal, this position will serve as a leader for staff and parents with regard to special education services and regulations. In addition, the Dean of Student Supports will work closely with the Network Director of Special Education and the school-based leadership team to ensure the implementation of special education policies and the integration of student support services. To learn more- Click here
* TEACHER OF SPECIAL EDUCATION - The Superintendent invites qualified and interested persons to apply for the position of Teacher of Special Education. The Newark Board of Education is where passion meets progress. We want you to discover a rewarding career with us. If the opportunity to make learning limitless excites you then, join our community of educators. To learn more - Click here
* Exceptional Education Teacher - *Sign on bonuses of $8,000* Hamilton County Schools, located in Chattanooga, TN, is building the best school district in Tennessee. We are committed to excellence for every student and are seeking outstanding teachers with the ability to inspire, engage, and who desire to make a difference in the lives of students. With nearly 80 schools located in urban, rural, and suburban communities, we are confident that you can find your place in Hamilton County. To learn more- Click here
* Special Education Teacher 2023-2024 SY - At Epic Special Education Staffing, you will have the opportunity to apply your unique expertise to school-based special education as your singular focus. We offer stimulating and rewarding careers in special education which provide an opportunity to make a difference in a child's life while enhancing your personal and career growth! To learn more- Click here
* Special Education Teacher 2023-2024 SY - If you're looking to leverage your expertise to make a real difference in special education- you belong at Epic Special Education Staffing. We Go All In…we are fully invested in everything we do. Whether it's work or play, we bring our strengths and passion to give our team and our partners 100%. To learn more- Click here
* Special Education Teacher 2023 2024 SY - Epic Special Education Staffing is partnering with an exceptional school district who is looking for several contract Special Education Teachers for the 2023-2024 school year. To learn more- Click here
* Special Education Teacher 2023-2024 SY - If you're looking to leverage your expertise to make a real difference in special education- you belong at Epic Special Education Staffing. We Go All In…we are fully invested in everything we do. Whether it's work or play, we bring our strengths and passion to give our team and our partners 100%. To learn more- Click here
---
FOOD FOR THOUGHT
If you want to lift yourself up, lift up someone else. - Booker T. Washington