Week in Review - April 3, 2020

---
NASET
WEEK IN REVIEW
National Association of Special Education Teachers
April 3, 2020 Vol 16 Issue #13
---

---
Dear NASET Members and Guests,

Welcome to NASET's WEEK in REVIEW. Here, we provide you with the latest publications fromNASET to read and or download, as well as some of the most interesting articles that have happened this week in the field of special education. We hope you enjoy this publication. Feel free to send us articles for this publication or let us know your thoughts about the WEEK in REVIEW at news@naset.org. Have a great weekend.

Sincerely,
---
NEW THIS WEEK ON NASET
NASET Special Educator e-Journal
Table of Contents
---
To Access the Latest Special Educator e-Journal Click Here
---
Children with Special Needs May Go Without in-Person Therapy but Education Continues Online During Coronavirus Pandemic
Parents whose children are enrolled in specialized programs through their schools due to learning or physically disabilities are faced with attempting to fill that gap on their own now that all Florida schools have shifted to online-only learning due to the coronavirus outbreak for the time being. "This is an unprecedented time in our history, OCPS staff will make every effort to meet student needs given the current conditions. OCPS support services staff will be in communication with parents of students in the near future to discuss potential remote learning," according to the OCPS website. During the current emergency school closures it may not be possible to provide hands-on physical therapy, occupational therapy, or tactile sign language educational services, according to the district, however, many disability modifications and services may be effectively provided online, including "extensions of time for assignments, videos with accurate captioning or embedded sign language interpreting, accessible reading materials, and many speech or language services through video conferencing." Read More
---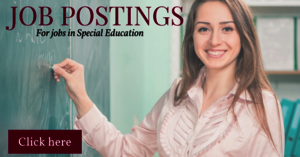 ---
Educators Get Creative with Online Learning for Special Education
Distance learning continues across the state, including the Clark County School District. CCSD reports educators got in touch with more than 90,000 students last Tuesday. The temporary way of learning remains a challenge, especially for those in special education. "We're making the best out of a bad situation," said Natasha Accor. Natasha is the mother to four-year-old Barron Accor. Barron is on the autism spectrum. Natasha filmed him recently practicing healthy habits at home. She's making it a lesson, since he can't attend his special education program at Kitty Ward Elementary School. She's says distance learning is a challenge. Read More
---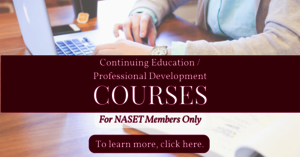 ---
TRIVIA QUESTION OF THE WEEK
This Week's Trivia Question:
When addressing behaviors of concern for a student with special needs, the utilization of a FBA and BIP are formal ways for parents, teachers, and other school professionals to work collaboratively to determine effective ways to help the student. FBA and BIP are special education acronyms for what two terms (what do they stand for)?
If you know the answer to this week's trivia questions, email it to us at contactus@naset.org by April 6, 2020. If you are correct, you will be acknowledged in next week's NASET's Week in Review
---
NASET BOARD CERTIFICATION PROGRAM IN SPECIAL EDUCATION ADVOCACY
The National Association of Special Education Teachers (NASET) and the American Academy of Special Education Professionals (AASEP) recognize the increasing need for qualified special education advocates. In order to enhance this area of concern, they have created a comprehensive special education advocacy program whereby upon completion, you become a Board Certified Advocate in Special Education (BCASE). The BCASE program offers you all the materials to be an effective, articulate, and qualified special education advocate. completion of the BCASE program will provide you with the knowledge, skills and abilities to be confident as an advocate for children with special needs and their parents.­ To learn more about becoming a Board Certified Advocate in Special Education (BCASE), click here
---
'We Can't Afford to Have Him Left Behind': Special Ed Students Struggle During School Shutdown
Chicago mom Ieshia Townsend is determined not to let her 8-year-old son fall behind during the COVID-19 school shutdown. She's taken it upon herself to reach out to his special education aide and ask what will be done for him. The answer? "She said they don't know what they are going to do with children [who are in special education], but they are determined to get something done," Townsend said. Townsend is not waiting. She has devised a schedule for her son that includes working on a laptop, then worksheets and flashcards. After being in special education herself and ultimately dropping out of school, she refuses to let her son be hurt by the closure. Read More
---
Mother/Infant Skin-to-Skin Touch Boosts Baby's Brain Development and Function
As the world prioritizes social distancing to stop or slow down the spread of coronavirus (COVID-19), a new study by researchers at Florida Atlantic University demonstrates that mother-infant touch and contact are essential for optimal neurodevelopmental regulation in early infancy. Kangaroo Care, a skin-to-skin, chest-to-chest method of caring for a baby, especially one who is premature, has been associated with promoting neurophysiological development. This method of caring emphasizes the importance of holding the naked or partially dressed baby against the bare skin of a parent, typically the mother. New research is showing that extended use of Kangaroo Care can positively benefit full-term infants and their mothers during the post-partum period. The longitudinal randomized, controlled trial investigated if Kangaroo Care influences markers of neuro-maturation in healthy, full-term infants. They focused on the potential association between Kangaroo Care and infant brain development, specifically measures of EEG (electroencephalogram) asymmetry/power and coherence. Read More
---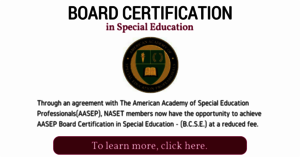 ---
Advocacy Group Says People with Disabilities Could Get Denied COVID-19 Treatment
If scarce resources force doctors to make life-and-death decisions in the coronavirus pandemic, what happens to those living with disabilities? One advocacy group believes an adult with cystic fibrosis or Down syndrome could be effectively sentenced to death. Disability Rights Washington filed a complaint with the federal government this week after plans for scarcity of resources were released by the Washington State Department of Health in conjunction with the Northwest Healthcare Regional Network, and by the University of Washington Medical Center. DRW finds these plans to be discriminatory and dangerous to individuals with disabilities. If a person with a disability contracts coronavirus and hospitals do not have enough resources to treat everyone, then the person "may be de-prioritized in getting treatment," said David Carlson, director of advocacy for DRW. Read More
---
Remote Learning Comes with a Price Tag, School Officials Say
School officials in Nashua are already expressing concerns over how much it is costing the district to put in place and maintain remote learning. "We don't know how long school is going to be closed," said Superintendent Jahmal Mosley. "This is a very prodigious undertaking." Mosley told the school board that he doesn't have a tally yet, but noted "there are no free rides here." Mosley said there are some unanticipated administrative and teacher costs, as well as potential equipment costs such as computers, the construction of a new web page and additional personnel time. He stressed that even though the school buildings are closed, remote learning is being required for the next few weeks. "Because of this, there could be some financial and legal costs to special education kids as well. Read More
---
Lehigh University Special Education Law Symposium
The Lehigh University Special Education Law Symposium will be held on our beautiful campus in Bethlehem, Pennsylvania June 21-26, 2020. Featuring a keynote by OSEP director Laurie VanderPloeg, eight "hot topic" sessions by paired attorneys for a dual perspective, and a culminating comprehensive update from Professor Perry Zirkel, this year's symposium promises to be the best ever in this nationally prominent program. The week also includes a separate two-day program, the Lehigh Section 504 Institute on June 25-26. For complete information, see go.lehigh.edu/spedlaw
---
American Academy of Pediatrics 'Recognizes' Kids Will Use More Screens
With millions of children prevented from attending school because of the novel coronavirus, parents are struggling to keep them busy at home. Even after schoolwork, there are hours in the day left to fill. The American Academy of Pediatrics told "Good Morning America" in an email, "AAP recognizes many children will be using more screen media now, whether for entertainment, education, or social connection." One of the organization's top tips for managing the screens is to make a plan. "Talk with your kids about what your daily structure will be, how you will handle stress, and when you will take breaks from tele-work or schoolwork to relax and connect with each other," the AAP wrote on its website. Read More
---
Could Cellphone, Microwave Radiation During Pregnancy Raise ADHD Risk?
Pregnant women exposed to high levels of radiation from cellphones, microwaves and Wi-Fi may be increasing their baby's risk for attention deficit hyperactivity disorder (ADHD), a new study suggests. Called MF (magnetic fields) nonionizing radiation, these waves are in the air all around people. They also come from cellphone towers, high-tension electrical wires, electric appliances, wireless devices and Bluetooth signals. Exposure to MF nonionizing radiation has already been linked to cancer risk and other medical conditions in some previous studies. "Pregnant women who are concerned about MF impact on the health of their fetuses and offspring should reduce MF exposure during pregnancy as much as they can," said lead researcher Dr. De-Kun Li, a senior research scientist at Kaiser Foundation Research Institute in Oakland, Calif. Read More
---

---
The Switch to Remote Learning Could Leave Students with Disabilities Behind
School leaders are grappling with how to deliver special education services - and stay compliant with state and federal civil rights law - as governors shut down school buildings to slow the spread of the novel coronavirus. A handful of districts announced in recent weeks that they won't yet require distance learning because they haven't figured out a way to serve all students, including students with disabilities, English Language Learners and students who don't have internet access at home. The U.S. Department of Education told schools Saturday that they should not let concerns over how to reach students with disabilities stop them from offering distance learning, and that they don't have to reach all students the same way. Read More
---
School Closures Leaving Special Ed Students in Limbo
School closures in San Diego County caused by the coronavirus pandemic have left thousands of students with disabilities without routine services and therapies, a disruption that parents say will likely lead to academic, behavioral and social regression. School districts across the county are scrambling to set up distance learning, but for students in special education, school is more than the content they learn. The classroom provides needed structure to their lives. "Our kids in special ed really rely on the predictability, on the consistency and the routine of a given school day and of the whole structure of school," said Chris Brum, a professor of special education at San Diego State University. "That alone makes school closures really disruptive." Read More
---
Parents of Child with Special Needs Struggle Amid Coronavirus-Related School Closure
This week will be the second students are home from school amid the coronavirus outbreak, and parents of children with special needs say they are having a hard time keeping their children up to speed. Clara Washington's nine year old daughter, Jayla Morrison, attends the Rochester City School District. Morrison usually takes part in occupational, physical and music therapy during the school day. But at home, she's missing out on the one-on-one instruction. "I believe I can speak for all the parents that have children with special needs regarding regression. I don't want to say they're starting all over again, but they have to get her back on routine, and routine is huge. Now, she's completely off routine," said Washington. Read More
---
Honor Society for Special Education Teachers

---
For Coloradans Living or Caring For People with Disabilities, Fears Over COVID-19 Run Much Deeper
There's no question about it - the COVID-19 pandemic can be scary for anyone. For people living with disabilities, there are extra challenges and extra fears. "The 80 percent of people that get mild symptoms, that's not our community," said Julie Reiskin, Executive Director of the Colorado Cross-Disabilities Coalition. The organization advocates for people with any kind of disability - physical disabilities, mental illness, and those with chronic illnesses or long-term injuries. She says people with disabilities may be immunocompromised or unable to access necessary medical supplies and equipment. During the pandemic, the Coalition has been making sure that people across the state with disabilities have access to accurate information about COVID-19. They've dedicated part of their webpage to dispelling rumors about the virus, like that it can be transferred through mosquito bites, and sharing information about how to get emergency food access, as well as financial advice. Read More
---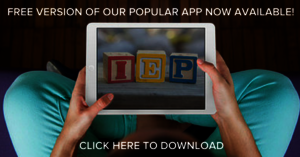 ---
How Governments Should Maintain Disability Services During the Pandemic
COVID-19 has descended. To save lives and mitigate the burden on the U.S. healthcare system, we must shelter in place. But where does that leave people with disabilities, especially the many who need special services and service providers to survive? To contain the pandemic, governments have, for good reason, promoted containment measures such as sheltering in place and social distancing - staying away from other people to avoid spreading infection. But as Catalina Devandas Aguilar, the United Nations' special rapporteur on the rights of persons with disabilities, said last week, these measures "may be impossible for those who rely on the support of others to eat, dress and bathe." People with disabilities are already at greater risk for complications emerging from infection. There is a lot that governments can do to ensure that vital services remain available to them even during this crisis. Read More
---
Tips for Parents on Special Education Schoolwork, Socializing During COVID-19
With all the Coronavirus news coming out every day, it can be hard for many adults to handle. But for kids, the news can be even scarier. So how should you talk to your kids about COVID-19? Britny Gabert, a school psychologist with Chippewa Falls Area Unified School District suggests this: When talking with kids about the pandemic, it's important as a caregiver that you remain as calm and collected as possible. Children pick up on our energy, and the more anxious and frantic we feel, it will be impossible for them to stay calm. Be as factual as possible when talking about coronavirus. For younger children, emphasize good hygiene, like washing hands, not touching faces, and that adults are doing everything they can to keep us all safe. Explain why it is important to practice social distancing to avoid the viral spread. Read More
---

---
LATEST JOB LISTINGS POSTED ON NASET
* Upper Division Learning Specialist - Casady School, will be expected to collaborate with the Student Support Services Team to provide assistance and resources for students with learning and behavioral differences, & Consult with the Upper Division problem solving team to review supports and monitor the progress of students with learning and behavioral differences. To learn more - Click here
* Special Education Teacher - Under the direction of the building principal and special education director, the special education teacher will develop and provide specialized instruction to meet the individual and unique needs of students with disabilities, evaluate and assess student progress based on instructional goals and objectives, and adhere to federal and state statutes and regulations governing special education services. To learn more - Click here
* Executive Director - The Timothy School is the oldest Approved Private School in Pennsylvania devoted exclusively to teaching students with autism. Its instructional program, widely considered one of the best in the region, provides students with the communication, social, cognitive, and life skills necessary to enable them to function effectively and as independently as possible in the least restrictive environment. To learn more - Click here
* Director of Academic Support - As program director, assist with school admissions and develop plans based on IEP/Psychological evaluation for students with mild learning disabilities, and or students with ADD/ADHD. Limited academic evaluations. Must consult regularly with teachers, students, parents, and administrators regarding the development of interventions for students demonstrating learning and/or behavioral challenges. To learn more - Click here
* Special Education Teacher - The Moffat County School District is looking for a motivated, caring, and enthusiastic persons to fill Special Education Teacher positions on the Elementary and Secondary level for the 2020-2021 School Year. Along with parents and classroom teachers the Special Education teacher will assess students' skills to determine their needs to develop and implement Individualized Education Programs for each student based on their specific needs and abilities.To learn more - Click here
* Special Education Teacher - Ascend is a network of K-12 public charter schools serving 5,500 students in 15 schools across Brooklyn-New York's most populous borough. Our undertaking is to lead all students on a great intellectual adventure, provide them with an exceptional college preparatory education, and place them firmly on the path to success in college and beyond. To learn more - Click here
* 2020-2021 Classroom Teachers (PreK-12th) - Founded in 2013, InspireNOLA Charter Schools is currently the highest performing charter school management organization in New Orleans. InspireNOLA operates seven public charter schools and serves more than 5,000 students in Pre-Kindergarten through 12th grade. To leern more - Click here
* Teacher (10-month) SY 2020-21 - As part of a comprehensive reform e?ort to become the preeminent urban school system in America, DCPS intends to have the highest-performing, best paid, most satis?ed, and most honored educator force in the nation and a distinctive central o?ce sta? whose work supports and drives instructional excellence and signi?cant achievement gains for DCPS students. To learn more - Click here
* Special Education Teacher - Stars is seeking Special Education Teachers in Arizona (Phoenix and surrounding cities). With a proven track record, STARS is able to offer you an unbeatable support system and resources. We are hiring for the 2020-2021 school year. STARS places Special Education Teachers throughout the Phoenix, Tucson and the surrounding area public schools. to learn more - Click here
* 2020 Arizona Education Job Fairs - The Arizona Department of Education will be hosting the 2020 Arizona Education Job Fairs. Arizona public schools will be looking for administrators, teachers, related service providers, and support staff. To learn more - Click here
If you are an Employer looking for excellent special education staff - Click here for more information
---
Food For Thought..........
You cannot swim for new horizons until you have courage to lose sight of the shore.
William Faulkner
---