Week in Review - November 15, 2019

---
NASET
WEEK IN REVIEW
National Association of Special Education Teachers
November 15, 2019 Vol 15 Issue #46
---

---
Dear NASET Members and Guests,

Welcome to NASET's WEEK in REVIEW. Here, we provide you with the latest publications fromNASET to read and or download, as well as some of the most interesting articles that have happened this week in the field of special education. We hope you enjoy this publication. Feel free to send us articles for this publication or let us know your thoughts about the WEEK in REVIEW at news@naset.org. Have a great weekend.

Sincerely,
---
NEW THIS WEEK ON NASET
NASET's LD Report
Improving Reading Skills in Students Below Grade Level: A Literature Review
---
This issue of NASET's LD Report was written by Marisol Lorenzo. A large population of students between third and fifth grades with autism spectrum disorder and other learning disabilities struggle with reading skills, including comprehension, fluency, and phonemic awareness. Consequently, these children are reading significantly below grade level across all subject areas such as math, science, and social studies, which also affects their communication and writing skills. In addition, they have great difficulty adhering to the state's content standards. Implementing appropriate instructional strategies and materials becomes a burden for educators due to the unique needs, strengths, and learning styles of each individual child. The purpose of this literature review is to evaluate the effectiveness of different evidence-based practices implemented by teachers to improve the literacy skills of students with disabilities who are reading below grade level. Read More
---
Early Exposure to Sounds Can Address Hypersensitivity to Noise Associated with Fragile X Syndrome
A research team at the University of California, Riverside, has found exposure to sound -- not sound reduction -- during early development of mice engineered to have Fragile X Syndrome, or FXS, restores molecular, cellular, and functional properties in the auditory cortex, the area of the brain that processes sounds. The results suggest that facilitating exposure to sounds during early age can restore communication between brain cells that have been altered by the gene mutation that leads to FXS. Caused by gene abnormalities, FXS, the most common inherited cause of intellectual disability and autism, affects approximately 1 in 4,000 males and 1 in 6,000 females. About 1 in 259 women carry FXS and could pass it to their children. Children, mostly boys, with FXS show neurodevelopmental and neuropsychiatric disabilities, including hyperactivity. Read More
---
Study Questions Video Games' Effects on Violent Behavior
A new study finds that there is not enough information to support the claim that violent video games lead to acts of violence. The Contemporary Economic Policy study examined data from the National Longitudinal Study of Adolescent to Adult Health (Add Health), a nationally representative sample of adolescents in grades 7-12 in the United States between April and December 1995. Over 15,000 participants were followed into young adulthood with four waves of in-home interviews, with the last interview conducted in 2008, when participants were 24-32 years old. "While the data show that fighting later in life is related to playing video games as an adolescent, most of this is because, relative to females, males both play games more often and fight more often. Estimates that better establish causality find no effect, or a small negative effect," said author Michael Ward, PhD, of The University of Texas at Arlington. "This is my fourth analysis using a fourth methodology and a fourth dataset on actual outcomes that finds no violent effects from video games." Read More
---
Major Changes in IEP Diagnosis and Classification for Children with Disabilities Proposed by NASET
The National Association of Special Education Teachers (NASET) is proposing major changes to the existing system in which children with disabilities are diagnosed and classified on EPs (Individual Educational Programs). This new system will provide all professionals working in the field of special education, college students preparing to work with children with special needs, administrators, college professors, parents, and students with disabilities the information necessary to adequately determine the most comprehensive, detailed, and precise diagnoses of disabilities or disorders seen in infants, toddlers, children, and adolescents, particularly in the educational environment. Read More
---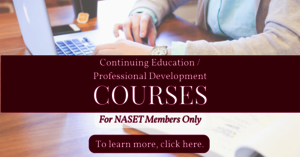 ---
TRIVIA QUESTION OF THE WEEK
Congratulations to: Patrice Rouska, Dawn Guice, Jennifer Buteau, Karen Frantz-Fry, Olumide Akerele, and Cindi Maurice, who all knew the answer to this week's trivia question:
According to recent research in the field of cardiology, children who are born with heart problems are 32 percent more likely to have this disorder than their typical peers. Unexpectedly, milder defects are strongly linked to the disorder, but more serious ones are not, the researchers found. What is the disorder?
Answer: AUTISM
This Week's Trivia Question:
According to new research presented at the American Academy of Pediatrics (AAP) 2019 National Conference & Exhibition in New Orleans, only what percentage of school age children in the United States get 9 or more hours of sleep most weeknights?
(Note: Those who do are significantly more likely to show a positive outlook toward school and other signs of "childhood flourishing," a measure of behavioral and social well-being. "Chronic sleep loss is a serious public health problem among children,"--Abstract author Hoi See Tsao, MD, FAAP.)
If you know the answer to this week's trivia questions, email it to us at contactus@naset.org by November 18, 2019. If you are correct, you will be acknowledged in next week's NASET's Week in Review
---

---
Using Technology to Help Close the Autism Job Gap
Byran Dai was 24 when he promised his mother, who passed away less than two months later, that he would look out for his younger brother Brandon, who is autistic. Brandon, 15 at the time, was receiving special education and social services, but Dai knew that by 22, his brother would phase out of the services and education provided by the state. "In the autism community, we call that 'falling off the cliff,'" Dai said. "It's what a lot of families are worried about." Like so many entrepreneurs inspired by personal experience, Dai's concern for his brother ultimately became the genesis for a new business. In 2018, Dai co-founded Daivergent, a startup that is connecting tech companies with a pool of candidates on the autism spectrum. The company already has 20 corporate clients and has helped 75 people find work. There are about 1,100 candidates in the Daivergent pool. Read More
---
Texas Ended its Special Education Cap in 2017, But the Policy has had Long-Lasting Effects
In 2004, the Texas Education Agency put a limit on the percentage of students it would allow into special education programs, which affected thousands. The Houston Chronicle exposed the illegal policy in 2016, and the investigation led to the Texas Legislature barring the agency from imposing such limits. Even so, the cap is still having an effect. A new study from researchers at the University of California, Davis and Cornell University found that students denied access to special education were significantly less likely to graduate from high school and also less likely to enroll in college. Briana Ballis is a co-author of the study, and says the policy had long-lasting effects, especially on students with more mild impairments like attention deficit hyperactivity disorder, known as ADHD. Read More
---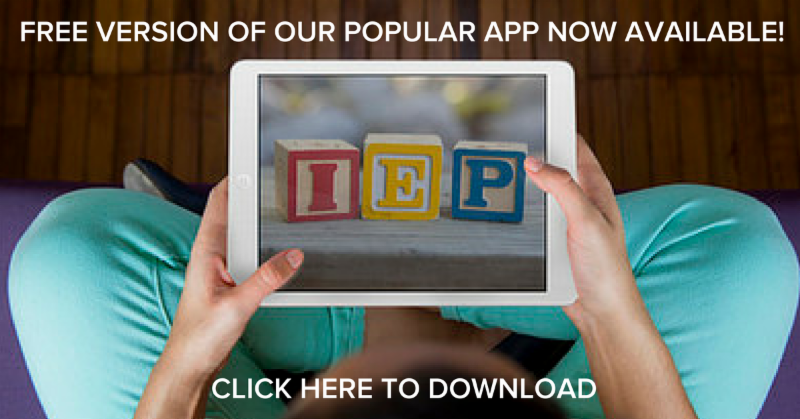 ---
Tips to Include Children with Hearing Loss in Team Sports
A few years back, the Seattle Seahawks signed Derrick Coleman, the National Football League's first deaf offensive player. Wrestler and mixed martial arts fighter Matt Hamill, deaf since birth, is a three-time NCAA Division III national champion, and has competed in the Ultimate Fighting Championship. Despite these inspiring success stories, young athletes who are hard of hearing have historically been left out of team sports. Several factors contribute to this, including social and group sensitivities, challenges in understanding team norms, and a lack of resources limiting the size of the support staff. Overlooking these kids can hurt their growth as individuals and athletes, as well as set them up for exclusion in the workplace and other social settings further down the line. Read More
---
Special Education Students' School Day Shorted
According to an investigation by the U.S. Department of Education Office for Civil Rights, Mounds View High School released special education students early from school last spring due to a construction project. Other students were not released early. The 19 students affected will be given the opportunity to make up the learning time according to their individualized educational plans (IEPs). According to the complaint filed by parent Lisa Juliar, special education students were discriminated against when they were dismissed 20 to 30 minutes early from the beginning of April through the end of the school year. Parents were told students would make up the time during the social interaction portion of the school day. However, that decision was made without an IEP meeting to discuss each student's needs. Juliar said she requested her own son stay in school because she did not believe that making up time during another part of the school day was right. She was then told he could depart at the regular time. However, twice he arrived home 30 minutes early. She was not notified of his early departure and he arrived home to an empty house, which was a safety issue due to his condition. Read More
---
Anorexia Nervosa Comes in All Sizes, Including Plus Size
Adolescents and young adults with anorexia nervosa whose weight is in the healthy, overweight or obese ranges face similar cardiovascular and other health complications as their counterparts with low body mass index (BMI), according to a new study led by researchers at UCSF. The study, led by Andrea Garber, PhD, RD, chief nutritionist for the UCSF Eating Disorders Program, compared weight loss and illness severity among two groups of patients aged 12 to 24 who had been enrolled in a clinical trial upon admission to the hospital for treatment: 66 with anorexia nervosa, which excluded those who were severely underweight, and 50 heavier patients with so-called atypical anorexia nervosa. Read More
---
School-Based Sleep Program May Benefit Adolescents
A recent study uncovered potential long-term benefits of a school-based sleep education program for adolescents. The study, which was published in the Journal of Sleep Research, included 3,622 adolescents, 286 in the intervention group and 3336 in the control group. Data were collected before the intervention and at a one-year follow-up. The intervention consisted of five sessions, 50-60 minutes, once per week for six to seven weeks and was scheduled as part of students' school curriculum. Investigators divided participants into three groups according to baseline sleep duration: insufficient (less than seven hours), borderline (seven to eight hours) and adequate (more than eight hours). Adolescents in the intervention group were approximately two times less likely to report insufficient sleep at follow-up compared with controls. Sleep knowledge improved significantly in the intervention group but there were no changes in emotional sleep hygiene (such as bedtime worry) and perceived stress. Surprisingly, technology use increased and behavioral sleep hygiene worsened (for example, performing activities in bed that keep you awake) in the intervention group. Read More
---
Childhood Chores Not Related to Self-Control Development
Although assigning household chores is considered an essential component of child-rearing, it turns out they might not help improve children's self-control, a coveted personality trait that allows people to suppress inappropriate impulses, focus their attention and perform an action when there is strong tendency to avoid it. That's the finding of a new study published in the Journal of Research in Personality by University of Houston assistant professor of psychology, Rodica Damian in collaboration with Olivia Atherton, Katherine Lawson and Richard Robins from the University of California, Davis. Damian examined data from the UC Davis California Families Project, a 10-year longitudinal study of Mexican-origin youth assessed at ages 10, 12, 14, 16 and 19, in which self-control was reported by the children and parents separately. Damian's team examined whether household chores and self-control co-developed from ages 10 to 16. Read More
---

---
Tough Childhoods Can Leave a Lifetime of Harm, Experts Say
Traumatic experiences in childhood can do lifelong harm to physical and mental health, education and work, the U.S. Centers for Disease Control and Prevention (CDC) says. Preventing traumatic childhood experiences -- such as abuse, seeing violence or substance abuse in the home, or having a parent in jail -- could reduce many problems later on, according to the CDC. Among them: chronic illnesses, such as heart and respiratory disease, cancer, diabetes and suicide; risky health behaviors, such as substance abuse; and socioeconomic struggles later in life. Read More
---
Too Much Screen Time May Be Stunting Toddlers' Brains
Toddlers who spend loads of time looking at tablets, smartphones or TVs may be changing their brains, and not for the better. A new study using brain scans showed that the white matter in the brains of children who spent hours in front of screens wasn't developing as fast as it was in the brains of kids who didn't. It's in the white matter of the brain where language, other literacy skills, and the process of mental control and self-regulation develop, researchers say. "What we think happens is that the development of these skills really depends on the quality of the experience, such as interaction with people, interaction with the world and playing," explained lead researcher Dr. John Hutton. He is director of the Reading and Literacy Discovery Center at Cincinnati Children's Hospital. Read More
---
Brain Clue Signals Anxiety, Depression in Kids
The discovery of a biomarker in the brains of those with neurodevelopmental disorders - such as autism, attention deficit hyperactive disorder (ADHD) or obsessive compulsive disorder (OCD) - may offer hope to families looking for clues in how to address anxiety and depression in their children. The amygdala, an almond-sized structure in the medial temporal lobe, plays a key role in processing emotions. However, in some children with neurological disorders, a portion of this key brain structure is enlarged, leading to an increase in anxiety and depression. While 6 per cent of children, in general, are impacted by issues of anxiety, that number spikes to 85 per cent for children with autism. Read More
---
Honor Society for Special Education Teachers

---
How to Make Workplaces More Welcoming For Employees with Disabilities
October was National Disability Employment Awareness Month. a time each year when disability organizations, elected officials, business experts, and journalists discuss the status of disabled people in the job market and workplace. We generally start by taking stock of the size and shape of the disability employment gap. It's big. According to a February 2019 disability employment report from the U.S. Department of Labor Bureau of Labor Statistics, the unemployment rate for people with disabilities actively in the job market is 8%, compared to 3.7% for people without disabilities. In a time of historically high employment, disabled Americans experience recession-level unemployment. This rate typically becomes catastrophic whenever the economy plunges. Read More
---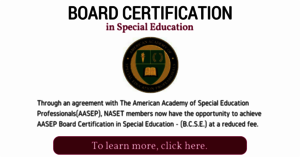 ---
Florida Unnecessarily Put Children with Disabilities in Nursing Homes. It's Still Fighting the Federal Lawsuit
Florida is asking a full federal appeals court to take up a dispute about whether the U.S. Department of Justice can pursue a lawsuit against the state over alleged violations of the Americans with Disabilities Act - a case stemming from concerns about "medically fragile" children being placed in nursing homes. Lawyers for the state last week asked for a rehearing before the full 11th U.S. Circuit Court of Appeals, a request known as seeking an "en banc" hearing. The request came after a three-judge panel of the court in September backed the authority of the Department of Justice to pursue the lawsuit. "(The) panel majority's expansion of the attorney general's power to sue states also raises exceptionally important questions about the allocation of powers between the federal and state governments," the state's rehearing petition said. Read More
---
For Teens, Multitasking Makes Them Feel Better -- and Worse
Multitasking makes adolescents feel both more positively and more negatively about the main task they're trying to accomplish, a new study finds. But the study -- which examined young people's actual multitasking behaviors over two weeks -- found that only the positive emotions affected whether young people choose to combine tasks later. For example, the study found that when adolescents combined something they had to do (like homework) with media use (such as texting with friends), they said the homework was more rewarding, stimulating or pleasant. But they also reported feeling more negative emotions about the homework, such as finding it more difficult or tiring. It's not particularly surprising that media multitasking would create both positive and negative emotions, said Zheng Wang, co-author of the study and professor of communication at The Ohio State University. Read More
---
ADHD Rates Doubled Among U.S. Adults Over 10 Years
If the latest statistics are any indication, attention-deficit/hyperactivity disorder (ADHD) is no longer an issue for children only. Over a 10-year period, ADHD rates more than doubled among American adults, new research shows. However, the rate among children remains much higher than in adults. "While we can't pinpoint the source of the increase in ADHD rates in adults, we can surmise that it has to do with growing recognition of ADHD in the adult populations by doctors and service providers, as well as increased public awareness of ADHD overall," said study co-author Dr. Michael Milham. He is vice president of research at the Child Mind Institute, in New York City. For the study, researchers analyzed data from more than 5 million Kaiser Permanente Northern California patients, and found that the percentage of adults with a diagnosis of ADHD rose from 0.43% in 2007 to 0.96% in 2016. Read More
---

---
LATEST JOB LISTINGS POSTED ON NASET
* Resource Specialist - The Resource Specialist is a certificated, exempt position with Element Education, Inc. (EEI) which operates Dimensions Collaborative and Community Montessori Charter Schools. The Resource Specialist directly reports to the Director of Special Education. The Resource Specialist will work directly with the Director of Special Education to implement the EEI's Special Education programs and provide support and guidance to Educational Facilitators and parents of students with special needs. To learn more - Click here
* Teacher for Children with Autism - NECC serves students between the ages of 3 and 22 diagnosed with autism, learning disabilities, language delays, intellectual disability, behavior disorders, and related disabilities. The Center provides a full range of educational, residential and treatment programs designed to help children reach their full potential. The goal of maximizing independence serves as the foundation of all Center programs. To learn more - Click here
* Special Education Teacher - Surprise, AZ - The Invo-Progressus Team has incredible opportunities for Special Education Teachers. We are currently seeking full-time Special Education Teachers for a Structured Teaching 4-8 Classroom, a Preschool Classroom, and a SPED Resource Teacher for a K-8 classroom in Surprise, AZ. To learn more - Click here
* Special Education Teacher - Philadelphia, PA -Invo-Progressus Team has incredible opportunities for Special Education Teachers…or, as we like to call them, Superheroes. If you use your super powers to help ensure that children have access to the best education possible in the least restrictive environment, we would love for you to join the Invo-Progressus team! We are currently seeking full-time Special Education Teachers in Philadelphia, PA for the 2019-2020 School Year. To learn more - Click here
* Special Education Teacher - School Steps, an Invo Company, is hiring a Special Education Teacher in San Diego, CA.The qualified Special Education Teacher will teach elementary and/or secondary school subjects including social and prevocational skills to special education students with a variety of neurological, learning, and social/emotional disabilities. To learn more - Click here
* Special Education Teacher - The Pinnacle School, a private, special education day school for college-bound students in grades 2 through 12, seeks a Lower and Middle School Special Education Teacher for a full-time, school-based position (10 months). The Special Education Teacher will provide high quality, data-driven instruction to students aligned with the school's mission and philosophy. To learn more - Click here
* Special Education Teacher - Eastern Illinois Area of Special Education (Charleston, IL). Spec. Ed. Teacher. Develop materials for indiv. programs, goals/objectives for students, and evaluate acad/therapeutic/social growth for Spec. Ed students (K – age 21). Keep records and progress reports. Give standardized tests, other evaluative materials, maintain IEPs. To learn more - Click here
* Teacher - Under general supervision, plans and implements academic lessons, activities and plans for students in an assigned program. Assesses student's academic abilities and educational needs; develops goals and objectives for the academic portion of the student's IEPs. Develops, plans and implements lesson plans that meet identified goals and which incorporate student behavioral characteristics and communication abilities. To learn more - Click here
* Special Ed Teacher-Certified - The Home for Little Wanderers Southeast Campus seeks a SPED Teacher for their Plymouth-based program. Under the direction of the Principal, the Teacher leads development and implementation of curricula to multiple small-ratio, therapeutic classrooms of special education students primarily presenting with emotional impairments and performing at varying academic levels. To learn more - Click here
* Special Ed Teacher - The Home at Walpole seeks a Special Education Teacher for their Massachusetts Chapter 766 Special Education School, Clifford Academy. Clifford Academy provides a year-round engaging and comprehensive program focused on education, career development, recreation/fitness, and an individualized therapeutic approach. To Learn more - Click here
* Special Education Teacher - Wake up every morning knowing you have the power and the tools to change lives. EBS is the employer of choice for special education teachers who truly want to help children learn, evolve, and grow. Join us, and we'll give you everything you need to fuel your passion as a special education teacher. To learn more - Click here
If you are an Employer looking for excellent special education staff - Click here for more information
---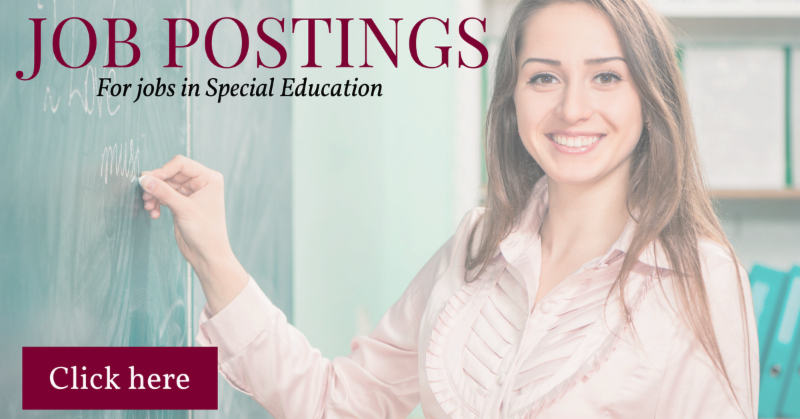 ---
Food For Thought..........
Too often we underestimate the power of a touch, a smile, a kind word, a listening ear, an honest compliment, or the smallest act of caring, all of which have the potential to turn a life around.
Leo F. Buscaglia
---