Week in Review - November 1, 2019
---
---
NASET
WEEK IN REVIEW
National Association of Special Education Teachers
November 1, 2019 Vol 15 Issue #45
---

---
Dear NASET Members and Guests,

Welcome to NASET's WEEK in REVIEW. Here, we provide you with the latest publications fromNASET to read and or download, as well as some of the most interesting articles that have happened this week in the field of special education. We hope you enjoy this publication. Feel free to send us articles for this publication or let us know your thoughts about the WEEK in REVIEW at news@naset.org. Have a great weekend.

Sincerely,
---
NEW THIS WEEK ON NASET
NASET's Classroom Management Series
SLANT: A New Behavior Management System
---
This issue of NASET's Classroom Management series was written by Dr. Faye Jones. The purpose of this article is to introduce SLANT, a behavior modification system used in many schools. It is an acronym for Sit Up, Listen, Ask Questions, Nod, and Track the Speaker. SLANT is designed to assist students in the use of positive body language in class. It encourages students to be attentive, active, and become productive learners. This system can be used in the general education and special education setting. Read More
---
To access this issue - Click here
---
Young Moms More Likely to Have Kids with ADHD
Young mothers have a greater chance of having a child with attention deficit hyperactivity disorder (ADHD) according to new research from the University of South Australia. Published in Nature's Scientific Reports, the research explored the genetic relationship between female reproductive traits and key psychiatric disorders, finding that the genetic risk of ADHD in children was strongly associated with early maternal age at first birth, particular for women younger than 20. In Australia, ADHD affects one in 20 people. ADHD is a complex neurodevelopmental disorder which impacts a person's ability to exert age-appropriate self-control. Characterized by persistent patterns of inattentive, impulsive, and sometimes hyperactive behavior, individuals find it hard to focus, concentrate, and regulate their emotions. Read More
---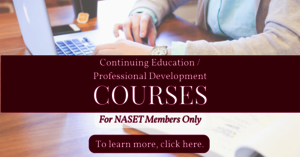 ---
In Brain Imaging Studies of Autism, Location May Alter Results
It's among the most frustrating problems in autism research: Scientists have conducted hundreds of imaging studies, but they are no closer to identifying a brain signature for the condition. This is largely because studies come to widely different conclusions. A new analysis provides hints about the source of this inconsistency: significant differences among study sites in terms of equipment, participants or other factors. The analysis relies on data from four studies that are part of the Autism Brain Imaging Data Exchange, a program for sharing resting-state functional magnetic resonance imaging scans. The studies each took place at a different institution and included a total of 152 autistic people and 152 typical controls. Read More
---
Sound Sensitivity May Hinder Ability to Communicate for People with Autism
People with autism are more sensitive than their neurotypical peers to changes in pitch. But they're less sensitive to shifts in prosody - the combination of pitch, rhythm and volume that can clue listeners in to irony, sarcasm or emotional tone. These differences may make it hard for autistic people to pick up on nuances of social communication. "What you say is one thing. What you mean can be quite different, and a lot of what you pick up is in the voice," says Sarah Haigh, assistant professor of psychology at the University of Nevada, Reno. "If you're impaired in some of the early auditory tools, that's going to make it difficult." Read More
---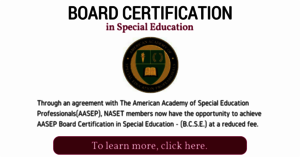 ---
TRIVIA QUESTION OF THE WEEK
This Week's Trivia Question:
In this U.S. Supreme Court Case, the Court addressed the IDEA's stay-put provision, explaining that in enacting stay-put, Congress intended "to strip schools of the unilateral authority they had traditionally employed to exclude disabled students ... from school." The Court also noted that the IEP is the "centerpiece of the [IDEA's] education delivery system" and explained that "Congress repeatedly emphasized throughout the Act the importance and indeed the necessity of parental participation in both the development of the IEP and any subsequent assessments of its effectiveness." What is the name of this famous special education U.S. Supreme Court case?
If you know the answer to this week's trivia questions, email it to us at contactus@naset.org by November 4, 2019. If you are correct, you will be acknowledged in next week's NASET's Week in Review
---

---
Special Occasion Drinking During Pregnancy May Cause Harm
Staying connected and active in the Cleveland community can be a challenge for those living with developmental disabilities. One mother is on a mission to tackle the transportation troubles that often isolate those individuals with challenges. The daily routine of getting to work and back home is something many people take for granted. Adults like Peter Bruening, who has Down syndrome, are twice as likely to have inadequate transportation than those without challenges, according to the American Association of People with Disabilities, in spite of having access to para-transit or ride-sharing services. "The ambiguity of drop off and pick up is just beyond their ability to deal with. The vulnerability of our individuals makes those options less attractive," Debbie Picker said. Read More
---
Chemicals in Consumer Products During Early Pregnancy Related to Lower IQ, Especially in Boys
Exposure during the first trimester of pregnancy to mixtures of suspected endocrine-disrupting chemicals found in consumer products is related to lower IQ in children by age 7, according to a study by researchers at the Icahn School of Medicine at Mount Sinai and Karlstad University, Sweden, published in Environment International in October. This study is among the first to look at prenatal suspected endocrine-disrupting chemical mixtures in relation to neurodevelopment. Scientists measured 26 chemicals in the blood and urine of 718 mothers during the first trimester of their pregnancies in the study of Swedish mothers and children, known as SELMA. These chemicals included bisphenol A (BPA), which is found in plastic food and drink containers, as well as pesticides, phthalates, and other chemicals found in consumer products. Some of the 26 are known to disrupt endocrine (hormone) activity in humans; others have been shown to do so only in animals, or are suspected of endocrine disruption because they share chemical features with known disruptors. Read More
---
Board Certification in Special Education Available to NASET Members

Through an agreement with The American Academy of Special Education Professionals(AASEP), NASET members now have the opportunity to achieve AASEP Board Certification in Special Education - (B.C.S.E.) at a reduced fee. AASEP Board Certification in Special Education - (B.C.S.E.) is a voluntary choice on the part of the candidate. The candidate for Board Certification wishes to demonstrate a commitment to excellence to employers, peers, administrators, other professionals, and parents. From the standpoint of the Academy, board certification will demonstrate the highest professional competency in the area of special education. Board Certification in Special Education establishes a much needed standard for professionals, across disciplines, who work with exceptional children. Read More
---
How Special Education Led Me to a Career in Filmmaking
Before I began making films, I worked as a special education teacher and therapist for children, teens and adults with autism and other cognitive and mental health challenges. My experiences were extremely varied, starting with pre-kindergarten age students with physical disabilities all the way up to adults with traumatic brain injuries. One of my fondest memories from that time was working as a personal service attendant for a 20-year-old young man with autism who I'll call here Ivan. He was from Russia originally, and would gleefully sing Disney songs to himself in his thick Russian accent. He was also 300 pounds, six inches taller than me, and often had meltdowns requiring extreme behavioral interventions, restraints, and more than a few trips to the hospital. I didn't know it at the time, but working with individuals like Ivan prepared me in a unique way for my eventual transition into filmmaking. Read More
---
Children with Congenital Heart Defects Have Increased Odds of Autism
Children who are born with heart problems are 32 percent more likely to have autism than their typical peers are, according to a large study. Unexpectedly, milder defects are strongly linked to autism, but more serious ones are not, the researchers found. A growing body of research shows that children whose hearts form incorrectly in utero tend to also have problems with brain development. In 2012, the American Heart Association and the American Academy of Pediatrics jointly recommended that doctors should monitor brain development in children born with heart defects. A 2017 study in Taiwan showed that children born with heart defects have double the odds of having autism. Read More
---
New Bill Would Expand Hate Crimes to Include Crimes Against People with Intellectual, Physical Disabilities
One state lawmaker wants to allow prosecutors to charge crimes committed against people with intellectual or physical disabilities as hate crimes. House Bill 1344 was introduced by state Rep. Kristine Howard. It's supported by The Arc of Pennsylvania, a group that advocates from people with intellectual and physical disabilities. "For decades, people with disabilities were often locked away in institutions or kept out of mainstream society," said . "It created an idea that people with disabilities were less than, which is why hate crimes against people with disabilities are often minimized and called pranks or bullying, instead of referring to them what they are: hate crimes." Read More
---
How a Colorado Public School for Students with Dyslexia is Changing the Game for Struggling Readers
Tammy Kennington and the four children in her cozy therapy room prepared to sound out the word "April." "Divide before your first medial consonant. Accent the first syllable," Kennington said, her fourth graders quietly echoing her words. "A vowel in an open-accented syllable is long. Code it with a macron," they said. "A vowel in a closed syllable is short, code it with a breve." Methodically, Kennington and her students narrated each step of the decoding process as the children penciled in slashes, accents, circles, or stress marks on all 13 words in the sentence. Three minutes and 20 seconds later, they put it all together: "For her birthday in April, we gave her a blue and white apron." Read More
---
Rethinking the Role of Technology in the Classroom
Preparing elementary school students for active citizenship in an increasingly digital world requires introducing them to the latest technologies, but engaging those same kids in the classroom and involving their parents and caregivers in the process is more than a matter of providing children with access to the latest electronic devices. Tablets and laptops have their educational virtues, according to Annahita Ball, an assistant professor in the University at Buffalo School of Social Work, but her research suggests they have limitations as well. "You can't simply throw technology at kids and expect positive outcomes," says Ball, an expert in educational justice and school social work whose new study shows a decrease in academic motivation for students who participated in a technology-based intervention. Read More
---

---
On YouTube, People with Disabilities Create Content to Show and Normalize Their Experiences
Ruby Ardolf, 14, has her own YouTube channel, featuring familiar aspects of a teen's daily life and merchandise with messages of kindness and inclusion. But Ruby is not a typical teen vlogger. She is disabled - one of 12 people worldwide with a genetic condition called Stromme syndrome, which results in microcephaly (a small brain), and impaired vision and motor functioning. YouTube channels by and about disabled individuals provide visibility into their daily lives and have drawn viewers. Special Books by Special Kids has 1.9 million subscribers. Squirmy and Grubs, about an inter-abled couple, has about 470,000 subscribers. Both channels get millions of individual views. Read More
---
Dyslexia Pilot Program's Early Intervention a Success
The Santa Barbara Unified School District has been under fire in recent months for students' loaw reading and math scores, but Tuesday night, it will roll out some long-overdue positive news: the results of its dyslexia pilot program. The program, which is largely successful by its early-intervention tool, produced significant improvement in kids' reading abilities across the board. "Dyslexia is incredibly complex; it comes in different forms and there isn't a one-size-fits-all solution," said Sierra Loughridge, director of elementary education at the district. Loughridge will present the results of the pilot program to the school board and the public on Tuesday, October 22. "But what we have found is that early intervention is the key to success with any type." Students struggling with reading are given the Basic Phonetic Skills Test III at the beginning of 1st grade, and then those students with the lowest scores are given three additional tests, all administered by trained literacy specialists. Read More
---
Algorithms are Grading Student Essays Across the Country. Can this Really Teach Kids How to Write Better?
Algorithms are grading student essays across the country. So can artificial intelligence really teach us to write better? Todd Feathers, who wrote about AI essay grading for Motherboard, called up every state in the country and found that at least 21 states use some form of automated scoring. Feathers wasn't able to pin down exactly how many students are affected by this. But here's what we do know: These programs are being used to grade students of all ages and levels, from high school students to students applying to grad school, from middle school students even down to those in elementary school. Read More
---
Honor Society for Special Education Teachers

---
Therapy Dog Program Helps Connect Students with Mental Health Resources
Officials in the Hopkins School District have been working to create accessible mental health resources for students. One of those initiatives is partnering with North Star Therapy Animals. Through that collaboration, the district brings therapy dogs to schools for students to interact with. "Right now, the dogs are in the building one day a week, so North (Junior High) it's usually on Mondays, West (Junior High) it's usually on Tuesdays, at the high school we have Fridays," said Terese Kunick, school psychologist. "Last year we had the dogs only come in maybe a handful times and they were only here at the high school, usually surrounding finals weeks." Having the dogs and their handlers coming in regularly contributes to the district's goal of continuing to provide wellness resources. Read More
---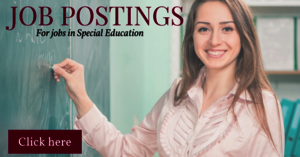 ---

---
LATEST JOB LISTINGS POSTED ON NASET
* Special Education Teacher - School Steps, an Invo Company, is hiring a Special Education Teacher in San Diego, CA.The qualified Special Education Teacher will teach elementary and/or secondary school subjects including social and prevocational skills to special education students with a variety of neurological, learning, and social/emotional disabilities. To learn more - Click here
* Special Education Teacher - The Pinnacle School, a private, special education day school for college-bound students in grades 2 through 12, seeks a Lower and Middle School Special Education Teacher for a full-time, school-based position (10 months). The Special Education Teacher will provide high quality, data-driven instruction to students aligned with the school's mission and philosophy. To learn more - Click here
* Special Education Teacher - Eastern Illinois Area of Special Education (Charleston, IL). Spec. Ed. Teacher. Develop materials for indiv. programs, goals/objectives for students, and evaluate acad/therapeutic/social growth for Spec. Ed students (K – age 21). Keep records and progress reports. Give standardized tests, other evaluative materials, maintain IEPs. To learn more - Click here
* Teacher - Under general supervision, plans and implements academic lessons, activities and plans for students in an assigned program. Assesses student's academic abilities and educational needs; develops goals and objectives for the academic portion of the student's IEPs. Develops, plans and implements lesson plans that meet identified goals and which incorporate student behavioral characteristics and communication abilities. To learn more - Click here
* Special Ed Teacher-Certified - The Home for Little Wanderers Southeast Campus seeks a SPED Teacher for their Plymouth-based program. Under the direction of the Principal, the Teacher leads development and implementation of curricula to multiple small-ratio, therapeutic classrooms of special education students primarily presenting with emotional impairments and performing at varying academic levels. To learn more - Click here
* Special Ed Teacher - The Home at Walpole seeks a Special Education Teacher for their Massachusetts Chapter 766 Special Education School, Clifford Academy. Clifford Academy provides a year-round engaging and comprehensive program focused on education, career development, recreation/fitness, and an individualized therapeutic approach. To Learn more - Click here
* Special Education Teacher - Surprise, AZ - The Invo-Progressus Team has incredible opportunities for Special Education Teachers…or, as we like to call them, Superheroes. If you use your super powers to help ensure that children have access to the best education possible in the least restrictive environment, we would love for you to join the Invo-Progressus team! To learn more - Click here
* Special Education Teacher - Philadelphia, PA - The Invo-Progressus Team has incredible opportunities for Special Education Teachers…or, as we like to call them, Superheroes. We are currently seeking full-time Special Education Teachers in Philadelphia, PA for the 2019-2020 School Year. To learn more - Click here
* Special Education Teacher - Bartow, FL - The Invo-Progressus Team has incredible opportunities for Special Education Teachers…or, as we like to call them, Superheroes. We are currently seeking a full-time Special Education Teacher in Bartow, FL to provide services in a K-12 school program. To learn more - Click here
* Intervention Specialist - The Intervention Specialist is responsible for maintaining compliance of student special needs records including IEPs and ETRs; monitoring and reporting student progress for caseload students as well as in classes taught; and providing instructional resources to students per IEP specifications. To learn more - Click here
* Chief Clinical Officer - Criterion Child Enrichment is conducting a search for a Chief Clinical Officer (CCO). Founded in 1985 as a not-for-profit organization, Criterion has served families for over 30 years and is a leading provider of early childhood education and early intervention services in Massachusetts. Each year the agency serves over 7000 families with a staff of over 400 through a program network that extends throughout the Commonwealth of Massachusetts. To learn more - Click here
* Special Education Teacher - Wake up every morning knowing you have the power and the tools to change lives. EBS is the employer of choice for special education teachers who truly want to help children learn, evolve, and grow. Join us, and we'll give you everything you need to fuel your passion as a special education teacher. To learn more - Click here
If you are an Employer looking for excellent special education staff - Click here for more information
---
Food For Thought..........
Consistency is the fruit of the tree of success. The more you do something effectively and with a goal in mind, the better you will get at it and the more you will feel fulfilled.
Dan O'Brien
---