Week in Review - January 25, 2019

NASET
WEEK IN REVIEW
National Association of Special Education Teachers
January 25, 2019 Vol 15 Issue #4

Dear NASET News,

Welcome to NASET's WEEK in REVIEW. Here, we provide you with the latest publications fromNASET to read and or download, as well as some of the most interesting articles that have happened this week in the field of special education. We hope you enjoy this publication. Feel free to send us articles for this publication or let us know your thoughts about the WEEK in REVIEW at news@naset.org. Have a great weekend.

Sincerely,

NASET News Team
---
NEW THIS WEEK ON NASET
NASET's Autism Spectrum Disorder Series
Empowering Parents of Children with Special Needs to Create Effective Changes
---
This issue of NASET's Autism Spectrum Disorder series was written by Dr. Cecilia Scott-Croff, Executive Director of the Early Childhood Center at Borough of Manhattan Community College (BMCC).In the article, she address her encounter parents and professionals who inquire about her journey of parenting a child with autism. As she states. "Some days I'm ready to talk for hours. Other days I cannot complete a sentence. My son's diagnosis has created a mix of emotions. At the onset, I was frightened, anxious, angry and confused. Professionally I wonder all the time about what to say to parents after they disclose their child (ren') diagnosis. How do I support them? What resources should I provide? Am I the right person to talk to them? Am I overwhelming them by talking too much?" Read More
---
Difficulties with Audiovisual Processing Contributes to Dyslexia in Children
A University at Buffalo psychologist has published a neuroimaging study that could help develop tests for early identification of dyslexia, a disorder that effects 80 percent of those diagnosed with difficulties reading, writing and spelling. Tasks which require audiovisual processing are especially challenging for children with dyslexia, according to Chris McNorgan, an assistant professor in UB's psychology department and project lead for the research published in the journal PLoS ONE. Designing tests sensitive to the problem of audiovisual integration could determine the presence of a disorder that often goes undetected during the early years of elementary education since many children with dyslexia are considered, initially, as simply being on the lower end of a normal range of reading levels. Read More
---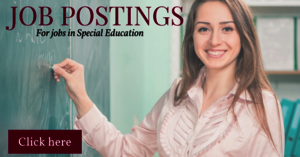 ---
On Being a Professor with Autism, and Traveling the World to Destigmatize It
Do not pace back and forth when waiting in line for airport security. Airport personnel will become suspicious. Be aware of your hypersensitive visual sense and avoid looking too intently at the many and varied stimuli in airports. This can make other travelers anxious. When headed to the restroom, do not touch every seatback as you move through the airplane's aisle. Although you need this for vestibular balance, it invades the private space of passengers. When an international flight is canceled or delayed, employ your autism-based proclivity to systemize; tell yourself airports in every country work the same way and there are set procedures for dealing with change. These rules are just some of the internal narratives I have developed enabling me to successfully travel around the world sharing my vision about autism and Asperger Syndrome - while being on the spectrum myself. Read More
---
Minnesota Lawmakers Seek to Trim Special Education Paperwork
Concerned about the paperwork pressures on Minnesota's special education teachers, state senators on Thursday offered bipartisan legislation that they said would reduce that paperwork burden by up to 52 hours per student. Documentation demands, spelled out in the federal Individuals with Disabilities Education Act, have long have been a source of frustration for special education teachers. Those include writing an Individualized Education Program (IEP) plan for each special needs student. But state requirements around the program are a lot of extra, unnecessary work, said New Ulm Public Schools Superintendent Jeff Bertrang, who has been urging legislators to get rid of some of the meetings and forms required for changing behavior plans for students. Read More
---
Telling Stories Using Rhythmic Gesture Helps Children Improve Their Oral Skills
Gesture is an inherent part of human communication and speakers of all ages tend to gesticulate when they speak. In children, gesture acquires special importance, since it is an important precursor and predictor of language and cognitive development. Other studies led by Pilar Prieto, coordinator of the Prosodic Studies Group (GrEP) and ICREA researcher at the Department of Translation and Language Sciences (DTCL) at Pompeu Fabra University, had shown that even at early ages, rhythmic gestures (rhythmic movements of the hands/arms made together with prominent prosody) help children not only to remember the information of speech, but also to understand it. Read More
---
Board Certification in Special Education Available to NASET Members

Through an agreement with The American Academy of Special Education Professionals(AASEP), NASET members now have the opportunity to achieve AASEP Board Certification in Special Education - (B.C.S.E.) at a reduced fee. AASEP Board Certification in Special Education - (B.C.S.E.) is a voluntary choice on the part of the candidate. The candidate for Board Certification wishes to demonstrate a commitment to excellence to employers, peers, administrators, other professionals, and parents. From the standpoint of the Academy, board certification will demonstrate the highest professional competency in the area of special education. Board Certification in Special Educationestablishes a much needed standard for professionals, across disciplines, who work with exceptional children. Read More
---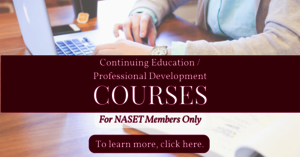 ---
TRIVIA QUESTION OF THE WEEK
Congratulations to: Meladee McCarty, Katherine L. Horn, Sharon Johnson-Hiltz, Sandhu Manjot, Teresa Pitts, Mahogany Woods, Nicole Scariano, Brooke Gasper, Patsy Ray, Olumide Akerele, DeeAnn Hoskins, Gayle Hassan, Raynelle Lanier, Lori Crawford, Diane Campbell-Mitchell, Cindi Maurice, Andrew Bailey, Annette Patterson, Melody Owens, Patsy Ray, Jennifer Womble-Ericson, and Laurine Kennedy who all knew the answer to this week's trivia question:
Dystrophin is part of a group of proteins (a protein complex) that work together to strengthen muscle fibers and protect them from injury as muscles contract and relax. Without this protein, the muscles break down and a child becomes weaker. What is the name of the disease that occurs because of a problem with the gene that makes dystrophin?
Answer: MUSCULAR DYSTROPHY
This Week's Trivia Question:
What is the name of the neurological disorder characterized by the inability to recognize faces? This disorder is also known as face blindness or facial agnosia. The term comes from the Greek words for "face" and "lack of knowledge."
If you know the answer to this week's trivia questions, email it to us at contactus@naset.org by January 28, 2019. If you are correct, you will be acknowledged in next week's NASET's Week in Review
---
---
Scientists Search for New Methods to Cure Neurodegenerative Diseases
Most neurons in the human brain are generated from neural stem cells during embryonic development. After birth, a small reservoir of stem cells remains in the brain that keeps on producing new neurons throughout life. However, the question arises as to whether these new neurons really support brain function? And if so, can we improve brain capacity by increasing the number of neurons? The research group of Prof. Federico Calegari at the Center for Regenerative Therapies Dresden (CRTD) of TU Dresden has answered these questions, now published in the EMBO Journal. Read More
---
Multiple Sclerosis Treatments Delay Progression of the Disease
An international study finds multiple sclerosis treatments have long-term benefits, and that early treatment is important. The Royal Melbourne Hospital and University of Melbourne-led study is the first to provide evidence that the currently available therapies can delay progression of disability in Multiple Sclerosis. It showed that early treatment -- particularly within five years of onset -- delayed the secondary progressive stage of MS, which is characterized by an ongoing increase of disability. It showed that early treatment -- particularly within five years of onset -- delayed the secondary progressive stage of MS, which is characterized by an ongoing increase of disability. Read More
---
Managerialism in UK Schools Erodes Teachers' Mental Health and Well-Being
Performance targets, increased workload, curriculum changes and other bureaucratic changes are eroding teachers' professional identity and harming their mental health, a new study in Educational Review finds. The study's authors interviewed 39 teachers across England and Wales who had experienced long term absence from work due to mental health problems, and six head, deputy and assistant head teachers who had dealt with mental health problems among staff. The teachers cited constant, complex change in educational policies, target-led performance, lack of managerial support and heavy workload as causes of increased stress and anxiety. They spoke of disillusionment, loss of self-esteem and feelings of failure, leading some to take early retirement or, in one case, attempt suicide due to pressure of work. Read More
---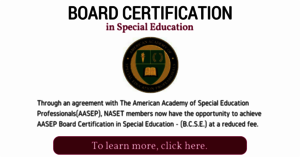 ---
U.S. Youth Suicides More Prevalent in States with Higher Gun Ownership, Study Finds
A new study led by Boston University School of Public Health (BUSPH) researchers finds that states with higher levels of household gun ownership also have higher overall youth suicide rates, with every 10 percentage-point increase in household gun ownership associated with a 26.9 percent increase in the youth suicide rate. Published in the American Journal of Preventive Medicine, the study is the first to examine the relationship between household gun ownership and youth suicide rates while controlling for differences in the rate of youth suicide attempts across states. "The availability of firearms is contributing to an increase in the actual number of suicides, not just leading youth to substitute other means of suicide for guns," says BUSPH predoctoral fellow Anita Knopov, the study's lead author. Read More
---
Assessments Can Support, not Just Measure, Student Learning
Assessments have a bad rap in schools. Tests stress students out; they can be high-stakes for schools and teachers. But the word assessment describes vastly different things. Yes, the nail-biting, end-of-year exam is an assessment. But so is the couple-questions quiz a teacher gives at the end of a lesson to get a sense of how many students understood it. These lower-stakes assessments happen all the time in the classroom and they're vital for student performance. Assessments create feedback for teachers and students alike, and the high value of feedback - particularly timely feedback - is well-documented by learning scientists. It's useful to know you're doing something wrong right after you do it. Read More
---
4 Ways to Develop Creativity in Students
Creativity is the most difficult thinking skill to acquire, and also the most sought-after. We value it in our music, entertainment, technology, and other aspects of our existence. We appreciate and yearn for it because it enriches our understanding and can make life easier. Creativity always starts with imagination, and history shows that many things we imagine are later actually created. Gene Roddenberry imagined the Star Trek flip communicators in 1966, and Motorola produced them in 1996. In the mid 1800s, Augusta Ada King envisioned a language for computing machines that didn't even exist; today she is honored as the founder of modern programing languages. Read More
---
How to Help Low-Income Children with Autism
A light snow is falling on this sleepy Saturday morning in November in Chicago. Despite the weather, a steady stream of families pours into the lobby of a nondescript brick building: middle-aged parents with gadget-toting teenagers, young couples with rambunctious toddlers. Some have traveled an hour or more to come here, the Developmental Disabilities Family Clinic at the University of Illinois at Chicago. Their draw is the monthly meeting of Grupo Salto, a nonprofit organization that aids Spanish-speaking, low-income families with autistic children. Most of the attendees have been here before. They sign in, exchange a few warm words with acquaintances and disperse. Parents drop off small children for an art class or supervised play and then head to the auditorium for an educational session. Read More
---
Horse Power: Equine Therapy for ADHD
Living well with attention deficit disorder means more than managing symptoms and getting things done. We want to feel good about ourselves, control our emotions, and have healthy relationships, too. One problem with traditional talk therapy and ADHD coaching is that each requires a level of self-awareness that not all patients have. How do you teach someone without a filter to be less impulsive by talking about it? Equine Assisted Psychotherapy (EAP) is different. It's an experiential process in which clients interact with horses - with the guidance of a specially trained mental health professional and an equine specialist - instead of talking about their problems. Read More
---

---
Wearable Sensor Can Detect Hidden Anxiety, Depression in Young Children
Anxiety and depression are surprisingly common among young children -- as many as one in five kids suffer from one of them, starting as early as the preschool years. But it can be hard to detect these conditions, known as "internalizing disorders," because the symptoms are so inward-facing that parents, teachers and doctors often fail to notice them. The issue isn't insignificant. If left untreated, children with internalizing disorders are at greater risk of substance abuse and suicide later in life. "Because of the scale of the problem, this begs for a screening technology to identify kids early enough so they can be directed to the care they need," says Ryan McGinnis, a biomedical engineer at the University of Vermont. Read More
---
Traumatic Brain Injury: Athletes Should Build Neck Strength to Reduce Concussion Risk, Researchers Recommend
Rutgers researchers have proposed a way to mitigate risk for football and soccer players and others at risk of concussion: Protect your head with neck-strengthening exercises in the pre-season. A paper by researchers at the Rutgers School of Health Professions, published in the Journal of Orthopaedic and Sports Physical Therapy, examines previous studies on the role that the neck's strength, size and posture play in reducing concussion risk. They also looked into the greater risk of head injury to female and young male athletes who play contact or impact sports, such as when heading a soccer ball. Based on their findings and the clinical judgment of the research team, the Rutgers researchers developed recommendations that physical therapists and athletic trainers can use to protect athletes. Read More
---
Study: Children and teens Overdiagnosed with ADHD in the US
While 11 percent of kids 4-17 are diagnosed, only 5 percent actually have attention problems. In the United States, there is concern that attention deficit hyperactivity disorder in children is overdiagnosed. The American Psychiatric Association estimates that 5 percent of children have ADHD, yet the United States Center for Disease Control estimates that up to 11 percent are diagnosed with this condition. Just over 6 percent of children between the ages of 4-17 take medication for the condition. In fact, there has been a dramatic increase in the rate of diagnosis and treatment over the last several years. There is considerable speculation about this increase in diagnosis. Unfortunately, ADHD is a diagnosis of exclusion - other conditions that can contribute to attention problems have to be ruled out. It also requires parent and teacher observation of the child in a wide variety of situations to determine if there is an attention deficit. There are no tests that alone can be used to diagnosis this condition. Read More
---
Honor Society for Special Education Teachers

---
How a New Federal Law Could Make Flying Easier for People with Disabilities
"Well, I certainly hope this little incident hasn't put you off flying, miss," says Christopher Reeve in the 1978 "Superman" film. "Statistically speaking, of course, it's still the safest way to travel." Well, if you're Lois Lane and the Man of Steel comes to your rescue when you fall out of a damaged helicopter, that statement may be true. For people with disabilities, however, flying is a bit more difficult and risky. One of the most daunting risks that a wheelchair user faces every time they board an airplane is the uncertainty of whether the airline will handle their wheelchair properly. Given that airplane design doesn't allow for wheelchair users to remain in their chairs, the devices have to be stored underneath the planes. Confined within these tight spaces, chairs are susceptible to severe damage and are often poorly handled by airline personnel. Read More
---
Why Competency-Based Education Is Exciting and Where it May Stumble
Educators all over the world are thinking creatively about ways to transform the traditional education system into an experience that will propel students forward into the world ready to take on its complex challenges. Competency-based education has piqued the interest of many communities because of its promise to make learning a more personal experience for students. In a competency-based model, children move through school based on their ability to demonstrate proficiency in skills and content, not by how many hours they spent sitting in class.Teachers have long faced the difficult task of designing lessons for a group of students who are not all alike. Students come to school with different exposure to academic opportunities, disparate lived experiences, and unique interests and passions. For decades teachers have tried to impart a set curriculum in a limited amount of time to this heterogeneous group of students. Read More
---
---
LATEST JOB LISTINGS POSTED ON NASET
*Teacher - Special Education (All Areas) - Approximately 100 positions! - We are looking for highly motivated and skilled talent to join our team at District of Columbia Public Schools (DCPS). We seek individuals who are passionate about transforming the DC school system and making a signi?cant di?erence in the lives of public school students, parents, principals, teachers, and central o?ce employees. Click Here
* Physical Education Teacher - Jewish Child & Family Services (JCFS) provides vital, individualized, results-driven, therapeutic and supportive services for thousands of children, adults and families of all backgrounds each year. The Physical Education Teacher works with children (K - 22) with emotional and behavior disorders, which may include aggressive behaviors, in a therapeutic physical education setting. To learn more - Click here
* Special Education Teacher - The Arc Kohler School, Mountainside NJ is a leading collaborative private special education school serving student's preschool age through high school. We meet the unique needs of children with developmental disabilities. The Arc Kohler School is seeking a Special Education Teacher to work full-time with their unique population. Full-time, 8:30 am to 3:00 pm - To learn more- Click here
* Non Public Special Education Teacher - Responsible for teaching assigned students in a non public school setting, planning curriculum, developing and monitoring Individual Education Plans for each student according to COMAR requirements. Participates in parent meetings, staff, team, maintains assigned students' report cards and implements Maryland state testing. Follows Behavior Intervention Plans, medical protocols, and sensory diets as prescribed in IEP. To learn more - Click here
* Special Education Teacher - APTS® offers teachers an extremely supported environment in and out of the classroom. In the classroom, Program Facilitators help to present individualized lessons as well as support students through behavioral episodes. Both in and out of the classroom, teachers can rely on their pod's Data Analyst, Behavior Analyst, and Education Specialist to assist in developing and reaching student academic and behavioral goals. To learn more - Click here
* Special Education Teacher-Grades K-12 - K12 is a dynamic company on a mission to provide the most compelling, comprehensive, and effective K-12 education available. Our employees are a critical part of an organization that is providing powerful, new options for the way children can be educated. They have a passion for education and a drive to make a difference. We pride ourselves on maintaining the highest level of integrity. To learn more - Click here
If you are an Employer looking for excellent special education staff - Click here for more information
---
Food For Thought..........
Youth is happy because it has the capacity to see beauty. Anyone who keeps the ability to see beauty never grows old.
Franz Kafka