Week in Review - November 9, 2018

NASET
WEEK IN REVIEW
National Association of Special Education Teachers
November 9, 2018 Vol 14 Issue #44
Dear NASET News,


Welcome to NASET's WEEK in REVIEW. Here, we provide you with the latest publications fromNASET to read and or download, as well as some of the most interesting articles that have happened this week in the field of special education. We hope you enjoy this publication. Feel free to send us articles for this publication or let us know your thoughts about the WEEK in REVIEW at news@naset.org. Have a great weekend.

Sincerely,


NASET News Team
NEW THIS WEEK ON NASET
NASET's Classroom Management Series
Behavior at School
---
This issue of NASET's Classroom Management series is provided by the Center for Parent Information and Resources. Behavior at school. What a gigantic topic, for families and schools alike. The Center for Parent Information and Resources is pleased to connect you with resources for helping children with disabilities with respect to behavior at school. School presents a unique challenge for children with behavior issues. Teachers need tools to use to help provide support and guidance. Administrators need methods for creating a positive learning atmosphere within the entire school. Parents need information on how to work with school staff to address their child's behavior challenges in the school setting. We've included resources below that, hopefully, will give teachers, schools, and families the tools they need to create safe and positive learning environments for all children, while providing the informed and positive behavior support that many students need to flourish. Read More
Students with Special Needs Gain Independence Through Employment
August Adkins and Jonathan Cunningham showed up for their shift at Yelm Community Services thrift store a little after 9 a.m. But don't worry. They weren't late. You see, they can't drive. Instead, their paraeducator Cindy Gillespie gave them a ride to work, where she stayed and helped them carry out the duties of the job. This scene happens every day, possibly with other students, because it is one of the core job sites that students from the SITE House get to explore. SITE stands for Supporting Independence Through Employment. And that's exactly what the SITE House does for people with special needs, 18-21. "There's a lot of agencies out there that can help the students, but they don't kick in until they are age 21," said Nora Sutherland, teacher of the SITE HOUSE. "So the SITE was created for that stopgap between the ages of 18 and 21." Read More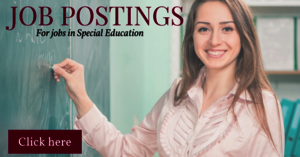 Autism-Friendly Apartments Open in Phoenix
Lindsey Eaton, 24, is from the Phoenix area and works for the Arizona School Boards Association. She has autism, which, she said, she doesn't see as a diagnosis: "I see it as awesomeness." Eaton describes herself as very independent, "but I still need help with some things like laundry, budgeting, and getting to work." She used to live with her parents despite wanting to live on her own. In July, Eaton moved into one of the country's first apartment complexes for adults with autism and neurodiversities. She now has her own one-bedroom unit in the Phoenix complex, which is called First Place. "It's been a little eye-opening, because for years in a row, I had check-ins every minute-my parents saying, 'How are you doing? What can I do? Do you need help cleaning?'" she explained. Now, she often has to figure things out for herself. "It's taught me patience, and to do things and not rely on people." Read More
One Month of Abstinence from Cannabis Improves Memory in Adolescents, Young Adults
A Massachusetts General Hospital (MGH) study finds that one month of abstaining from cannabis use resulted in measurable improvement in memory functions important for learning among adolescents and young adults who are regular cannabis users. The study published in the Journal of Clinical Psychiatry is one of the first to prospectively track over time changes in cognitive function associated with halting cannabis use. "Our findings provide two pieces of convincing evidence," says Randi Schuster, PhD, director of Neuropsychology at the Center for Addiction Medicine in the MGH Department of Psychiatry, lead author of the paper. "The first is that adolescents learn better when they are not using cannabis. The second -- which is the good news part of the story -- is that at least some of the deficits associated with cannabis use are not permanent and actually improve pretty quickly after cannabis use stops." Read More
Owls Help Scientists Unlock Secret of How the Brain Pays Attention
By studying barn owls, scientists at Johns Hopkins University believe they've taken an important step toward solving the longstanding mystery of how the brain chooses what most deserves attention. The finding, the cover article in the latest issue of the journal Cell Reports, likely applies to all animals, including humans, and offers new insight into what goes wrong in the brain with diseases like attention deficit disorder. "There are a million things out there in the world bombarding our eyes, our ears, our skin and other sensory organs. Of all of those things, what particular piece of information do we most need to pay attention to at any instant to drive our behavior?" said co-author Shreesh Mysore, a Johns Hopkins University neuroscientist. "Our work provides a really beautiful answer to how the brain solves a key component of that problem." Read More
TRIVIA QUESTION OF THE WEEK
Congratulations to: Laura Latrou, Cindi Maurice, Patsy Ray, Kimberley Wilson, Melody Owens, Darlene Desbrow and Olumide Akerele who all knew the answer to last week's trivia question.

QUESTION:
Children with developmental disabilities are far more likely to be missing a lot of school, according to a new federal report, with those who have certain conditions at especially high risk. Among kids ages 5 to 17, reported absenteeism was highest among children with which type of disability?
ANSWER: INTELLECTUAL DISABILITIES
This week's question: Which current classification in special education was not reported in China until 1982 - nearly 40 years after it was first described in the United States (and therefore, awareness continues to lag behind that of other countries)?
If you know the answer, email us at contactus@naset.org by ____. We will acknowledge your correct answer in the next edition of the Week in Review

NIH to Fund National Data Collection on New Mothers with Disabilities
The National Institutes of Health will fund the collection of information from women with disabilities who give birth in the United States to supplement the Pregnancy Risk Assessment System (PRAMS). PRAMS is a survey of the U.S. Centers for Disease Control and Prevention, administered by state health departments, and covers approximately 83 percent of U.S. births. The survey includes information on mothers' attitudes and experiences before, during and shortly after pregnancy. PRAMS data are widely used by researchers and state and local governments to evaluate the effectiveness of pregnancy initiatives and outcomes. "It's estimated that more than 1 million women of childbearing age in the United States have a disability," said Alison Cernich, Ph.D., director of the National Center for Medical Rehabilitation Research (NCMRR), a component of NIH's Eunice Kennedy Shriver National Institute of Child Health and Human Development (NICHD). "But we really know very little about their pregnancy risks or even their basic experiences during or after pregnancy." Read More
Prenatal Exposure to Antidepressants, Antipsychotics Not Linked to Autism Risk
A mother's use of antidepressants and antipsychotics during pregnancy is not associated with a higher risk of autism spectrum disorder in her children, according to a study. Researchers studied the prenatal the effects of drugs that target neurotransmitters among 96,249 individuals -- 1,405 cases of autism and 94,844 without -- from a large health maintenance organization in Israel, where all citizens are required to purchase a medical insurance plan. The findings were published in JAMA Psychiatry. "We wanted to know whether medication during pregnancy could affect the offspring," corresponding author Dr. Magdalena Janecka, a professor in the Department of Psychiatry at the Icahn School of Medicine at Mountain Sinai Health System in New York, said in a JAMA podcast. "We basically found that children exposed to medication were not more likely to develop autism than non-exposed children." Read More
Court: R.I. Must Provide Special Education Until Age 22
The 1st U.S. Circuit Court of Appeals has ruled that the Rhode Island Board of Education must provide free public education to students with disabilities until they reach age 22. The appellate court's decision vacates the U.S. District Court's finding and leaves it to the District Court, working with the Department of Education and the plaintiffs, to develop a solution. Sonja L. Deyoe, one of the lawyers for the plaintiffs, said about 1,600 students are affected by this decision. The Rhode Island Department of Education said the 1st Circuit Court's ruling calls for "Free and Appropriate Public Education" to be provided to people with disabilities until age 22. This conflicts with current state law, which states that such services are provided to age 21. "We received the ruling just Monday evening," said RIDE spokeswoman Meg Geoghegan. "We are in the process of reviewing the decision and cannot yet comment." Read More
Autism Severity in Children Tracks with Mothers' Serotonin Levels
Women whose children are severely autistic have lower serotonin levels than do those whose children have mild or moderate autism traits, a new study suggests. Serotonin is a signaling molecule in the nervous system. Nearly one in three people with autism has elevated levels of serotonin in his blood. But it is unclear how serotonin levels relate to an individual's autism traits. The new study is the first to link maternal serotonin to autism traits in people: It hints that developmental problems worsen as maternal serotonin declines. "Absolutely it's a surprising finding," says lead investigator Jeremy Veenstra-VanderWeele, professor of psychiatry at Columbia University. "You don't usually think about biomarkers in moms, although in autism, I think increasingly we should be thinking about that." Read More
STEM Club Uses 3-D Printer to Help Student Learn to Communicate
A group of Hamilton Crossing Elementary students are demonstrating altruism at its finest. The 38 members of the school's STEM club have spent the autumn months creating tactile 3-D symbols that will help a first-grader who is vision- and hearing-impaired learn to communicate. The third- through fifth-grade club members have met for more than an hour every Tuesday afternoon - as well as other times - to learn how to use the 3-D printer to make the 18 symbols that the young student will use to learn core communication words. "We are very excited about this project for many reasons," said GATEWAY teacher Jennifer Colston, who sponsors the club with media specialist Leeann Denham. "Exceptional education teacher Donna Buffington and her American Sign Language interpreter originally approached us about using the school's 3-D printers to help a student in need. Read More
Strengthening Self-Regulation in Childhood May Improve Resiliency Later in Life
Millions of families live in poverty in the United States. Associated stressors can often lead to adverse life experiences for children in those families, and negative socioemotional outcomes later in life. Family-centered programs are a well-supported way of buffering against these effects. More than two decades of peer-reviewed research suggests family-focused interventions play a role in improving outcomes over a long period of time. Now, a paper published in Child Development finally backs up that research with neuroimaging data. "The current study represents one of the first investigations to explore whether participation in these types of programs can impact the brain," said Jamie Hanson, a University of Pittsburgh assistant professor of psychology and first author on the paper. Read More
Older Fathers Associated with Increased Birth Risks, Study Reports
A decade of data documenting live births in the United States links babies of older fathers with a variety of increased risks at birth, including low birth weight and seizures, according to a new study by researchers at the Stanford University School of Medicine. The data even suggest that the age of the father can sway the health of the mother during pregnancy, specifically her risk for developing diabetes. "We tend to look at maternal factors in evaluating associated birth risks, but this study shows that having a healthy baby is a team sport, and the father's age contributes to the baby's health, too," said Michael Eisenberg, MD, associate professor of urology. Read More
Students with Disabilities Need Personalized Career Services
A poster created in 1951 recognizing what we know today as National Disability Employment Awareness Month read, "America needs ALL of us." Now, the tagline for workforce inclusion for the 2018 National Disability Employment Awareness Month is "America's Workforce: Empowering All." For 73 years and counting, the United States has officially recognized and celebrated diversity in the workplace, dating back to when then-president Harry Truman declared the first week of October "National Employ the Physically Handicapped Week." Meanwhile, job seekers with disabilities face the same struggles in getting hired as they did in 1945.The discrimination against workers with disabilities is why programs such as the one run through the UC Berkeley Career Center are so necessary. According to the Americans with Disabilities Act, or ADA, employers cannot discriminate against workers with disabilities. But a 2017 U.S. Bureau of Labor report shows that only 29.3 percent of people aged 16 to 64 who have disabilities are employed, compared to 73.5 percent of nondisabled people in that age group. Read More
Board Certification in Special Education Available to NASET Members

Through an agreement with The American Academy of Special Education Professionals(AASEP), NASET members now have the opportunity to achieve AASEP Board Certification in Special Education - (B.C.S.E.) at a reduced fee. AASEP Board Certification in Special Education - (B.C.S.E.) is a voluntary choice on the part of the candidate. The candidate for Board Certification wishes to demonstrate a commitment to excellence to employers, peers, administrators, other professionals, and parents. From the standpoint of the Academy, board certification will demonstrate the highest professional competency in the area of special education. Board Certification in Special Educationestablishes a much needed standard for professionals, across disciplines, who work with exceptional children. Read More
Taekwondo Classes Helping Kids with Disabilities Break Down Boundaries
They are sitting in a taekwondo class in Canberra, which has helped kids with a disability improve concentration and curb aggression. Nicola Harrod set up No Limits taekwondo after hearing stories of children with disabilities being asked to leave mainstream martial arts classes, which she thinks is because they are perceived as "disruptive". Ms Harrod understands what that feels like. Born with cerebral palsy and autism, she spent her childhood moving up the ranks of taekwondo until she became a black belt. She fought against the barriers in some mainstream classes that she described as "too traditional and strict". Read More
The Ultimate (ADHD) Brain Food
There's a reason why the APA recommends that every man, woman, and child in America eat fish - particularly fatty fish, like salmon and tuna - two or more times a week. And why they also recommend that people with "impulse control disorders," like attention deficit disorder (ADD or ADHD), supplement their daily diets with at least 1 gram of fish oil. The reason: Omega-3 fatty acids really do help brains, particularly ADHD ones, function better. Sixty percent of your brain is composed of fat - which means that your brain depends on a steady supply of dietary fat for its health and wellbeing. Specifically, it depends on essential fatty acids (EFA), the building blocks of fat. Fatty fish and fish oil supply two of the most important essential fatty acids for your brain: EPA, or eicosapentaenoic acid; and DHA, or docosahexaenoic acid. Both fatty acids are omega-3s, a chemical label indicating the placement of carbon atoms in a fat molecule. But omega is also the Greek word for great-because when enough omega-3 is doing its work, it does a great job of protecting your brain. Read More
As Costs Skyrocket, Pennsylvania's Share of Special Education Funding has Fallen
Griffin Farrell sits in an East Hills Middle School eighth-grade class learning equations alongside his peers. It's something the 14-year-old with Down syndrome has done since kindergarten. Griffin's brothers go to Catholic school. But his mother, Dena Farrell, said the Bethlehem Area School District has the best resources to work with her son's unique learning needs and allow him to be part of a regular classroom. "It's been nothing but a positive experience. We've always wanted to do this as a team," Farrell said, referring to the district's special education program. "And they do everything as a team." Griffin's inclusive curriculum has become standard for many special education students. At the same time, it has become costlier for districts to provide. Read More
Honor Society for Special Education Teachers


LATEST JOB LISTINGS POSTED ON NASET
*Significant Support Needs - Teacher- Special Education: As a collaborative member of the special education team, this person will be responsible for teaching/evaluating and implementing an education program for significant support needs (SSN) students utilizing inclusionary practices whenever possible. Instruct students utilizing evidenced based literacy and math education methodologies and instructional techniques. Integrate children with severe disabilities and modify/adapt curriculum for general classroom. To learn more - Click here
* Reading Tutor - Tutors needed to provide multi-sensory, systematic, phonics-based instruction to students in grades K-12. Effectively utilize multi-sensory structured language instructional techniques, and demonstrate explicit teaching, modeling, guided practice, and consistent review in lessons. Understand the language processes and how they impact the development of proficient readers and writers. To learn more - Click here
*Special Education Teacher K-12 or Preschool - For over 100 years, HeartShare has been dedicated to improving the lives of people in need of special services and supports. The HeartShare team, now 2,100 employees and growing, helps individuals develop to their fullest potential and lead meaningful and enriched lives. To learn more - Click here
* Special Education Instructor (K-12) - Compass Charter Schools is one of California's leading WASC-accredited virtual charter schools of choice. Families from across the state choose us for the 21st century online and home study learning options provided through our cutting-edge curriculum. Success in balancing the development of the whole child is central to our mission and to leading and serving the parents and scholars of California. To learn more - Click here
*Special Education Teacher - Chicago, IL - The Invo-Progressus Team has incredible opportunities for Special Education Teachers...or, as we like to call them, Superheroes. We are currently seeking full-time Special Education Teachers in Chicago, IL to provide services in a K-12 school program. For more information - Click here
* Special Education Teacher - Philadelphia, PA - The Invo-Progressus Team has incredible opportunities for Special Education Teachers...or, as we like to call them, Superheroes. If you use your super powers to help ensure that children have access to the best education possible in the least restrictive environment, we would love for you to join the Invo-Progressus team! To learn more - Click here
* SPECIAL EDUCATION TEACHER - Mountainside, NJ - The Arc Kohler School, Mountainside NJ is a leading collaborative private special education school serving student's preschool age through high school. The Arc Kohler School is seeking a Special Education Teacher to work full-time with their unique population. Full-time, 8:30 A to 3:00 P. To learn more - Click here
* Special Education Teacher - Chicago, IL - Pathways in Education (PIE) is a year round Public Non-Profit Charter School who works alongside their students to design individualized learning plans. We work to effectively meet their unique academic, social-emotional, and scheduling needs through a blended teaching model. The primary responsibility for this position is to provide specialized academic instruction to individual and small groups of students, reinforcing language and reading concepts. To learn more - Click here
* Special Education Teacher - Shreveport, LA - The primary responsibility of the SPED teacher is to provide instruction and other related services to Special Education students. The SPED Teacher will also facilitate diagnostic assessment including administration, scoring and interpretation. SPED teachers will review and revise IEP's as needed. To learn more - Click here
* Special Education Teacher - Chicago, IL - Jewish Child & Family Services (JCFS) provides vital, individualized, results-driven, therapeutic and supportive services for thousands of children, adults and families of all backgrounds each year. JCFS is currently seeking a Special Education Teacher to work with individuals and small groups of children (K - 12) with emotional and behavior disorders in a therapeutic special education classroom. The Therapeutic Day School is located in West Rogers Park, Chicago, IL. To learn more - Click here
* Special Education Teacher - West Chester, PA - The Devereux Pennsylvania Children's Intellectual and Developmental Disabilities Services (CIDDS) center serves children, adolescents and young adults - from birth to age 21 - with autism spectrum disorders, intellectual and developmental disabilities, and behavioral and emotional disorders.To learn more - Click here
If you are an Employer looking for excellent special education staff - Click here for more information
Food For Thought..........
Nothing you do for children is ever wasted. They seem not to notice us, hovering, averting our eyes, and they seldom offer thanks, but what we do for them is never wasted.
Garrison Keillor