Week in Review - November 30, 2018

NASET
WEEK IN REVIEW
National Association of Special Education Teachers
November 30, 2018 Vol 14 Issue #47

Dear NASET News,

Welcome to NASET's WEEK in REVIEW. Here, we provide you with the latest publications fromNASET to read and or download, as well as some of the most interesting articles that have happened this week in the field of special education. We hope you enjoy this publication. Feel free to send us articles for this publication or let us know your thoughts about the WEEK in REVIEW at news@naset.org. Have a great weekend.

Sincerely,

NASET News Team
---
NEW THIS WEEK ON NASET
NASET Special Educator e Journal
Table of Contents
Special Education Legal Alert. By Perry A. Zirkel
Group Work Matters: Reducing Stigma in Special Education Students. By Clara West, DSW
The Role of Educators in Using Play to Improve Social Skills Among Children with Autism. By Sarah Al-Sharif
Implementing the LRE Provision of the IDEA: Current Status in Florida Schools. By Gordon Brobbey, Abdulmajeed Alzahrani, and Aliyah Killion
Book Review: Leading 21st Century Schools: Harnessing Technology for Engagement and Achievement (Second Edition). By Judith Tremble
Book Review: Leading in a Culture of Change. By Lisa Johannes
Book Review: What Great Principals Do Differently. By Nicole Phillips
Buzz from the Hub
To Access this e-Journal - Click Here
Study Uncovers Link Between Air Pollution and Intellectual Disabilities in Children
British children with intellectual disabilities are more likely than their peers to live in areas with high outdoor air pollution, according to a new Journal of Intellectual Disability Research study funded by Public Health England. The findings come from an analysis of data extracted from the UK's Millennium Cohort Study, a nationally representative sample of more than 18,000 UK children born in 2000 to 2002. Averaging across ages, children with intellectual disabilities were 33 percent more likely to live in areas with high levels of diesel particulate matter, 30 percent more likely to live in areas with high levels of nitrogen dioxide, 30 percent more likely to live in areas with high levels of carbon monoxide, and 17 percent more likely to live in areas with high levels of sulphur dioxide. Read More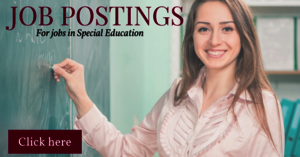 Thirteen-Year-Old Activist with Special Needs Wants to Close Seclusion Rooms at Schools
Alex Campbell was just 7 years old when, he says, his principal dragged him down the hall to the school's "crisis room." Administrators reserved the room, a converted storage closet, for children who acted out. He still remembers the black-painted walls. The small window he was too short to reach. The sound of a desk scraping across the floor, as it was pushed in front of the door to make sure he couldn't get out. Alex, who has autism spectrum disorder, says he was taken there more than a half-dozen times in first grade, for behavior such as ripping up paper or refusing to follow instructions in class. The room was supposed to calm him down. Instead, it terrified him. "When I asked for help or asked if anyone was still there, nobody would answer," Alex said. "I felt alone. I felt scared." Read More
Kids with Disabilities Dance with Help from Teen Volunteers
Gripping and leaning over the barre, struggling to keep herself up in a room surrounded by dancers, Abigail Penny, 16, stood for more than a minute - the longest she's stood since the fourth grade. "The fact that I was able to stand for that amount of time again was like a really special moment and it made me really, really happy," said Penny, who has spina bifida, which affects her ability to walk, stand and speak. Penny, of Merrick, is just one of the many dancers who gather every Thursday evening in Bayside, Queens, for class with the Dancing Dreams program. The program has helped her build confidence and strength, which she loves to show off during her performances for others. Read More
Music Therapy Helps Kids with Autism Connect to Others
When a child with autism can play the piano or sing a song, their brains may benefit, new research suggests. Music therapy increased connectivity in key brain networks, according to the researchers. Not only that, the sessions improved social communication skills and quality of life for the patient's family. "The universal appeal of music makes it globally applicable and can be implemented with relatively few resources on a large scale in multiple settings such as home and school," said study co-senior author Aparna Nadig. She is an associate professor in the School of Communication Sciences and Disorders at McGill University in Montreal. The study included 51 children with autism, aged 6 to 12, who were randomly assigned to either a music therapy group or a control group. Read More
Board Certification in Special Education Available to NASET Members

Through an agreement with The American Academy of Special Education Professionals(AASEP), NASET members now have the opportunity to achieve AASEP Board Certification in Special Education - (B.C.S.E.) at a reduced fee. AASEP Board Certification in Special Education - (B.C.S.E.) is a voluntary choice on the part of the candidate. The candidate for Board Certification wishes to demonstrate a commitment to excellence to employers, peers, administrators, other professionals, and parents. From the standpoint of the Academy, board certification will demonstrate the highest professional competency in the area of special education. Board Certification in Special Educationestablishes a much needed standard for professionals, across disciplines, who work with exceptional children. Read More
TRIVIA QUESTION OF THE WEEK
This week's question: According to the Centers for Disease Control (CDC), studies have shown that among identical twins, if one child has this disorder, then the other will be affected about 36-95% of the time. In non-identical twins, if one child has the disorder, then the other is affected about 0-31% of the time. What is the disorder?
If you know the answer, email us at contactus@naset.org by December 3, 2018. We will acknowledge your correct answer in the next edition of the Week in Review
Why are there So Few Autism Specialists?
When Natasha Marrus started her residency in general psychiatry in 2007, none of her 11 classmates ever mentioned autism. They eagerly discussed schizophrenia and bipolar disorder, and occasionally a "really tough" resident would talk up personality disorders, recalls Marrus, now a child psychiatrist at the Autism Clinical Center at Washington University in St. Louis, Missouri. But even those who were considering working with children did not share her interest in autism. Sarah Spence had a similar experience while training to become a neurologist in the 1990s. "My boss was thrilled I wanted to do autism, because nobody in neurology did this," says Spence, co-director of the Autism Spectrum Center at Boston Children's Hospital. Decades later, both scientists are still in the minority: According to the latest estimates, there are more than 1 million autistic children in the United States but only about 8,300 child psychiatrists, 1,500 child neurologists and 1,000 developmental-behavioral pediatricians. And within those small numbers, autism remains an unpopular choice: "It's not a perfect analogy, but I feel like autism within psychiatry is like psychiatry within medicine," Marrus says. Read More
ADHD May Reduce Life Expectancy by as Much as 13 Years
High cholesterol, obesity, and substance use - these are the major risks to patient longevity most closely monitored by physicians. And, according to Russell Barkely, Ph.D., this list is missing one key metric: childhood ADHD. In fact, Barkley says ADHD is the Number One factor affecting mortality for the people who have it. In other words, ADHD is not just a mental health issue; it's a significant public health problem. During a presentation at the 2018 CHADD Conference in St. Louis, Missouri last week, Barkley demonstrated the complex ways attention deficit disorder can shorten a patient's life span. Barkley's research team used data from a longitudinal study that followed a large group of predominantly white, male patients with ADHD from childhood through adulthood in Milwaukee, Wisconsin. The team uncovered a set of distinct risk factors - and adverse outcomes - during each developmental stage. Read More
Brain-Computer Interface Enables People with Paralysis to Control Tablet Devices
Tablets and other mobile computing devices are part of everyday life, but using them can be difficult for people with paralysis. New research from the BrainGate* consortium shows that a brain-computer interface (BCI) can enable people with paralysis to directly operate an off-the-shelf tablet device just by thinking about making cursor movements and clicks. In a study published November 21 in PLOS ONE, three clinical trial participants with tetraplegia, each of whom was using the investigational BrainGate BCI that records neural activity directly from a small sensor placed in the motor cortex, were able to navigate through commonly used tablet programs, including email, chat, music-streaming and video-sharing apps. The participants messaged with family, friends, members of the research team and their fellow participants. They surfed the web, checked the weather and shopped online. One participant, a musician, played a snippet of Beethoven's "Ode to Joy" on a digital piano interface. Read More
Michigan Missing the Mark on Special Education
According to the U.S. Department of Education, Michigan is the only state in the country that needs intervention after failing to meet federal special education requirements. That score reflects high dropout and low graduation rates for students with disabilities. According to that report, 29 percent of kids with special needs in Michigan dropped out of high school in the 2015/2016 school year. It's a startling statistic and one experts in the field say needs to change, but figuring out how to change it is its own challenge. Melissa Courtade tells FOX 17 News that the special education system in Michigan failed her 13-year-old son Brayden. She said, "He has atypical autism, sensory processing disorder, motor apraxia, and some other varying... depression, anxiety and most of his delays are social and emotional." Read More
Being Fair: The Benefits of Early Childhood Education
Children from low-income families who got intensive education early in life treat others with high levels of fairness in midlife, more than 40 years later, even when being fair comes at a high personal cost, according to a new study published today in Nature Communications. The 78 people in the study were followed as part of the Abecedarian Project, begun in the 1970s and to this day one of the longest running randomized controlled studies of the effects of early childhood education in low-income and high-risk families. Participants played games designed to measure their adherence to social norms and their social decision-making processes. In one game, a player was asked to split a sum of money -- $20 -with another participant. The participant could either accept the amount proposed, or reject it, in which case neither received any money. When faced with unequal offers, participants had to make trade-offs between self-interest and the enforcement of social norms of equality. Read More
Teen with Disabilities Inspires Opening of Playground for Kids with all Abilities
Preston's Playground, which was inspired by a very brave boy and his mom on a mission to make sure every child has a safe place to play, held its grand opening Monday in Newark, Delaware. It's the city's first all-inclusive playground with safe, adaptive equipment for all abilities. The playground is named after Preston Buenaga, a Wilmington teenager who has mitochondrial disease. His mom, Deb, was inspired to created this playground when she saw a similar one in Virginia. "It took a whole village to get us here . IUt's incredible - just the smiles, it's amazing. And the most important thing is it's not just for one person, it's for everybody," she said. Read More
Kindergarten Difficulties May Predict Academic Achievement Across Primary Grades
Identifying factors that predict academic difficulties during elementary school should help inform efforts to help children who may be at risk. New Penn State research suggests that children's executive functions may be a particularly important risk factor for such difficulties. Preliminary findings from a three-year National Science Foundation-funded project, recently published in Child Development, show that executive functions in kindergarten predict children's mathematics, reading and science achievement, as well as their classroom behavior, in second grade. A second study from the project, recently published in Early Childhood Research Quarterly, finds that deficits in executive functions increase the risk for experiencing repeated academic difficulties in mathematics, reading and science from first to third grade. The NSF is also highlighting the findings in their Discovery News. Read More
Spanking in Developing Countries Does More Harm than Good, Study Suggests
Spanking may be increasingly harmful for children on a more global scale than previously known, a new University of Michigan study indicates. Most research on how spanking affects children has involved studying families in high-income countries, such as the United States and Canada, but less was known about how spanking affects children in low- and middle-income countries -- or developing countries. Spanking is one of the most common forms of child discipline used by parents worldwide. The new international research used data collected by UNICEF in 62 countries -- representing nearly one-third of the world's countries -- and demonstrated that caregivers' reports of spanking were related to lower social development among 215,885 3- and 4-year-old children. A parent or caregiver was asked in person if the child gets along well with other children; if the child hits, kicks or bites others; and if the child gets distracted easily. The question about spanking concerned the physical discipline used within the last month with the child or their sibling. Read More

LATEST JOB LISTINGS POSTED ON NASET
* Special Education Teacher - Chicago - The Invo-Progressus Team has incredible opportunities for Special Education Teachers...or, as we like to call them, Superheroes. If you use your super powers to help ensure that children have access to the best education possible in the least restrictive environment, we would love for you to join the Invo-Progressus team! We are currently seeking full-time Special Education Teachers for all subjects in Chicago and Waukegan, IL to provide services during the 2018-2019 School Year. Call 800-434-4686 today to speak with a dedicated Career Services Manager!. To learn more - Click here
* Special Education Teacher - Philadelphia, PA - The Invo-Progressus Team has incredible opportunities for Special Education Teachers...or, as we like to call them, Superheroes. If you use your super powers to help ensure that children have access to the best education possible in the least restrictive environment, we would love for you to join the Invo-Progressus team! We are currently seeking full and part-time Special Education Teachers in Philadelphia, PA where you will be part of a dynamic, collaborative team of professionals focused on driving positive outcomes for students. To learn more - Click here
* Special Education Teacher-Grades K-12 - K12 is a dynamic company on a mission to provide the most compelling, comprehensive, and effective K-12 education available. Our employees are a critical part of an organization that is providing powerful, new options for the way children can be educated. They have a passion for education and a drive to make a difference. We pride ourselves on maintaining the highest level of integrity. To learn more - Click here
* Director of Special Education - Stevenson HS D125 is seeking to hire a Director of Special Education for the 2019-2020 school year. This individual will serve as a member of the school's leadership team and is responsible for leading the school's efforts in the area of Special Education services. The Director is responsible for supervision of special education programming, leading the district's efforts in compliance under legal standards, managing the special education budget, interfacing with parents, and leading staff development efforts in the Division. To learn more - Click here
* Executive Director - The ED works with the Board of Directors to provide leadership for the development and implementation of the strategic vision and plan of CFEC. Within the framework of the goals, objectives and policies established by the Board of Directors, the ED is responsible for the administration of all components of the Corporation. The ED effectively communicates CFEC's plans and policies to broad audiences and develops and nurtures productive relationships and resources deemed essential for the attainment of CFEC's goals and objectives. To learn more - Click here
* Significant Support Needs - Teacher- Special Education: As a collaborative member of the special education team, this person will be responsible for teaching/evaluating and implementing an education program for significant support needs (SSN) students utilizing inclusionary practices whenever possible. Instruct students utilizing evidenced based literacy and math education methodologies and instructional techniques. Integrate children with severe disabilities and modify/adapt curriculum for general classroom. To learn more - Click here
* Reading Tutor - Tutors needed to provide multi-sensory, systematic, phonics-based instruction to students in grades K-12. Effectively utilize multi-sensory structured language instructional techniques, and demonstrate explicit teaching, modeling, guided practice, and consistent review in lessons. Understand the language processes and how they impact the development of proficient readers and writers. To learn more - Click here
* Special Education Teacher K-12 or Preschool - For over 100 years, HeartShare has been dedicated to improving the lives of people in need of special services and supports. The HeartShare team, now 2,100 employees and growing, helps individuals develop to their fullest potential and lead meaningful and enriched lives. To learn more - Click here
* Special Education Instructor (K-12) - Compass Charter Schools is one of California's leading WASC-accredited virtual charter schools of choice. Families from across the state choose us for the 21st century online and home study learning options provided through our cutting-edge curriculum. Success in balancing the development of the whole child is central to our mission and to leading and serving the parents and scholars of California. To learn more - Click here
* Special Education Teacher - Pathways in Education (PIE) is a year round Public Non-Profit Charter School who works alongside their students to design individualized learning plans. We work to effectively meet their unique academic, social-emotional, and scheduling needs through a blended teaching model. The primary responsibility for this position is to provide specialized academic instruction to individual and small groups of students, reinforcing language and reading concepts. To learn more - Click here
* Special Education Teacher - The primary responsibility of the SPED teacher is to provide instruction and other related services to Special Education students. The SPED Teacher will also facilitate diagnostic assessment including administration, scoring and interpretation. SPED teachers will review and revise IEP's as needed. To learn more - Click here
* Special Education Teacher- Chicago - Jewish Child & Family Services (JCFS) provides vital, individualized, results-driven, therapeutic and supportive services for thousands of children, adults and families of all backgrounds each year. JCFS is currently seeking a Special Education Teacher to work with individuals and small groups of children (K - 12) with emotional and behavior disorders in a therapeutic special education classroom. The Therapeutic Day School is located in West Rogers Park, Chicago, IL. To learn more - Click here

If you are an Employer looking for excellent special education staff - Click here for more information
Food For Thought..........
Gratitude makes sense of our past, brings peace for today, a creates a vision for tomorrow.
Melody Beattie