Week in Review - August 31, 2018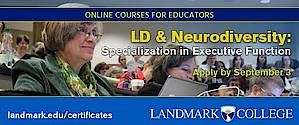 NASET
WEEK IN REVIEW
National Association of Special Education Teachers
August 31, 2018 Vol 14 Issue #34
Dear NASET News,
Welcome to
NASET's
WEEK in REVIEW
. Here, we provide you with the latest publications from
NASET
to read and or download, as well as some of the most interesting articles that have happened this week in the field of special education. We hope you enjoy this publication. Feel free to send us articles for this publication or let us know your thoughts about the
WEEK in REVIEW
at
news@naset.org
. Have a great weekend.
Sincerely,
NASET News Team
NASET Special Educator e Journal
Table of Contents
---
Special Education Legal Alert. By Perry A. Zirkel
Book Review: Hacking Leadership. By Nancy Watson
Final Rule: Delay of Compliance Dates for Disproportionality
New Special Education Teacher Perceptions of Classroom Assessment Knowledge. By Karen M. Potter
Book Review: Secrets of Great Leaders: 50 ways to make a difference. By Bonnie L. Rosenblum
Buzz from the Hub
Book Review: Leading a Culture of Change. By Nathalie Diaz
For Parents: Your Child Needs Your Involvement in the School Life. By Sarah AL-Sharif
Examining Black Male Behavior through a Culturally Reflective Lens. By Monique Matute
Socioeconomic Inequalities Often Land Students of Color in Special Education, Study Finds
Many students of color are put in special education for learning disabilities, but it's more often due to social injustices rather than racially biased teachers, according to a study by Portland State University. The study, which was published in the journal Sociological Quarterly, found that racial minorities are less likely than their white peers to be labeled as having a learning disability. A student's socioeconomic status is a predominant factor in predicting academic achievement, and academic achievement is often used to diagnose learning disabilities, with students also often incorrectly classified as having a disability because of language barriers and immigration history, the study says.
Read More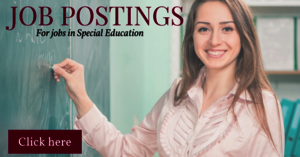 By the time you're finished reading this sentence, your brain will have rapidly assessed your surroundings 14 times to see if you should focus on something else. At least, that's what new research suggests. This is a departure from the way we typically think our brains hold attention-neuroscientists have suggested that neurons fire in a consistent stream when you're focusing on one thing (like reading this Gizmodo blog, for instance). The new research suggests it instead has a kind of rhythm, where neurons become less active four times per second. During those little blips, the researchers suggest your brain visually checks your surroundings for something more important to pay attention to-like maybe something exceptionally threatening (a clumsy coworker about to douse you in hot coffee) or interesting (a dog in the office).
Read More
The Power of Play: A Pediatric Role in Enhancing Development in Young Children
Children need to develop a variety of skill sets to optimize their development and manage toxic stress. Research demonstrates that developmentally appropriate play with parents and peers is a singular opportunity to promote the social-emotional, cognitive, language, and self-regulation skills that build executive function and a prosocial brain. Furthermore, play supports the formation of the safe, stable, and nurturing relationships with all caregivers that children need to thrive. Play is not frivolous: it enhances brain structure and function and promotes executive function (ie, the process of learning, rather than the content), which allow us to pursue goals and ignore distractions.
Read More
Early Intervention Gives Babies and Toddlers with Delays and Disabilities the Help They Need
Utah babies and toddlers with delays and disabilities are getting assistance to move past their challenges and stop problems before they get too big. The Sammis family loves their time together. This Utah family has a happy home with five children, two of which receive in-home therapy from DDI Vantage. Mom Sasha Sammis said, "What a blessing it is to find these different resources." Sasha and her family first found Early Intervention from DDI Vantage when their fourth child Pixie was born. Her first few days were normal until Pixie was rushed to the ER as a newborn.
Read More
Board Certification in Special Education Available to NASET Members

Through an agreement with The American Academy of Special Education Professionals(AASEP), NASET members now have the opportunity to achieve AASEP Board Certification in Special Education - (B.C.S.E.) at a reduced fee. AASEP Board Certification in Special Education - (B.C.S.E.) is a voluntary choice on the part of the candidate. The candidate for Board Certification wishes to demonstrate a commitment to excellence to employers, peers, administrators, other professionals, and parents. From the standpoint of the Academy, board certification will demonstrate the highest professional competency in the area of special education. Board Certification in Special Educationestablishes a much needed standard for professionals, across disciplines, who work with exceptional children.
Read More
TRIVIA QUESTION OF THE WEEK
Congratulations to: Darlene Desbrow and Olumide Akerele who knew the answer to last week's trivia question.

QUESTION:
According to recent research published from the National Council on Teacher Quality, most states are not adequately preparing elementary and special education teachers to teach reading. Although the report shows that most states have standards for teacher education programs that include reading instruction, how many states actually require teachers in both areas to demonstrate their knowledge on its state licensing test?
ANSWER: ELEVEN (11)
This week's question: In what case did the United States Supreme Court rule unanimously that a school board in Texas had to provide catheterization services during class hours to a student with a disability (spina bifida)? The decision, the court's first to distinguish legally between a related health service and a medical service under the Education for All Handicapped Children Act, expanded the definition of related services to include certain health care measures that did not require a doctor. The case stands out as the United States Supreme Court's first attempt to define the distinction between "school health services" and "medical services." What is the name of this case?
If you know the answer, email us at contactus@naset.org by September 3, 2018. We will acknowledge your correct answer in the next edition of the Week in Review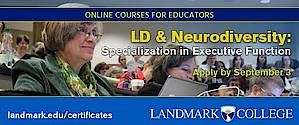 Handheld Probe Images Photoreceptors in Children
Duke University researchers have developed a handheld probe that can image individual photoreceptors in the eyes of infants. The technology, based on adaptive optics, will make it easier for physicians and scientists to observe these cells to diagnosis eye diseases and make early detection of brain-related diseases and trauma. Photoreceptors are specialized neurons that comprise the light-sensing cells of the retina, an extension of the central nervous system located at the back of the eye. The retina sends signals to the brain via the optic nerve, which then processes the visual information. Previous studies have shown that neurodegenerative diseases, including Alzheimer's and Parkinson's, as well as traumatic brain injuries, such as concussions, can alter the neuronal structures in the retina.
Read More
Heart Abnormalities May Trigger Sudden Unexplained Death in Epilepsy
Imagine putting your child to bed, only to have them pass away inexplicably in their sleep. This is the chilling reality for many victims of sudden unexpected death in epilepsy, or SUDEP -- which claims the lives of 1 in every 1,000 people with epilepsy or other seizure disorders. Patients with a rare disease called Dravet syndrome are at heightened risk for SUDEP. In the disease, seemingly healthy infants develop frequent and prolonged seizures, catastrophically affecting their development and quality of life. Michigan Medicine scientists have been on a quest to better understand the connection and potential ways to prevent SUDEP in this population.
Read More
Parents' Behavior During Playtime May Affect Toddler's Weight Later On
Parents who positively engage with their children during play time -- and gently steer them to clean up afterward -- may help toddlers with low-self regulation have lower body mass indexes (BMIs) later on as preschoolers. In a study, researchers found that toddlers who had poor self-regulation skills -- the ability to control their behaviors and emotions -- went on to have lower BMIs as preschoolers if their mothers engaged with them during playtime and then helped direct them during clean up. Cynthia Stifter, professor of human development and psychology, Penn State, said the results -- recently published in the International Journal of Obesity -- suggest that when parents help their child develop regulatory skills, it may help the child maintain a healthy weight.
Read More
Kids Connect with Robot Reading Partners
Kids learn better with a friend. They're more enthusiastic and understand more if they dig into a subject with a companion. But what if that companion is artificial? Researchers at the University of Wisconsin-Madison have built a robot, named Minnie, to serve as a reading buddy to middle school kids, and Minnie's new friends grew more excited about books and more attached to the robot over two weeks of reading together. "After one interaction, the kids were generally telling us that, sure, it was nice to have someone to read with," says Joseph Michaelis, a UW-Madison graduate student studying educational psychology. "But by the end of two weeks, they're talking about how the robot was funny and silly and afraid, and how they'd come home looking forward to seeing it again."
Read More
Research Finds Naps Plus Sleep May Enhance Emotional Memory in Early Childhood
In a new study by sleep researchers at the University of Massachusetts Amherst, neuroscientists led by Rebecca Spencer report for the first time evidence that naps and overnight sleep may work together to benefit memory in early childhood. Details appear today online in Scientific Reports. Spencer, with her former doctoral student Laura Kurdziel in the department of psychological and brain sciences, who is now at Merrimack College, North Andover, Mass., and former undergraduate Jessica Kent, report that for children in this study, "Individually, the nap and overnight sleep bouts were not sufficient to induce changes in memory. A significant benefit of napping was observed only when changes across the entire 24-hour period were considered. This supports an interplay between the nap and subsequent overnight sleep in the consolidation of memories in young children."
Read More
Maternal Depression May Alter Stress and Immune Markers in Children
New research suggests that depression in women may affect their children's stress and physical well-being throughout life. For the Depression & Anxiety study, researchers followed 125 children from birth to 10 years. At 10 years, mothers' and children's cortisol (CT) and secretory immunoglobulin (s-IgA) -- markers of stress and the immune system -- were measured, mother-child interaction were observed, mothers and children underwent psychiatric diagnoses, and children's externalizing and internalizing symptoms were reported. Depressed mothers had higher CT and s-IgA levels and displayed more negative parenting, characterized by negative affect, intrusion, and criticism. Children of depressed mothers tended to exhibit certain psychiatric disorders, have higher s-IgA levels, and display greater social withdrawal.
Read More
Vulnerable Youth Stress the Importance of Influential Adults in their School Lives
Kids who faced daunting barriers to success in the classroom had a clear message for University at Buffalo researchers who asked them as young adults to look back on their experiences with maltreatment, homelessness and their time in school: Adults can do better. "It's as though they're asking us as adults not to give up on them, to stick with them," says Annette Semanchin Jones, an assistant professor in UB's School of Social Work (SSW) and lead author of the paper with colleagues Elizabeth Bowen and Annahita Ball, who are also assistant professors in UB's SSW. In a novel study that explored the youths' experiences at the intersection of the systems intended to address multiple stressors and adverse experiences, the research team's findings suggest that even the most vulnerable kids could point to specific adults who made a difference in their lives.
Read More
Kids with Autism Learn, Grow with the 'Social Robot'
Robots may hold the keys to social success for kids with autism. That's the takeaway from an experimental home-based therapy in which autonomous "social" robots modeled and encouraged behaviors like maintaining eye contact and paying attention while playing with 12 children with autism spectrum disorder. The kids were between 6 and 12 years of age. For the mother of one boy who took part in the month-long experiment, the gains were a real eye-opener. She said her son's interactions with people who he's not close to had been "a little awkward at times." "From watching the robot and interacting with the robot, that really engaged him, and it made him, I think, connect the dots. His interactions became more consistent. His eye contact became more consistent," said the mother, who did not want to be identified. She sat beside her son as an observer during the half-hour daily sessions. R
ead More

Exposure to Tobacco Smoke Significantly Impacts Teen Health
As little as one hour of exposure to tobacco smoke per week can significantly impact the health of teens, according to a University of Cincinnati study published in the September 2018 issue of Pediatrics. "There is no safe level of secondhand smoke exposure," says Ashley Merianos, the lead author of the study and an assistant professor in UC's School of Human Services. "Even a small amount of exposure can lead to more emergency department visits and health problems for teens. That includes not just respiratory symptoms, but lower overall health." The study, "Adolescent Tobacco Smoke Exposure, Respiratory Symptoms, and Emergency Department Utilization," used data from a 2014-15 national survey that looks at tobacco use and related health issues among U.S. people 12 years old and above. A total of 7,389 nonsmoking teens without asthma were included in the study.
Read More
Adults Play a Key Role in Children's Participation in School Recess
When adults are participants in school recess -- leading games, monitoring play and ensuring conflicts are mediated quickly -- children are more likely to be engaged in recess activities, a new study has found. The study, which focused on the recess environment and student engagement during school recess periods, also found that students were more likely to be active and engaged during longer recess periods; that boys were more engaged in recess that girls; and that recess provides more than a quarter of students' school-based physical activity each day. "This study underscores the importance of a high quality recess experience for children, including the need for adults who are actively engaged with the children on the playground," said William Massey, an assistant professor in OSU's College of Public Health and Human Sciences and lead author of the study.
Read More
Kids Stress Over Public Acts of Discrimination
In a sign of the times, new USC research shows that some kids stressed out over recent public acts of discrimination show increased behavioral problems. The study focused on Los Angeles-area teens from communities of color or families with limited education. Many of the youths reported concern that discrimination is a growing societal problem. The more worried the teens were, the worse their substance use, depression and attention-deficit/hyperactivity disorder (ADHD) symptoms became, the study shows. The findings are a snapshot into the adolescent mind during a time of rising U.S. political tensions and concern about increasing discrimination in society.
Read More
Honor Society for Special Education Teachers

In Teen Friendships, Misery Does Love Company
A new study on adolescent friendships offers support for the belief that misery really does love company. Researchers from Florida Atlantic University and collaborators examined the degree to which internalizing symptoms -- anxiety, depression, social withdrawal, and submissiveness -- predicted the dissolution of teen friendships. Do friendships end because of one child's mental health problems or do they end because of differences between friends on the degree to which each friend suffers from these problems? The study, published in the Journal of Research on Adolescence, was co-authored by Brett Laursen, Ph.D., a professor in the Department of Psychology in FAU's Charles E. Schmidt College of Science, Amy C. Hartl, who received her Ph.D. at FAU, and Antonius H. N. Cillessen, Ph.D., a professor of psychology in the Behavioural Science Institute at Radboud University. Lead author of the study was Fanny-Alexandra Guimond, Ph.D., an assistant professor of psychology at the University of Ottawa.
Read More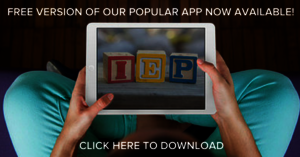 Oral Microbial Activity May Help Identify Autism in Children
Gene expression activity within oral microbial communities may be altered in children with autism spectrum disorder, findings published in Autism Research revealed. These results suggested that changes in the bacteria within a child's mouth may provide biomarkers for identifying autism. Although prior research has revealed disrupted gut-brain signaling in autism spectrum disorder, almost all studies of the ASD microbiome have focused on the lower gastrointestinal (GI) tract, Steven D. Hicks, MD, PhD, from the department of pediatrics at Pennsylvania State University College of Medicine, and colleagues explained. "We conducted this research to examine whether intestinal microbiome disruption in patients with autism extended to the oropharynx," Hicks told Healio Psychiatry.
Read More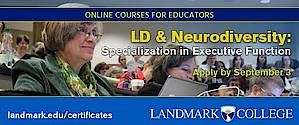 LATEST JOB LISTINGS POSTED ON NASET
* Special Education Coordinator
- This position will work from home and can be based anywhere in the state. This is a statewide position and will provide support to districts throughout Wisconsin. This includes day and some overnight travel. The Wisconsin RtI Center works in a virtual office environment. To learn more -
Click here
* Special Education Teacher - Chicago, IL
- The Invo-Progressus Team has incredible opportunities for Special Education Teachers...or, as we like to call them, Superheroes. If you use your super powers to help ensure that children have access to the best education possible in the least restrictive environment, we would love for you to join the Invo-Progressus team! To learn more -
Click here
* Special Education Teacher - Philadelphia, PA
- The Invo-Progressus Team has incredible opportunities for Special Education Teachers...or, as we like to call them, Superheroes. If you use your super powers to help ensure that children have access to the best education possible in the least restrictive environment, we would love for you to join the Invo-Progressus team! To learn more -
Click here
* Development Intervention (Per/Diem)
- The Arc of Union County's Early Intervention Program is in search of Development Intervention Consultants to join our multi-disciplinary team providing services to children ages 0-3 with developmental needs ages in their homes or community settings throughout Union County. Schedules are flexible and based on the needs of the children and families. To learn more -
Click here
* Deputy Commissioner of Special Populations
- The Texas Education Agency (TEA) is the state agency that provides statewide leadership for the primary and secondary public schools. TEA is proud to announce the position of Deputy Commissioner of Special Populations. The Deputy Commissioner of Special Populations will lead the new, high profile Special Education Review and Support teams as well as the existing Special Populations teams. To learn more -
Click here
* Teacher - Special Education (all categories)
- Responsible for planning and providing for appropriate learning experiences for students based on the district's AKS curriculum as well as providing an atmosphere and environment conducive to the intellectual, physical, social, and emotional development of individuals. GCPS offers full benefits and 2 Retirement Packages! To learn more -
Click here
* Special Education Teacher
- Rivermont Schools are now hiring special education teachers at multiple locations throughout Virginia. Sign on bonus of $2,000 and relocation assistance of $5,000 are available for those who qualify. To learn more -
Click here
* Special Education Teacher - DCD Center Based at Roosevelt Elementary School
- Provides research-based specialized instruction to address the instructional goals and objectives contained within each student's IEP. Assesses student progress and determines the need for additional reinforcement or adjustments to instructional techniques. Employs various teaching techniques, methods and principles of learning to enable students to meet their IEP goals. To learn more -
Click here
If you are an Employer looking for excellent special education staff -
Click here
for more information
Food For Thought..........
Talent hits a target no one else can hit; Genius hits a target no one else can see.
Albert Schopenhauer