Week in Review - November 3, 2017
NASET
WEEK IN REVIEW
National Association of Special Education Teachers
November 3, 2017                     Vol 13 Issue #43
Dear NASET News,
Welcome to
NASET's
WEEK in REVIEW
.  Here, we provide you with the latest publications from
NASET
to read and or download, as well as some of the most interesting articles that have happened this week in the field of special education. We hope you enjoy this publication.  Feel free to send us articles for this publication or let us know your thoughts about the
WEEK in REVIEW
at
news@naset.org
. Have a great weekend.
Sincerely,
NASET News Team
NASET SPECIAL EDUCATOR e-JOURNAL

NOVEMBER 2017
Table of Contents
Escaping the School Leader's Dunk Tank: How to Prevail When Others Want to See You Drown: Book Review
Special Education Legal Alert By Perry A. Zirkel
The Art of Coaching Teams: Building Resilient Communities that Transform Schools: Book Review. By Louris Otero
Parent Engagement Practices Improve Outcomes for Preschool Children
Buzz from the Hub
Mindset: The New Psychology of Success. How Can We Learn to Fulfill Our Potential: Book Review. By Christine Williams
Requesting Mediation: Model Letter Handout for Parents
Article from the Journal of the American Academy of Special Education Professionals (JAASEP): Let's Get Parents Ready for their Initial IEP Meeting. By Helen Hammond and Lawrence Ingalls, University of Texas at El Paso
How To Conduct a Functional Behavior Assessment
Introduction


Identifying the underlying causes of behavior may take many forms; and, while the Amendments to IDEA advise a functional behavioral assessment approach (which could determine specific contributors to behavior), they do not require or suggest specific techniques or strategies to use when assessing that behavior. While there are a variety of techniques available to conduct a functional behavioral assessment, the first step in the process is to define the behavior in concrete terms. In the following section we will discuss techniques to define behavior.
Idaho's Special Education Teacher Shortage is Widespread: And it isn't Going Away
When it came time for the
Madison School District
to hire a physical education teacher, the Eastern Idaho district received just one application. The applicant, now on staff, is off to a good start, Superintendent Geoffrey Thomas said this week. But he's also well aware of the odds. The shallower the applicant pool, the greater the chance of making a bad hire. Madison's search is just one passage in an ongoing story. Idaho's teacher shortage is widespread. And it's unlikely to go away any time soon. The evidence is anecdotal but widespread. Some administrators simply left some jobs vacant this fall, for lack of qualified applicants. Administrators are also
plugging vacancies with uncertified teachers
; not too far from Madison, about a fifth of the
West Jefferson School District's
faculty is on the job while pursuing alternative routes to certification. Read More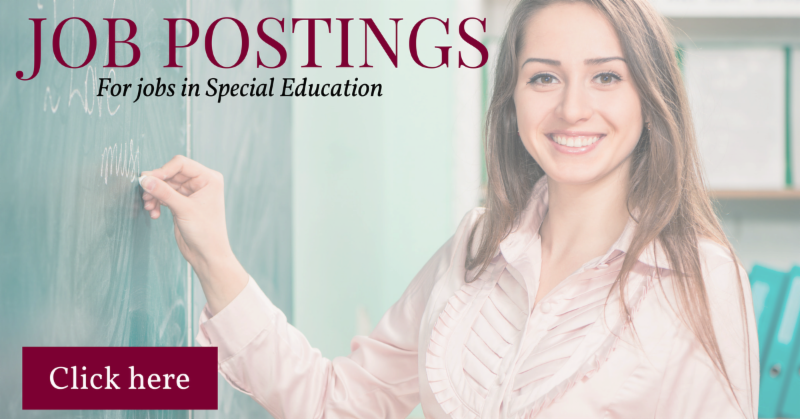 Genetic Causes of Children's Food Allergies
What role do genes play in egg, milk, and nut allergies? A study published in Nature Communications, led by the Max Delbrück Center for Molecular Medicine (MDC) and Charité -- Universitätsmedizin Berlin, has found five genetic risk loci that point to the importance of skin and mucous membrane barriers and the immune system in the development of food allergies. An estimated five to eight percent of all children suffer from food allergies. They usually appear in the first years of life and manifest themselves in the form of itchy rashes and facial swellings, which occur shortly after food ingestion. Food allergies can, however, also cause severe allergic reactions involving breathing difficulties, vomiting, or diarrhea, and are the most frequent triggers of anaphylaxis in children. Anaphylaxis is the most extreme form of an immediate allergic reaction and can be life threatening. Read More
Responding to Special Education Teacher Shortage, Washington Schools Look to Expedite Training
At age 40, Christine Greiner wanted a career change. "I went to college right out of high school but I never graduated," she said. "I got married young and started a family." Greiner had worked as a secretary since graduating high school, but she wanted to be a teacher. Stopping or reducing work for years, plus the cost of traditional universities, wasn't an option.  "We're a two-income household, so I knew I had to keep working full time," she said. So Greiner started taking classes at Western Governors University of Washington, an online public school. While taking classes, she continued to work as a secretary. Three years later, Greiner is now biology teacher at Riverside High School. Expediting the teacher certification process is something that some educators and school administrators see as a necessary step in addressing a national and statewide teacher shortage. Read More
Vermont Educators: Initial Impact of Special Education Guideline Repeal Minimal
Chittenden County program directors say special education in Vermont was unaffected by the federal repeal of scores of guidelines by the U.S. Department of Education. Last month, 72 "outdated, unnecessary, or ineffective" special education guidance documents were rescinded by the Office of Special Education and Rehabilitative Services. "There is no impact that we can see at this time," Vermont Family Network Director of Health Karen Price said on Wednesday. The network supports Vermont families of children with special needs. Read More
Chicago School Board Approves Tax Hikes and Borrowing Amid Special Education Protests
The Chicago Board of Education on Wednesday approved a $5.7 billion budget that includes roughly $225 million in tax hikes and also authorized the sale of more than $1 billion in debt to help balance that budget and take on school repair projects. Officials said the system had erased a roughly billion-dollar budget deficit - crediting tax increases, pension assistance and new funding authorized by state government's recent accord on education funding. "The fact is, the deficit has been eradicated," board President Frank Clark said. "It was a painful, and is an ongoing, process." The rosy portrayal of district finances was overshadowed by ongoing tensions between the school system and the Chicago Teachers Union and its allies. Read More
Why Microsoft, Chase and Others Are Hiring More People with Autism
Chargeback loves obsessive employees. The Utah-based company investigates and documents credit card disputes -- every time someone claims a card was used without their permission -- and so its analysts must be persistent and nitpicky, with a sharp eye for detail that not everyone has. That's why its president, Khalid El-Awady, recently hired a 36-year-old analyst named Carrie Tierney. She breezed through training and handles technical data, computer requirements and repetitive tasks with ease, in about half the time new analysts usually take. "We've been very, very impressed," says El-Awady. The experience has convinced him to consider more employees with Tierney's abilities -- and, by medical textbook standards, disabilities. Read More
New Study Shows Melatonin Effective Sleep Aid for Children with Autism
A study published in the Journal of the American Academy of Child and Adolescent Psychiatry disclosed that children with autism spectrum disorder (ASD) who have refractory insomnia will benefit from prolonged release melatonin (PEDPRM). The trial conducted was random, placebo-controlled, and double-blind. There were 125 participants in the trial aged 2 to 17.5 years. These were patients whose insomnia continued even after behavioral intervention. Such children were administered with 2 mg of PEDPRM once daily; the dosage was increased to 5 mg or placebo for the succeeding thirteen weeks. Trial participants included children who were diagnosed by physicians of ASD regardless whether or not they had attention deficit and hyperactive disorder (ADHD) and other neurogenetic disorders. The common factor among all participants was sleep issues. Read More
Board Certification in Special Education Available to NASET Members

Through an agreement with The American Academy of Special Education Professionals(AASEP), NASET members now have the opportunity to achieve AASEP Board Certification in Special Education - (B.C.S.E.) at a reduced fee. AASEP Board Certification in Special Education - (B.C.S.E.) is a voluntary choice on the part of the candidate. The candidate for Board Certification wishes to demonstrate a commitment to excellence to employers, peers, administrators, other professionals, and parents. From the standpoint of the Academy, board certification will demonstrate the highest professional competency in the area of special education. Board Certification in Special Educationestablishes a much needed standard for professionals, across disciplines, who work with exceptional children.
Read More
Could It Be Sleep Deprivation and Not ADHD?
It's a common chicken-and-egg question: Is it sleeplessness that may be causing attention deficit hyperactivity disorder or is it ADHD that's causing sleeplessness? Experts who gathered in September for the European College of Neuropsychopharmacology Congress in Paris examined prior research on the topic, pointing to a strong association between sleep issues and ADHD. If sleeplessness was indeed causing ADHD, the experts addressed the possibility of eventually treating ADHD with nonpharmacological methods to reverse the health problems often caused by lack of sleep. This isn't the first time sleep and its role as a factor in ADHD has been addressed. However, continued awareness and discussion on the topic often brings other related issues to the forefront - issues that some experts feel may need to be more thoroughly explored and understood. Read More
In Canada, Students with ADHD Face Inequity, Says Advocacy Group
Attention Deficit Hyperactivity Disorder is one of the most common disorders that cause learning impairment in students, but it has not been recognized by education officials or the government, says the advocacy group, Centre for ADHD Awareness, Canada (CADDAC). That, it says, results in inconsistency across school systems and inequity for affected students. Symptoms of ADHD include not being able to stay focused, excess movement and impulsivity or hasty acts that occur without thought. "There's still a lot of misinformation and myths out there," says Heidi Bernhardt, founder and president of CADDAC. "Even the concept that ADHD is a real disorder and these students are not doing what they're doing on purpose just to annoy people, that stigma and misinformation and mislabeling is still very apparent in our schools." Read More
TRIVIA QUESTION OF THE WEEK
Congratulations to: Denise Morales, Sam Black, Hilary Hollihan Leavitt, Melody Owens, Olumide Akerele, Rena Root, Laura Malena, Christine Garner-Duane, Patsy Ray, and Cindi Maurice who all knew the answer to last week's trivia question:


QUESTION:
According to recent research out of the University of Rochester, teenagers who start high school before what time in the morning are at higher risk of depression and anxiety, even if they're doing everything else right to get a good night's sleep?
ANSWER:  8:30 a.m.
This week's question:
Recently, a new line of clothes for an often overlooked set of customers - people with disabilities, has been formed. The collection uses magnets and Velcro to make it easier for people to get dressed. The line has 37 styles for men and 34 for women - shirts, pants, jackets, sweaters and dresses. The button-down shirts have buttons and cuffs that fasten with magnets to help people with disabilities take them off over their heads or get dressed with one hand. Pants, including chinos and denim jeans, feature magnetic flies and zippers and adjustable hems to accommodate leg braces and orthotics. They also have pull-on loops inside of waistbands. According to its founder, "inclusivity and the democratization of fashion have always been at the core of my brand's DNA....These collections continue to build on that vision, empowering differently abled adults to express themselves through fashion." What is the name of the founder and clothing line?
If you know the answer, email us at contactus@naset.org by November 6, 2017.  We will acknowledge your correct answer in the next edition of the Week in Review
Post-Concussion Brain Changes Persist Even After Pre-Teen Hockey Players Return to Play
Young hockey players who have suffered concussions may still show changes in the white matter of the brain months after being cleared to return to play, researchers at Western University have found through sophisticated Magnetic Resonance Imaging (MRI) techniques. The study, published in the October 25, 2017, online issue of Neurology®, the medical journal of the American Academy of Neurology, looked at MRI brain scans from 17 Bantam-level hockey players between the ages of 11 and 14, who suffered a concussion during the regular season and who were compared to an age-matched control of non-concussed players. Read More
Immigrant Parents, Refugees Face Greater Mental Health Challenges; Kids' Learning at Risk
Canadian immigrant parents, refugees, women and minorities are at greater risk of mental health issues and socioeconomic challenges, with their children more likely to suffer learning setbacks before kindergarten, a pair of studies by researchers at the Ontario Institute for Studies in Education (OISE) at the University of Toronto have shown. Research findings come as the Canadian government prepares to release its 2018 immigration policy- which it says will boost the economy and help refugees. The initial study -- the first of its kind in Canada -- Emotional Problems Amongst Recent Immigrants and Parenting Status, published in Public Library of Science's journal PLOS One, shows parents who are new to Canada have higher rates of depression and emotional problems than new Canadian non-parents. This finding is particularly strong among immigrants who were single, female or refugees. Read More
Continuous EEG Better at Identifying Oxygen-Deprived Newborns Most at Risk
Continuously recording the brain's electrical signals and examining how those impulses evolve over time is a more reliable way to identify infants at risk for brain injury, compared with doing snapshot evaluations, according to a prospective cohort study led by Children's National Health System research-clinicians. Amplitude-integrated electroencephalogram (aEEG) is a bedside tool that involves attaching tiny electrodes to the newborn's scalp to permit clinicians to monitor the complex electrical activity of the child's brain over time. It's a positive sign when an aEEG shows babies beginning to sleep and wake normally by the time they are 3 days old. Conversely, severely abnormal aEEG readings in the first days of life predict poor outcomes. Read More
Preventing a Form of Hereditary Hearing Loss
A research advance co-led by Case Western Reserve University School of Medicine's Kumar Alagramam, PhD, may stop the progression of hearing loss and lead to significant preservation of hearing in people with Usher syndrome type III, a form of hereditary hearing loss linked to defects in the sensory "hair" cells in the inner ear. USH3 is caused by a mutation in the clarin-1 gene. The onset of sensory deficits in USH3, which also can result in loss of vision, is generally noticeable in childhood and is primarily found in people of Finnish background and Ashkenazi Jewish descent. Read More
In San Diego, Parents, Principals Say Staffing Is Alarmingly Low in Special Ed Classes
Back in May, a group of parents, San Diego Unified staff and community members sent a letter to the school board, warning that cuts to the district budget could hit disabled students the hardest. "[Students with disabilities] are disciplined at double the rate of their nondisabled peers and continue to face the greatest disparity in all measures of achievement," the letter says. "We are skeptical that fewer staff, limited services and scarce supports on the school site combined with fewer administrators and resource teachers leading the districtwide work ... will create growth in educational outcomes for [students with disabilities]." Read More
A Quarter of Problematic Pot Users Have Anxiety Disorders, Many Since Childhood
About a quarter of adults whose marijuana use is problematic in early adulthood have anxiety disorders in childhood and late adolescence, according to new data from Duke Health researchers. The findings, publishing this week in the November issue of the Journal of the American Academy of Child and Adolescent Psychiatry, also shed light on an estimated 4 percent of adults who endured childhood maltreatment and peer bullying without resorting to chronic marijuana abuse, only to develop problems with the drug between the ages of 26 and 30. "Given that more states may be moving towards legalization of cannabis for medicinal and recreational purposes, this study raises attention about what we anticipate will be the fastest growing demographic of users -- adults," said lead author Sherika Hill, Ph.D., an adjunct faculty associate at the Duke University School of Medicine.
Read More
Value of Acknowledging Adolescents' Perspectives
Across very different cultures -- Ghana and the United States -- when parents acknowledge the perspectives of their adolescent children and encourage them to express themselves, the youths have a stronger sense of self-worth, intrinsic motivation, and engagement, and also have less depression. Yet having the latitude to make decisions appears to function differently in the two cultures, with positive outcomes for youths in the United States but not in Ghana. Those are the conclusions of a new study by researchers at Clark University that looked at approaches to parenting teenagers in the two countries. The study appears in the journal Child Development. Read More
Musicians with Disabilities Represent Israel on World Tour
The band that inspired thousands of people around the globe with their viral video clip is embarking on a world tour, to perform in cities across three continents. The Shalva Band is composed of eight adults with disabilities; including Down syndrome, Autism, and various physical handicaps. Their talent and moving performances have merited awards and international recognition. The band will be traveling, among other places, to New York, Toronto, Mexico, and London, representing Israel and people with disabilities at dozens of cultural events. "When the band was established over ten years ago, it was merely an expansion of Shalva's music therapy program," Shalva Band Director Shai Ben-Shushan explained. "Today, the Shalva band has become an international icon for inclusion and a real example of the amazing things that can happen when you empower people's abilities and believe in their potential." "This is a message that everyone can relate to, whether or not they have disabilities." Read More

LATEST JOB LISTINGS POSTED ON NASET
* 
Special Education Teacher
- JCFS is currently seeking a Special Education Teacher to work with individuals and small groups of children (K - 12) with emotional and behavior disorders in a therapeutic special education classroom. The Therapeutic Day School is located in West Rogers Park, Chicago, IL.
* 
Special Education Teacher
- Various Positions Open: 2 positions for Special Education Resource 5th - 8th, Special Education Resource K-3rd, SPED - Social Skills le-4th, SPED - Social Skills 6th - 8th,  Arizona certification required.
* 
Licensed Special Education Teacher
- Now Offering $2,000 sign on payment** and **$2,000 relocation allowance (if applicable). Youth Villages' Residential Treatment programs serve children with emotional and behavioral problems.  Our residential campuses provide the setting for an intensive treatment program that combines the unique balance of structure and freedom.
* 
Director of Student Services
- The Director of Student Services is a Central Office 12-month position. The Director plans, directs, and reviews the activities and operations of student services. The position is responsible for Special Education staff, Guidance, 504, and District Nursing, as well as assessing needs, developing programs and implementing services.
* 
Teacher of the Visually Impaired
- Lighthouse Louisiana is seeking a Certified Teacher of the Visually Impaired who is eager to use his/her skills and creativity to provide itinerant vision services and to develop youth programs for children with vision loss in the Greater New Orleans area.
* 
Private Teacher
- Flexible start date between now and Spring/Summer of 2018! Family based in Lincoln Park, IL seeks a Private Teacher to co-develop, manage, and implement the education plan/home school program for an elite student athlete who is entering high school next year.
* 
Special Education
- Bard High School Early College - Bard High School Early College (BHSEC) Queens, a ten-minute subway ride from central Manhattan, is founded on a partnership between Bard College and the New York City Department of Education. We invite applications for a full-time special education faculty position in mathematics and/or science beginning immediately. BHSEC, a national model in the field of public school reform, enables talented and highly motivated students to move in four years from the ninth grade through the first two years of college, earning an associate of arts (A.A.) degree from Bard College as well as a New York State Regents high school diploma.
* 
Lead ED Special Education Teacher
- The Lead Special Education Teacher for Cornerstone is an integral member of the academics team whose focus is to guide students in their social-emotional and academic development. To learn more -Click here
.
If you are an Employer looking for excellent special education staff -
Click here
for more information
Food For Thought..........
Don't wait until the fourth Thursday in November to sit with family and friends to give thanks. Make every day a day of Thanksgiving!