May 2017 - Special Educator e-Journal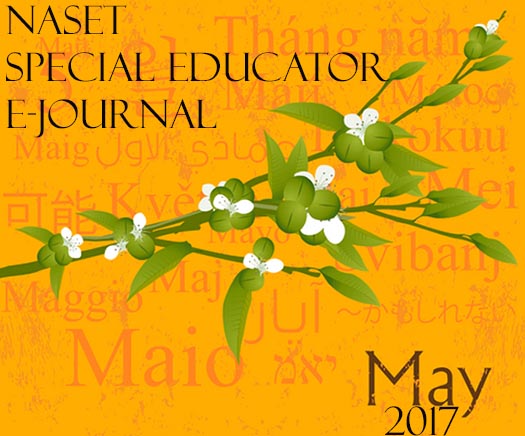 ---
Table of Contents
Book Review: Transformational Leadership in Special Education: Leading the IEP Team (Lentz, Kirby). By Amanda Nieves

Buzz from the Hub
Book Review: What Great Principals Do Differently: Fifteen Things That Matter Most. By Deborah Martinez
African American Students Disproportionate Representation in Special Education. By Briana Merchant
The Inadequate Inclusion of Parents in Special Education: A Review of Literature. By Amanda Nieves
The Institutional Shortcomings of Special Education and How We Can Bridge the Gap: A Literature Review. By Ibis Paneca
Empowering Families of Students with Disabilities to Collaborate in the Early Years with Educators for Positive Student Outcome: A Review of the Literature. By Darcy Sanchez
Special Education Legal Alert. By Perry A. Zirkel
---
---
NASET Members - Login Below to access the latest Special Educator e-Journal.
Site visitors: You may access a sample e-Journal - Sample e-Journal
---
To learn more click on the image above or - Click here
---
To learn more click on the image above or - Click here
---
Latest Employment Opportunities Posted on
NASET
Ridgely, MD
Job Category: Teacher
DESCRIPTION:
Come for a job, find a family. Where else but Benedictine? Be inspired to come to work every day knowing that you are making a difference in someone else's life. Our teams of professionals work together to improve the quality of life of adults and children with developmental disabilities by helping them achieve their greatest potential in all aspects of life; school, residential, and vocational.

The Teacher provides instruction to students with developmental disabilities in education, vocational, functional and self-help, social-emotional, and behavioral areas.

Implement each student's current Individual Education Plan (IEP), with updates as necessary.Supervise students in areas assigned and according to behavioral management plans designated. Evaluate each assigned student's attainment of goals as stated in the IEP.Submit progress and other reports as required by the school program or requested by School administrators. Implement strategies and provide materials and equipment as appropriate for the population served. Complete, in advance, and maintain lesson plans, protocol and schedules for daily planning. Attend and participates in faculty meetings, interviews, inservice sessions, Parent conferences and other activities as required. Supervise and document performance of classroom staff with follow-up on goals and outcomes of performance/coaching lessons. Administer state testing to students as directed by School administration and submit documentation in a timely manner.
REQUIREMENTS:
Must have Bachelor's degree and valid teaching certificate in Special Education, meeting the Highly Qualified criteria. A Conditional Certificate, valid for two years, may be requested by the Educational Director for an individual with a BA/BS who does not yet meet the certification requirements for a Standard Professional certificate or Highly Qualified criteria. This individual would be required to meet the requirements for the renewal of the Conditional Certificate until a SPC or APC is obtained and to meet the criteria for Highly Qualified. Classroom experience teaching children with developmental disabilities highly preferred. Must have a passion to specialize in teaching children and adolescents with developmental disabilities. Must be highly organized, creative, and an effective collaborator.
BENEFITS:
Health, Dental, and Vision Insurance; Short-Term Disability, Long-Term Disability, Life Insurance, 403(b) Retirement Plan Dependent Care Benefits, Educational Assistance, Credit Union, Employee Assistance Program.
CONTACT:
Erin, HR Generalist at Benedictine
(410) 364-9616
*******************************
Austin, TX
Job Category: Special Education Teacher
Description:
The Special Education Teacher is responsible for ensuring that all special education students receive comprehensive, compassionate and equitable services in order to achieve breakthrough academic achievement and character development. The Special Education Teacher will serve as an intervention specialist to assist teachers in helping every child meet grade level goals and will oversee the program and systems for all students who receive special education services. All KIPP Austin staff has a responsibility for ensuring that every KIPP Austin student achieves the academic skills, intellectual habits and character traits necessary to succeed in the nation's top colleges and universities.
We are currently seeking Special Education Teachers for our middle schools and high schools.
Requirements

:
Collaborate with teachers to develop effective whole group practices, small group interventions, and individualized learning activities
Assist teachers with tracking data to determine the effectiveness of interventions
Plan and teach small groups during guided reading
Develop, coordinate and track individual student plans for all special services
Provide direct student support through small group instruction and inclusion in the general education classroom
Collaborate with teachers so they provide instructional support that leads to academic gains for students
Maintain documentation and records for individual students; ensure confidentiality in reporting
Advise teachers and principal on accommodation processes for state and school-wide assessments
Accommodate and/or modify a curriculum that is aligned with the standards of KIPP Austin and Texas
Assess individual student's progress and learning needs; demonstrate a relentless focus on helping students achieve
Communicate students' progress toward realizing academic and character development goals with families on a weekly basis
Teacher Career pathway with expert teacher development and opportunities for career advancement
Competitive Medical, Dental and Vision coverage options with 79-95% of monthly medical premium costs (depending on the plan) paid by KIPP Austin
100% KIPP-paid short-term disability
Paid parental leave (amount paid based on tenure)
On-campus dry cleaning pick-up
Retail discounts
Gold's Gym individual and family plan discount
Benefits

:
Special Education Specialist Certificate or ability to obtain Mild/Moderate Certificate.
Ability to teach students of grades K-12.
Ability to work with children of all ages.
Ability to understand, adopt, and support the independent study program, concepts and their philosophies.
Ability to organize and present ideas effectively in oral and written form.
Ability to make skillful decisions.
Ability to work under pressure and meet deadlines.
Ability to operate a PC computer, word processor, copier, FAX, and other office machines.
Contact

:

Apply online at:www.kippaustin.org/apply-online

 

*******************************

Phoenix Metropolitan Area

Job Category: Special Education Teacher
Description

:

$48,000/school year (185 days). Summers off with year round pay. Special Education Teachers needed in Arizona (Phoenix and surrounding cities). Needs are in the self-contained and resource settings serving students with emotional disabilities (ED), Autism (A), Severe/Profound (S/P), and Intellectual Disabilities (ID). STARS is the largest school contract agency in AZ. STARS is owned and operated by Occupational Therapists. You will be an employee and receive full benefits (see below). With a proven track record, STARS is able to offer you an unbeatable support system and resources. STARS is hiring for the 2017-2018 school year. STARS places Special Education Teachers throughout the Phoenix, Tucson and the surrounding area public schools.
Requirements

:

Certification through the AZDOE, in Special Education. Arizona Fingerprint Card through AZDPS. We will help you get the credentials needed and reimburse you for the cost.
Benefits:
Salary: $48,000/school year, based on 185 days. STARS also offers a fantastic benefit package including: 16 weeks off, 100% Company paid Health, Dental, Vision, and Life Insurance, $1,000/year Continuing Ed Money, Paid DOE Certification Fees, Paid NASET Dues, Spanish Immersion trip, Hawaii Trip for two, 401K, 125 Plan, Direct Deposit, Evaluation tools and treatment supplies, Two company sponsored parties with professional entertainment, Company newsletter, STARS sponsored dinner meetings with national/local speakers, Yearly raises, Referral bonuses, Moving $, Birthday gifts and other appreciation throughout the year, Genuine Appreciation. YOU WILL FEEL LIKE A STAR!!!
Contact:
Brian Paulsen, COO #480.221.2573; Please email your resume to Jobs@StudentTherapy.com; Apply Online at StudentTherapy.com, we would love to hear from you!
*******************************
Atlanta, GA
Job Category: Faculty
Description

:

The Atlanta Speech School
Full-Time Classroom Teacher in the Wardlaw Upper School
for Children with Language-Based Learning Disabilities

Start Date: August 2017

The Wardlaw School for children with dyslexia is currently seeking an outstanding professional to serve as classroom teacher in our multi-disciplinary, collaborative educational environment.

The Atlanta Speech School has evolved over its 78 years into the nation's most comprehensive center for language and literacy – earning a rising national reputation as the educational equivalent of a teaching hospital. Through four distinct academic programs, the School provides on campus an unmatched educational experience for more than 400 students each year. Another 1,000 individuals of all ages are served through our five clinical programs. Our Rollins Center for Language & Literacy provides professional development for early childhood and early elementary teachers across Georgia and beyond, now impacting more than 10,000 children annually and rapidly extending its reach. All of the Speech School's efforts are interrelated and intentional, creating a circle of impact that is continually refined and strengthened across all programs. Please visit our website for further information: www.atlantaspeechschool.org and be sure to watch our three-minute Promise videow! - ww.2020promise.org

 
POSITION SUMMARY:
The Wardlaw School is dedicated to serving children with average to very superior intelligence and mild to moderate dyslexia (reading disability). Children accepted into the Wardlaw School may exhibit underlying auditory and/or language processing problems that make it difficult for them to learn in their present educational setting. Our students are between the ages of 5 and 12 years old and are in kindergarten through 6th level. Wardlaw School students typically have a diagnosis of dyslexia or "red flags" for the disorder. They may also have difficulty understanding and/or using spoken language, expressing themselves through written language, or experience mathematical difficulties.
The Wardlaw School employs passionate professionals who strive to be leaders in their field and who are committed to excellence in the education of all children. Knowledge and understanding of research-based practices in the areas of language development, reading and math are the cornerstone for all that we do. We seek to hire innovators and thinkers who choose to work in an environment where they can truly make a difference in the life of a child. The Wardlaw School encourages all of its students, educators, specialists and clinicians to be engaged, perpetual learners.
REQUIREMENTS OF THE POSITION:
A Master's degree in learning disabilities, reading, speech/language pathology, or special education is required. All candidates should possess or be eligible for a current Georgia teaching certificate, eligibility for Georgia certification and/or certification from the American Speech-Language and Hearing Association as appropriate. An understanding of the interaction between language and learning is expected and training in at least one multi-sensory reading method is desirable. Experience is preferred.
BENEFITS

:

Salary is commensurate with experience.

This 190-day, full-time school position offers a generous benefit package including health/dental/life/vision and long term disability insurance; the School subsidizes health insurance premiums of staff and families. Other benefits include Flexible Spending Account; 403(b) Plan; cost reduction of some Atlanta Speech School services; complimentary meals during work hours; and accrued sick leave.
TO APPLY:
Please submit all of the following documents to ensure that your information is considered: cover letter, resume, copies of certificates and/or license, college transcript, and written submission describing how your particular skills, talents, and/or expertise would be beneficial to the Wardlaw School (please limit to 500 words).
Email:hr@atlantaspeechschool.org
Subject line: Wardlaw 3rd-5th Grade Classroom Teacher
Please no phone inquiries.
*******************************
Baltimore, MD
Job Category:
DESCRIPTION:
Explore your passion for education and being a part of a culture where students learn; personal empowerment, self-determination and resiliency through a mind-frame of personal accountability!

Relocation Assistance: Eager to give up your ice-scraper and snow shovel? Consider relocating to beautiful Phoenix, Arizona.  We are hiring across the Valley!  We'll help get you relocated to the Phoenix, Arizona area and provide relocation assistance, Sign-On bonus, AZ State Certification Licensure Fees, and AZ IVP Fingerprint Card fees for Special Education Teacher qualified candidates.   2017-2018 School Year positions in Buckeye, Surprise, outlining Phoenix, Gilbert, Queen Creek - across the Valley!

Ask about our relocation package!  Move to sunny Phoenix where we bask in sunshine more often than any other major metropolitan area in the U.S. The sun shines on Phoenix during 85 percent of its daylight hours and for 300 days!

Desert Choice Schools utilizes a highly-structured, school-wide Positive Behavioral Supports program that teaches students Academic, Social/Emotional Problem-Solving and Strategies. All DCS teachers and support staff are trained in a unique methodology that assists students with maintaining Positive Choice-Making.
We are a tight-knit team that values colleagues who exhibit collaboration, integrity and the desire to make a difference in the lives of students who struggle to be successful, and who share a passion to help children and their families.
Develop and implement student Individual Education Plans.
Implement instructional activities that contribute to a climate where students are actively engaged in meaningful learning experiences.
Identify, select, and modify instructional resources to meet the needs of the students with varying backgrounds, learning styles, and special needs.
Assist in assessing changing curricular needs and offers plans for improvement.
Provides a positive environment in which students are encouraged to be actively engaged in the learning process.

For more information, please apply at:
https://desertchoice-learnitsystems.icims.com/jobs/1471/special-education-teachers---move-to-phoenix---we-will-relocate-you%21/job


REQUIREMENTS:
Valid Arizona Special Education Certification(Cross Categorical or Mild/Moderate)
Valid Arizona DPS Fingerprint Card with IVP status-Bachelor's degree required
At least 1 year of experience working with students with emotional disabilities preferred.
Spanish speaking a plus. Not required.



BENEFITS:
Desert Choice Schools/Learn It Systems offers a competitive compensation plan, comprehensive benefits and 401(k)plan.  We are most proud of Desert Choice Schools' collaborative team approach, professional development, and structured, strong mentorship program.

Desert Choice Schools/Learn It Systems is an Equal Opportunity Employer.  Candidates must be presently eligible to work in the United States


CONTACT:
Alonza Stith 3600 Clipper Mill Road, Suite #330
(410)-369-0000 Ext. 124
Cathy Kubsik: cathy.kubsik@learnitsystems.com
*******************************
Kingston, PA
Job Category: Special Education
Description:
The Graham Academy has immediate openings for special education positions within both their autism support and emotional support K-12 classrooms.
The Graham Academy is a private academic K-12 school for students living with autism and students living with emotional challenges to excel in life through communication, exploration, opportunity, acceptance, and accountability.
Requirements:
Professional certification required.
Benefits:
Competitive salary and benefits.
Contact:
Please submit cover letter and resume to info@thegrahamacademy.com
Include name and position applying for in subject line.
Learn more by visiting www.thegrahamacademy.com
*******************************
Kingman, Az
Job Category: Elementary, Middle, and High School Special Education
DESCRIPTION:
Work a four day week in sunny Arizona! Kingman Unified School District is now hiring Elementary, Middle and High School Special Education Teachers for the 2017-2018 school year.  We offer a great, low cost, quality of life in a small city just 90 minutes from Las Vegas. Enjoy our "45-10" school calendar that features a two week Fall Break, Winter Break, and Spring Break, not to mention seven weeks off each summer! We also have a comprehensive medical, dental, vision and life insurance package with ZERO out of pocket costs for premiums. The District actually contributes $18 per month into a Health Savings Account for you!  Whether you enjoy the bright lights of the big city in Las Vegas or Phoenix, or the twinkling lights of stars in a night sky over the Grand Canyon, Kingman is the spot for you!  Apply today!
REQUIREMENTS:
Arizona Teacher Certification or Bachelor's Degree and ability to obtain Arizona Teacher Certification (traditional or alternative pathway). Please reach out to Human Resources Department 928-753-5678 Ext.2007 with questions.
BENEFITS:
Highly Qualified Special Education Teachers receive a $2,000 signing bonus and $2,500 compensation for case management. Our TIF5 (Teacher Incentive Fund) Grant will also pay returning teachers, who are rated as effective, upwards of $5,000 in the Fall of 2019.  Get in on the ground floor of this opportunity!
CONTACT:
Please email your resume to Human Resources Director: Heather Shaw-Burton hshawburton@kusd.org or apply online at www.kusd.org.  We would love to welcome you to Kingman!
*******************************
New York City, NY
Job Category: Full Time Teaching
DESCRIPTION

:

The New York City Department of Education is looking for bright, motivated, and dedicated teachers who are passionate about sparking opportunity for all students. With over 1,800 schools and 1.1 million students, New York City provides endless opportunities for you to hone your craft and build your career.

Whether in Coney Island or the South Bronx, our team of exceptional educators is passionate about urban education and is fiercely committed to success for all students.  Our schools range in size (from 200-4,000 students) and are as diverse as our students and the neighborhoods we serve, allowing you to choose a school community that fits your needs as an educator.  And with more than 200 innovative partnerships with leading arts, science and cultural organizations around the city, you will never run out of ways to expand your curriculum and pique students' interest.

New York City public schools are committed to fostering curiosity and confidence in all students, and jumpstarting the next generation of innovators, leaders and citizens. Now is your chance to help us make that happen.
COMPENSATION AND BENEFITS:
New York City public schools offer competitive starting salaries ranging from $54,000 to $81,694, based on prior teaching experience as well as your undergraduate and graduate education.

You may also become eligible for additional income through a wide array of incentives and school positions that will stretch and challenge you as an educator.
You might earn additional grants by teaching in a select, high-need school as part of our Teachers of Tomorrow program, or by helping your colleagues develop in one of our many teacher leadership roles .
REQUIREMENTS:
To apply to teach in New York City, candidates must first meet the following requirements:
Possess or be on track to earn a New York State Department of Education (NYSED) teaching certification by the start of the 2017-18 school year. If you are not already NYSED-certified, there are several ways to obtain certification .
Complete an online teacher application at TeachNYC.net

Learn more about our application requirements and deadlines and apply to teach in New York City today!
APPLY:
http://teachnyc.net/?utm_source=job-board&utm_medium=job-posting&utm_campaign=2017-applications&utm_term=Spark&utm_content=Naset
*******************************
Elgin, Illinois, 60123
Job Category: Full Time
Elgin Community College (ECC) is a comprehensive, fully accredited community college located in Elgin, Illinois, one of its most rapidly growing cities. Our district encompasses 360 square miles, serving 400,000 people, 11,000 businesses with four public school districts and 15 high schools. ECC was selected as one of five Illinois community colleges to participate in the national Achieving the Dream (AtD) initiative. is a long-term national initiative that collaborates with community colleges to help more students earn degrees, complete certificates, or transfer to four-year institutions to continue their studies. The park-like setting of our 145 acre Main Campus offers instruction spanning nine major buildings with beautiful views. ECC also offers classes throughout the northwest suburbs of Chicago with more than 100 off-campus locations.
Function:
Serves as the college's ADA Coordinator for students and college liaison. Per the ADA laws, provide accommodation services to students with disabilities; i.e., sign language interpreters, accommodation letters, audio texts, other assistive technology/devices, test reader/writer services. Document and track students and services and provide information to various administrative offices as needed; i.e., Institutional Research.
Must be willing to work a flexible schedule to meet the needs of the department.
Some evenings will be required. Two to three times per month, this position will have the responsibility as an evening administrators and will work from 10 am - 7 pm on those assigned dates. May also be required to facilitate presentations on ADA compliance issues and the Disability Services program to faculty at the beginning of each term on a Saturday.
Essential Responsibilities:
1. Update/write Administrative Procedures for disabilities; oversee ADA compliance; liaison with college's legal department, ICCB, & Office of Civil Rights.
2. Collect, analyze, & authorize disability accommodation information. Compose individualized accommodation letters for students to present to faculty. Maintain confidential disability documentation.
3. Provide required accommodations including sign language interpreters, audio texts, test reader/writers, Learning Ally membership for students, software/hardware purchases or updates, furniture needs.
4. Act as liaison for students, parents, faculty, college departments, high schools, disability agencies and organizations.
5. Supervision of SAIL, 300+, contractual sign language interpreters.
6. Prepare/update MOUs and ensure compliance.
7. Serve as ADAPT club advisor.
8. Oversee department's budget.
Requirements

:

1. Master's degree (MA) or equivalent in Special Education.
2. Three years working with students with disabilities in higher education.
3. Knowledge of high school special education programs.
4. Working knowledge of current ADA, 504 and other disability laws and regulations.
5. Excellent listening, speaking, reading, writing communication skills.
6. Excellent computer skills and software knowledge including Microsoft Office which includes Word, Excel, PowerPoint and Outlook.
7. Knowledge and comprehension of FERPA and confidentiality requirements.

 
Desired Qualifications:
1. Working knowledge of Ellucian Colleague or other ERP software.
For a detailed job posting and to apply, please visit our web site at: https://jobs.elgin.edu/applicants/Central?quickFind=52346
Elgin Community College is an Equal Employment, Equal Access Employer committed to increasing the diversity of our workforce.
PI97271837
Contact:
Apply Here:https://jobs.elgin.edu/applicants/Central?quickFind=52346
*******************************
Multiple Locations
Description:
The primary responsibility of the Special Education Specialist is to provide instruction and other related services to Special Education students. The Special Education Specialist will also facilitate diagnostic assessment including administration, scoring and interpretation. Will review and revise IEP's as needed. Will support instruction in reading, math, and written language for students, tutor individual and small groups of students, administer and score academic testing, write individualized education plans and support other academic programs as needed. The Special Education Specialist will work under the leadership of the Program Specialist and the Director of Special Education. This position will be available to provide direct instruction to students 6 hours a day.
Essential Functions include, but are not limited to the following:*
Provide instruction to students with special needs and identified learning disabilities in a special education program.
Tutor individual and small groups of students, reinforcing language and reading concepts.
Administer and score individual and group tests.
Schedule IEP meetings, coordinating schedules with parents, general education teacher(s), administrator, and all appropriate special education staff.
Conduct IEP meetings.
Communicate and coordinate special needs evaluation and testing with speech teacher, psychologist, and other service providers.
Communicate with parents regarding individual student progress and conduct.
Maintain progress records and record progress toward IEP goals.
Record progress within the independent study program.
Perform other duties in support of the Special Education Specialist program.
Support other academic programs offered within the independent study program.
Various openings in Burbank region, San Gabriel region, Victor Valley region, Inland Empire region, San Bernardino region, and San Juan region.
Special Education Specialist Certificate or ability to obtain Mild/Moderate Certificate.
Ability to teach students of grades K-12.
Ability to work with children of all ages.
Ability to understand, adopt, and support the independent study program, concepts and their philosophies.
Ability to organize and present ideas effectively in oral and written form.
Ability to make skillful decisions.
Ability to work under pressure and meet deadlines.
Ability to operate a PC computer, word processor, copier, FAX, and other office machines.

BA/BS Degree
Valid California Teaching Credential in Special Education (Mild/Moderate)
Knowledge, Skills and Abilities Required:
Special Education Specialist Certificate or ability to obtain Mild/Moderate Certificate.
Ability to teach students of grades K-12.
Ability to work with children of all ages.
Ability to understand, adopt, and support the independent study program, concepts and their philosophies.
Ability to organize and present ideas effectively in oral and written form.
Ability to make skillful decisions.
Ability to work under pressure and meet deadlines.
Ability to operate a PC computer, word processor, copier, FAX, and other office machines.
Education and Experience:
BA/BS Degree
Valid California Teaching Credential in Special Education (Mild/Moderate)
Contact:
Nehia Hearn
Human Resources Assistant
Direct: 626) 204-2552 Fax: 626) 685-9316
nhearn@ofy.org
*******************************