October 2016 - Special Educator e-Journal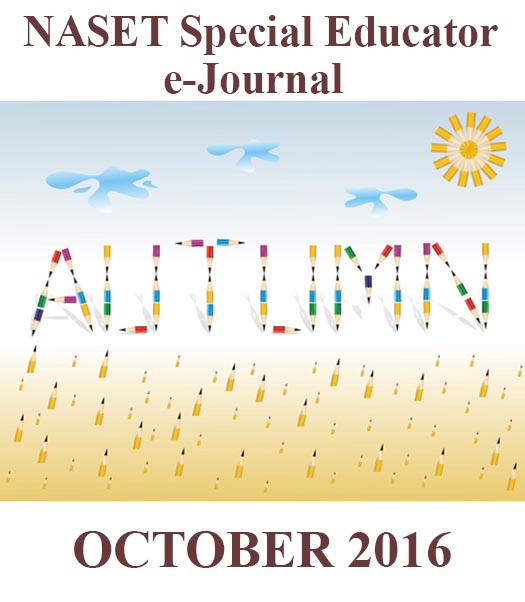 Table of Contents
Update from the U.S. Department of Education

Buzz from the HUB

Book Review: Waking Up White and Finding Myself in the Story of Race By Amanda Berndt

Literature Review: Inclusion and Least Restrictive Environment By Lauren Vivar

Book Review: Learn Like a Pirate By Paola Esquijarosa

Learning Approaches as a Predictor of Academic Performance for Students Who are Deaf By Daniel Fobi, MPhil Alexander, M. Oppong, Ph.D. and Joyce Adu, MPhil Student

Latest Employment Opportunities Posted on NASET



---
NASET Members - Login Below to access the latest Special Educator e-Journal.
Site visitors: You may access a sample e-Journal - Sample e-Journal
---
To learn more click on the image above or - Click here
---
Latest Employment Opportunities Posted on
NASET
Mount Berry, GA
Job Category: Tenure-Track Assistant or Associate Professor
Posted on Thursday, 29. of September 2016
Description:
The successful applicant will assist in the development of coursework in Applied Behavior Analysis for Board Certified Assistant Behavioral Analyst (BCaBA) and Board Certified Behavior Analyst (BCBA) preparation. Berry College currently has a 4-course sequence approved by the Behavioral Analyst Certification Board preparing students for BCaBA certification. Responsibilities may include 1.) Teaching courses such courses as Applied Practice in ABA, Single Subject Design in ABA, Advanced Strategies for Behavior Change in ABA, The Exceptional Child, and Ethics; 2) Assist in the development of a graduate course sequence and clinical experiences that would prepare students for BCBA and BCaBA certification; 3) Work with local schools to develop sites for practicum placements for students taking ABA coursework; and 4) Work with formal training collaborations with clinical facilities in the region that take a lead role nationally in the development of innovative use of ABA to treat severe behavioral disorders, language acquisition, educational deficits and feeding disorders. The faculty member is expected to engage in close collaboration with faculty in these facilities for providing classroom instruction and supervision of students in clinical practica. Service, including committee work at the college, school, and department level and student advising are expected. In addition, the successful candidate should demonstrate potential for research. It is expected that the successful candidate maintain an active research agenda.
Requirements:
Candidates must hold a Ph.D. in Special Education, Psychology, Applied Behavior Analysis, or Education and be a Board Certified Behavior Analyst (BCBA or BCBA-D) by start date. Competitive applicants will have had previous experience in supervising clinical training in ABA.
Applicant should send letter of interest, curriculum vitae, evidence of teaching effectiveness, a statement of teaching philosophy, transcripts and three letters of recommendation to Dr. Karen Kurz, Assistant Dean Graduate Studies in Education, Berry College, P. O. Box 495019, Mount Berry, GA 30149-5019 (e-mail: kkurz@berry.edu). Review of applicants will continue until a suitable candidate is identified. A national background check may be required of applicants.
Contact:
Dr Karen Kurz
Berry College
P. O. Box 495019
Mount Berry, GA 30149-5019
email:kkurz@berry.edu
****************************************
Renton, WA
Job Category: Special Education
Posted on Wednesday, 28. of September 2016
Description:
Puget Sound ESD is seeking a Special Services Manager to support the provision of pre-employment transition services to students with disabilities across the region. This is an exciting opportunity to support school district staff as they increase the post-secondary successes of students with disabilities through job exploration, work-based learning, post-secondary education exploration, workplace readiness training, and instruction in self-advocacy.
Qualifications
BA/BS degree in Education, Special Education, or related field
Professional experience working with high school special education students and post-secondary transition planning.
Experience with special education law and requirements
Experience with students in educational or work training situations, across a variety of disabilities, including learning disabilities, health impairments, emotional behavioral disabilities, intellectual disabilities, and multiple disabilities,
Experience providing professional development to adults.
Experience with grant management and outcome reporting
Experience with coordinating and/or providing post-secondary services (e.g. education, training, employment) for adults with disabilities
Special Education Endorsement and/or ESA certificate a plus
Preferred Qualifications
Benefits:
This special education leadership position has a potential end date of September 1, 2018, with possibility of extension contingent upon funding.
This position is based in Renton, Washington. Salary: $69,333 - $80,405/year. Salary offers consider candidate qualifications, experience, and internal equity. Excellent benefit package, including participation in Washington State Department of Retirement Systems, and the opportunity to work with a family-friendly, skilled and dedicated workforce committed to the communities we serve.
Contact:
Open until filled; for best consideration, submit complete application by Tuesday, 10/18/16. For more information and to apply via our online application system, visit our website atwww.psesd.org/careers.
****************************************
Barstow, California
Job Category: Full Time
Posted on Monday, 26. of September 2016
Date Posted: 9/6/2016
Contact: Cynthia Duran
Telephone: 760-255-6000
Number Openings:(At time of posting) 1
Length of Work Year: 7 hrs. per day ~ 185 days per year
Employment Type: Full Time
Application Deadline: Until Filled
Visit website:http://www.barstow.k12.ca.us/District/3752-EdJoin-Job-Search.html
Job Description / Essential Elements:
Special Education Teacher is sought by Barstow Unified School District in Barstow CA. At present there is a single job opening for a full time position for 7 hours a day 185 days per year. Applications will be accepted until the position is filled.
Minimum Qualifications:
Eligible or holds appropriate California Teaching Credential for Special Education.
Major Duties & Responsibilities:
Provides individual and small group assistance related to the pupil's specific learning disabilities, educational problems, and total educational adjustment. Other Duties: Evaluates pupils' academic and social growth, keeping appropriate records and communication progress with parents. Participates with the I.E.P. team to develop the individualized education program for each student placed in the class.
Requirements for Applying:
California Education Specialist Instruction Credential: Mild/Moderate (M/M) and/or Moderate/Severe (M/S) Minimum of three (3) years successful classroom contract teaching experience in a special education setting EL Authorization VPSS NCLB Certification in Subject (Verification Process for Secondary Teachers in Special Settings) Autism
Authorization SIGNING BONUS AVAILALBE (must possess Level I or Level II credential)
Attach copies of credentials
attach copies of testing (CBEST, CSET...)
please attach no more than three (3) signed letters of reference dated within the last three (3) years
Application Deadline:Until Filled
Upon hire ~ submit to a fingerprint background check, submit official transcripts and original official test scores, submit valid TB and physical
*SIGNING BONUS AVAILABLE TO FULLY CREDENTIALED SPECIAL EDUCATION TEACHERS
To apply: https://www.edjoin.org/Home/JobPosting/848934
****************************************
New York, New York
Job Category: Full Time
Posted on Monday, 26. of September 2016
Description:
Catapult Learning is seeking Special Education Teachers in New York for the 2016-17 school year
Locations are in New York - Bronx, Brooklyn, Queens, Manhattan, and Staten Island
We are an organization of dedicated people who know how exciting and rewarding it is to help children achieve. We are eager to have people join us whose training, skills and experience add to our ability to provide successful, research based instructional systems, great teaching, excellent support services, and strong partnerships with the schools we serve across the US. We emphasize flexible work schedules, small group teaching environments and high professional standards and will provide you the opportunity to grow with us and help students achieve beyond expectations.
Provides contracted instructional services with the necessary educational expertise in reading, mathematics, writing, and related areas; diagnoses learning skill deficits and delivers prescribed instructional delivery methods as determined by the Company; consults with school personnel to coordinate efforts in providing services to students; communicates and conferences with parents providing information on student progress.
Essential duties and responsibilities include the following:
Attends training sessions, passes content assessment, and delivers designated instructional models and strategies in readiness, reading, mathematics, and/or writing skills to eligible students through utilization of Company-designed materials and educational strategies.
Develops and maintains individualized skill-appropriate lesson plans.
Ensures supervision of students at all times, including escorting students safely to and from Company classroom or to mobile/trailer classroom.
Establishes and maintains student forms and files as required by Company, local, state, and/or federal agencies.
Attends and documents conferences/meetings/trainings with Company Supervisors, classroom teachers, principals, and parents as required by the Company, local, state, and/or federal agencies.
Maintains inventory of educational materials and supplies.
Other duties may be assigned.
EDUCATION/EXPERIENCE:
Requires valid teaching certification, as required by contract. Teaching experience preferred.
OTHER JOB REQUIREMENTS:
Must understand that all children can learn. Must demonstrate positive and enthusiastic attitude towards internal and external customers. Must be flexible. Working knowledge of Microsoft Office preferred. Must be available to work during the summer months.
PHYSICAL ENVIRONMENT/WORKING CONDITIONS:
Light lifting, walking, climbing stairs. Most programs are in school settings.
The Company provides all classroom and instructional materials as well prepared lesson plans and paid training. Continued instructional and leadership support for all employees is also provided.
Contact:
Apply Here:http://www.Click2Apply.net/7c8tqf25kt
****************************************
Haddonfield, New Jersey
Job Category: Full Time
Posted on Monday, 19. of September 2016
Position Summary:
Plans and implements classroom instruction, specializing within one or more areas of curriculum, to specifically meet the educational needs of students and to encourage the best possible student educational experience.
Education & Experience:
Bachelor's degree and eligibility for formal certification such as N.J. Teacher of Disabilities (or of the Handicapped) required. Must be fluent in American Sign Language. Minimum of one year of teaching experience in special education preferred. Eligibility for Highly-Qualified Teacher status required. Prior experience working with individuals with developmental disabilities preferred.
Contact:
Jennifer Perna, Talent Acquisition Partner
Jennifer.perna@bancroft.org
Please apply using the link below:
Click Here to learn more and apply
****************************************
Boston, MA
Job Category: Full Time
Posted on Friday, 16. of September 2016
Description
The Special Education Coordinator is passionate about supporting the students who are at-risk for academic underperformance due to emotional and/or physical challenges so that they can succeed in the school's rigorous academic program. The Special Education Coordinator holds primary responsibility for providing academic, emotional, and physical services for students who require additional support to thrive within the school's core academic program.
Essential Duties & Responsibilities
Ensure that all students receive the educational services that they need to succeed
Identify incoming students' special education needs as indicated by family questionnaire responses
Review the results of intake assessments of new students to identify special education needs
Schedule and providing pull-out services as needed
Schedule, coordinate, and chair team and pre-referral meetings
Conduct academic testing as part of the evaluation process
Coordinate and conducting classroom observations and testing (i.e. psychological) as needed
Ensure that all regular education teachers know and understand all classroom accommodations required by IEPs
Deliver one-on-one, small group, and whole class instruction as appropriate
Maintain student records regarding special education issues and preparing reports for regulatory agencies
Ensure compliance with all City, State, and Federal special education law and regulations
Contribute to the design of curriculum materials
Design and administer rigorous, standards-based assessments and using assessment data to refine curriculum and instruction
Help to create a culture of order, structure, humanity, and academic rigor in the classroom and school as a whole
Collaborate with other teachers, other school staff, and administrators to ensure that all our students climb the mountain to high school and college.
Drive to improve the minds and lives of students in and out of the classroom.
Proven track-record of high achievement in the classroom.
Mastery of and enthusiasm for academic subjects.
Evidence of self-motivation and willingness to be a team player.
Bachelor's degree is required; Master's degree is preferred.
Minimum of two years teaching experience in an urban public school or charter school setting preferred.
Special Education teaching certification required
Qualifications
Compensation
We offer a generous compensation package. All staff members are equipped with the tools needed to succeed, including a dedicated work space, laptop computer, email, high-speed internet access, and all necessary supplies.
To Apply
http://uncommonschools.force.com/careers/ts2__JobDetails?jobId=a0xF000001PnaG4IAJ&tSource=
****************************************
Bethlehem, PA
Job Category: Tenure-Track Assistant or Associate Professor
Posted on Tuesday, 13. of September 2016
DESCRIPTION:
The Moravian College Education Department invites applications for tenure-track positions in mathematics, literacy, and special education. The positions begin Fall Term 2017. Members of the Moravian College Education Department view and carry out their work in the context of the College's liberal arts ethos.
Successful candidates will have opportunities to teach undergraduate courses in early childhood, middle level, and secondary education. Candidates with experience, knowledge, and coursework in the area of educational technology and who can also teach courses that prepare all teacher education candidates effectively to employ the use of technology are preferred.
Candidates must be ready to share in the work of a thriving Education Department engaged in processes of both growth and redesign. Other instructional opportunities exist, including the teaching of foundations, educational technology, and adolescent psychology. The undergraduate program offers certificates in early childhood education (PreK-Grade 4), middle level education (Grades 4-8), most areas in secondary education (Grades 7-12), as well as certification in the PreK-12 areas of art, music, and world language.
Opportunities to teach in other undergraduate areas in support of the liberal arts curriculum, as well as within the graduate education program, are also available. In addition to awarding the Master of Education and Master of Arts in Teaching degrees, the graduate education program offers certification for principals, supervisors of curriculum and instruction, reading specialists, ESL teachers, and special educators.
All positions are subject to budget availability.
QUALIFICATIONS:
Qualified applicants must have a record of at least three years of successful child-centered, public school teaching and hold an appropriate doctorate degree. ABD considered. In addition, successful candidates must demonstrate a genuine desire to participate fully in a liberal arts environment and be committed first to teaching and next to scholarship and service.
TO APPLY:
Please send a letter of application, curriculum vitae, and three letters of reference in a digital Microsoft Word format to search.education@moravian.edu. Subject line should state "Attn: Education Department" and either "mathematics education, literacy education, or special education applicant." Materials not available in Word format should be sent to Dr. Joseph Shosh, Chair, PPHAC 327, Education Department, Moravian College, 1200 Main Street, Bethlehem, PA 18018-6650.
Complete applications will be considered beginning October 15, 2016 and continue until appointments are made.
****************************************
Gilbert, Arizona
Job Category: Special Education Teacher
Posted on Thursday, 08. of September 2016
Description:
Support HUSD Vision, Mission and Goals.
Implements instructional activities that contribute to a climate where students are actively engaged in meaningful learning experiences.
Identifies, selects, and modifies instructional resources to meet the needs of the students with varying backgrounds, learning styles, and special needs.
Assists in assessing changing curricular needs and offers plans for improvement.
Maintains effective and efficient record keeping procedures.
Provides a positive environment in which students are encouraged to be actively engaged in the learning process.
Communicates effectively, both orally and in writing, with students, parents, and other professionals on a regular basis.
Collaborates with peers to enhance the instructional environment.
Models professional and ethical standards when dealing with students, parents, peers, and community.
Ensures that student growth and achievement is continuous and appropriate for age group, subject area, and/or program classification.
Establishes and maintains cooperative working relationships with students, parents, and schools.
Assumes responsibility for meeting his/her course and school-wide student performance goals.
Demonstrates gains in student performance.
Participates in professional growth training.
Meets professional obligations through efficient work habits such as: meeting deadlines, honoring schedules, coordinating.
Bachelor's degree from an accredited college or university.
Must hold valid Arizona Teacher Certification with approved area/endorsement as needed for position.
Must be Highly Qualified in subject area of position at time of hire.
No convictions for felonies or crimes against children.
Finger Print Clearance Card.
Paid Employee Benefits: On the first day of the month following 30 days of employment with HUSD, all employees working at least 30 hrs. per week are eligible for health insurance.
Paid Employee Life Insurance: $50,000 in life insurance is provided to all full-time employees (30 hours/week)
Voluntary Health Benefits: All full-time employees (30 hours/week) are eligible for voluntary benefits , e.g. dental, vision short-term disability
Before/After School Care: Discounted rates for all employees including drop-in options
State Retirement: District matches employee contribution of 11.47%
General Leave: Employees earn 1 day/month (10 total per contract year)
Liability Insurance: All employees are covered at no cost to the employee
Disability Insurance: Long-term disability insurance is provided by the State after 180 days. Short-term disability insurance is available to the employee as a voluntary benefit at the employee's expense
Requirements:
Benefits:
Contact:
http://www.husd.org/domain/767
Sheila Sorenson
sheila.sorenson@husd.org
480-279-7131
****************************************
Ridgely, MD
Job Category: Curriculum
Posted on Wednesday, 24. of August 2016
Description:
The Curriculum Coordinator is responsible for coordinating the curriculum resources (print, technology, and created) for the school in order to meet the needs of our students in accordance with the COMAR regulations set forth by the Maryland State Department of Education. The CC serves as the school Test Coordinator for all state mandated testing (Alt-MSE, NCSC, etc). The CC will work collaboratively to ensure a strong use of state of the art technology in instruction. Coordinate/manage core curriculum needs for The Benedictine School in conjunction with the Education Director, Team Leaders, and others as necessary. Work with each classroom teacher/team to ensure appropriate curriculum and materials (including technology) is available for student needs in conjunction with team leaders. Identify and assess potential core curriculum, materials, and technology to supplement and enhance current tools/methods. Oversee and manage instructional technology (hardware and software) related to education technology for the school. Assist staff in adapting age appropriate General Education curricula to the learning needs of students. Identify curriculum training needs of the school in conjunction with team leaders. Coordinate required state testing such as Alt-MSA, NCSC, etc. Assist classroom staff in curriculum needs as they apply to implementing state testing. Develop and monitor school-wide policies on educational and other technologies. Work with school staff to design and develop instruction using technology. Support school and residential staff in the implementation, training and use of new education technologies. Work collaboratively with Communication and IT Departments in supporting the instructional and clinical needs of students.
Requirements:
Bachelor's degree in education or related field with a minimum of 5 years' experience as an educator; Master's degree preferred. Minimum 5 years teaching experience in special education, excellent computer and technology skills, must have knowledge of state testing requirements, must have experience in designing and implementing functional and academic curriculum, including with the use of technology. Must have experience creating IEP's
Benefits:
The following benefit programs are available to eligible employees:
Health, Dental, and Vision Insurance
Short-Term Disability
Long-Term Disability
Life Insurance
403(b) Retirement Plan
Dependent Care Benefits
Educational Assistance
Credit Union
Employee Assistance Program
Paid time off
Contact:
Erin - HR Generalist
410-364-9616
****************************************
Valley Glen, CA
Job Category: Full Time
Posted on Tuesday, 23. of August 2016
DESCRIPTION:
Founded in 1975, The Help Group is the largest, most innovative and comprehensive nonprofit of its kind in the United States serving children with special needs related to autism spectrum disorder, learning disabilities, ADHD, developmental delays, abuse and emotional problems.
We are seeking an engaged, knowledgeable, enthusiastic individual to take on the position of Principal for a new STEM Academy for students with social and learning differences, including autism. STEM3 Academy is for students in grades 9 through 12 who have a talent and passion for STEM-related activities. The Principal would be involved in the day to day running of the school, as well as overseeing teacher planning and execution. STEM3 Academy is committed to experiential learning, and the development of 21st Century skills through integrated group projects and assignments. We expect the Principal to be actively involved in the development of the Academy to further its goals of achieving lifelong success through college and career for its students.
DUTIES INCLUDE:
Ensure compliance with school district policies and procedures.
Hire, orient, train, supervise and evaluate teaching staff.
Ensure that classroom curriculum is appropriate and meet the needs of each student.
Supervise behavior management program.
Transition new students into school program.
Develop extracurricular programs.
Serve as coordinator of interdisciplinary team.
Attend student Individual Education Program (IEP's) or send an administrative designee.
Serve as liaison to parents and school district.
Coordinate with transportation carrier.
Oversee outcome evaluation study to ensure program is achieving its goals.
Manage curriculum and reinforcement.
The Principal should meet routinely with teachers and observe in classrooms to ensure conformity with the goals of the program.
The Principal should remain current with best practices on educating students with ASD, ADHD, SLD, ED and related needs, as well as those who are gifted.
To learn more about The Help Group visit:  www.thehelpgroup.org.
To learn more about STEM3 Academy visit:  www.stem3academy.org.
QUALIFICATIONS:
Minimum 3 years' experience as a classroom teacher or 3 years of a combination of teaching and school administrative experience required.
BENEFITS:
The Help Group offers wonderful training opportunities, a supportive, professional work environment and excellent benefits, including:
Excellent benefits, including a 100% employer-sponsored health insurance plan
Dental, vision, and life insurance
403b retirement plan
Flexible Spending Account
Sick Leave
CONTACT:
To apply for this exciting opportunity, please send your resume, cover letter and salary history to careers@thehelpgroup.org.
****************************************
Columbus, Cincinnati, Akron, Cleveland Ohio Areas
Job Category: Intervention Specialist
Posted on Monday, 22. of August 2016
Description:
At Life Skills High Schools we strive to provide our unique students with the best education possible. It is our goal each and every day to Educate, Innovate, Inspire, and Love each and every individual that comes to our schools. We pride ourselves in knowing that our students are not only receiving the best education that they deserve, but also developing the necessary life skills needed in this day and age to become the successful person that is in us all.
Our Intervention Specialists provide effective education to students with learning and/or developmental disabilities.
Some examples of the duties our Intervention Specialists fulfill are:
Assist with the implementation of the IEP for each student served
Write lessons plans to accommodate IEP curriculum
Work with the teaching staff to improve standardized and proficiency testing results
Plan and deliver services for students with special needs
Provide resources for classroom teachers for areas of disability
School activities — the Intervention Specialist is required to attend and/ or participate in such other activities as directed by the Administrator such as: faculty meetings (before or after school hours), open houses, commencement exercises, chaperone student activities, provide guidance for students, participate in professional learning communities, study and help resolve school problems, and participate in the preparation of courses of study -- these activities demonstrate valuable support for the Life Skills High School
Perform student home visits as required
Bachelor's degree minimum, Master's degree in Special Education or related field preferred
Valid Intervention Specialist K-12 licensure through ODE in Mild/Moderate or Moderate/Intense field
Considered Highly Qualified in Special Education
Excellent verbal and written communication skills
Successful completion of state mandated FBI and BCI criminal history check(s)
Physical ability to lift up to 25 lbs
Competitive pay
Company paid Life Insurance
Tuition reimbursement
STRS
Professional development
Minimum qualifications for this position are below:
IF YOU WOULD LIKE TO JOIN THE NEW AND INNOVATIVE WAVE OF EDUCATION, APPLY TODAY!
Benefits:
Contact:
Samantha Stender
Human Resources, Recruiter
PH: (330) 252-8921
Fax: (330) 252-8821
SMStender001@lifeskillshs.com
Website:www.lifeskillshs.com
****************************************
Manassas, Virginia
Job Category: Teacher
Posted on Friday, 29. of July 2016
BASIC FUNCTION/NATURE OF WORK
The special education teacher's function is to develop and implement effective instructional practices based on the needs identified in students' Individualized Education Programs (IEPs). The teacher will develop, implement and monitor the students' Individualized Education Programs in collaboration with parents and other IEP Team members. The teacher will promote a collaborative relationship with school staff and parents that will foster inclusionary practices.
BASIC QUALIFICATIONS
Master's degree preferred. Bachelor's degree required. PWCS is interested in candidates with ESL and bilingual credentials and foreign language fluency.
STATE REQUIREMENTS/QUALIFICATIONS
Hold a Virginia teaching certificate with endorsements in the area of disability served. In lieu of complete endorsement, a conditional license may be granted if the teacher is working toward complete endorsement at a rate of a minimum of six (6) semester hours per year.
EEOC/M/F/D/V
BENEFITS
Extensive professional learning opportunities.
Multiple medical, dental, vision plans to choose from.
Virginia Retirement System incl. life insurance
Supplemental retirement, life insurance, disability plans available.
Tuition reimbursement.
Personal and sick leave.
195 day contract.
CONTACT
Coordinator, Recruitment & Retention
recruit@pwcs.edu
703.791.8950
Learn more about us at www.pwcs.edu .
Apply online now at https://jobs.pwcs.edu/Jobs/
*******************************