September 2016 - Special Educator e-Journal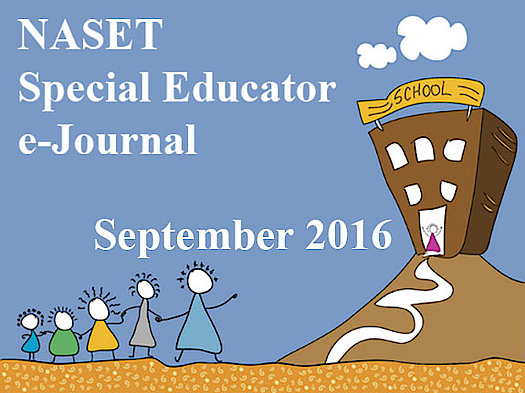 Table of Contents
Update from the U.S. Department of Education

Buzz from the HUB

Effectively Engaging Students with Mild Disabilities in Next Generation Science and Engineering Practices By Kimberly E. Bryant Davis, Julie Angle and Adrienne Sanogo

School-Based Mental Health: A Review of the Literature By Barbara Linnville

Book Review: Who Moved My Cheese? By Nicole Paez

Latest Employment Opportunities Posted on NASET



---
NASET Members - Login Below to access the latest Special Educator e-Journal.
Site visitors: You may access a sample e-Journal - Sample e-Journal
---
To learn more click on the image above or - Click here
---
Latest Employment Opportunities Posted on
NASET
Ridgely, MD
Job Category: Curriculum
Description:
The Curriculum Coordinator is responsible for coordinating the curriculum resources (print, technology, and created) for the school in order to meet the needs of our students in accordance with the COMAR regulations set forth by the Maryland State Department of Education. The CC serves as the school Test Coordinator for all state mandated testing (Alt-MSE, NCSC, etc). The CC will work collaboratively to ensure a strong use of state of the art technology in instruction. Coordinate/manage core curriculum needs for The Benedictine School in conjunction with the Education Director, Team Leaders, and others as necessary. Work with each classroom teacher/team to ensure appropriate curriculum and materials (including technology) is available for student needs in conjunction with team leaders. Identify and assess potential core curriculum, materials, and technology to supplement and enhance current tools/methods. Oversee and manage instructional technology (hardware and software) related to education technology for the school. Assist staff in adapting age appropriate General Education curricula to the learning needs of students. Identify curriculum training needs of the school in conjunction with team leaders. Coordinate required state testing such as Alt-MSA, NCSC, etc. Assist classroom staff in curriculum needs as they apply to implementing state testing. Develop and monitor school-wide policies on educational and other technologies. Work with school staff to design and develop instruction using technology. Support school and residential staff in the implementation, training and use of new education technologies. Work collaboratively with Communication and IT Departments in supporting the instructional and clinical needs of students.
Requirements:
Bachelor's degree in education or related field with a minimum of 5 years' experience as an educator; Master's degree preferred. Minimum 5 years teaching experience in special education, excellent computer and technology skills, must have knowledge of state testing requirements, must have experience in designing and implementing functional and academic curriculum, including with the use of technology. Must have experience creating IEP's
Benefits:
The following benefit programs are available to eligible employees:
Health, Dental, and Vision Insurance
Short-Term Disability
Long-Term Disability
Life Insurance
403(b) Retirement Plan
Dependent Care Benefits
Educational Assistance
Credit Union
Employee Assistance Program
Paid time off
Contact:
Erin - HR Generalist
410-364-9616
*******************************
Valley Glen, CA
Job Category: Full Time
DESCRIPTION:
Founded in 1975, The Help Group is the largest, most innovative and comprehensive nonprofit of its kind in the United States serving children with special needs related to autism spectrum disorder, learning disabilities, ADHD, developmental delays, abuse and emotional problems.
We are seeking an engaged, knowledgeable, enthusiastic individual to take on the position of Principal for a new STEM Academy for students with social and learning differences, including autism. STEM3 Academy is for students in grades 9 through 12 who have a talent and passion for STEM-related activities. The Principal would be involved in the day to day running of the school, as well as overseeing teacher planning and execution. STEM3 Academy is committed to experiential learning, and the development of 21st Century skills through integrated group projects and assignments. We expect the Principal to be actively involved in the development of the Academy to further its goals of achieving lifelong success through college and career for its students.
DUTIES INCLUDE:
Ensure compliance with school district policies and procedures.
Hire, orient, train, supervise and evaluate teaching staff.
Ensure that classroom curriculum is appropriate and meet the needs of each student.
Supervise behavior management program.
Transition new students into school program.
Develop extracurricular programs.
Serve as coordinator of interdisciplinary team.
Attend student Individual Education Program (IEP's) or send an administrative designee.
Serve as liaison to parents and school district.
Coordinate with transportation carrier.
Oversee outcome evaluation study to ensure program is achieving its goals.
Manage curriculum and reinforcement.
The Principal should meet routinely with teachers and observe in classrooms to ensure conformity with the goals of the program.
The Principal should remain current with best practices on educating students with ASD, ADHD, SLD, ED and related needs, as well as those who are gifted.
To learn more about The Help Group visit:  www.thehelpgroup.org.
To learn more about STEM3 Academy visit:  www.stem3academy.org.
QUALIFICATIONS:
Minimum 3 years' experience as a classroom teacher or 3 years of a combination of teaching and school administrative experience required.
BENEFITS:
The Help Group offers wonderful training opportunities, a supportive, professional work environment and excellent benefits, including:
Excellent benefits, including a 100% employer-sponsored health insurance plan
Dental, vision, and life insurance
403b retirement plan
Flexible Spending Account
Sick Leave
CONTACT:
To apply for this exciting opportunity, please send your resume, cover letter and salary history to careers@thehelpgroup.org.
*******************************
Valley Glen, CA
Job Category: Full Time
Description:
Founded in 1975, The Help Group is the largest, most innovative and comprehensive nonprofit of its kind in the United States serving children with special needs related to autism spectrum disorder, learning disabilities, ADHD, developmental delays, abuse and emotional problems.
POSITION: Curriculum Specialist – STEM3
STEM3 is a unique, state-of-the-art STEM-based high school educating students with special needs, including those with high functioning autism. STEM3 Academy is home to students who are interested in a variety of careers including those that relate to Science, Technology, Engineering and Math. At STEM3 Academy, project-based learning emphasizes creativity, cooperation, rigorous academics and enhances real-world experiences. Our goal is to position our students for future success in college and career. The idea of a specialized school for students with special gifts in the STEM disciplines can be the next great step in building independent lives for children with learning differences. Our out-of-the-box thinkers need an out-of-the-box curriculum as unique as them. The time has come for STEM3 Academy. To find out more about us, go to www.stem3academy.org.
DUTIES INCLUDE:
Research and development of STEM curricula that can be adapted into a STEM3 Academy Model Curriculum, weaving in project-based learning and embedding social/emotional learning for students with special needs.
Build out a STEM3 Academy K-12 scope and sequence.
Build developmentally appropriate curricula for each level of each discipline in elementary, middle and high school programs which aligns with the California Common Core State Standards and the Next Generation Science Standards.
Provide in-service to Teachers and Instructional Aides in the new curriculum.
Coordinate measurement of new curriculum with evaluation and assessment efforts.
To learn more about The Help Group visit:  www.thehelpgroup.org
QUALIFICATIONS:
Bachelor's degree accepted with experience, Master's degree preferred in Curriculum Design and/or Education. Experience working as teacher and/or administrator and/or curriculum designer.
BENEFITS:
The Help Group offers wonderful training opportunities, a supportive, professional work environment and great benefits, including:
Excellent benefits, including a 100% employer-sponsored health insurance plan
Dental, vision, and life insurance
403b retirement plan
Flexible Spending Account
Sick Leave
CONTACT:
To apply for this exciting opportunity, please send your cover letter, resume and salary history to careers@thehelpgroup.org.
*******************************
Columbus, Cincinnati, Akron, Cleveland Ohio Areas
Job Category: Intervention Specialist
Description:
At Life Skills High Schools we strive to provide our unique students with the best education possible. It is our goal each and every day to Educate, Innovate, Inspire, and Love each and every individual that comes to our schools. We pride ourselves in knowing that our students are not only receiving the best education that they deserve, but also developing the necessary life skills needed in this day and age to become the successful person that is in us all.
Our Intervention Specialists provide effective education to students with learning and/or developmental disabilities.
Some examples of the duties our Intervention Specialists fulfill are:
Assist with the implementation of the IEP for each student served
Write lessons plans to accommodate IEP curriculum
Work with the teaching staff to improve standardized and proficiency testing results
Plan and deliver services for students with special needs
Provide resources for classroom teachers for areas of disability
School activities — the Intervention Specialist is required to attend and/ or participate in such other activities as directed by the Administrator such as: faculty meetings (before or after school hours), open houses, commencement exercises, chaperone student activities, provide guidance for students, participate in professional learning communities, study and help resolve school problems, and participate in the preparation of courses of study -- these activities demonstrate valuable support for the Life Skills High School
Perform student home visits as required
Minimum qualifications for this position are below:
Bachelor's degree minimum, Master's degree in Special Education or related field preferred
Valid Intervention Specialist K-12 licensure through ODE in Mild/Moderate or Moderate/Intense field
Considered Highly Qualified in Special Education
Excellent verbal and written communication skills
Successful completion of state mandated FBI and BCI criminal history check(s)
Physical ability to lift up to 25 lbs
IF YOU WOULD LIKE TO JOIN THE NEW AND INNOVATIVE WAVE OF EDUCATION, APPLY TODAY!
Benefits:
Competitive pay
Company paid Life Insurance
Tuition reimbursement
STRS
Professional development
Contact:
Samantha Stender
Human Resources, Recruiter
PH: (330) 252-8921
Fax: (330) 252-8821
SMStender001@lifeskillshs.com
Website:www.lifeskillshs.com
*******************************
Rock Hill, South Carolina
Job Category: Special Education Teacher
Description:
New Hope Treatment Centers a Psychiatric Residential Treatment Facility located in Rock Hill, SC. is hiring for Special Education Teachers. This position provides for an educational experience for residents, whose emotional, mental, or physical disabilities make it difficult for them to learn. As a Special Education Teacher, you will be responsible for the daily development and delivery of individualized instruction for our students. This position requires the knowledge and use of current best practice teaching methodologies within a self-contained classroom setting.
Job Functions:
Designs/utilizes Individual Educational Plans (IEP), Individual Learning Plans (ILP), Accommodation Plans (504) based on student's individual needs to monitor and/or promote educational and intellectual development of residents and works to include all required parties
Coordinates or Administers appropriate educational testing (achievement and intelligence) to gather data for the development of the Individualized Educational Plan and instruction.
Provides therapeutic intervention in the classroom to maintain a therapeutic and safe educational environment and manages resident behaviors effectively.
Develops and submits appropriate individualized lesson plans.
Participates/facilitates multidisciplinary treatment team meetings, Education Meetings Individualized Educational Plan meetings, Program Planning, CFTs, CIRs, and other meetings as required
Provides an appropriate educational program for each resident based on thorough assessment and review of previous school records. This includes hands-on activities and curriculum adaptations or student accommodations when needed.
Minimum Qualifications:
Bachelor's Degree in Education with Special Education Teaching Certification in South Carolina or eligibility for certification. Experience in a behavioral health setting or alternative education setting preferred
Please visit our website at www.newhopetreatment.com to learn more about the population you will be teaching.
Contact:
Nina Dorsey, Recruiter
803-328-9300 ext. 5197
ninad@newhopetreatment.com
*******************************
Rockford, IL
Job Category: Full Time
Description
The primary responsibility of the teacher is to ensure the health, safety and well-being of each student. The teacher is accountable for the development, implementation and monitoring of all aspects of classroom programming.
Adhere to all mandated reporter and OIG guidelines at all times.
Develop weekly lesson plans in alignment with student IEP goals.
Perform and submit formal assessments at least 10 days prior to each student's annual review, but not earlier than 30-days prior.
Develop, in collaboration with team members, appropriate IEP goals based on assessment results 10 days prior to annual review.
Update and provide data-based quarterly progress reports and IEP benchmarks.
Note in lesson plans, references of informal assessment of specific students that triggered plan.
Arrange for and perform activities, materials, and prompting hierarchies that relate to the IEP goals.
Mentor and train classroom and 1:1 assistants to anticipate those activities that they can perform, which support the lesson plan.
Provide monthly suggestions to the School Administrator/Program Coordinator on areas of training that would enhance the skills of teachers and aides.
Conduct weekly meetings with paraprofessional staff members and submit documentation to administration.
Interact with the School Administrator/Program Coordinator and clinical staff regarding clinical recommendations.
Observe performance of classroom staff sufficient to perform an evaluation and assist administration with annual performance evaluation.
Notify School Administrator/Program Coordinator of the onset of unacceptable performance of classroom staff.
Communicate daily to parents via notebook or phone regarding the on-going performance of students.
Maintain and update all required components to student main files.
Participate in at least 2 outside trainings per school year directly related to serving students with special needs, particularly those diagnosed with autism.
Participate in all scheduled in-house training throughout the school year.
Participate in student IEP/MDC meetings throughout the school year.
Participate in medical case review meetings for students throughout the school year.
Conduct at least 2 observations in other classrooms and provide administration with documentation of each observation throughout the school year.
All other duties as assigned.
Requirements
EDUCATION/CERTIFICATION:
Bachelor's Degree in Special Education and Illinois State Type 10 teaching certificate or LBS1 (limited or unlimited)
Bachelor's Degree and an Illinois State teaching certificate in an area of regular education, and a Special Education endorsement, letter of approval or a short term emergency letter of approval.
EXPERIENCE REQUIRED:
Completion of required clinical hours for teaching degree/certificate.
Experience working with special needs population necessary.
SKILLS/ABILITIES:
Ability to perform all functions necessary to obtain certification in Therapeutic Crisis Intervention (TCI) and CPR
Ability to multi-task in a high stress environment
Ability to interact with diverse personalities
Above average endurance.
ADA: Easter Seals will make reasonable accommodations in compliance with the Americans with Disability Act of 1990. Unless exempted by the Americans with Disabilities Act, all persons hired for this position are required to possess the ability to perform the physical tasks necessary to treat clients, i.e., bending, floor-sitting, etc., as well as to have the ability to lift up to 50 pounds frequently.
Contact
Please send resume to: beth.mehlbaum@eastersealschicago.org
*******************************
Phoenix, Arizona
Job Category: SPED Admin and Teaching
Description:
ESS Coordinator / Special Education Teacher:
Great Hearts Academies is committed to serving the students within our special education population in a manner that reflects and affirms their dignity and rightful participation within the larger student body. Through the use of consultation, resource, inclusion, and co-teaching models in a variety of academic environments, the Special Education team aims to provide support for students while working to ensure as much time as appropriate is spent within the regular classroom.
Primary Duties and Responsibilities Include, But Are Not Limited To:
Providing direct and consultative services to students with IEP's in the school environment
Collaborating with related service providers, assisting general education staff in the implement of accommodations and modifications
Writing and maintaining all IEP's, Prior Written Notices, and MET paperwork while ensuring compliance with state and federal guidelines
Planning and facilitating meetings throughout the ARD committee process and ongoing communication and collaboration with parents, staff, and administrative staff regarding student planning and progress.
Coordinating 504 plans and conducting testing and ELL programming for eligible English language learners.
Managing the transition of new enrollees eligible for special education and related services for the 2016 - 2017 school year (Conducting initial records request for new incoming students, creating individual student files/folders for incoming SPED and 504 students, reviewing IEPs, evaluation reports and 504 Plans received on incoming students, scheduling and/or attending meetings with SPED or 504 student families, conducting follow up phone calls to school staff members currently working with some incoming students and responding to emails and calls from parents of potential future students with special needs, etc.)
Requirements:
Candidates must hold at least a Bachelor's degree and a valid state certification in Special Education for K-12
Candidates with ESL certification are preferred
BENEFITS:
Manageable caseload
Competitive salary
Signing Bonuses
Great benefits
Strong administrative support
Collaborating Exceptional Student Services Coordinators, supporting Regional Coordinators, and Great Hearts Lead Office support
TO APPLY:
Candidates will apply by going to: http://chp.tbe.taleo.net/chp04/ats/careers/requisition.jsp?org=GREATHEARTS&cws=39&rid=551
*******************************
Fulton County Schools - Metro Atlanta, GA
Job Category: Teaching
Description:
Fulton County Schools provides instruction for students that enables them to learn and demonstrate mastery of the Georgia Performance Standards.
Duties and Responsibilities:
Provides content-related and appropriate instruction based on Fulton County's curriculum
Integrates appropriate technology into classroom instruction
Provides classroom environment which promotes active learning in subject area
Exhibits knowledge of performance-based instructions and assessment
Communicates responsibly with all students, parents, colleagues, and school leadership
Facilitates home-school communication by such means as holding conferences, telephoning, and sending written communications
Works with parents/guardians in all aspects of the student's educational program
Prepares adequately for responsibilities to be assumed when absent
Accounts for student attendance and punctuality
Follows all county, state, and federal policies and procedures
Follows professional ethics in all work-related activities
Avoid behaviors which detract from staff morale
Requirements:
Minimum of a Bachelor's Degree from a regionally accredited university
Must hold or be eligible to hold a Georgia certificate in applicable field
Proven communication and instructional strategies; classroom management skills; excellent organizational skills
Salary Information:
Actual salary placement will be based on Fulton County Board of Education experience and education calculations from the Teacher Salary Schedule (190 Days)
Click to Access 2016-2017 Teacher Salary Schedule: http://tinyurl.com/zjl92a4
Contact:
Liz Young
younge1@fultonschools.org
(404)668-1806
Please apply to our Teacher Candidate Pool. The application includes the Teacher Fit Inventory and a Student Data Set Exercise. You will receive an invitation to schedule a phone interview within 48 hours of submission.
https://www.applitrack.com/fultonschools/onlineapp/default.aspx?Category=Teaching
District Website:www.fultonschools.org
*******************************
Manassas, Virginia
Job Category: Teacher
BASIC FUNCTION/NATURE OF WORK
The special education teacher's function is to develop and implement effective instructional practices based on the needs identified in students' Individualized Education Programs (IEPs). The teacher will develop, implement and monitor the students' Individualized Education Programs in collaboration with parents and other IEP Team members. The teacher will promote a collaborative relationship with school staff and parents that will foster inclusionary practices.
BASIC QUALIFICATIONS
Master's degree preferred. Bachelor's degree required. PWCS is interested in candidates with ESL and bilingual credentials and foreign language fluency.
STATE REQUIREMENTS/QUALIFICATIONS
Hold a Virginia teaching certificate with endorsements in the area of disability served. In lieu of complete endorsement, a conditional license may be granted if the teacher is working toward complete endorsement at a rate of a minimum of six (6) semester hours per year.
EEOC/M/F/D/V
BENEFITS
Extensive professional learning opportunities.
Multiple medical, dental, vision plans to choose from.
Virginia Retirement System incl. life insurance
Supplemental retirement, life insurance, disability plans available.
Tuition reimbursement.
Personal and sick leave.
195 day contract.
CONTACT
Coordinator, Recruitment & Retention
recruit@pwcs.edu
703.791.8950
Learn more about us at www.pwcs.edu .
Apply online now at https://jobs.pwcs.edu/Jobs/
*******************************
Sherman Oaks, CA
Job Category: Full Time
DESCRIPTION:
Plan, coordinate and implement individual student programs
Select appropriate curriculum content for each student.
Determine appropriate, measurable goals and objectives for each student
Write individual education plans (IEPs) and participate in IEP meetings
Employ a trans-disciplinary approach to education, conferring with team members as appropriate for particular issues.
Prepare or secure necessary instructional materials
Modify activities and adapt materials to promote student success
Design and use instructional grouping patterns that are varied and flexible, including individual, small group, and whole class instruction
Employ clear, predictable daily and weekly schedules, which accommodate students' needs.
Prepare a weekly plan book to detail lesson plans, grouping, activities, staff assignments, and other relevant information
Employ appropriate, individualized teaching and reinforcement techniques to maximize student achievement
MINIMUM QUALIFICATIONS:
Teaching credential in moderate to severe credentials required (CA); OR the ability to qualify for an emergency teaching credential
Experience teaching students with autism, learning disabilities, emotional disabilities
BENEFITS:
$7500 Sign-on bonus for successful new hires
Competitive salary
Reimbursement of CEUs
Mentor teacher opportunities
Excellent benefits, including a 100% employer-sponsored health insurance plan
Dental, vision, and life insurance
403b Retirement Plan
Flexible Spending Account
Small class sizes with a supportive staff and a professional environment
CONTACT:
Email resume and cover letter to careers@thehelpgroup.org.
*******************************