January 2017 - Special Educator e-Journal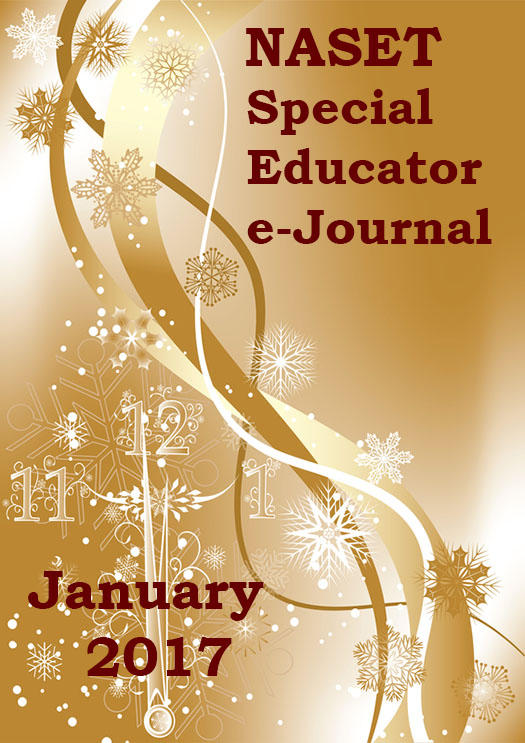 Table of Contents
Joint Statement on Recruiting Quality Candidates into the Teaching Profession
Update from the U.S. Department of Education
Book Review: The Influence of Teachers, Reflections on Teaching and Leadership. By Olga M. Torguet
Common Core State Standards and the Implications it has on Special Education. By Oria Perez
The Impact of Stakeholders' Collaboration on Addressing the Needs of Students with Disabilities. By N. Alexandra Cooper
A Discussion of Parental Involvement and Disability Status in Urban Schools from the Perspective of a Special Education Teacher in an Urban Setting. By Shekeyla Roberts
Special Education Legal Alert. By Perry A. Zirkel
---
NASET Members - Login Below to access the latest Special Educator e-Journal.
Site visitors: You may access a sample e-Journal - Sample e-Journal
---
To learn more click on the image above or - Click here
---
---
---
Latest Employment Opportunities Posted on
NASET
Rock Hill, SC
Job Category: Education
Description:
Currently, looking for a Special Education Teacher that wants to join a growing team at New Hope Treatment Center. We specialize in providing an educational experience for residents between 12-21 years of age, whose emotional, mental, or physical disabilities make it difficult for them to learn. This is an excellent and rewarding job opening in the Rock Hill, SC location. We offer competitive pay and benefits! Please take a look at our facility at http://www.newhopetreatment.com/
SPED must have elementary and autism experience.
Out of state candidates welcome with a quick start.
Immediate interviews.
Must be certified in South Carolina or Eligible.
Recent grads are encouraged to apply at this time.
New Hope Treatment Center is an Equal Opportunity employer and does not discriminate on the basis of age, race, color, religion, sex, sexual orientation, disability, national origin, Vietnam era or other veteran status.
Requirements:
Minimum Qualification: Bachelors Degree in Education with Special Education Teaching Certification in South Carolina or eligibility for certification and minimal experience working with emotionally disturbed adolescents.
Contact:

For more information and access to remaining interview times, please contact:
Maureen Ball/Tamacia Bing
803-328-9300 ext. 5197
CarolinasHR@newhopetreatment.com
maureenb@newhopetreatment.com

 

*******************************

 

Winnetka, Illinois

Job Category: Department Chair
Description:
The primary responsibilities of the department chair are instructional leadership of special education classes and administration of all departmental activities. The department chair is responsible for the supervision of all teachers and education support staff in the special education department. The department chair is also responsible for ensuring that students with disabilities receive the appropriate special education support and services and for assisting the district in maintaining compliance with federal and state regulations regarding students with disabilities.
Responsibilities are in the areas of Leadership, curriculum and instruction, supervision and assessment, organizational management, communication, and group processes.
See the detailed posting with a link to the online application at:
https://applitrack.com/newtrier/onlineapp/JobPostings/view.asp?FromAdmin=true&AppliTrackJobId=1343.
Requirements:
1. Illinois Professional Educator License with General Administrative or Teacher Leader endorsement
2. Minimum five years of experience as a special education teacher at the secondary level
3. Master's/advanced degree
4. Clear understanding of special education laws, rules, and regulations and understanding of current issues related to special education
5. Knowledge of assessment and instructional practices across disability areas
6. Knowledge of content, contemporary instructional technology
7. Expertise in staff supervision/evaluation
8. Commitment to collaborative leadership
Contact:
Apply online at http://www.newtrier.k12.il.us/employment Please upload supporting application materials that you wish to have accompany your application (cover letter, resume, transcripts, recommendations, and/or credentials) online as we do not accept paper or email materials.
*******************************
Dallas, Texas
Job Category: Administration
Description:
Dallas Academy is seeking an enthusiastic and committed Head of School who is knowledgeable in the full spectrum of special education and who possesses a heart for working with families and their children who have these learning differences. The School has a current enrollment of 194 students from 69 zip codes in the DFW Metroplex. With 50 years of service, Dallas Academy reached a milestone in 2015-2016 by gaining the distinction of being the oldest school in the State of Texas to serve students with learning differences. The next Head of School for Dallas Academy will be asked to embrace the School's mission and direct a vision that takes the School to new heights. Interested candidates should provide a résumé, cover letter highlighting your interest and fit for the position, a statement of educational philosophy, and a list of five (5) references with all contact information, as attachments to karen@educationgroup.com
Requirements:
A Master's degree with a degree or certification in special education
Knowledge in the full spectrum of special education and experience in working with families whose children have these learning differences
Demonstrated success as an inspirational and confident leader who possesses excellent interpersonal skills
Sound business acumen with a track record of successful and innovative fundraising
A proven track record of attracting and retaining talented faculty and staff
Current knowledge in the latest research findings and innovations on advancing students with learning differences
Educational administrative experience
Benefits:
THE NEXT HEAD OF SCHOOL WILL FIND:
A dedicated and supportive Board
Bright children who are eager to learn
A trained and caring faculty and staff
Involved and supportive parents
Specialized programs and a wide array of extracurricular activities
Competitive salary
Health insurance
Retirement benefits
Contact:
Karen A. Drawz, Consultant
karen@educationgroup.com
www.educationgroup.com
214-535-7093
*******************************
New York, NY
Job Category: Special Education Teacher
Description:
Special Education Teacher (Elementary) New York City. To teach elementary students with learning disabilities. B.A. in Education and NYS Teacher's Certification reqd. Mail resume to AMAC, Attn: Giovanna Henson, 25 W. 17th Street, New York, NY 10011.
Requirements:
B.A. in Education and NYS Teacher's Certification reqd.
benefits:
Contact:
MAIL RESUME TO:
AMAC
Attn: Giovanna Henson
25 W. 17th Street
New York, NY 10011
*******************************
Bronx, NY
Job Category: Special Education Teacher
Description:
Alfred E. Smith CTE High School  is seeking multiple Special Education Teachers in all content areas.  Alfred E. Smith High School is a Career and Technical High School located in the Bronx in New York City.  Positions are for immediate hire or February 2017.
Benefits:
Starting salary approximately $55,000 -$65,000 based on credits and experience with full medical coverage.
Contact:
Please email your resume and cover letter to Principal Evan Schwartz at Eschwar2@schools.nyc.gov
*******************************
Penn State Erie, The Behrend College
Job Category: Faculty
Penn State Behrend invites applications for Early Childhood Education Faculty Positions starting Fall 2017. A doctoral degree in Special Education is required for the position; candidates with a doctorate completed by early summer 2017 will be considered. The position will be housed in the early childhood education PK-4 program in the School of Humanities and Social Sciences, but will also teach special education for the secondary math education program housed in the School of Science. The ideal candidate will have a minimum of two years of experience working in the schools with a broad age range of students across PK-12. The successful candidate will possess a record of research and scholarly productivity; a commitment to excellence in college-level teaching and advising; classroom experience in early childhood settings and a strong commitment to diversity, social justice, and advocacy. The area of research is open; research in collaboration with peers and undergraduate students is valued.
The college provides support for research and travel to scholarly conferences. Penn State Behrend is a comprehensive four-year and residential college of Penn State in Erie, PA. The college prides itself on the balance it achieves between teaching and research. Located on a beautiful, wooded hilltop campus, Penn State Behrend offers its 4,350 undergraduate and graduate students an inspiring and technologically-advanced environment characterized by close student/faculty interaction. For more information about the college, please visit our Web site (www.behrend.psu.edu). To apply, go to http://psu.jobs/. For job location, choose "Penn State Erie, The Behrend College." For type of job, select "Academic." Then click "Search for Jobs." Select job #67654, Tenure-Track Assistant Professor in Special Education and then select "Apply On-line." If you have never applied for a Penn State job before, you will need to create a Friends of Penn State Account. Thereafter, you will be able to upload the required materials: a letter of application summarizing your experiences and educational philosophy, curriculum vitae, and list of professional references. Review of applications will begin immediately and continue until the positions are filled.
CAMPUS SECURITY CRIME STATISTICS: For more about safety at Penn State, and to review the Annual Security Report which contains information about crime statistics and other safety and security matters, please go to http://www.police.psu.edu/clery/ , which will also provide you with detail on how to request a hard copy of the Annual Security Report.
Penn State is an equal opportunity, affirmative action employer, and is committed to providing employment opportunities to all qualified applicants without regard to race, color, religion, age, sex, sexual orientation, gender identity, national origin, disability or protected veteran status.
Job URL: http://apptrkr.com/915680
*******************************
Littlestown, Pennsylvania
Job Category: Full Time
Description:
The Hoffman Academy is a special education, private, academic school for students identified with social and emotional disorders. The school is aligned with, and located on the grounds of, Hoffman Homes for Youth- a psychiatric residential treatment facility outside Gettysburg, Pennsylvania. The Hoffman Academy educates approximately 100 students. The mission is to offer a learning environment combined with a therapeutic component. Teachers, therapists and direct-care staff work together to assist the children-in-care with achieving their treatment goals.
The Hoffman Academy is accepting applicants for Special Education Teacher positions. The Special Education Teacher is a full-time position with benefits.
The Hoffman Academy is looking for teachers to work in a creative and versatile environment geared toward educating and treating at-risk youth. The goal is to allow teachers the flexibility to deliver curriculum in the most effective manner. Teachers, at the Hoffman Academy, must be able to work as part of a treatment team (i.e. the student, therapist, direct-care staff, parents, etc.) and assist the student in defining and achieving successful outcomes. Teachers are encouraged to use the support of the therapists and direct-care staff. The principles of Sanctuary® and Trauma Informed Care are expected to be applied within the daily routines, interactions and interventions of the school day. Overall, teachers for the Hoffman Academy must exhibit an enthusiasm for educating distressed young people while coaching them toward a safe and productive lifestyle.
Salary: Starting at $45,000
Duties of the position include, but are not limited to:
Develop and implement IEPs and NOREPs as well as facilitate meetings with regard to these plans and the student's overall treatment program
Plan and teach appropriate and engaging lessons according to the students' ability and need
Collect and analyze student data
Participate as an active member of each student's treatment team; Assist the team in developing and implementing successful approaches for the student.
Maintain records and make reports as required by State Law, the State Board of Education, the Pennsylvania Department of Education, and the School.
Requirements:
Applicants must have Pennsylvania Certification in Special Education (7-12; N-12; and PK-8). Proper clearances, as defined by the Pennsylvania Department of Education, are required.
Equal Opportunity Employer
Benefits:
Comprehensive Major Medical Plan with Prescription Plan
Dental
Vision
403(b)
Paid Time Off
Contact:
Interested applicants may forward a resume to Walter Smith, Director of Education, via Email: wsmith@hoffmanhomes.com, Fax: 717-359-2600, or Mail: 815 Orphanage Rd., Littlestown, PA 17340. http://www.hoffmanhomes.com/menu/About/careers
*******************************
Multiple Locations
Job Category:
Description:
The primary responsibility of the Special Education Specialist is to provide instruction and other related services to Special Education students. The Special Education Specialist will also facilitate diagnostic assessment including administration, scoring and interpretation. Will review and revise IEP's as needed. Will support instruction in reading, math, and written language for students, tutor individual and small groups of students, administer and score academic testing, write individualized education plans and support other academic programs as needed. The Special Education Specialist will work under the leadership of the Program Specialist and the Director of Special Education. This position will be available to provide direct instruction to students 6 hours a day.
Essential Functions include, but are not limited to the following:*
Provide instruction to students with special needs and identified learning disabilities in a special education program.
Tutor individual and small groups of students, reinforcing language and reading concepts.
Administer and score individual and group tests.
Schedule IEP meetings, coordinating schedules with parents, general education teacher(s), administrator, and all appropriate special education staff.
Conduct IEP meetings.
Communicate and coordinate special needs evaluation and testing with speech teacher, psychologist, and other service providers.
Communicate with parents regarding individual student progress and conduct.
Maintain progress records and record progress toward IEP goals.
Record progress within the independent study program.
Perform other duties in support of the Special Education Specialist program.
Support other academic programs offered within the independent study program.
Various openings in Burbank region, San Gabriel region, Victor Valley region, Inland Empire region, San Bernardino region, and San Juan region.
Knowledge, Skills and Abilities Required:
Special Education Specialist Certificate or ability to obtain Mild/Moderate Certificate.
Ability to teach students of grades K-12.
Ability to work with children of all ages.
Ability to understand, adopt, and support the independent study program, concepts and their philosophies.
Ability to organize and present ideas effectively in oral and written form.
Ability to make skillful decisions.
Ability to work under pressure and meet deadlines.
Ability to operate a PC computer, word processor, copier, FAX, and other office machines.
BA/BS Degree
Valid California Teaching Credential in Special Education (Mild/Moderate)
Education and Experience:
BA/BS Degree
Valid California Teaching Credential in Special Education (Mild/Moderate)
Contact:
Nehia Hearn
Human Resources Assistant
Direct: 626) 204-2552 Fax: 626) 685-9316
nhearn@ofy.org
*******************************
Washington, DC
Job Category: Special Education Teacher
Description:
Under general supervision of the House Manager, the incumbent is responsible for teaching and supervising a class of special needs students utilizing various techniques to promote learning. Duties include planning, organizing, implementing, monitoring, and evaluating class activities, developing Individualized Education Plans (IEP) and working with assigned staff, therapists and students to achieve the IEP goals and objectives. The incumbent is responsible for supervising assigned students and classroom staff insuring that students and staff are compliant with all school policies and procedures. This position requires close supervision of students which includes the ability to keep up with running children and or to lift or assist with lifting students is essential to perform this task. An important aspect of the job is gaining knowledge of and implementing the assigned student's Individual Education Plan goals and objectives as well as ensuring accurate data collection and documentation of same.
Requirements:
The ideal candidate has a Bachelor's degree in Special Education, and holds or is eligible for District of Columbia teaching certification with appropriate endorsement. Prior teaching/instructional experience with individuals with special needs is preferred.
Contact:

St. Coletta of Greater Washington
Human Resources Department
1901 Independence Avenue SE
Washington DC 20003
202-350-8680

Applications accepted online ONLY at www.stcoletta.org

 

*******************************

Barstow, California

Job Category: Full Time

Visit website:http://www.barstow.k12.ca.us/District/3752-EdJoin-Job-Search.html
Job Description / Essential Elements:
Special Education Teacher is sought by Barstow Unified School District in Barstow CA. At present there is a single job opening for a full time position for 7 hours a day 185 days per year. Applications will be accepted until the position is filled.
Minimum Qualifications:
Eligible or holds appropriate California Teaching Credential for Special Education.
Major Duties & Responsibilities:
Provides individual and small group assistance related to the pupil's specific learning disabilities, educational problems, and total educational adjustment. Other Duties: Evaluates pupils' academic and social growth, keeping appropriate records and communication progress with parents. Participates with the I.E.P. team to develop the individualized education program for each student placed in the class.
Requirements for Applying:
California Education Specialist Instruction Credential: Mild/Moderate (M/M) and/or Moderate/Severe (M/S) Minimum of three (3) years successful classroom contract teaching experience in a special education setting EL Authorization VPSS NCLB Certification in Subject (Verification Process for Secondary Teachers in Special Settings) Autism
Authorization SIGNING BONUS AVAILALBE (must possess Level I or Level II credential)
Attach copies of credentials
attach copies of testing (CBEST, CSET...)
please attach no more than three (3) signed letters of reference dated within the last three (3) years
Application Deadline: Until Filled
Upon hire ~ submit to a fingerprint background check, submit official transcripts and original official test scores, submit valid TB and physical
*SIGNING BONUS AVAILABLE TO FULLY CREDENTIALED SPECIAL EDUCATION TEACHERS
To apply: https://www.edjoin.org/Home/JobPosting/848934
*******************************