November 2012 - Special Educator e-Journal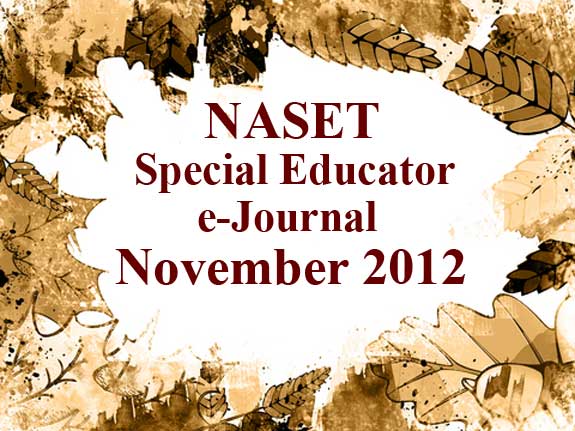 Table of Contents
Calls to Participate

Special Education Resources

Update From The National Dissemination Center for Children with Disabilities

Upcoming Conferences and Events

Funding Forecast and Award Opportunities

Book Review: Exceptional Learners: Education and Research from a Global Perspective. By Stephanie M. Pena



Acknowledgements

Download a PDF or XPS Version of This Issue
---
NASET Members - Login Below to access the latest Special Educator e-Journal.
Site visitors: You may access a sample e-Journal - Sample e-Journal
---
To learn more click on the image above or - Click here
---
To learn more click on the image above or - Click here
---
Latest Employment Opportunities Posted on
NASET
Baltimore, MD
Job Category: Full-time (35-40 hours a week)

Effectiveness Coach, Special Education – Baltimore City Teaching Residency Baltimore, MD
TNTP seeks an Effectiveness Coach, Special Education for our Baltimore City Teaching Residency (BCTR) program. The Effectiveness Coach will be based in our BCTR program office. The time commitment for this role is approximately 35-40 hours per week on average. TNTP will provide a relocation stipend to defray the cost of moving, if applicable. The Effectiveness Coach, Special Education prepares, develops and evaluates Special Education Residents to be the most effective first year teachers in Baltimore City Public Schools. The successful candidate will work exclusively with first year Special Education Residents from pre-service training through their first year teaching. This position offers the opportunity to have a profound impact on the preparation and development of Special Education Teachers to teach in high-need schools in Baltimore.
Requirements:
Support of alternative routes to teacher certification and an interest in working with new teachers
Strong education background and instructional skill set with at least three years K-12 Special Education teaching experience (strongly preferred), preferably in high-need schools or with high-need populations, and a track record of raising student achievement
Extensive knowledge of federal, state and district level Special Education law and regulations
Previous experience developing and leading teacher professional development (strongly preferred)
Understanding of effective teaching and how to observe teachers in action and diagnose key levers for improvement
Ability to implement targeted interventions to immediately improve new teachers' performance
Ability to track and analyze data on teacher and student performance to uncover trends and act on the data strategically and effectively
Strong staff management experience or instincts
Familiarity with Maryland curriculum standards and teaching standards (preferred)
Benefits:
TNTP offers a motivated team of dynamic colleagues, a collegial atmosphere that values professional development and valuable feedback, a comprehensive benefits plan effective on the first day of employment - including low cost medical, dental, vision, disability, life insurance, flexible spending account options, generous vacation time, a 403(b) plan with matching, potential opportunities for performance based bonuses - as well as the chance to impact the direction of a growing, mission-driven company that is committed to the success of our nation's children. For more information on TNTP's competitive benefits package, please visit tntp.org/join/our-benefits/
To Apply
Please submit your resume and tailored cover letter online at:
http://ch.tbe.taleo.net/CH05/ats/careers/requisition.jsp?org=THENEWTEACHERPROJECT&cws=1&rid=1327
***************************************************
Milford, MA
Job Category: Executive
Criterion Child Enrichment is conducting a nationwide search for a Senior Vice President of Early Childhood Services. Founded in 1985 as a not-for-profit organization, Criterion has served families for over 25 years and is a leading provider of early childhood education and early intervention services. Each year the agency serves over 5000 families with a program network that extends throughout the Commonwealth of Massachusetts. The Senior Vice President will be responsible for implementation of Criterion's Mission and Strategic Plans and will supervise a Divisional Director who is responsible for the day to day operation of programs and services. Criterion's corporate office is located within a 40 minute drive of downtown Boston.
This recruitment is specifically focused on identifying an individual with the capacity to enhance and expand the agency's participation in professional education and applied research in the fields of early childhood education, early intervention and family-centered service delivery. Applicants must possess a doctoral degree in a discipline relevant to the agency mission and substantial clinical experience. Experience in fiscal and personnel management is preferred but not required as substantial training and support in these areas will be provided for the successful applicant. Applicants will receive a detailed prospectus describing agency programs and operations upon submission of a letter of interest and vitae.
Criterion Child Enrichment is an Equal Opportunity Employer. Applicants and employees are considered for positions without regard to mental or physical disability, handicap, race, color, religion, gender, gender identity and expression, ancestry, national origin, age, genetic information, military or veteran status, sexual orientation, marital status or other categories protected by law.
Confidential applications may be submitted to:
Robert F. Littleton Jr. Ed.D., President
Criterion Child Enrichment
321 Fortune Boulevard
Milford, Massachusetts 01757
***************************************************
Springfield, Massachusetts
Job Category: Full Time
Special Education/Education
Springfield College is currently accepting applications for a tenure track, nine-month faculty appointment in the Education Department. Teaching responsibilities will include courses at both the undergraduate and graduate levels, covering topics such as behavior management, educational assessment and the IEP process, curricular accommodations and modifications, legal and ethical issues in special education and RTI. In addition, the successful candidate will supervise student teachers in local school settings.
Qualifications include
Doctorate in Education from a regionally accredited institution or related field required (ABD considered). A minimum of two years of PreK-12 school teaching experience in special education and current licensure/certification in special education. College/University level supervision of student teachers and instructional experience preferred.
Founded in 1885, Springfield College is internationally renowned in the allied health sciences, human and social services, sports and movement studies, and the arts and sciences. Campus Life is guided by the distinctive Humanics philosophy: education of the whole person – spirit, mind and body – for leadership in service to others. More than 5,000 traditional, nontraditional and international students study at its main campus and satellite campuses of its School of Human Services in eight cities.
Please send letter of application, current resume or curriculum vitae, all educational transcripts, evidence of teaching, certification/special education licensure, and the names and contact information for 3-5 professional references to Dr. Anne Herzog, Dean of Arts, Sciences, and Professional Studies, Springfield College, 263 Alden St., Springfield, MA 01109. E-materials welcome at asps@springfieldcollege.edu. Initial review of applications will begin on November 5, 2012.
Springfield College is committed to enhancing diversity and equality in education and employment.
***************************************************
New York, NY
Job Category: $125,000 Salary for Master Middle School Teachers
$125,000 Salary for Master Middle School Teachers!
Earn a $125,000 salary and join a team of master teachers at The Equity Project(TEP) Charter School, recently featured on the front page of the New York Times:http://www.tepcharter.org/nytimes.php. TEP is a 480-student 5th through 8th grade middle school in the Washington Heights neighborhood of New York City.
Learn more and apply today at http://www.tepcharter.org/apply.php
Open positions: http://www.tepcharter.org/open-teaching-positions.php
About TEP Charter School
TEP aims to put into practice the central conclusion of a large body of research related to student achievement: teacher quality is the most important school-based factor in the academic success of students, particularly those from low-income families. In singling out teacher quality as the essential lever in educational reform, TEP is uniquely focused on attracting and retaining master teachers. To do so, TEP uses a three-pronged strategy that it terms the 3 R's: Rigorous Qualifications, Redefined Expectations, & Revolutionary Compensation. For more information, visit us online at http://www.tepcharter.org
Info Session @ TEP
Thinking about applying for a teaching position at TEP? Attend an in-person information session with TEP's Principal, Zeke Vanderhoek. Take a tour of the school, and learn more about the teacher application process and teaching at TEP.
When: Tuesday, December 4, 2012 at 6PM (For online options, click here)
Where: TEP Charter School
Learn how to RSVP for the event by clicking the following link:http://www.tepcharter.org/session-for-teachers.php
We also have a Live Online Info Session too!
Click here for more information: www.tepcharter.org/info-session-for-teachers.php
***************************************************
Bradenton, FL
Job Category: Private Teacher
Description
My son has several diagnoses... SPD, ASD and Aspergers. Who knows which is most acurate. Not sure it matters. I need someone that understands he is moving so he can pay attention not because he is being disobient. He also makes vocal sounds on a regular basis. You will have to be tolerant. His need for moving is like the need for oxygen. We have a playground and trampoline, plenty of area to fun and climb or swim. It doesn't matter in which fashion he learns (while swimming, running, etc) as long as he is having fun.
As you can imagine he has had difficulty in typical private schools, so that is why we have chosen to home school. Learning can be fun... handson... I just need to find that person capable of doing that.
He is an 8 year old boy that is ALL boy. He is our angel.. and we love him beyond belief.
I would like someone to push him beyond grade level in Math. That's the good thing about homeschool, you can be on different grade levels in different subjects.
He is in several therapies which could take place after school, or before.
I am thinking that perhaps 4 hours may be all that is needed to teach curriculum.
He has advanced remarkably in FastForward. I have tons of equipment and supplies for the new teacher.
Times are flexible but I do prefer early mornings to early afternoons. (perhaps 8-11 or 12) Please email questions and salary requirement.
Requirements
The person we seek will be a Christian, have a huge amount of patience, and someone that will make learning a fun adventure.
Benefits
Flexible hours. Nice home to work in.
Contact
Email is best:
Lee@Santilli.us
***************************************************