October 2012 - Special Educator e-Journal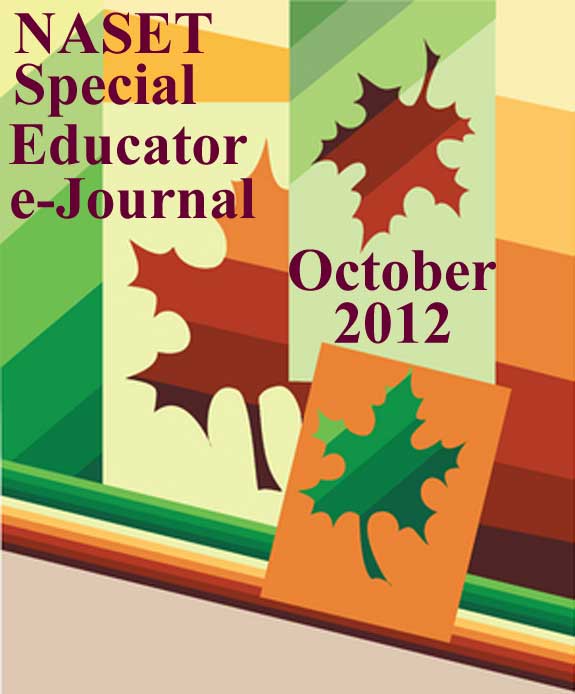 Table of Contents
Calls to Participate

Special Education Resources

Update From The National Dissemination Center for Children with Disabilities

Upcoming Conferences and Events

Funding Forecast and Award Opportunities

Book Review: Teacher Like Your Hair's On Fire: The Methods and Madness Inside Room 56-- By Heather Johnson, Florida International University
Let Them Read With You: Support for the Inclusion of Children with Autism in Classroom Reading Programs-- Written by Lola Gordon, Ed.S.
Acknowledgements

Download a PDF or XPS Version of This Issue
---
To learn more click on the image above or - Click here
---
NASET Members - Login Below to access the latest Special Educator e-Journal.
Site visitors: You may access a sample e-Journal - Sample e-Journal
---
Latest Employment Opportunities Posted on
NASET
Dover, NH 100 Education Way
Job Category: Temporary
Position Summary
Working in partnership with Innovation Lab, Content Design and Development, and Publishing, the Accessibility Manager will build team knowledge around all aspects of accessibility. The Accessibility Manager will serve as a team leader and will establish and refine procedures that support specialized activities performed by the team. The Accessibility Manager will be an on-site expert who can speak with authority about accessibility, is the "go-to" person, and can speak to the industry and the public with deep knowledge about the services we provide. The Accessibility Manager is positioned to identify new opportunities that expand our accessibility capabilities and initiate research to improve Measured Progress's approaches to providing accessible content. Additional responsibilities will include the following:
Develop and deploy procedures that support Measured Progress's accessibility goals and deliverables.
Speak to Measured Progress's capabilities in accessibility.
Collaborate with Innovation Lab to assure on-going knowledge transfer and participate in expanding expertise.
Work with personnel to refine and build knowledge around accessibility.
Collaborate with Information Technology to define requirements and enhance accessibility tools.
Train staff members on tools, processes, and accessibility issues.
Collaborate with Content, Design, and Development; Publishing; and others to create and maintain schedules.
Actively engage in Measured Progress's strategic goals to support their leadership position in the area of accessible assessment content and delivery.
Staff and develop necessary team for support of Measured Progress's accessibility goals.
Participate in a leadership role to foster on-going collaborative environment of process and technology improvement; continued mentoring and development of staff; and strategic change management within Testing Services and Measured Progress.
Qualifications
Master's degree in Education, preferably with training in Universal Design for Learning and Special Education
Minimum of ten (10) years of experience in the field of accessibility and/or special education (PhD will be considered for five (5) years of experience)
Measured Progress's corporate campus is located 65 miles north of Boston in the New Hampshire Seacoast region. Measured Progress offers an exceptional benefits package and work environment, featuring on-site child care and gym facilities, generous paid time off and retirement savings plans, and immediate eligibility for health, dental, vision and life insurance.
As an EOE/AA employer, Measured Progress openly encourages applicants from diverse backgrounds.
All interested applicants apply online
***************************************************
Randolph, Massachusetts 02368
Job Category: Full Time
The May Institute
Randolph, MA
The May Center for Child Development in Randolph is looking for a Special Education Teacher to work in a classroom setting taking on lead responsibilities and providing services to children and adolescents with autism or other developmental disabilities.
Responsibilities Include:
Providing coordination and leadership of the classroom
Designing an individualized curriculum, writing educational plans, collecting and evaluating data, and writing student progress reports
Delivering individualized and group instruction and other educational objectives
Implementing comprehensive behavior support plans
Training and supervising other teachers and classroom assistants
Requirements Include:
Master's degree (or enrollment in a Master's program)
Certification in moderate or severe special education or working towards certification
Experience in ABA preferred
Strong organizational and communication skills
Commitment to helping children with significant challenges learn and grow
Apply online at:www.mayinstitute.org or email your resume to: careers@mayinstitute.org
The May Institute is an Equal Opportunity Employer
Apply Here:http://www.Click2Apply.net/22y5gnt
***************************************************
Bradenton, FL
Job Category: Private Teacher
Description
My son has several diagnoses... SPD, ASD and Aspergers. Who knows which is most acurate. Not sure it matters. I need someone that understands he is moving so he can pay attention not because he is being disobient. He also makes vocal sounds on a regular basis. You will have to be tolerant. His need for moving is like the need for oxygen. We have a playground and trampoline, plenty of area to fun and climb or swim. It doesn't matter in which fashion he learns (while swimming, running, etc) as long as he is having fun.
As you can imagine he has had difficulty in typical private schools, so that is why we have chosen to home school. Learning can be fun... handson... I just need to find that person capable of doing that.
He is an 8 year old boy that is ALL boy. He is our angel.. and we love him beyond belief.
I would like someone to push him beyond grade level in Math. That's the good thing about homeschool, you can be on different grade levels in different subjects.
He is in several therapies which could take place after school, or before.
I am thinking that perhaps 4 hours may be all that is needed to teach curriculum.
He has advanced remarkably in FastForward. I have tons of equipment and supplies for the new teacher.
Times are flexible but I do prefer early mornings to early afternoons. (perhaps 8-11 or 12) Please email questions and salary requirement.
Requirements
The person we seek will be a Christian, have a huge amount of patience, and someone that will make learning a fun adventure.
Benefits
Flexible hours. Nice home to work in.
Contact
Email is best:
Lee@Santilli.us
***************************************************