Week in Review - January 5, 2018
NASET
WEEK IN REVIEW
National Association of Special Education Teachers
January 5, 2018                     Vol 14 Issue #1
Dear NASET News,


Welcome to NASET'sWEEK in REVIEW.  Here, we provide you with the latest publications fromNASET to read and or download, as well as some of the most interesting articles that have happened this week in the field of special education. We hope you enjoy this publication.  Feel free to send us articles for this publication or let us know your thoughts about the WEEK in REVIEW at news@naset.org. Have a great weekend.

Sincerely,



NASET News Team
Special Educator e-Journal

January 2018 - Latest Special Educator
In order to keep up to date with the most current information in the field of special education, NASET provides its members with a monhtly e-Journal.  NASET members may access The Special Educator-e-Journal, which is NASET's electronic e-Journal of all the latest information to be found on the internet concerning the field of teaching exceptional children.  We also are now providing the opportunity for authors to submit their own articles for submission.
Read More
NASET's Inclusion Series
Learners with Communication Disorders
This lecture focuses on Learners with Communication Disorders. Topics covered include:
Definition
Speech Disorders
Articulation Disorders
Dysfluency Problems
Voice Problems
Characteristics of Speech Disorders
Sensory-Friendly' Shows Make Live Theater Accessible for Those with Autism
A central Iowa entertainment venue plans to offer what are called "sensory-friendly" performances in 2018, shows that are geared towards those on the autism spectrum and people with other sensory sensitivities - and their families. Eric Olmscheid, director of programming and education at Des Moines Performing Arts, says the shows will contain all the joy of a typical theater setting, with a few adjustments. "We want to create a safe space for young people on the spectrum to come to the theater, often a space that is intimidating or a little out of the norm for somebody on the autism spectrum," Olmscheid says. "These performances are designed specifically for those young people." Read More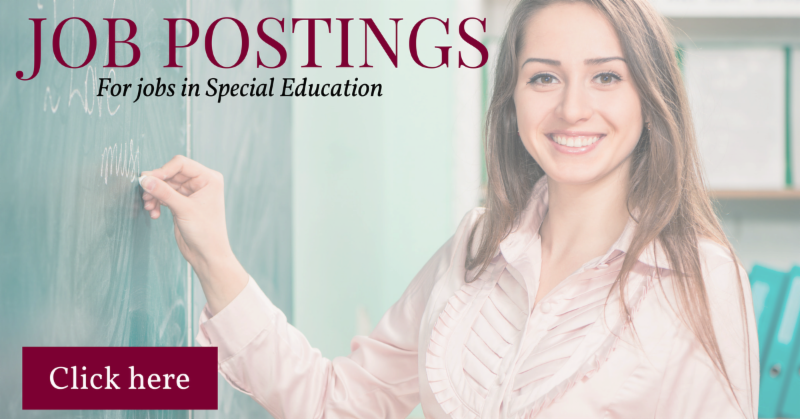 The Biggest Education Stories of 2017 and 2018
It's not every year that a new Education Secretary, Betsy DeVos, becomes a household name, satirized on Saturday Night Live, never mind being the most unpopular member of a historically unpopular cabinet. But we live in interesting times and the nations' schools and colleges are no exception. Here's a look back at the major moments in education this year, and a glimpse of what's to come in 2018. A lot of the flash points in our schools coverage this year had to do with civil rights and the experiences of minorities, including special education students and immigrants. Under DeVos, the department reversed many of the Obama administration's uses of the bully pulpit. Read More
Program Gives LA Students with Disabilities Path to Careers
California ranks 35th in the nation when it comes to employing people with disabilities, but a unique partnership here in Southern California is working to change that, providing young people the skills they need to enter the workforce and stay there. Twenty-one-year-old Eden Rapp has Down Syndrome, but she is doing a job she loves, working at Kaiser Permanente South Bay Medical Center as an intern with Project Search. The 30-week program is divided into three 10 week rotations, giving young people with disabilities the opportunity to explore various entry level jobs, from food services to administration and materials management. Read More
How 'Shape of Water' Breaks Down Barriers about Sex and Disability
Most Hollywood depictions of disability tread the same well-worn path: a person - usually white, straight and male - is struck down with a disability in adulthood and must learn to cope with a growing sense of bitterness. The plot is focused on being disabled, and when sex is present, it's generally used as a source of humor or a reason for the person to shuffle loose the mortal coil. A prime example is Sam Claflin's paralyzed character in Me Before You, who essentially chooses to die in part because he can't have sex with Emilia Clarke's character Louisa Clark. As a film writer with a physical disability, I find it hard not to feel personally offended by movies that reiterate that disabled people aren't sexual. It's even worse being a woman with a disability, where the lack of actresses playing disabled characters leaves one to question if Hollywood thinks disabled women can't be sexy at all. But watching The Shape of Water gives me hope that maybe barriers can be broken down regarding sex and disability. Read More
Arizona Senator Seeks Law to Deal with Fraudulent Service Animals
Saying owners are abusing the law, a Republican state senator wants to make it illegal to misrepresent a dog as a "service animal'' to bring it into places where pets are not allowed. The proposal by John Kavanagh of Fountain Hills would allow judges to impose fines of up to $250 on someone who fraudulently misrepresents an animal as a service animal or service animal in training to anyone who operate any business or recreation site open to the public. That also includes buses, taxis and ambulances. How that would work, Kavanagh said, is that an individual would have to produce proof confirming the animal had actually been trained for a specific chore covered by the Americans with Disabilities Act. Read More
Preterm Infants Have Narrowed Upper Airways, Which May Explain Higher Obstructive Sleep Apnea Risk
Infants born preterm have significantly lower nasopharyngeal and oropharyngeal volumes, compared with newborn peers carried to full term, and those lower airway volumes are independent of the infants' gender, ethnicity or weight, according to a study published online Dec. 16, 2017 in Clinical Imaging. According to the Centers for Disease Control and Prevention, 1 in 10 babies born in the United States is preterm, or born prior to the 37th gestational week. Premature birth leaves these children more susceptible to disordered breathing while sleeping, including obstructive sleep apnea (OSA), an ailment characterized by increased upper-airway resistance that narrows airways. Read More
TRIVIA QUESTION OF THE WEEK
This week's question:  According to new findings from the University of Pennsylvania published in December's Scientific Reports, children who eat a particular food at least once a week sleep better and have IQ scores that are 4 points higher, on average, than those who consume this food less frequently or not at all. What is the food?
If you know the answer, email us at contactus@naset.org by January 8, 2018.  We will acknowledge your correct answer in the next edition of the Week in Review
Study: High-Stakes Tests a Likely Factor in STEM Performance Gap
Male students tend to do better on high-stakes tests in biology courses, but it's not because they are better students. Gaps in performance change based on the stakes of the test. A new study published in PLOS ONE confirms this, finding that performance gaps between male and female students increased or decreased based on whether instructors emphasized or de-emphasized the value of exams. Sehoya Cotner, associate professor in the College of Biological Sciences at the University of Minnesota, and Cissy Ballen, a postdoctoral associate in Cotner's lab, base their findings on a year-long study of students in nine introductory biology courses. They found that female students did not underperform in courses where exams count for less than half of the total course grade. In a separate study, instructors changed the curriculum in three different courses to place higher or lesser value on high-stakes exams (e.g., midterms and finals) and observed gender-biased patterns in performance. Read More
Analysis: School Choice Bill in New Hampshire Could Hurt Students Receiving Special Education Services
A public school advocacy group writes in a new analysis that children with disabilities disproportionately enroll in public schools instead of private schools - and warns that a new school choice bill could aggravate those disparities. Using 2015 data from the U.S. Department of Education - the most recent available - Reaching Higher New Hampshire found that just one percent of students at private schools in the state had a disability, compared to 15 percent of students in public schools. "The magnitude and persistence of the disparities in enrollment raise questions about the structural factors that account for those disparities and also about how (Senate Bill 193) could put those students at a disadvantage," said Dan Vallone, the organization's policy director. Read More
Using Anti-Epileptic Drug Topiramate in Early Pregnancy Increases Risk of Oral Clefts
The anti-epileptic drug topiramate has been increasingly prescribed over the last decade not only to prevent seizures, but also to treat bipolar disorder and migraine headaches. In addition, topiramate is a component of a recently FDA-approved drug for weight loss. Past studies have found that women taking topiramate during early pregnancy to prevent epileptic seizures had a two- to five-fold greater chance of giving birth to a baby with an oral cleft, but such studies did not focus on women taking the drug at a lower dose for non-seizure related conditions. A new study by investigators from Brigham and Women's Hospital and the Harvard T.H. Chan School of Public Health suggest that using topiramate in early pregnancy, particularly at the high doses used for epilepsy, increases the risk of oral clefts. Read More
Is Punishment as Effective as We Think?
Punishment might not be an effective means to get members of society to cooperate for the common good, according to a social dilemma experiment. A game to study human behavior has shown punishment is an ineffective means for promoting cooperation among players. The result has implications for understanding how cooperation has evolved to have a formative role in human societies. Human societies maintain their stability by forming cooperative partnerships. But, cooperation often comes at a cost. For example, a person taking time to raise the alarm in order to alert other members of a group to impending danger could be losing valuable time to save oneself. It is unclear why natural selection favors cooperativeness among individuals who are inherently selfish. Read More
Adolescent Brain Makes Learning Easier
The brains of adolescents react more responsively to receiving rewards. This can lead to risky behavior, but, according to Leiden University research, it also has a positive function: it makes learning easier. This work has been published in Nature Communications. Alcohol abuse, reckless behavior and poor choice in friends: all these are inextricably linked to puberty and adolescence. In the late teens, young people test their limits, and in many cases, push beyond their limits. This is due in part to increased activity in the corpus striatum, a small area deeply hidden away inside the brain. According to previous research, that part of the brain in young people is more responsive to receiving rewards. Read More
Study Suggests Screening Patients with Fibromyalgia Syndrome for ADHD
A recent study found patients with fibromyalgia syndrome (FMS) have a higher rate of co-occurring adult attention-deficit/hyperactivity disorder (ADHD). FMS is a chronic pain disorder that impacts a patient's functioning. Symptoms may include musculoskeletal pain, chronic fatigue, sleep disturbance, and cognitive impairment. Cognitive impairment, or dyscognition, may include symptoms such as difficulty with concentration and attention, forgetfulness, and problems with word-finding and word fluency. These issues, sometimes called "fibro-fog," may be more disabling than the chronic pain, but they are mostly under-recognized, the study authors wrote. Patients with FMS have altered neurotransmitter activity involved in pain sensitivity, such as dopamine, serotonin, and noradrenaline. Likewise, ADHD is a chronic neurodevelopmental disorder also associated with impaired cognition and altered neurotransmitters. Read More
As Texas Special Education Overhaul Stalls, TEA Answers Don't Add Up
At 5 p.m. on a Friday, the Texas Education Agency abruptly announced that it had pulled the plug on a special education data-mining project it had defended for months. Parents and advocacy groups had too many concerns over the $4.4 million, no-bid contract, TEA Commissioner Mike Morath said. He promised to review the agency's contracting processes. But documents, contracts and emails obtained by the American-Statesman show that the deal with Atlanta-based SPEDx was vetted at the highest levels. Morath was regularly updated on the project, approved the no-bid designation and signed the contract. Penny Schwinn, deputy commissioner of academics, helped write it. Justin Porter, executive director of special populations, worked closely with the company. Read More
In PA., State Workers Help People with Intellectual Disabilities on Christmas after Provider Fails
In a rare move, the state Department of Human Services called upon dozens of its own staff to assist people with intellectual disabilities in the Philadelphia region over Christmas following failures by a local service provider. Those failures came to light in October after the department revoked the license of Blossom Philadelphia, a major provider of housing for people with intellectual disabilities, after state inspectors uncovered a slew of health and safety violations within its Philadelphia homes. In November, after initially appealing the license revocation, Blossom reached an agreement with the state to transfer care of its 89 residents to new providers. Under the plan, Blossom agreed to continue caring for the residents in its homes until responsibility for those facilities could be transferred to those providers. Read More
Nebraska Aims to Ease Path for Future Special Education Teachers
State officials want to keep more candidates in Nebraska's teacher-preparation pipeline by easing testing requirements. What's clogging things up, they say, is a test Nebraska adopted three years ago to screen applicants for teacher-education programs. Good candidates who score a few points low in one academic subject area are getting screened out, they say. To open up the pipeline, officials are tweaking the scoring so more applicants will pass. Applicants will no longer have to hit target scores in each of the three tested subjects: reading, writing and math. Instead, applicants will pass if the sum of their scores is high enough. In other words, an applicant scoring high in reading and writing but lower in math - or vice versa - could potentially be accepted if his or her composite total hits the mark. Read More
Honor Society for Special Education Teachers
Folic Acid May Limit Autism Traits in Children of Epileptic Women
Children whose mothers were treated for epilepsy who did not take folic acid during pregnancy were more likely to have autistic traits compared with those whose mothers took folic acid, a large Norwegian cohort study found. Mothers treated with antiepileptic drugs who did not have periconceptional folic acid supplementation during pregnancy had a substantially increased risk of having offspring with autistic traits at age 18 months and 36 months, reported Marte Bjørk, MD, of Haukeland University Hospital in Norway, and colleagues. Read More
MA. Program Giving Those with Disabilities Chance to Play Hockey
A team is western Massachusetts is breaking barriers on the ice. The Western Mass Knights is a team made up of kids and adults with disabilities. They play a sport called sled hockey - following the rules of hockey, but with a little twist. Mason Fontaine, 6, gets laced up for sled hockey practice at the MassMutual Center. Fontaine's mom and dad are right there by his side, making sure he's strapped in and ready to go. "I can't even move my feet.   You have to tie my feet down," Mason Fontaine said. Mason was born with a form of spina bifida.  He can't use his legs and uses a wheelchair to get around. However, when he's in his sled and on the ice, there's no obstacles.  He's like everyone else. Read More

LATEST JOB LISTINGS POSTED ON NASET
* Learning Specialist/Learning Program Teacher- Woodlands Academy of the Sacred Heart is seeking a certified learning specialist to teach in the school's Learning Program. The position is full-time, and the start date is immediately. Requirements include a master's degree or post-graduate work in education with emphasis in varied exceptionalities or learning disabilities.To learn more -
* Private Teacher
- Are you an unencumbered teacher at a top public or private school looking for a new opportunity? Do you want to step out of the classroom and use your experience to support the academic journey of a young teen with a promising future? If so, we have an excellent Private Teacher opportunity to oversee the overall curriculum, education, and college preparation for a young teen's high school career. You will assist this bright adolescent in all subject matters, in addition to helping formulate strategies and taking the time to help the student manage their language based learning disability. - 
Click here
* Special Education Teacher
- The Adolescent Care Unit (ACU) at Tséhootsooí Medical Center on the Navajo Nation seeks a Special Education Teacher to work with 8 to 10 teens aged 13-17 with mild emotional or behavior issues in a subacute 60-day inpatient program. ACU combines western therapy with Native American traditional cultural methods to foster health and Hozho or harmony, and is located in northeastern AZ. To learn more - 
Click here
* Special Education Teacher
- Various Positions Open: 2 positions for Special Education Resource 5th - 8th, Special Education Resource K-3rd, SPED - Social Skills le-4th, SPED - Social Skills 6th - 8th, Arizona certification required. To learn more - 
Click here
If you are an Employer looking for excellent special education staff - 
Click here
for more information
Food For Thought..........
Your success and happiness lies in you. Resolve to keep happy, and your joy and you shall form an invincible host against difficulties
.
Helen Keller