Week in Review - August 10, 2018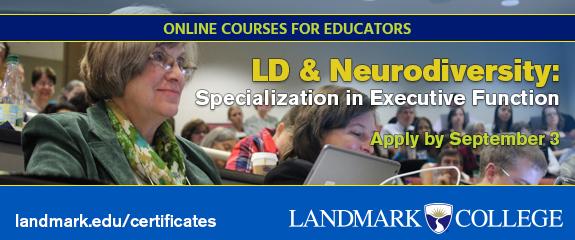 NASET
WEEK IN REVIEW
National Association of Special Education Teachers
August 10, 2018                     Vol 14 Issue #31
Dear NASET News,


Welcome to NASET'sWEEK in REVIEW.  Here, we provide you with the latest publications fromNASET to read and or download, as well as some of the most interesting articles that have happened this week in the field of special education. We hope you enjoy this publication.  Feel free to send us articles for this publication or let us know your thoughts about the WEEK in REVIEW at news@naset.org. Have a great weekend.

Sincerely,



NASET News Team
NASET's IEP Components Series
Transition Goals in the IEP
---
A significant aspect of IDEIA's requirements relates to including transition-related goals and statements in the IEPs of students preparing for life after high school. Beginning not later than the first IEP to be in effect when the child turns 16, or younger if determined appropriate by the IEP Team, and updated annually, thereafter, the IEP must include appropriate measurable postsecondary goals based upon age appropriate transition assessments related to training, education, employment, and, where appropriate, independent living skills; and the transition services (including courses of study) needed to assist the child in reaching those goals. This issue of NASET's IEP Components series comes from The Center for Parent Information and Resources (CPIR) and takes a much closer look at the kind of information that might need to be included in a student's IEP as part of transition planning
.
Read More
Professional Development Courses - Free for Members
Statistics Used in Special Education
---
Statistics! This one 10-letter word tends to instill more fear and anxiety in undergraduate and graduate students than any other word we know. The fact is, whether you are an avid fan of statistics or generally do not enjoy it, you absolutely have to know statistics when you are doing special education assessment. Statistics play a vital role in the understanding of disability awareness. Although there are numerous reasons to know statistics, of primary importance to special educators is that without a proper understanding of it, you cannot interpret test results. When large sets of data are being presented, it is important that they be organized in a fashion that makes some sense to the reader. In special education, this is done through methods known as descriptive statistics. Statistics summarize and describe data. In this NASET Video professional development course, we discuss basic descriptive statistics used every day in special education. After taking this course, you should be able to understand (and in some cases be able to calculate) the following:
Measures of central tendency (mean, median, and mode)
Frequency distributions
Range
Standard deviation
Normal curve
Purpose of the normal curve in special education
Application of normal curve in special education
Correlations
This is a course that contains five video lectures, an accompanying PowerPoint Presentation file and PDF of the PowerPoint slides for your notes. 
Statistics Used in Special Education
After 60 years, Scientists Uncover How Thalidomide Produced Birth Defects
More than 60 years after the drug thalidomide caused birth defects in thousands of children whose mothers took the drug while pregnant, scientists at Dana-Farber Cancer Institute have solved a mystery that has lingered ever since the dangers of the drug first became apparent: how did the drug produce such severe fetal harm? The answer, published online in the journal eLife, not only helps resolve an issue that has been the subject of scientific curiosity for two generations, but will be critical as pharmaceutical companies develop a promising new generation of anticancer drugs that share a basic chemical architecture with thalidomide, the study authors say. 
Read More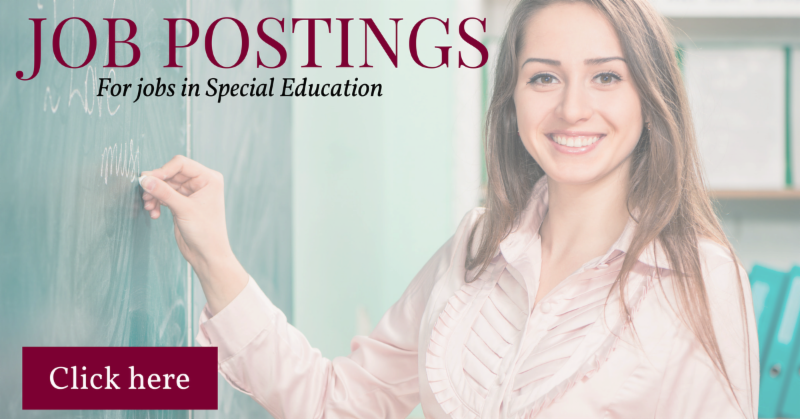 Women with Polycystic Ovary Syndrome More Likely to Have a Child with Autism
Women with polycystic ovary syndrome (PCOS) are more likely than other women to have an autistic child, according to an analysis of NHS data carried out by a team at Cambridge University's Autism Research Centre. The research is published today in the journal Translational Psychiatry. PCOS affects about one in ten women and is caused by elevated levels of the hormone testosterone. It is associated with fluid-filled sacs (called follicles) in the ovaries, and with symptoms such as delayed onset of puberty, irregular menstrual cycles, and excess bodily hair. Autism is a condition characterized by difficulties in social interaction and communication alongside unusually narrow interests, a strong preference for predictability, and difficulties adjusting to unexpected change. Some autistic people also have learning difficulties and delayed language, and many have sensory hyper-sensitivity. The signs of autism are evident in childhood even if the diagnosis is not made until later, and occurs in about 1% of the population. 
Read More
Blind People Depend on Timing Cues for Some Spatial Awareness
It's a popular idea in books and movies that blind people develop super sensitive hearing to help navigate the world around them. But a study, published August 1 in the journal iScience, shows that, in at least one situation, blind people have more trouble discerning the location of sounds than do people who can see. Researchers in Italy found blind people needed additional timing cues to accurately judge the relative location of sounds played from a line of speakers. However, people who aren't visually impaired (but were blindfolded for the study) could judge the relative location of sounds independently from timing cues. "This work teaches us that our audio-space representation is mediated by our visual experience," says first author Monica Gori of the Istituto Italiano di Tecnologia. "In absence of vision, auditory spatial skills are not always enhanced -- and in some cases, such as in the space bisection task studied here, these can be impaired." 
Read More
The Importance of Religion and Spirituality when Treating Young Adults with Severe Mental Illness
A majority of young adults with severe mental illness -- bipolar disorder, schizophrenia or major depression -- consider religion and spirituality relevant to their mental health, according to a new study from Baylor University's Diana R. Garland School of Social Work. Holly Oxhandler, Ph.D., associate dean for research and faculty development in the Garland School of Social Work, served as lead author on the study, which was published in the journal Spirituality in Clinical Practice. Researchers examined data from 55 young adults (ages 18-25) with serious mental illness who had used crisis emergency services. Of the 55 young adults interviewed, 34 "mentioned religion or spirituality in the context of talking about their mental health symptoms and service use with little-to-no prompting," researchers wrote. 
Read More
Board Certification in Special Education Available to NASET Members

Through an agreement with The American Academy of Special Education Professionals(AASEP), NASET members now have the opportunity to achieve AASEP Board Certification in Special Education - (B.C.S.E.) at a reduced fee. AASEP Board Certification in Special Education - (B.C.S.E.) is a voluntary choice on the part of the candidate. The candidate for Board Certification wishes to demonstrate a commitment to excellence to employers, peers, administrators, other professionals, and parents. From the standpoint of the Academy, board certification will demonstrate the highest professional competency in the area of special education. Board Certification in Special Educationestablishes a much needed standard for professionals, across disciplines, who work with exceptional children.
Read More
TRIVIA QUESTION OF THE WEEK
Congratulations to: Dottie Daniello, Betty Hux, Joanna Blau, Suzanne Davenport, Chiquita Almo, Norma Harris, Elizabeth Ciccarell-Rosa, Jennifer Womble-Ericson, Tristan Haggerty, Reginald Pulliam, Iris Hughey, Karyn Greco, Cindi Maurice, Diane Campbell-Mitchell, Raynelle Lanier, Jane Tilleman, Melody Owens, Danielle Russell, Olumide Akerele, and Donna Nebraski who all knew the answer to last week's trivia question.


QUESTION: What is the name of the specific learning disability that affects a person's handwriting ability and fine motor skills? Problems may include illegible handwriting, inconsistent spacing, poor spatial planning on paper, poor spelling, and difficulty composing writing as well as thinking and writing at the same time.
ANSWER:  DYSGRAPHIA
This week's question:  Last month, the world's largest beverage chain announced plans to eliminate plastic straws in all its 28,000 outlets by 2020. Many sustainability experts and environment advocates cheered this company's planet-saving initiative as a significant milestone in the campaign to combat the 8 million metric tons of new plastic waste entering the world's oceans each year. But in the bid to design alternatives to straws, there's one oft-ignored population that will be negatively affected when the much-maligned drinking devices aren't so readily available. For many people with physical disabilities, straws "are vital for independent living." What is the name of company that made this announcement?
If you know the answer, email us at contactus@naset.org by Monday, August 13, 2018.  We will acknowledge your correct answer in the next edition of the Week in Review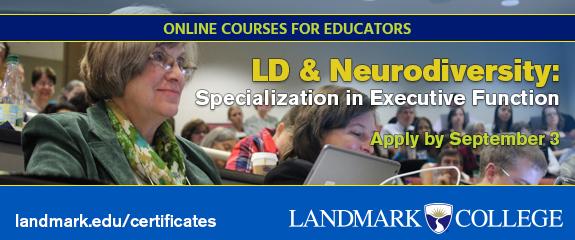 How Stimulant Treatments for ADHD Work
Stimulant medications are an effective treatment for Attention-Deficit/Hyperactivity Disorder (ADHD). In the classroom, parents and teachers say that medications like methylphenidate (MPH) can reduce symptoms and improve behavior. Although stimulants have been in use for decades to treat ADHD in school-aged children, just how they work hasn't been clear. But the results of a new study in the Journal of Child Psychology and Psychiatry is filling in critical gaps about the role of improved cognitive functions. "This is the first study to demonstrate that improving short-term working memory and the ability to inhibit are at least part of the way that stimulants work and improve outcomes for ADHD in the classroom," says Larry Hawk, a professor in UB's Department of Psychology and the paper's lead author. 
Read More
Google Glass Paired with the Right Software Could Make a Big Difference for Kids with Autism
Google Glass may have never been a hit with the average consumer, but it could soon become an important tool for children with autism who hope to improve their social skills. A new exploratory study published in npj Digital Medicine provides fresh evidence that augmented reality glasses paired with the right software can make a big difference for kids with autism. The study looked at the effects and feasibility of using a wearable called Superpower Glass. Developed by a team at Stanford University School of Medicine, Superpower Glass runs on Google Glass and an Android smartphone. It uses machine-learning-assisted software to help children identify emotions as they navigate social interactions. Kids with autism typically find it difficult to recognize facial expressions and make eye contact.  In the study, 14 children tested Superpower Glass at home for a little over two months. Children between the ages of 3 and 17 with an autism diagnosis used the device, which has game and "free play" settings. 
Read More
Dallas Schools Violated Law in 5 Special Education Cases in 2 Years
Five judgments against the Dallas School District in the last two years cite multiple ways school officials failed to comply with state and federal requirements for educating students with special needs. The state orders are among 11 special ed complaints filed against the district in the last 12 years, according to documents obtained by the Statesman Journal under a public records request. Six of the complaints resulted in final judgments against the Polk County school district. The others were withdrawn, settled in mediation or otherwise dismissed. The complaints range from children's school days being shortened to parents being excluded from meetings to staff's failure to identify a student's disabilities. 
Read More
State Superintendent Makes a Push for More Special Education Funding in Wisconsin Schools
State Superintendent of Public Instruction Tony Evers is making a huge push for more public school funding. During the kick off Wisconsin's Annual Public Education Network Summit Wednesday, Evers announced plans to ask for $969 million for special education funding in the next state budget. "We need to prioritize student mental health, we need to shatter the decade long freeze on special education funding, we need to restore our education system, and expand crucial student support service," said Evers. "It really is about giving kids that need an extra lift, get that extra lift and everyone is supportive of that," he said. Without the 163 percent increase, Evers said Wisconsin school will continue to come up short in providing students with the resources they need. Appleton School Board member Jim Bowman agreed and said the additional money is needed to give students with special needs a quality education. 
Read More
"It's Helping Them to Replace Behaviors," Oklahoma City Elementary School Opens Meditation Room
It's a basic reality for many teachers and students. Traditionally, when a student is disruptive in class, they're sent to the principal's office and some form of discipline will follow. Well, this year, at Edgemere Elementary, the teachers and students will be trying out an alternative to the old forms of discipline. Peace. It's not something you find often at an elementary school - but Joanna Eldridge said, at times, it's exactly what her students need. "Meditation class was a response to a need to address mental illness in young children," she said. Eldridge is a special education teacher at Edgemere Elementary. She said, sometimes, students act out or struggle in school because they don't know how to handle the cards they are dealt. 
Read More
New Minnesota Law Aims to Help People with Disabilities and their Service Animals
Passing a pet as a service animal is as easy as going online and buying a 'service animal' vest for your dog. But starting August 1, lying about a pet being a needed service animal became illegal. One man who uses a service dog for his eye sight told KIMT this new law will help give legitimacy to people like him who genuinely need an animal's help. According to Minnesota's Council on Disability, this law will help. "Misrepresenting an animal as a service animal jeopardizes the independence and safety of people with disabilities. It also puts highly trained, expensive, and necessary service animals at risk of injury or death," said Minnesota's council on Diversity via email. Under the new law, businesses are allowed to put up signs that have language saying all service animals are welcome but notes that brining in a fake animal is against the law. But how do businesses spot a false service animal without being discriminatory? 
Read More
Neurological Disabilities More Likely in Children with HIV
While the prevalence of neurological disabilities among children with HIV has drastically decreased since the emergence of antiretroviral therapy (ART), the prevalence remains higher in this patient population. Recent study results have found that these developmental issues, such as impaired brain growth, are more likely to occur in children with HIV than those without the virus. South African children with HIV aged 4 to 6 were 4 times more likely to have delays in sitting, standing, walking, and speaking. They were also more than twice as likely to have a hearing disability or cognitive delay. The children were recruited through an initial door-to-door survey that identified households in South Africa with children between age 4 and 6. Doctors used the Ten Questions (TQ) screen, which measures a child's functions relative to peers. They also collected a standardized medical history and conducted physical examinations with hearing and vision screening, a psychological assessment for cognition and language delay, and voluntary HIV testing. 
Read More
Faulty Use of Data Threatens Early Intervention
Early-intervention programs can make a huge difference in children's lives - particularly in the lives of those with autism or related conditions. We worry, though, that current procedures for assessing the performance of these programs could lead to cuts in financial support for the programs. Those assessment procedures need to change. All U.S. states and territories provide services to infants and toddlers up to 3 years old who either have or are at risk of developmental delays. (The programs operate under Part C of the Individuals with Disabilities Education Act.) The evaluations of the performance of early-intervention programs are based on reports that states submit each year to the U.S. Office of Special Education Programs. The office then determines whether the states need to take corrective actions. 
Read More
In Arizona, Teacher Shortage Appears to Ease, but Special Education Spots Tough to Fill
School districts across the state appear to have an easier time filling open teacher positions this year, when compared to last year. But the news is not all positive for districts that are looking for candidates with teaching degrees, and for districts that need to fill special ed spots. That is according to a CBS 5 Investigates survey sent to every school district in Arizona. "I would say the trend is similar to the last couple of years in that, during the summer, the well is dry," said Justin Wing, who is the director of Human Resources for the Washington Elementary School District. Wing says his district has nine open teaching positions. Eight of them are special ed positions. Those positions require someone with an education degree. Washington Elementary and many other districts that responded to the CBS 5 Investigates survey reported that they are increasingly relying on alternatively certified teachers, which are certified by the state department of education, but not graduates of college education programs. 
Read More
Missouri's Only Special Education PTA Gets Started
Columbia will be the only city with a special education parent teacher association in Missouri. Como SEPTA will organize relations between parents and Columbia Public Schools, including programs that get services from CPS, like home schools and state schools. The organization says it will bring families going through similar experiences together to share tips from their experiences. Columbia Public Schools estimates 1,740 students will qualify for special services in the upcoming school year, according to Missouri Department of Elementary and Secondary Education. Como SEPTA's first organizational meeting on July 26 needed at least 10 people to officially create the organization. President Michelle Ribaudo said she was nervous about the turn out, but was happily surprised when nearly three times the necessary number became members. 
Read More
School Stats: Do Charter Schools in Washington Actually Serve Students with Disabilities?
Do charter schools in Washington actually serve any students with disabilities? A new report from researchers at the University of Washington Bothell attempts to satisfy critics who doubt that the state's nascent charter schools serve their fair share of students who might need more supports to learn. Since 2014, the number of charters - which are publicly funded but can be privately run - has grown to 10 this past year. They collectively enroll about 2,400 students. Two more schools will open this fall. But as their enrollment continues to grow, who's actually attending charter schools in Washington? And are they serving students who require special, and sometime costly, services to accommodate their disabilities as required under federal law? 
Read More
Honor Society for Special Education Teachers
"Can I Have a Pill?" Teaching Teens the Dangers of Sharing ADHD Medication
When a parent makes the decision to use stimulants to treat a child's attention deficit disorder (ADHD or ADD), she never imagines her son or daughter selling or sharing that medication with a friend, risking criminal charges and costly legal fines. Unfortunately, this practice, known as medication diversion, happens a lot in high schools and colleges, according to the latest research (see "The Numbers on Stimulant Abuse" below). Stimulants are a hot commodity for many young people who don't have a prescription, making those who do their targets. As academic pressures escalate in college, the misuse of stimulants becomes a temptation. Stimulants are classified as Schedule II controlled substances by the FDA, due to their high potential for abuse. Most state laws follow federal laws, with criminal penalties for possession without a prescription. The criminal fines and jail time for those caught diverting stimulants are even more severe. 
Read More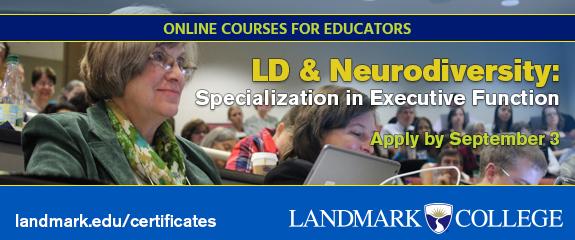 LATEST JOB LISTINGS POSTED ON NASET
* Special Education Coordinator - The Special Education Coordinator is responsible for the development, implementation and coordination of Special Education services within the Riverfront School and Career Center for both middle and high school aged at-risk youth. To learn more - Click here


* SPECIAL EDUCATION TEACHER

- *****SIGN ON BONUS***** APTS offers teachers an extremely supported environment in and out of the classroom. In the classroom, Program Facilitators help to present individualized lessons as well as support students through behavioral episodes. Both in and out of the classroom, teachers can rely on their pod's Data Analyst, Behavior Analyst, and Education Specialist to assist in developing and reaching student academic and behavioral goals. To learn more - 

Click here




* Special Education Teacher

- Oakes Children's Center's Counseling Enriched Education Program, or CEEP, is a school-based mental health program for children in grades K - 8, who present with significant emotional and academic needs. Most students are referred to Oakes' CEEP because they have been unsuccessful in small classrooms within their district and need a school with on-site mental health providers. To learn more - 

Click here




* Special Education Teacher

- Chester Community Charter School (CCCS) proudly serves students in grades K-8 on four campuses in nine school buildings in the Chester Upland Community. More than 4,000 students - two thirds of the district - call CCCS their school. We are offering competitive salaries AND a $6,000 signing bonus for full-time Special Education teachers hired for the 2018-2019 school year! To learn more - 

Click here




* Director of Diverse Learners/Special Education

- Responsibilities include; Supervise, direct, coach SPED teachers, Supervise, direct, coach paraprofessionals, Create/oversee all SpEd team structures Support teachers in progress monitoring for IEPs and Attend all Chicago Public Schools SpEd policy meetings and communicate outcomes/updates to team. To learn more - 

Click here




* Special Education Teacher

- will provide support to the instructional process by serving as a teacher with specific responsibility for developing diverse learners success in academics, interpersonal skills and other activities. The special education teacher will collaborate closely with all other teachers at Moving Everest Charter School to ensure the success of diverse learners. To learn more - 

Click here




* Special Education Teacher

- EdTheory is currently looking for Special Educational Teachers (SPED) for multiple full-time positions in the Hollister,Santa Rosa and San Jose area in California. Candidates with certification and experience working with children preferably in school based settings are welcome to apply!. To learn more -  

Click here




* Certified Special Education Teachers: K-12 (TEXAS)

- Uplift Education has Special Education Teacher positions open at primary, middle, and high school levels at our schools in the Dallas/Fort Worth, Texas area. Uplift Education is the largest public charter school network in North Texas. Our schools have received national recognition and 100% of our graduates have been accepted to college.To learn more - 

Click here




* Special Education Teacher

- Rivermont Schools are now hiring special education teachers at multiple locations throughout Virginia. Sign on bonus of $2,000 and relocation assistance of $5,000 are available for those who qualify. To learn more -  

Click here




* Special Education Manager - The Special Education Manager supports teachers, administrators, and staff in ensuring that AppleTree Early Learning Public Charter School and AppleTree@ programs (collectively "AppleTree") provides optimal support to all children. The Special Education Manager develops knowledge of all stakeholders of the inclusion setting in order to best support students with disabilities. The Special Education Manager ensures high quality specialized instruction and optimal compliance within special education law. This is a supervisory position. To learn more - Click here




* Special Education Teacher - Primary Level

- The duties of this job include providing specialized instruction to meet the unique needs of students with disabilities. The teacher will evaluate and assess student progress. The teacher will be responsible for classroom instructional activities and implementation of IEP's, including behavior plans. To learn more - 

Click here




* Special Education Teacher - DCD Center Based at Roosevelt Elementary School

- Provides research-based specialized instruction to address the instructional goals and objectives contained within each student's IEP. Assesses student progress and determines the need for additional reinforcement or adjustments to instructional techniques. Employs various teaching techniques, methods and principles of learning to enable students to meet their IEP goals. To learn more - 

Click here




* Special Education Teachers-All Areas

- Stafford County Public Schools is actively seeking certified Special Education-All Areas Teachers for the upcoming 2018-2019 school year. We also offer Travel Reimbursement for out of state applicants available ONLY with a signed contract. To learn more - 

Click here




If you are an Employer looking for excellent special education staff - 

Click here

for more information
Food For Thought..........
Students who are loved at home, come to school to learn, and students who aren't, come to school to be loved.
Nicholas A. Ferroni