Week in Review - July 28, 2017
National Association of Special Education Teachers
July 21, 2017                                                Vol 13 Issue # 29




Welcome to NASET'sWEEK in REVIEW.  Here, we provide you with the latest publications from NASET to read and or download, as well as some of the most interesting articles that have happened this week in the field of special education. We hope you enjoy this publication.  Feel free to send us articles for this publication or let us know your thoughts about the WEEK in REVIEW at news@naset.org. Have a great weekend.

Sincerely,



NASET News Team
NEW THIS WEEK ON

NASET
Autism Spectrum Disorder Series

Educating Children with Autism Spectrum Disorders: A Review of the Literature. By Michelle Novoit
Autism spectrum disorder is best defined as a range of conditions characterized by difficulties with social skills, repetitive behaviors, speech and nonverbal communication, as well as by unique strengths and differences. Autism isn't a singular disability, there are many types of autism and they are all caused by different combinations of genetic and environmental factors. Individuals with autism are said to have autism spectrum disorder for the word "spectrum" reflects the wide varieties of challenges and strengths possessed by each person with autism. This issue of 
NASET's Autism Spectrum Disorder series
was written by Michelle Noviot and will be a review of the literature on the education of children with autism spectrum disorder. 
Read More
NASET's Parent Teacher Conference Handout
What are Other Health Impairments under IDEA
Introduction
Sometimes parents will get confused about what specific types of disorders are included under categories of disabilities. One of the more confusing areas for parents is Other Health Impaired. Many parents are not aware of the range of disorders that are included and this PTCH explains the basic that they will need to know.
Other Health Impairment" is one of the 14 categories of disability listed in our nation's special education law, the Individuals with Disabilities Education Act (IDEA). Under IDEA, a child who has an "other health impairment" is very likely to be eligible for special services to help the child address his or her educational, developmental, and functional needs resulting from the disability.
Read More
Children of Mothers with Lupus More Likely to Develop Learning Disorders, Review Reports
Children born to mothers with lupus may end up with developmental disabilities, according to a review of more than two dozen studies. Learning and reading difficulties and dyslexia are among the problems the children may experience as they develop, researchers said. Pregnancy and the period right after birth are risky for both a woman with lupus and her child. Systemic lupus erythematosus, or SLE, puts pregnant women at higher risk of infections, a high-blood-pressure condition known as preeclampsia, and death. A child is at higher risk of dying in the womb, being born prematurely, and dying after birth. Read More
Bullying and Bias Can Cost Schools Millions in Lost Funding
When children avoid school to avoid bullying, many states can lose tens of millions of dollars in lost funding, and California alone loses an estimated $276 million each year because children feel unsafe. New research from The University of Texas at Austin published in School Psychology Quarterly highlights the hidden cost to communities in states that use daily attendance numbers to calculate public school funding. When children are afraid to go to school because classmates target them because of bias against their race, gender, religion, disability or sexual orientation, schools lose tens of millions of dollars each year linked to this absenteeism. Read More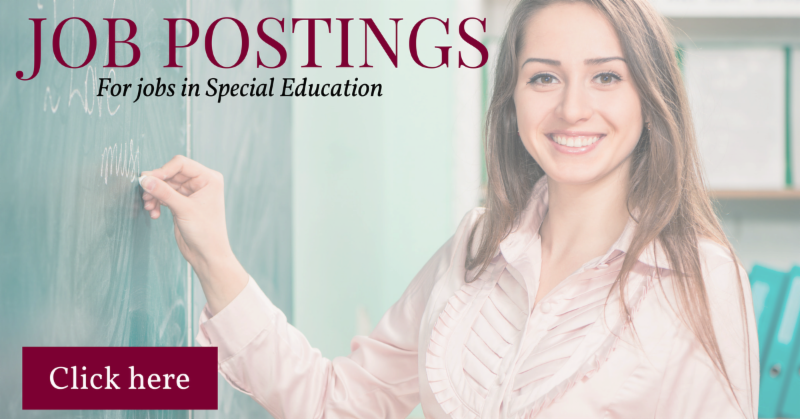 Virginia Robotics and Cyber Academy Helps Teens with Disabilities Gain Technology Skills
Some of the robots climb hills and others tell jokes. Students at the Virginia Robotics and Cyber Academy used their new coding skills to program robots to do a variety of activities. The five-day robotics academy, through the Career Pathways for Individuals with Disabilities, served 24 high school-age students from across Virginia. It took place at the Department for the Blind and Vision Impaired in Henrico County last Monday through Friday, serving students with disabilities ranging from blindness and low-vision to autism spectrum disorders and learning disabilities. Christopher Freeman, a recent graduate of Meadowbrook High School in Chesterfield County, programmed his robot to perform stand-up comedy. Read More
Preschoolers Learn from Math Games, to a Point
What is the best way to help poor schoolchildren succeed at math? A study co-authored by researchers at MIT, Harvard University, and New York University now sheds light on the ways preschool activities may -- or may not -- help children develop cognitive skills. The study, based on an experiment in Delhi, India, engaged preschool children in math games intended to help them grasp concepts of number and geometry, and in social games intended to help them cooperate and learn together. The results contained an unexpected wrinkle. Children participating in the math games did retain a superior ability to grasp those concepts more than a year later, compared to children who either played only the social games or did not participate. However, the exercises did not lead to better results later, when the children entered a formal classroom setting. Read More
Board Certification in Special Education Available to

NASET

Members

Through an agreement with The American Academy of Special Education Professionals(AASEP), NASET members now have the opportunity to achieve AASEP Board Certification in Special Education - (B.C.S.E.) at a reduced fee. AASEP Board Certification in Special Education - (B.C.S.E.) is a voluntary choice on the part of the candidate. The candidate for Board Certification wishes to demonstrate a commitment to excellence to employers, peers, administrators, other professionals, and parents. From the standpoint of the Academy, board certification will demonstrate the highest professional competency in the area of special education. Board Certification in Special Educationestablishes a much needed standard for professionals, across disciplines, who work with exceptional children.
Read More
Finding What's Right with Children who Grow Up in High-Stress Environments
A new research article proposes that more attention be given to what's right with children who grow up in high-stress environments so their unique strengths and abilities can be used to more effectively tailor education, jobs and interventions to fit them. Stress-adapted children and youth possess traits -- such as heightened vigilance, attention shifting and empathic accuracy -- that aren't tapped in traditional learning and testing situations. In addition, these skills may actually allow at-risk children to perform better than their peers from low-risk backgrounds when faced with uncertainty and stress. Most research to date has focused on detrimental effects of growing up under stressful conditions and the deficits in cognitive development that can result, said Bruce J. Ellis, lead author. Read More
How Cats and Cows Protect Farm Children from Asthma
It is a known fact that microbes on farms protect children from asthma and allergies. But even non-microbial molecules can have a protective effect: Immunologists from the University of Zurich have shown that a sialic acid found in farm animals is effective against inflammation of lung tissue. This study opens up a wide variety of perspectives for the prevention of allergies. More and more people suffer from allergies and asthma. In the past decades, these diseases have massively increased in industrialized countries. Today, about 30 percent of children have allergies -- with the exception of farm children. Among farm children, the disease is increasing less dramatically than in the case of their friends who live in the same village, but not on a farm. Microbes that occur in higher amounts and greater diversity on farms protect farm children from allergies and asthma. An environment that is not highly hygienic has a positive effect on the development of the immune system as it learns not to react to harmless materials as is the case with allergies. Read More
PTSD in Children Quickly and Effectively Treatable within Hours
Children and adolescents with posttraumatic stress syndrome (PTSD) can be successfully treated with only a few hours of EMDR or cognitive behavioral writing therapy (CBWT). This is the finding of a new research paper by the University of Amsterdam (UvA) and GGZ Rivierduinen (Trauma Center for Children and Youth). The paper was published in the Journal of Child Psychology and Psychiatry. PTSD is a psychiatric disorder which can develop after exposure to a traumatic event such as a terrorist attack, a road traffic accident, sexual or physical abuse. Previous research shows that PTSD can be treated effectively in adults with Eye Movement Desensitization and Reprocessing (EMDR) or trauma-focused cognitive behavioral therapy/imaginary exposure. Until now, however, strong evidence for the efficacy of EMDR in children has been lacking. Read More
Widening 'Race Gap' in U.S. Infant Deaths
The death rate for black infants in the United States has risen in recent years, while the rate for white infants continues to decline, a new study finds. "The sustained progress in reducing infant mortality among black infants since 2005 has stalled in the past few years. This has led to increases in the absolute inequality in infant mortality between black and white infants during the past three years," said a team led by Corinne Riddell of McGill University in Montreal. One U.S. pediatrician who reviewed the findings said it's unclear why this racial gap in infant deaths is widening. "Infant mortality and racial disparities in this outcome are very complex phenomena, and seem to involve both medical care access and other social factors," said Dr. Michael Grosso, chair of pediatrics at Huntington Hospital in Huntington, N.Y. Read More
TRIVIA QUESTION OF THE WEEK
THE TRIVIA QUESTION OF THE WEEK WILL RETURN ON  AUGUST 4, 2017
Do People Who are Blind Express Their Emotions in the Same Way as People Who Can See?
Facial expressions play a powerful role in social interactions from birth to adulthood. Fear, joy, anger -- all our emotions are articulated and understood thanks to universal codes. Common sense sees this enterprise as an act of imitation: children imitate their parents by reproducing the facial expression linked to each emotion. But if this is the case, does the same hold true for people who were born blind? Do they show their emotions in the same way? The UNIGE researchers analyzed 21 scientific studies conducted between 1932 and 2015 to find the answer, and you can read a summary of their results in the journal Psychonomic Bulletin & Review. The debate about how human beings express their emotions has been with us since Darwin's time. In short, are expressions of fear, joy and anger innate or acquired? Are they modelled and reinforced through the various observations and visual exchanges occurring in our social life? Read More
Special Education Parents Continue to Advocate for Inclusion
The San Dieguito Union High School District (SDUHSD) board approved its Local Control Accountability Plan for the 2017-18 school year at its June 22 board meeting. The LCAP depicts district goals and actions to address state priorities and details how the district will utilize state Local Control Funding Formula (LCFF) supplemental funds for "high need" students, those that fall into categories of low-income students, English language learners and foster youth. Some special education parents have argued that the LCAP fails to address the needs of special education students, whom they believe to be the highest need and most under-performing population in the district. While the LCAP is created with lots of stakeholder input, special education forum parents said the LCAP team met with them just once but didn't ask for their input. Read More
Microfluidic Chip Predicts Risk of Preterm Birth
Preterm birth is the leading cause of neonatal morbidity and mortality. Among the many underlying causes of pregnancy-associated complications, it is known that infection and inflammation are highly significant risk factors. Now, NIBIB-funded researchers have developed a system to capture and identify a scarce blood peptide (a fragment of an inflammatory protein) called P1 that can predict increased risk of preterm birth. Early detection offers the opportunity to begin medical interventions to delay birth or increase fetus viability to save lives and reduce lifelong disabilities. Worldwide, an estimated 15 million babies are born prematurely every year and almost 1 million of those children die each year due to the associated complications. In the U.S. about 12 percent of babies are born prematurely. Of those who survive, many face a lifetime of learning disabilities and problems with vision and hearing. Read More
Picture Overload Hinders Children's Word Learning from Storybooks
Less is more when it comes to helping children learn new vocabulary from picture books, according to a new study. While publishers look to produce ever more colourful and exciting texts to entice buyers, University of Sussex psychologists have shown that having more than one illustration per page results in poorer word learning among pre-schoolers. The findings, published in Infant and Child Development, present a simple solution to parents and nursery teachers for some of the challenges of pre-school education and could help in the development of learning materials for young children. Read More
Special Education Plan Links Parents, Teachers
Parents of children with special needs often feel frustrated by their school systems, but Mary Murray's special education model asks parents and teachers to unite as students. Ms. Murray's philosophy centers around the belief that parents and teachers of neuroatypical children should develop partnerships with one another. After being hired as a full-time professor at Bowling Green State University in 2005, Ms. Murray developed an undergraduate education course to be co-taught by herself and a parent of a child with special needs. Then, at the urging of BGSU administrators, she applied for and received a $5,000 grant to pay other local parents of children with disabilities to audit the course as well. Ms. Murray first ran the class in 2006 with one goal - to deconstruct teachers' and parents' judgments of one another and their ability to care for special-needs children. Read More
Childhood Depression May Increase the Risk of Addiction Later in Life
Depression is not just a bad phase, but a serious mental disorder that needs to be treated like any other ailments. Due to the social stigma attached to mental illnesses, there has been a general lack of awareness and understanding about them. Researchers and health experts are making great efforts to help us learn more about depression and how it affects the way we think and act. A recent study, conducted by researchers from the University Medical Center Groninge in Netherlands, particularly focuses on childhood depression.  According to it, children who suffer from depression or attention-deficit hyperactivity disorder (ADHD) in have a higher risk of developing addictions later in life.  "We know that ADHD in childhood increases the risk for later substance-related disorders, but until now, no systematic evaluation of other childhood psychiatric disorders had been conducted," said Annabeth Groenman from University Medical Center Groningen, the Netherlands. Read More
In Maine, Budget Battle Risks Depleting Services for Those with Cognitive Disabilities
Luis Segovia's son - who has intellectual disabilities - recently spent 37 days in the hospital while the family waited for group home beds to open up. He was in the hospital about a month more than necessary, the family says. Segovia's son, Christopher, had turned 18 in January and services for his condition had dried up, including openings for group homes for adults with disabilities. "We are very lucky. We had always sort of figured that once you're in the system we would continue to get services, but we were wrong," said Segovia, of Lisbon. "The services and the funding are just not there once you turn 18." The Segovias' ordeal is not unique, advocates say, as the group home shortage has reached crisis levels. Read More


LATEST JOB LISTINGS POSTED ON

NASET
*
Learning Specialist -
Private girls high school seeks learning specialist to work with students in remediation.  Hours mid-morning to afternoon dismissal at 5:15, Monday - Thursday, and Fridays 9-1. To learn more - 
Click here
*
Special Ed / ICT / Teacher   (3rd or 5th Grade)
- Collaborate with colleagues in developing purposeful, rigorous, and engaging daily and long-term plans aligned to standards and in regularly revising these materials. To learn more  - 
Click here
*
High School SpEd Teacher (Los Angeles, CA)
- At Bright Star Schools, students achieve academic excellence, accept responsibility for their futures, and embrace school as family. We offer students the opportunity to develop their unique talents and ambitions in a supportive, collaborative environment. To learn more  - 
Click here
*
Special Education Teachers- All Areas
- Stafford County Public Schools is actively seeking qualified applicants for Special Education Teachers in All Areas. Please visit our website to learn more about our opportunities and benefits. To learn more- 
Click here
*
Inclusive SpEd Instructional Coordinator
- The Inclusive Education Instructional Coordinator will work closely with the Director(s) of Inclusive Education, Lead Inclusion Specialist Teachers (ISTs), School Psychologists, and school site administrators to plan and execute a comprehensive improvement plan to increase student achievement for our students with special needs. To learn more - 
Click here
*
Special Education High School Teacher
- We value teachers who truly listen to what students are saying - who create a space for students to think their way through to answers, and explore insights and curiosities along the way. Teachers at Ascend share a hunger for feedback and professional growth, and a dedication to excellence. To learn more - 
Click here
*
Full-Time Special Education Teacher
- At Ascend, we seek high school teachers who are passionate about their subjects and their students - who want to spend their time discussing, preparing, and immersing themselves in the content they're about to teach. Teachers at Ascend share a hunger for feedback and professional growth, and a dedication to excellence. To learn more -
Click here
*
Special Education Teacher
- We are seeking inspired and dynamic educators to join our team and provide a top quality education for all of our students. Whether you are starting your teaching career or are looking to launch a new chapter, your passion and experience will be deeply valued and your opportunities for growth and impact will be limitless.  To learn more - 
Click here
*
Special Education Teacher
- Come teach in Agua Fria where all students are college and career ready! We currently have openings for Certified Special Education Teachers.  Our competitive salary and benefits package paired with our amazing students, family atmosphere and strong community make Agua Fria Union High School District THE place to teach. To learn more - 
Click here
*
Special Education Preschool Teacher
-  Longview School District seeks lead teacher for special education preschool classroom serving three and four year old children with a range of communication, social-emotional, and physical developmental delays, including those with autism spectrum disorder. To learn more - 
Click here
*
Teaching in New York City
- New York City public schools offer competitive starting salaries ranging from $54,000 to $81,694, based on prior teaching experience as well as your undergraduate and graduate education. To learn more - Click Here
*
Special Education Specialist
- The primary responsibility of the Special Education Specialist is to provide instruction and other related services to Special Education students. The Special Education Specialist will also facilitate diagnostic assessment including administration, scoring and interpretation. To learn more - 
Click here
If you are an Employer looking for excellent special education staff - 
Click here
for more information
Food For Thought..........
To teach is to never stop learning. Both are synonymous with each other and always will be. 
Eric Ambrose