Week in Review - July 14, 2017
National Association of Special Education Teachers
July 14, 2017                                                Vol 13 Issue # 28





Welcome to NASET'sWEEK in REVIEW.  Here, we provide you with the latest publications from NASET to read and or download, as well as some of the most interesting articles that have happened this week in the field of special education. We hope you enjoy this publication.  Feel free to send us articles for this publication or let us know your thoughts about the WEEK in REVIEW at news@naset.org. Have a great weekend.

Sincerely,



NASET News Team
NEW THIS WEEK ON

NASET
NASET Inclusion Series
Teaching Students with Intellectual Disabilities
This lecture focuses on teaching students with intellectual disabilities.  Topics covered include: definition of intellectual disabilities, adaptive behavior, IQ, prevalence, levels of intensities and support, degrees of intellectual disabilities, causes of intellectual disabilities, Down Syndrome, phenylketonuria (PKU), drugs and fetal alcohol syndrome, perinatal and postnatal causes of intellectual disabilities, characteristics of children with intellectual disabilities and classroom management strategies. 
Read More
RTI Roundtable - Issue #17
Using Collaborative Strategic Reading as Response to Intervention in Early Childhood Education. By Sarah Al-Sharif
This issue of 
NASET's

RTI Roundtable series
was written by Sarah Al-Sharif from Ball State University. Response to intervention (RTI) is a set of strategies and tools used by a teacher to help students who are facing difficulties grasping a lesson or skill. Collaborative strategic reading (CSR) is also an important tool in early childhood education. By using CSR, the child can learn how to work collaboratively with his or her fellow classmates. Since CSR involves collaborative learning, children in early childhood education will be able to understand the concept of learning together and come to appreciate the role of others in collaborative learning. After collaborative reading, children prepare questions to ask when they do not understand a concept. This paper illustrates the effectiveness of using CSR as RTI in early childhood education. 
Read More
When is Tourette Syndrome Actually Autism?
More than one in five children with Tourette syndrome also tests positive for autism, a new study shows. But it's unlikely that so many children actually have both disorders. What's more probable is that Tourette's symptoms often mimic or seem quite similar to those of autism, the researchers noted. "Our results suggest that although autism diagnoses were higher in individuals with Tourette's, some of the increase may be due to autism-like symptoms, especially repetitive behaviors that are more strongly related to obsessive-compulsive disorder," said study first author Sabrina Darrow, an assistant professor in the department of psychiatry at the University of California, San Francisco. Tourette's affects between one and 10 in 1,000 children, according to the U.S. National Institutes of Health. It is more common in males, and typical tics include repetitive throat-clearing, blinking or grimacing. Read More
People with Disabilities at Risk in Central African Republic
Simplice Lenguy told his wife to leave him behind as people fled when fighting broke out in Central African Republic's capital. "I said, 'Take the children. You go to the camp. I am handicapped. I can't flee like the others. If something happens to me, at least my family will be safe,'" Lenguy, who is disabled from polio, recounted in an interview with The Associated Press. His wife refused and forced him to come with her, even when he lost consciousness because of the pain. For years Central African Republic has seen widespread violence that has displaced more than 500,000 people. This week at least 100 people were killed in fighting in the town of Bria. Those with disabilities are a "forgotten people within a forgotten crisis" at high risk during attacks and forced displacement, facing neglect in an ongoing humanitarian crisis, according to Lewis Mudge, a researcher with Human Rights Watch, which released a report this week on their challenges. Read More
Research Survey for Special Educators & Special Education Administrators
A
NASET
member is currently a doctoral candidate at Concordia University - Portland and asks for your help in completing a research survey regarding Least Restrictive Environment (LRE) and the educational placement of students with emotional disorders. 
In this study, you will be asked to complete an electronic survey. Your participation in this study is voluntary and you are free to withdraw your participation from this study at any time. The survey should take only 15-20 minutes to complete.
This survey has been approved by the Institutional Review Board of Concordia University - Portland. There are no risks associated with participating in this study. The survey collects no identifying information of any respondent. All of the responses in the survey will be recorded anonymously. 
By completing and submitting this survey, you are indicating your consent to participate in the study. Your participation is appreciated.
For your help, you will be entered to win one of 8 Amazon gift cards.
Please click on the survey link below and provide us with your feedback no later than August 30, 2017.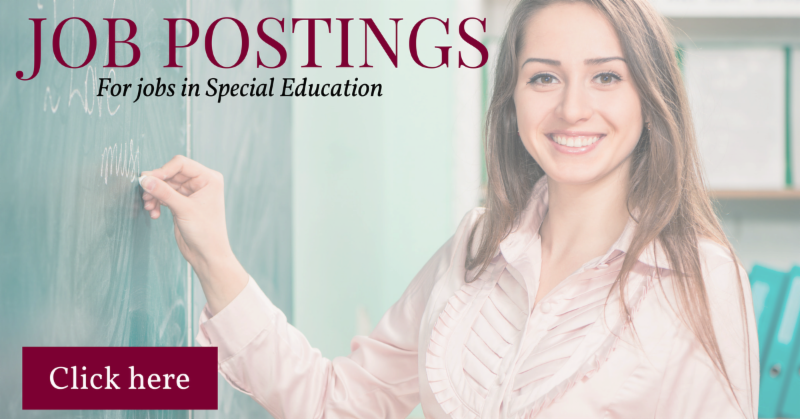 Teacher Shortage Leaves Special Education Classrooms with Inexperienced, First-Time Educators
The ongoing teacher shortage has hit special education students particularly hard in the state's largest elementary school district - which happens to be in Bakersfield. Roughly 40 percent of the special ed teaching staff in the Bakersfield City School District last year were new, probationary or intern teachers, many of whom were still in the process of earning a credential while managing classrooms filled with challenging students, according to a district seniority list updated this spring. Shirley Nicholas, BCSD's director of special education, confirmed that 87 out of 201 special education classrooms last year were staffed with first- or second-year teachers. "Some are not even probationary," Nicholas said. "A chunk of these teachers haven't even completed a teacher credentialing program." Read More
Could Prozac be a Treatment for Children with Autism?
After drinking mother's milk spiked with the antidepressant Prozac for 19 days, infant mice bred to mimic the distinctive behaviors and brain abnormalities seen in autism experienced dramatic improvements in their social interactions, communication patterns and a wide range of neurochemical peculiarities that are a hallmark of the disorder, according to a new study. And when newborn mice got a daily injection of Prozac in their first six days of life, the treatment appeared to restore normal vocalization patterns and reduce anxiety-like behaviors well into adulthood, the new research showed. The antidepressant Prozac, a selective-serotonin reuptake inhibitor (or SSRI), is one of the world's most widely-used medications. It is thought to elevate mood and quell anxiety by increasing the availability of the neurotransmitter serotonin in the spaces between certain types of brain cells. Read More
High Fat Diet Reduces Gut Bacteria, Crohn's Disease Symptoms
Researchers at Case Western Reserve University School of Medicine have shown a high fat diet may lead to specific changes in gut bacteria that could fight harmful inflammation -- a major discovery for patients suffering from Crohn's disease. Crohn's disease, a type of inflammatory bowel syndrome, causes debilitating intestinal swelling, cramping, and diarrhea. The disease affects half a million people in the United States, but its cause is yet unclear. In the new study, a diet of plant-derived "good" fats, including coconut oil or cocoa butter, drastically reduced bacterial diversity in mice with Crohn's-like disease. Mice fed beneficial fatty diets had up to thirty percent fewer kinds of gut bacteria as those fed a normal diet, collectively resulting in a very different gut microbial composition. Some of the species changes showed up in feces, while others were different in cecum, a portion of the intestine commonly inflamed in Crohn's disease. Mice fed even low concentrations of coconut oil or cocoa butter also had less severe small intestine inflammation. Read More
Starting School Young Can Put Child Well-Being at Risk
New research has shown that the youngest pupils in each school year group could be at risk of worse mental health than their older classmates. Starting school young is an exciting but sometimes challenging milestone for children and their families. Some children will be nearing their fifth birthday as they enter foundation classes while others will be only just four. Now, a study led by the University of Exeter Medical School which investigated more than 2,000 children across 80 primary schools in Devon, has found that children who are younger than their peers when they start school are more likely to develop poorer mental health, as rated by parents and teachers. Overall the effect was small, however researchers believe the additional stress of keeping up with older peers could prove a "tipping point" for vulnerable children, such as those with learning difficulties or who were born prematurely. Read More
TRIVIA QUESTION OF THE WEEK
Congratulations to: Felicia Garrett, Al Slater, Rena Root, Wanda Routier, Alexandra Pirard, Stacey Slintak, Patsy Ray,  Barbara Babcock, Diane Campbell-Mitchell, Nicholas Catania, Betsy Mandel, and Anthea Lavergne, who knew the answer to last week's trivia question.
QUESTION: This summer, Morgan's Inspiration Island, opened up in San Antonia, Tex. What makes Morgan's Inspiration Island so special?
ANSWER:  Morgan's Inspiration Island, in San Antonio, TX, is the first water park that is fully inclusive and accessible for all children, including those in wheelchairs.
THE TRIVIA QUESTION OF THE WEEK WILL RETURN 
ON AUGUST 4, 2017
How Serious is Binge Drinking Among College Students with Disabilities?
A new study finds that college students with disabilities binge drink more often than their non-disabled student peers. The study, providing the first picture of alcohol use and binge drinking by US college students with disabilities, is out in Public Health Reports, a SAGE Publishing journal and the official journal of the Office of the U.S. Surgeon General and the U.S. Public Health Service. "Substance abuse is the topic of high public interest, yet little attention is given to the experiences of college students with disabilities," wrote the study authors Steven L. West et al. "Given that binge drinking is highly correlated with academic failure, drop-out, and an increased risk for various negative health conditions, such use by students with disabilities may place them at extreme risk for various negative outcomes." Read More
Arkansas has New Program to Improve Campus Culture
School districts invest money in equipment, technology, supplies and training to help give their students the best education possible. One form of training is Positive Behavior Intervention and Support [PBIS], a mindset through which educators show discipline. Watson Chapel School District school culture and climate specialist Dovie Burl spent 2016-2017 helping to implement this mindset. "It brings about different levels of handling behavior in a more positive direction," Burl said. "I expect to see a much better and respectful student because we are going to teach them what it looks like. We are going to model that. All of us will be speaking the same language- no matter where they go. I am also going to go into the community and let them know they need to join us." Burl implores her colleagues to include parents in all educational matters. Read More
New York City's Gifted Screening Is 'Deficient' at Ensuring Diversity, Officials Say
The Bronx and Brooklyn borough presidents want the city to increase the rate of minority students in gifted and talented elementary school programs as well as the elite specialized high schools because the programs are not representative of the overall population. While roughly 70 percent of students citywide are black or Latino, only 27 percent of the students in G&T programs are, according to a report from the borough presidents released Wednesday. This year, black and Latino students made up a little more than 44 percent of the students who sat for the specialized high school admissions test, but received only about 10 percent of the offers. Read More
Miss Amazing Pageant Looks for Achievements Instead of Disabilities in Contestants
Miss Amazing Inc. looks for accomplishments instead of limitations. "In our main program, the individuals participate in an interview. They do an on-stage presentation, and then they also present in evening wear," said Kimberly Somer, vice president for the Omaha-based organization. "We have individuals with all types of disabilities participating in the program." The abilities of the participants range from individuals with speech difficulties to honor students in wheelchairs. "We try to evaluate individuals based on their abilities with what they can do and then encourage them to push those limits while we do what we can to support them in those efforts," Somer said. Read More
Physical Disabilities Don't Stop These Future Pilots
Kunho Kim was a sophomore in high school when he became paralyzed from the waist down after he broke his spine during a skiing accident. A few years later, after his freshman year at Harvard University, Kim and his friends raised $16,000 to travel across the country and create a U.S. travel guide for wheelchair users. Benedict Jones became quadriplegic at age 11 after he was accidentally shot. He knew the combination to his father's safe, and he and his friend wanted to look at the guns locked away. While playing with the firearms, a bullet shot through the base of Jones' throat and hit his cervical spine. Jones, of Bloomington, is now a world traveler and founder of an online startup called Trekkable that rates hotels based on their accessibility for people with mobility challenges. Read More
Genes, Ozone, and Autism
A new analysis shows that individuals with high levels of genetic variation and elevated exposure to ozone in the environment are at an even higher risk for developing autism than would be expected by adding the two risk factors together. The study is the first to look at the combined effects of genome-wide genetic change and environmental risk factors for autism, and the first to identify an interaction between genes and environment that leads to an emergent increase in risk that would not be found by studying these factors independently. A paper describing the research appears online in the journal Autism Research. Read More
Child Safety or Parental Duty: New Study Maps Out Core Concepts in the Vaccination Debate
The recent measles outbreak in Minnesota -- by June, new cases of the disease in that state surpassed nationwide totals for all of 2016 -- has been a sobering reminder of how highly concentrated populations of vaccination skeptics can elevate an entire community's risk of infection. Around the edges of every headline-grabbing outbreak, there's a vast range of opinions being circulated about the risks and benefits of early childhood immunization. The vaccination debate maintains a constant presence on social media platforms like Twitter, where people on both sides frequently share articles and blog posts to support their stance on the issue. These varied viewpoints caught the attention of scientists at the Biocomplexity Institute of Virginia Tech who are conducting a three-year study on the ways online interactions influence our beliefs. Read More
Study Links Sleep Patterns with Pain Persistence After Pediatric Surgery
About 20 percent of children develop persistent pain after surgery, and a new study published in The Journal of Pain showed that poorer night-time sleep quality was significantly associated with greater next-day pain intensity over four months after surgery.  The Journal of Pain is published by the American Pain Society. Researchers from the University of Washington and Seattle Children's Hospital studied 66 children who had major surgery and examined the longitudinal sleep patterns over four months to assess the relationship between daily sleep and pain.  They hypothesized that poorer night-time sleep quality would be associated with greater pain intensity. Read More
Good Habits of Successful People with ADHD
Many successful people have attention deficit hyperactivity disorder: entrepreneur Sir Richard Branson, Ikea founder Ingvar Kamprad, singer Justin Timberlake and comedian-actor Howie Mandel. On the more local level, Daniel Arrigg Koh is among successful people who don't let ADHD get in the way of their accomplishments. He's making significant professional strides as chief of staff for the city of Boston where he primarily advises Mayor Martin J. Walsh. Before this role, he held positions that included working as general manager of HuffPost Live, serving as advisor to former Boston Mayor Thomas M. Menino and working in nonprofit consulting. He has a bachelor of arts in government from Harvard College and a master's degree in business administration from Harvard Business School. Read More

LATEST JOB LISTINGS POSTED ON

NASET
* 
Special Education High School Teacher
- We value teachers who truly listen to what students are saying - who create a space for students to think their way through to answers, and explore insights and curiosities along the way. Teachers at Ascend share a hunger for feedback and professional growth, and a dedication to excellence. To learn more - 
Click here
*
Full-Time Special Education Teacher
- At Ascend, we seek high school teachers who are passionate about their subjects and their students - who want to spend their time discussing, preparing, and immersing themselves in the content they're about to teach. Teachers at Ascend share a hunger for feedback and professional growth, and a dedication to excellence. To learn more - 
Click here
*
Special Education Teacher
- We are seeking inspired and dynamic educators to join our team and provide a top quality education for all of our students. Whether you are starting your teaching career or are looking to launch a new chapter, your passion and experience will be deeply valued and your opportunities for growth and impact will be limitless.  To learn more - 
Click here
*
Special Education Teacher
- Come teach in Agua Fria where all students are college and career ready! We currently have openings for Certified Special Education Teachers.  Our competitive salary and benefits package paired with our amazing students, family atmosphere and strong community make Agua Fria Union High School District THE place to teach. To learn more - 
Click here
*
Special Education Teacher
- Responsible for planning and providing for appropriate learning experiences for students based on the district's AKS curriculum as well as providing an atmosphere and environment conducive to the intellectual, physical, social, and emotional development of individuals. To learn more - 
Click here
*
Teacher of Students with Autism
- The teacher will develop, implement and monitor the students' Individualized Education Programs in collaboration with parents and other IEP Team members. The teacher will promote a collaborative relationship with school staff and parents that will foster inclusionary practices. To learn more - 
Click here
*
Special Education Preschool Teacher
-  Longview School District seeks lead teacher for special education preschool classroom serving three and four year old children with a range of communication, social-emotional, and physical developmental delays, including those with autism spectrum disorder. To learn more -
Click here
*
Inclusive Specialist (Special Education) Teacher
- Bright Star Schools is a free, publicly funded and open enrollment non-profit organization with seven public charters in urban Los Angeles. We are seeking a certified Inclusive Specialist (Special Education) Teacher to join our people-first and student-first family! We are also currently offering a $5,000 signing bonus to all new 2017-18 Inclusive Specialist Teachers. To learn more - 
Click here
*
Teaching in New York City
- New York City public schools offer competitive starting salaries ranging from $54,000 to $81,694, based on prior teaching experience as well as your undergraduate and graduate education. To learn more - Click Here
*
Special Education Specialist
- The primary responsibility of the Special Education Specialist is to provide instruction and other related services to Special Education students. The Special Education Specialist will also facilitate diagnostic assessment including administration, scoring and interpretation. To learn more - 
Click here
If you are an Employer looking for excellent special education staff - 
Click here
for more information
Food For Thought..........

The best teachers are those who show you where to look, but don't tell you what to see.
Alexandra K. Trenfor