Week in Review - November 4, 2016
National Association of Special Education Teachers
November 4, 2016                                            Vol 12 Issue # 44



Dear
NASET

News,
Welcome to NASET'sWEEK in REVIEW.  Here, we provide you with the latest publications from NASET to read and or download, as well as some of the most interesting articles that have happened this week in the field of special education. We hope you enjoy this publication.  Feel free to send us articles for this publication or let us know your thoughts about the WEEK in REVIEW at news@naset.org. Have a great weekend.

Sincerely,



NASET News Team
NEW THIS WEEK ON

NASET
NASET's Special Educator e Journal November 2016

Impact of Least Restrictive Environment Interpretation for Students with Severe Disabilities. By Amanda Berndt, Florida International University

Building Successful Partnerships Between Families and Schools: A Review of the Literature. By Kathleen A. Hogan, Marla J. Lohmann and Andrea R. Hathcote
Review of Ethical Leadership and Decision-Making in Education: Applying Theoretical Perspectives to Complex Dilemmas-4th Edition. By Deborah C. McLaughlin, Florida International University
(Pre) Literacy Skills and Deaf Children
Special Education Legal Alert. By Perry A. Zirkel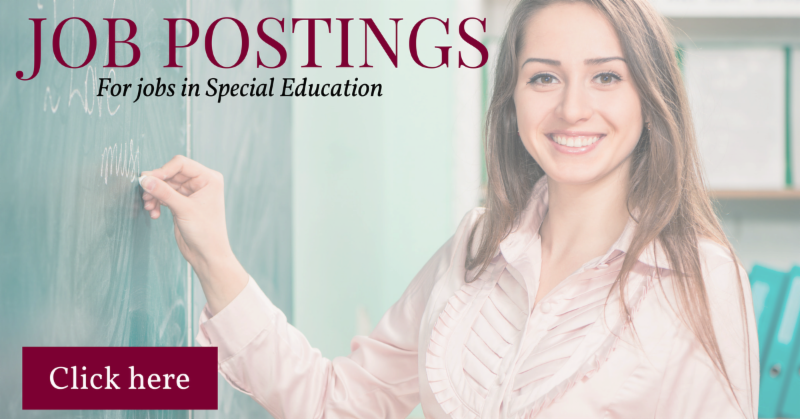 Can Teens' Heart Rate, Blood Pressure Show Ties to Mental Illness?
A young man's future risk of mental disorders could be tied to higher-than-average heart rate or blood pressure in his late teens, a new European study suggests. Young men with a resting heart rate and blood pressure that's elevated -- but still within normal range -- seem more likely to develop a wide range of mental illnesses later in their lives, researchers found. These include an increased risk of obsessive-compulsive disorder, schizophrenia and anxiety disorders, the results show. "We are coming to appreciate that psychiatric illnesses are brain diseases, and our central nervous system, which is mediated from our brain, controls autonomic functions," like heart rate and blood pressure, said Dr. Victor Fornari. He is director of the division of child and adolescent psychiatry at Zucker Hillside Hospital in Glen Oaks, N.Y. Read More
Parent-Led Autism Therapy Shows Lasting Benefits
A therapy that focuses on parents' communication skills may have lasting benefits for young children with autism, a new clinical trial suggests. Researchers from the United Kingdom found that preschool children who took part in the program had less-severe autism symptoms six years later, compared to kids who received standard autism services available in their local community. The study is the first to show such lasting benefits from an early childhood program for autism. Experts not involved in the work were encouraged by the findings. That's, in part, because the program is considered "low intensity." Parents had 18 sessions with a therapist over one year, and then took charge from there. Read More
People with Disabilities Can Hike at State Park Thanks to All-Terrain Wheelchair
A state park is blazing a new trail for itself. On Oct. 14, Colorado's Staunton State Park debuted its first all-terrain wheelchair for people with disabilities to use. The Action TrackChair has tank-like wheels that allow users to go off road, on dirt trails and up inclines, which is not possible on traditional wheelchairs, according to the Colorado Parks and Wildlife Office. "Our hope is to push this [program] out to other parks here in Colorado," Wayne Parkinson, director of Friends of Staunton, a nonprofit that advocates for the state park and helped raise the funds for the new chair, said during a presentation posted to Facebook. Read More
Culturally Sensitive Treatment Program Serves Latino Children with ADHD
When Alyson Gerdes of the Marquette University Department of Psychology met Al Castro, program director of the health research department at the United Community Center (UCC), they found that they were unknowingly working toward the same goal. Gerdes, whose clinical and research specialty at Marquette deals while childhood Attention Deficit Hyperactivity Disorder (ADHD), said that they were asking themselves how they could reach families in the city that do not have access to mental health care. "This project resonated with me because I am a social worker," Castro said. He added that he had worked in foster care and had conducted parenting classes. Now, Gerdes and Castro run Familia Sanas ("Healthy Families"), which focuses on "disseminating a culturally-appropriate ADHD treatment to Spanish-speaking, Latino families in the Greater Milwaukee area," according to Castro. Read More
Childhood PTSD May Leave Imprint on Brain
The brains of children with post-traumatic stress disorder (PTSD) have structural differences not seen in the brains of typical kids, a new study finds. PTSD is a mental health problem that occurs in some people who've lived through a shocking or dangerous event. The damaging effects associated with childhood trauma can lead to lasting changes in brain function, the Chinese researchers said. The researchers used MRI to compare brain structure in 24 children with PTSD and 23 without the disorder. All had experienced the 2008 Sichuan earthquake in south central China that killed nearly 70,000 people and injured more than 370,000. Read More
Docs: Infants Should Share Parents' Room to Help Prevent SIDS-But Not in Same Bed
Infants should sleep in the same room as their parents -- but not in the same bed -- to reduce the risk of sudden infant death syndrome (SIDS), new guidelines from the American Academy of Pediatrics advise. The recommendations call for babies to share their parents' bedroom for at least the first 6 months of life and, ideally, for the first year. This could reduce the risk of sudden death by as much as 50 percent, the guideline authors say. "Room sharing makes a lot of sense," said Dr. Paul Jarris, deputy medical officer at the March of Dimes. The rationale is that having the infant within view and reach makes for easier monitoring, comforting and feeding. Because the baby is nearby, parents might notice any potential difficulty, Jarris said. Read More
Brain Changes Seen in Kids After One Season of Football
Just one season of competitive football may cause changes in some young players' developing brains, even if they don't get a concussion during play, a small study found. Using imaging scans, researchers spotted "microstructural" changes in the white brain matter of 25 male athletes aged 8 to 13 after a season of football. They also found that players experienced more significant brain changes if they took a greater number of hits and stronger hits to the head, said lead researcher Dr. Christopher Whitlow. He's chief of neuroradiology at Wake Forest School of Medicine in Winston-Salem, N.C. "We're seeing some associations between the amount of change in the brain and the amount of exposure to head impacts," Whitlow said. "The more exposure they've had, the more change you see." Read More
TRIVIA QUESTION OF THE WEEK
Congratulations to: Ruby Brock, Laura Melena, Melody Owens, Olumide Akerele, Patsy Ray, Denise Keeling and Prahbhjot Malhi who all knew the answer to last week's trivia question.


QUESTION:
According to a new analysis ranking the nation's most populated cities based on how desirable they are for people with disabilities, what is the most desirable city/state for people with disabilities?
ANSWER:  Overland Park, Kansas
This week's question: 
Students with disabilities are seeing gains as the nation's high school graduation rate hits an all-time high, federal officials say. According to the U.S. Department of Education, what is the current graduation rate for individuals with disabilities?
If you know the answer, email us at contactus@naset.org by November 7, 2016.  We will acknowledge your correct answer in the next edition of the Week in Review
Kids' Media Time Adds Up, Subtracts From Homework
For parents, it's probably obvious: Plugged-in kids are less likely to get their homework done. The more time kids devote to smartphones, tablets, video games and TV, the less likely homework and other tasks will get completed, a new study finds. Pediatricians at Brown University in Rhode Island found that kids who use digital media devices four to six hours a day are about half as likely to complete their assignments as kids who use the devices less than two hours daily. "It is important for parents and caregivers to understand that when their children are exposed to multiple different forms of digital media each day, the combined total digital media exposure is associated with decreases in a variety of childhood well-being measures," said study author Dr. Stephanie Ruest, of Brown's School of Public Health. Read More
Bullied Teen's Suicide Didn't Spur Copycat Attempts: Study
Social media publicity about a teen's suicide wasn't a driving factor in the rise of emergency department visits by Canadian teens for suicidal thoughts and attempts, a new study suggests. Researchers looked at the rates of suicide attempts and suicidal thoughts before and after the October 2012 suicide death of 15-year-old Amanda Todd from British Columbia. Before her suicide, Todd made a YouTube video describing her years as a victim of cyberbullying. The video went viral after her death. The information for the study covered 2002 to 2013. The researchers saw no major change in suicide-related ER visits by teens after Todd's death. But there had been a significant increase in such visits beginning in June 2011 -- well before Todd's death. Read More
Denial of Services to Texas Special Education Needs Immediate Change, Says House Speaker
Amid growing concern that Texas is denying students services, House Speaker Joe Straus said today that the state needs to immediately make changes to special education. Straus wrote to Education Commissioner Mike Morath that ensuring all students in need have access to special education will be a priority during the upcoming legislative session. Straus echoed federal authorities who said Texas should stop using what many see as a cap on special education enrollment. "Students should not be denied the services they need," Straus wrote.  He urged Morath to make immediate changes or scrap entirely a performance monitoring system indicator that many say has limited special education enrollment to 8.5 percent, discouraging districts from exceeding that rate. Read More
A Simple but Powerful Way to Destigmatize Learning Differences
Learning disabilities impact all of our classes. Identified or not, they erode our students' sense of potential and are the root of hidden shame and anxiety. Obviously, identifying student-learning issues can allow us to address their challenges with specific accommodations and interventions. However, what is most troubling is that many students wrongly confuse their mechanical skill struggles (spelling, handwriting, reading, rapid memory, and so on) with intellectual ones-or at least worry that others will. No wonder many struggling students spend most of their day hiding their learning challenges from their teachers and their classmates. They fear that an admission of their use of audiobooks or their struggles with spelling or pronouncing common words will signal that they are stupid. Read More
Girls and Autism: The Signs are More Subtle, Diagnosis Comes Later
Think autism and an image of an awkward boy typically emerges. The developmental disorder is at least four times more common in boys, but scientists taking a closer look are finding some gender-based surprises: Many girls with autism have social skills that can mask the condition. And some girls are born without autism despite the same genetic mutations seen in boys with the condition. Better understanding of gender's role is key to helping the most people, said Kevin Pelphrey, an autism researcher at George Washington University. "Autism may not be the same thing in boys and girls." The causes of autism aren't known but various genetic mutations are thought to play a role and outside factors including older parents and premature birth also have been implicated. Brain imaging suggests there may be an additional explanation for why many girls with autism have more subtle symptoms, Pelphrey said. Read More
Toys R Us in the UK to Offer Quiet Shopping Hour for Children with Autism
Branches of Toys R Us across the UK will be holding a 'quiet hour' on the morning of Sunday 6th November, aimed at parents and caregivers of children with autism. To offer a calmer shopping environment the stores will have their lights dimmed and the quantity of fluorescent lighting reduced. There will be no in-store music or Tannoy announcements for the duration of the event, autism-friendly signage will be put in place, and stores will be providing quiet zones. Read More
Focusing on Behavior to Help Children with ADHD Complete Homework
Children with attention deficit hyperactivity disorder (ADHD) benefit from behavioral treatment focused on their homework, especially in terms of completion and accuracy, which can make the difference between passing and failing, according to findings published in the Journal of Consulting and Clinical Psychology. Researchers from Florida International University observed 75 children with ADHD aged 5 to 12 years in order examine the effects of behavioral, psychostimulant, and combined treatments on homework problems. The investigators noted that these treatments have been demonstrated to predict academic performance longitudinally, although much more evidence points to the observation that children with ADHD experience acute and prolonged academic difficulties. Often, they wrote, these children underachieve and have difficulty completing their homework. Read More
Many Kids not Ready for Kindergarten
Many children are still learning to control their behavior as they enter kindergarten and may need educational support to develop that critical skill, indicates one of the most conclusive studies to date of early childhood self-regulation. The federally funded study, co-authored by Michigan State University scholars, shows major differences in how self-regulation develops in children ages 3 to 7. While some enter preschool more able to control their behavior and ready to learn, others don't develop such self-control until they get to kindergarten -- or even later. Read More
Maternal Blood Test May Predict Birth Complications
A protein found in the blood of pregnant women could be used to develop tests to determine the health of their babies and aid decisions on early elective deliveries, according to an early study led by Queen Mary University of London (QMUL). Tests in pregnant mice and a small sample of women found that low levels of the blood marker known as DLK1 were a good predictor of poor fetal growth and complications of pregnancy, and could be used as a non-invasive prenatal diagnostic. Lead researcher Dr Marika Charalambous from QMUL said: "At the moment, there are very few ways of predicting which pregnancies will go wrong, and which small babies are small because they are not getting enough nutrition while in the womb, and which are small simply because of their genes." Read More
Honor Society for Special Education Teachers

ADHD Symptom Persistence into Adulthood Estimated
Sixty percent of children with ADHD in a recent study demonstrated persistence of symptoms into their mid-20's, and 41 percent had both symptoms and impairment as young adults. Investigators noted that rates of ADHD persistence into adulthood have varied greatly in earlier studies, depending on how information is collected and analyzed. In a 16-year follow-up of the Multimodal Treatment Study of Children with ADHD (the "MTA"), they found that a combination of parent and self-reports plus a symptom threshold that is adjusted for adulthood (rather than based on traditional childhood definitions of ADHD) may be optimal. Read More

LATEST JOB LISTINGS POSTED ON

NASET
If you are an Employer looking for excellent special education staff - 
Click here
for more information
Food For Thought..........
I think people have forgotten that education is supposed to be a tool to help you on your way to greatness, not the definition of how great you are.
A.A. M.
NASET's SOCIAL MEDIA CONNECTIONS