August 2013 - Special Educator e-Journal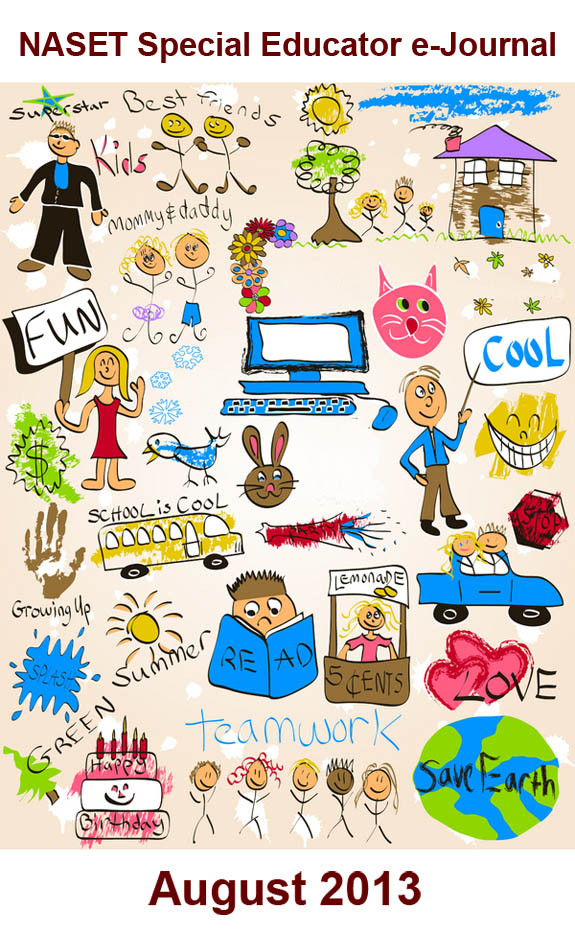 Table of Contents
Update from the U.S. Department of Education
Book Review: Shut Up About Your Perfect Kid: A Survival Guide for Ordinary Parents of Special Children. By Trisha Spencer, Florida International University
Special Education Resources

Update From The National Dissemination Center for Children with Disabilities

Latest Employment Opportunities Posted on NASET

Upcoming Conferences and Events

Funding Forecast and Award Opportunities

Acknowledgements

Download a PDF or XPS Version of This Issue
---
NASET Members - Login Below to access the latest Special Educator e-Journal.
Site visitors: You may access a sample e-Journal - Sample e-Journal
---
To learn more click on the image above or - Click here
---
Latest Employment Opportunities Posted on
NASET
Los Angeles, CA
Job Category: Educational Business Development
Description:
Quality Behavioral Solutions (QBS) is a fast-growing Boston-based training company providing behavioral consultation services and crisis prevention training throughout the U.S. and Canada.
We are looking for a professional with a Special Education background who may be interested in a positive change to help further develop our training opportunities in CA and western US.
Responsible for generating and managing business development opportunities for QBStraining programs in educational sectors. This position will develop key relationships with special education and other educational settings and identify new opportunities, schedule and present information regarding our training programs, collaborate with QBS Trainers and schedule training sessions.
Reporting directly to the Director of Sales & Marketing, QBS is seeking a fulltime person in California who is energetic, outgoing, and enjoys travel to join our growing team.
Requirement:
Particularly interested if experienced in Special education, education, or behavior analysis
Some sales & marketing experience helpful
Ability to be self-directed
Experience with clients with difficult behaviors in a healthcare, special education, or residential setting
Excellent communication, research and organization skills
Demonstrates strong presentation skills
Working knowledge of Microsoft Office Applications
Enjoys and is able to travel 25-50% of time
Ability to read, write, and speak the English Language
Benefits:
Salary range: $65-$80,000
Full benefits
401k with 4% match
Profit-sharing
Contact:
David Lennox, Ph.D.; 508-281-0246; Dlennox@QBSCompanies.com
or
Anne Gately; 941-451-0020; AGately@QBSCompanies.com
***************************************************
Medford, MA
Job Category: Full Time
ASSOCIATE DIRECTOR, ELIOT-PEARSON CHILDREN'S SCHOOL - Eliot-Pearson
Please note this is a limited term appointment expected to last approximately one year and is not eligible for severance.
With roots that go back 91 years, the Children's School is the laboratory-demonstration school affiliated with the Eliot-Pearson Department of Child Development at Tufts University. The Children's School serves as a model and demonstration facility, providing a training and observation site for new and experienced teachers and a research facility for faculty and supervised students in the Department of Child Development. The Children's School enrolls approximately 80 children. It has preschool to second grade classes that vary in length and frequency.
The Eliot-Pearson Department of Child Development is internationally known for its undergraduate and graduate programs, including PhD and MA programs in Applied Child Development and teacher preparation programs at the undergraduate and Masters levels. Eliot-Pearson has an historic role in early childhood education, equity, interdisciplinary, and dedication to children from diverse backgrounds. The Department reflects Tufts' university-wide commitment to active citizenship.
The Eliot-Pearson Department of Child Development invites immediate applications for the Associate Director of the Eliot-Pearson Children's School, for employment beginning August 2013.
We seek an exceptional collaborator and leader to assist in directing our department's preK-2nd grade laboratory school as we advance our commitment to equity in early childhood urban education settings. This position reflects a new vision for developing the Children's School as a community outreach and research environment for the study of children's early learning, effective teaching, professional development support of in-service educators, and the development and assessment of curriculum for diverse learners. The Associate Director will play a major role in implementing this newly expanded vision of the Children's School and will have major responsibility for overseeing all aspects of the special needs component of our inclusion school.
Basic Requirements:
Master's degree in Early Childhood Education or related field (e.g. Special Education, Elementary Education, Child Development)
5 years of experience required working in a school or early childhood program with children with special needs.
EEC Director I license and DOE license in students with moderate disabilities
Microsoft Office
The finalist for this position must successfully complete all appropriate background checks
PREFERRED QUALIFICATIONS

:

Facility in a language other than English is desirable, but not required.

 
SPECIAL WORK SCHEDULE REQUIREMENTS:
Attendance at occasional evening or weekend meetings and functions.
BENEFITS:
Tufts University is an AA/EO employer and actively seeks candidates from diverse backgrounds.
Apply Here:http://www.Click2apply.net/8hqkx9q
***************************************************
New York, NY
Job Category: Middle School Teacher
$125,000 Salary for Master Middle School Teachers!
Earn a $125,000 salary and join a team of master teachers at The Equity Project (TEP) Charter School, recently featured on the front page of the New York Times: http://www.tepcharter.org/nytimes.php. TEP is a 480-student 5th through 8th grade middle school in the Washington Heights neighborhood of New York City.
Learn more and apply today at http://www.tepcharter.org/apply.php
Open positions: http://www.tepcharter.org/open-teaching-positions.php
Social Studies Teacher
English Language Arts Teacher
Special Education Teacher
Mathematics Teacher
Science Teacher
Physical Education Teacher
Music Teacher
About TEP Charter School
TEP aims to put into practice the central conclusion of a large body of research related to student achievement: teacher quality is the most important school-based factor in the academic success of students, particularly those from low-income families. In singling out teacher quality as the essential lever in educational reform, TEP is uniquely focused on attracting and retaining master teachers. To do so, TEP uses a three-pronged strategy that it terms the 3 R's: Rigorous Qualifications, Redefined Expectations, & Revolutionary Compensation. For more information, visit us online at www.tepcharter.org
Info Session @ TEP
Thinking about applying for a teaching position at TEP? Attend an in-person information session with TEP's Principal, Zeke Vanderhoek. Take a tour of the school, and learn more about the teacher application process and teaching at TEP.
Learn how to RSVP for the event by clicking the following link:http://www.tepcharter.org/session-for-teachers.php
We also have a Live Online Info Session too!
Click here for more information: http://www.tepcharter.org/info-session-for-teachers.php
Please refer to job description for details
***************************************************
Alexandria & Fredericksburg , VA
Job Category: Full Time 12 month program
APTS is currently in search of Special Education Teachers for both our Alexandria and Fredericksburg locations.
Employees duties include, but are not limited to:
Develop and implement Individualized Education Plan (IEP) based on results of psycho-educational and other assessments, including implementing strategies developed by speech, occupational, physical therapists, or other IEP mandated service providers
Develop lesson plans on a weekly and monthly basis for each student based on their IEP goals/objectives and in keeping with state requirements (i.e., Standards of Learning/Alternate Assessment)
Included with the plans will be a list of materials (i.e., books, manipulatives, puzzles, etc.) needed for each lesson
Turn in monthly lesson/program plans to the Educational Supervisor on the first of the month. The lesson plans should also demonstrate how each students IEP objectives are linked to the activity and Standards of Learning and/or Aligned SOLs
Ensure that all materials are available at time of lesson in accordance with lesson plans and plans are disseminated to appropriate staff
Carry out behavioral strategies, including crisis intervention, in keeping with APTS policies and procedures and regulations governing private special education day schools
Process with staff daily to ensure awareness of schedule and instructional activities
Administer Standards of Learning and other diagnostic testing as appropriate for level of training and student need
Conduct alternate assessments for students requiring them
Coordinate and attend IEP and IDT meetings, parent/teacher conferences, and meetings with other professionals as appropriate and/or required
Write quarterly progress reports which include graphs for each students progress
Collect data based on each students functional assessment and IEP
Provide input in the development of each students Behavior Intervention Plan
Maintain a clean and neat classroom
Provide input regarding staff performance evaluations
Physical Requirements:
The physical demands described here are representative of those that must be met by an employee to successfully perform the essential functions of this job. While performing the duties of this job, the employee is regularly required to walk; sit; use hand-to-finger, handle or feel objects, tool and student supplies; reach with hands and arms; climb or balance; stoop, kneel, crouch, or crawl; see, talk, and hear. The employee frequently is required to stand, and occasionally to run. The employee must be able to provide physical crisis management. The employee will occasionally lift and/or move 50 pounds or more with or without assistance.
Qualifications:
Bachelors Degree required, Masters Degree preferred or 30 credits accrued towards Masters degree in education or a related field from an accredited university
Collegiate level or Post-Graduate level preferred.
Provisional required.
Endorsement in math and/or science or 2 years teaching experience in those subject areas preferred.
Must Possess a Virginia teaching certificate with a Special Education endorsement. In lieu of a complete endorsement, a conditional license may be granted if the teacher is actively working towards completing the endorsement.
Salary/Benefits:
APTS offers a competitive salary, internal advancement opportunities, medical/dental health benefits, as well as additional incentives for our employees.

We are proud to be an EEO employer M/F/D/V. We maintain a safe and drug-free workplace and require a pre-employment background screening.
Ask about our free or discounted gym membership as well!!!
For immediate consideration, please submit your resume via email: calves@aptsprograms.org or fax: 703 504-2893.
***************************************************
Darien, Connecticut
Job Category: Special Education Teacher
The Southfield Center for Development is a family-centered, interdisciplinary practice dedicated to providing comprehensive evaluation and care across a wide range of ages and challenges. The Southfield Center seeks an Education Specialist to join our team of more than 20 skilled practitioners who offer an integrated approach to the learning, emotional, behavioral, and medical issues that impact our children.
Job Description
Perform educational assessments to identify strengths and needs of a student, and design remediation programs for the school and home settings
Provide individualized reading support using evidence-based, systematic, and multisensory instruction
Provide individualized written language tutorial support using evidence-based instruction
Provide Executive Functions Coaching services and collaborate with Managing Director and Clinical Director on development of coaching team
Attend school meetings at parental request to explain client's academic profile and make recommendations for instruction
Collaborate with Center's advocacy team. Provide suggestions for IEP goals/objectives and appropriate reading programs for children with literacy challenges
Collaborate with Center's testing psychologists on recommendations for psychoeducational evaluations
Provide progress monitoring services to schools and parents through record review and targeted assessment
Provide review and analysis of RTI/SRBI programs targeting literacy challenges, to determine effectiveness of programming
Attend required staff and supervisory meetings
Give presentation once yearly at Center's grand rounds meeting
Collaborate with Managing Director to do community outreach to promote education specialist services
Additional responsibilities as determined by supervisor
Master's Degree in Special Education
Expertise in conducting educational assessments and development of literacy intervention programs
Extensive training in, and experience utilizing, research-based methodologies for reading and writing instruction
Ability to work effectively with minimal supervision and prioritize responsibilities
Exemplary organizational skills
Excellent interpersonal skills with ability to professionally interface with clients, Center staff, and Center management
Requirements
Master's Degree in Special Education
Expertise in conducting educational assessments and development of literacy intervention programs
Extensive training in, and experience utilizing, research-based methodologies for reading and writing instruction
Ability to work effectively with minimal supervision and prioritize responsibilities
Exemplary organizational skills
Excellent interpersonal skills with ability to professionally interface with clients, Center staff, and Center management
Contact
Ann McCarthy, Managing Director
203-202-7654 ext. 112
ann.mccarthy@southfieldcenter.com
To learn more click on the image above or - Click here
---