September 2012 - Special Educator e-Journal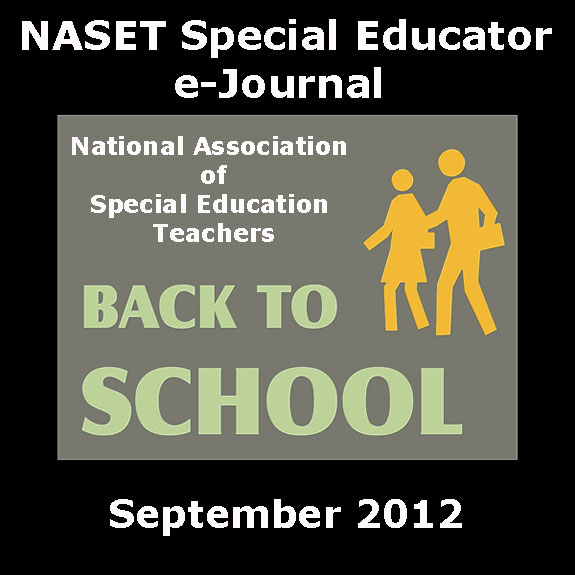 Table of Contents
Update from the U.S. Department of Education

Calls to Participate

Special Education Resources

Update From The National Dissemination Center for Children with Disabilities

Upcoming Conferences and Events

Funding Forecast and Award Opportunities

Book Review: Swagger: 10 Urgent Rules for Raising Boys in an Age of Failing Schools (Author Lisa Bloom)—Written by Janet Herrera, Florida International University
Digital Literacy of the Digital Natives—Written by Maricel T. Bustos, M.A.
Acknowledgements

Download a PDF or XPS Version of This Issue
---
To learn more click on the image above or - Click here
---
NASET Members - Login Below to access the latest Special Educator e-Journal.
Site visitors: You may access a sample e-Journal - Sample e-Journal
---
Latest Employment Opportunities Posted on
NASET
Bloomingdale, Illinois
Job Category: Teacher - Special Education
Description:
Marklund makes everyday life possible for individuals with profound disabilities by honoring their unique purpose. Those we serve are able to enjoy a full and meaningful life supported by a compassionate, nurturing environment; a strong partnership with the community; and an unmatched dedication to personal growth.
We are seeking an exceptional candidate for the position of Teacher. This position will be based out of the Day School located in Marklund Children's Home in Bloomingdale, IL. This is a twelve (12) month teaching position.
Responsibilities include:
Provide clear lesson plans.
Provide appropriate teaching methods and materials.
Manage classroom orientation.
Evaluate students.
Document student progress and attendance.
Prepare students for annual testing.
Attend IEP/IPP meetings on an ongoing basis.
Communicate with parents, QMRP, nurse, school district and administration.
Supervise all areas of student care.
Manage behavior programs.
Consult with therapist on an ongoing basis.
Work with nursing staff to ensure medical integrity of all students.
Requirements:
Education: Must be a graduate of an accredited college and have proper and current Illinois teaching credentials.
Training and/or experience: Experience with severe/profound population. Ability to understand students unique needs and react effectively to their needs. Superior interpersonal and communication skills.
Licensure, Registration, and/or Certification: Must include LBS 1 certification. Must meet state guidelines for school accreditation.
Equipment, Machines, Tools: Computer, fax, copier, Windows, Word, Excel, Outlook.
Benefits:
Join Marklund to see what it is like to work for a facility that cares equally about its developmentally disabled residents and its remarkable employees!
Contact:
Please send resume to JNelson@marklund.org, or fax to 630-593-5481.
Website www.marklund.org
***************************************************
Maple Grove, MN
Job Category: Director
Data Recognition Corporation is a privately-owned education assessment company, headquartered in Maple Grove, MN. Due to continuous growth, we are currently seeking a Director of Special Education.
Key Responsibilities
Develop comprehensive plan to manage test accommodation needs and requirements to support DRC's offering, especially on-line assessment tools
Develop and manage panel of experts in key fields to support work and offering
Provide senior-level guidance to Test Development team related to special education content

As assigned, oversee all steps in the item and test development process for assigned domain(s), including, but not limited to, the following: Developing assessment blueprints, item specifications, Developing assessment-specific style guides; Writing, reviewing, revising, and editing items for an assessment and/or assigned project; Developing scoring guidelines and rubrics for constructed-response and performance assessments; Developing scripts for audio; Supporting the development of test ancillaries for a given assessment or specific domain (test directions, practice tests, accommodations manuals, etc.)
As needed, facilitate state committee reviews, including content item and bias reviews, alignment studies, and standard-settings
Provide support to proposal writing team
Support Education Program Management, providing advice and expertise to client states
Provide ongoing research on trends and changes on educational assessment and the accommodations required to support balanced assessment programs for all students; serve as internal expert on accommodations and special populations
Represent DRC in key industry groups and organizations; drive policy agenda related to accommodations
Requirements
MS in education or related field, PhD in education or related field preferred
Minimum of five years of teaching experience K-12 or related experience, including knowledge of teaching "best practices" and/or related experience in his/her field of expertise
Extensive knowledge in a specific field of special education, including curriculum and instruction and national and state-specific curriculum standards
Experience/knowledge of issues related to large-scale assessment of students with special needs
Experience in writing and editing test items and ancillary assessment materials
General knowledge of test publishing industry standards
Experience working in teams and providing support to teams
Outstanding written and oral communication skills
Ability to solve problems and find solutions to complex issues when writing, reviewing, and/or revising items
Ability to adjust to changing circumstances and direction as required
Self-directed and proactive in implementing tasks, while team building and networking to ensure adequate and timely communications with affected staff and management
Benefits
DRC offers a comprehensive benefits program that allows employees to make choices that best meet their current and future needs including Choice of medical and dental plans, flexible spending accounts, 401K savings plan, Profit Sharing, Short- and long-term disability plans, three weeks paid vacation, generous paid holiday schedule, health club reimbursement, workout facilities at select locations/locker rooms, wellness rooms, on-site Weight Watchers® program. fitness classes, on-site massage, and community service hours
Contact
Shannon Vento - Senior Director, HR, 763-268-2000, www.datarecognitioncorp.com
***************************************************
Country Club Hills, IL
Job Category: Full Time
Description:
Teach kids more than automotive skills. Show them the rewards of self-motivation.
Your skills can have a tremendous impact on the lives of the students you teach—especially when the lessons include more than technical skills. Take this opportunity to help at-risk children learn about autos, and that someone truly cares. Help troubled children find a strong vehicle for the future with Country Club Hills Tech & Trade Center, an affiliate of The Menta Group, which serves emotional/behavioral/academically disabled students in the South and Southwest suburbs of Chicago, Illinois.
About Country Club Hills Tech & Trade Center:
The CCH team is a caring group of educational and clinical specialists who have committed themselves to making success an option for all young people. Academic instruction is given a high priority, and in order to increase the likelihood of student success, a diverse group of professionals are employed, each with unique talents and a strong dedication to educating young people who are challenged by traditional instruction. Vocationally oriented classes and community-based job placement allow students to experience the world of work and practice the interpersonal skills that will serve them throughout their lives. CCH is a private educational facility approved by the Illinois State Board of Education. (ISBE 14-7.02). Programming is designed for special education students who are 15 to 21 years of age. This career-path high school program provides a variety of school-to-work options for special education students and is an ideal academic setting for adolescents who are preparing to become both literate and self-sufficient.
Your Opportunity:
We seek an Auto Shop Teacher for high school classes with specialized State of Illinois Certification, who can also teach special-needs students with an emphasis on work skills as a basis for a career path curriculum. The ideal candidate will be qualified to teach career paths classes with an emphasis in auto mechanics and body repair, and be willing to be trained to work with severely behavior/emotional-disordered students.
Job Requirements:
LBS1, Type 10, Type 09 and/or 34 State of Illinois Certifications encouraged to apply.
State Teaching Certification in Special Education.
Preferably high school certified.
Ability to teach in a self-contained classroom for a full teaching day with youth having behavioral, emotional, and high risk behaviors is important.
You must be 23 years of age with a valid driver license.
Benefits:
This position offers an access to medical, dental, vision plans, 403(b), sick pay, holiday pay, and personal/vacation days. The salary range is comparable for the position and area, depending upon certification and qualifications. All of our programs post their open teaching positions on our website and feature an easy-to-complete application process.
Employment is contingent upon a background check, approved driving record, employment physical and drug screen.
Contact:
Apply online at:
www.thementagroup.org/careers/apply
Fax to 708-798-9756
EOE
***************************************************
Joliet, IL
Job Category: Full Time
Description:
Special Education Teacher
Thompson Instructional Center
K-8
Special Education Services, a member of The Menta Group, offers elementary, middle, and high school programming to special education students residing in the mid-state Illinois and the Chicago metro area; and the Maricopa and Pinal County areas of Arizona. Elementary and middle school curricula emphasize real-world, community-based learning. Classrooms are designed to be active learning environments where young people have the opportunity to experience educational and behavioral success on a regular basis.
Thompson Instructional Center provides an enriched educational environment for students in grades K - 8. The bright hallways and large classrooms are ideal for active learning and the school's curriculum promotes positive growth and development. Both regular and special education students benefit from the school's staff of committed educators and clinicians. Educational options are flexible at Thompson, ensuring that the individual needs of each student can be addressed.
Background:
Thompson Instructional Center is a public-private partnership between Joliet Public Schools District 86 and Special Education Services.
Qualifications:
Type LBS1/Special Education State of Illinois certified at the elementary and middle school level
Comprehensive training, experience, and mentoring in curriculum area
Ability to teach a self-contained classroom within all basic instructional areas
Ability to work a regular school day and the ability to work with youth with emotional/behavioral/academic difficulties
Employment is contingent upon a background check, employment physical and drug screen
Bi-lingual applicants are encouraged to apply.
Benefits:
This position offers an access to medical, dental, vision plans, 403(b), sick pay, holiday pay, and personal days. The salary range is comparable for the position and area, depending upon certification and qualifications. All of our programs post their open teaching positions on our web-site and feature an easy-to-complete application process.
Contact:
Apply online:
www.thementagroup.org/careers/apply OR
E-mail: danyell.taylor-johnson@menta.com OR
Fax: (815) 774-5866; Attn.: Danyell Taylor-Johnson
EOE
***************************************************
Tolleson/Phoenix, AZ
Job Category: Full Time
Description:
The most important thing you'll ever build: the confidence of at-risk children. CONSTRUCTION TRADES TEACHER Tolleson/Phoenix, AZ
Imagine the difference you can make in the lives of others by using your construction skills in a new and truly rewarding way: teaching a group of challenged kids how to become more confident in their ability to achieve their goals. That's exactly what you'll have the opportunity to do with Southwest Academy in Tolleson, and Southwest Education Center in Phoenix, where some very special students need your expertise, patience, and caring attitude.
About Southwest Academy in Tolleson and Southwest Education Center in Phoenix:As members of The Menta Group, each of these highly regarded facilities has a special education services school with a kindergarten-through-12th-grade therapeutic educational services program for at-risk and behavior/emotional-developmentally disabled children living in and around the metro area of Pinal and Maricopa Counties, Arizona.
Your Opportunity:
The outgoing, motivational leader we select will be passionate about sharing knowledge of the construction trade—and compassionate enough to ensure that these children succeed not only in the classroom, but in life. This individual will split instructional time between the two programs, and be responsible for the classroom instruction and hands-on application of basic carpentry, project-specific rough-and-finish, including the basics of residential house wiring, plumbing, and HVAC.
Splitting time between onsite training and field trips to job sites and/or manufacturers, and trade schools in the South & Southwestern Phoenix metro areas, this individual will be part of a team that is responsible for setting up a basic shop, maintaining equipment in safe working order, and general shop-safety instruction of students. This professional will collaborate with academic teachers to provide the educational and vocational skills required for students to achieve high school graduation. Additional responsibilities include the development of projects to practice and hone skills developed during the school year.
Job Requirements:
Bachelor's degree in industrial or emerging technologies with 240 verified hours in the field
Certificate in a non-CTE area with 240 verified work hours
Business and industry professional with 1000 verified hours of work in the field
Benefits:
This position offers an access to medical, dental, vision plans, 403(b), sick pay, holiday pay, and personal/vacation days. The salary range is comparable for the position and area, depending upon certification and qualifications. All of our programs post their open teaching positions on our website and feature an easy-to-complete application process.
Contact:
For more information and to apply online, visit us at: www.thementagroup.org/careers/apply
Contact:
Tolleson, AZ:
Send resume to: dawn.massani@menta.com
Fax: (623) 478-5026

OR:
Contact:
Phoenix, AZ: mitch.henderson@menta.com
Fax: (602) 248-2937

EOE
***************************************************
Nokomis, IL
Job Category: Full Time
Description:
Special Education Services (SES), an affiliate of The Menta Group, is a non-profit agency serving K-12 high-risk children in Illinois and Arizona. With its no refusal, no suspension, no expulsion policy, SES students attend school daily regardless of their behavior. A continuum of services is offered to meet the educational needs of special needs, at-risk and high-risk public school students. Small class size, intensive clinical services, and a competently trained staff of educators combine to make this a positive and dynamic place to learn. All children have a right to quality education services.
We are currently seeking qualified applicants for the position of Behavior Technician/ Teaching Assistant for Cornerstone Academy, an Alternative Education School located in Nokomis, Illinois. Successful candidates will be creative, energetic and eager to develop and implement innovative solutions to critical problems in education. This Technician will be working in an atmosphere where data-driven decision making and teamwork is the norm.
Duties of the Behavior Technician / Teaching Assistant consist of:
Lead or co-teach a class of students with behavior/emotional/social/learning disorders.
Provide behavior support in self-contained classroom.
Prepare and adapt materials for use in the classroom.
Communicate behavioral concerns of students to appropriate staff.
Implement and maintain behavioral program policies and data.
Attend all staff meetings and in-service training as requested.
Maintain classroom order, safety, and materials.
Benefits:
This position offers an access to medical, dental, vision plans, 403(b), sick pay, holiday pay, and personal/vacation days. The salary range is comparable for the position and area, depending upon certification and qualifications.

Qualifications:
State Certified Paraprofessional preferred.
College Associates Degree/two years college classes.
High School Diploma or GED.
Ability to obtain CPI Certification
At least 23 years of age.
Previous experience working with special needs children
Must be able to lift at least 50 lbs
Clean driving record/must be able to drive student van
Contact:
Apply online at:
www.thementagroup.org/careers/apply OR
Fax: 217-563-7606, Attn.: Barbara Daugherty OR
E-mail: Barb.daugherty@menta.com
EOE
***************************************************
Plainview, Brooklyn, Bronx, Queens
Job Category:
Description:
Whether you are just beginning or continuing your career, All About Kids™ provides endless opportunities to meaningfully develop your professional skills within a reputable organization built on honesty and integrity.
All About Kids™ is Seeking to Hire NYS Qualified Professionals for Home/Community Based, Facility Based, & District Assignments to Provide:
Evaluations & Services for Infants and Toddlers, Preschoolers, and School Age Children throughout:
• All 5 boroughs of New York City • All of Long Island • Westchester • Orange, & • Putnam.
We Are Seeking Monolingual/Bilingual Candidates in All Language Areas To Join Our Exceptional Team.
Requirements:
Each candidate must hold the appropriate professional credentials for New York State:
THERAPISTS:
Speech/Language Therapists (TSSLD or TSHH Required)
CF's-Clinical Fellow Year Candidates- (All About Kids provides Clinical Fellowship Supervisory Plans for licensure in Speech. TSSH or TSSLD Required)
Occupational Therapist
Physical Therapists
NYS Licensed Psychologists
Licensed Clinical Social Workers
Education Vision Therapists
Nutritionists

TEACHERS:
ASL Teachers
Special Education Teachers
Special Education Teachers for ABA (will train)
Teachers of The Deaf & Hearing Impaired
Teachers of The Visually Impaired
New Graduates Supported with Professional Mentoring.
Opportunities for NYC DOE Employees in EI As Well As Additional Programs Outside of NYC.
All About Kids™ rates have recently been revised and are very competitive. We offer flexible schedules part-time and full-time, and strive to keep your caseload full. Candidates should be knowledgeable of the NYSDOH and CPSE/CSE standards and guidelines for evaluations and services.
Start your Career Today!
Contact:
E-Mail Resume & Areas You Are Available to Work In To:
HR@allaboutkidsny.com or Fax: 516/349-0961
All About Kids™ is an Equal Opportunity Employer. Veterans welcome.
*******************************************************