June 2012 - Special Educator e-Journal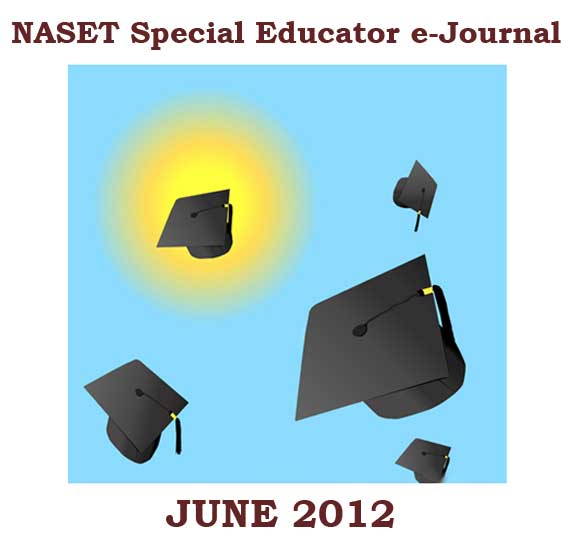 Table of Contents
Update from the U.S. Department of Education

Calls to Participate

Special Education Resources

Update From The National Dissemination Center for Children with Disabilities

Upcoming Conferences and Events

Funding Forecast and Award Opportunities

Acknowledgements

Download a PDF or XPS Version of This Issue
---
To learn more click on the image above or - Click here
---
NASET Members - Login Below to access the latest Special Educator e-Journal.
Site visitors: You may access a sample e-Journal - Sample e-Journal
---
Latest Employment Opportunities Posted on
NASET
Oakland, CA
Job Category: Education; Teaching; Non-Profit; Healthcare
ESSENTIAL DUTIES & RESPONSIBILITIES:
Under supervision of the Assistant Director for Educational services, develop and implement a curriculum consistent with state requirements and individual student's IEP and treatment goals and agency philosophy.
Provide direct supervision including the employment discharge and periodic evaluation of classroom instructional assistants. Through this supervision enable IA to assist in the instruction, child supervision and activity planning and meet goals of personal job satisfaction.
Enrich class and student's educational programs to meet their individual needs, goals and interests using agency and community resources
Use clinical insights, educational motivational techniques and a commitment to excellence in education to promote growth in the classroom
Maintain all appropriate records including IEP's, teacher files, lesson plans consistent with IEP goals and objectives, attendance records, clinical notes and other records as required
Administer periodic standard educational testing measures and use record of results to set individual goals and improve strategies
Prepare for and attend IEP's. Conduct self in a professional manner and offer families compassion and support
Participate in the planning for and supervision of children during milieu activities and events including field trips, parties, etc.
Report through educational and clinical notes on children and participate in treatment team meetings as requested
Develop and implement written lesson plans, that are marked by relevance to curriculum and individual child's needs, creativity and ease of application
Write concise, legible, high quality Student Progress Reports as requested
With help from the coordinator, develop a classroom budget, implement it consistently and maintain financial records in accordance with agency procedures
Respond with cooperation and flexibility when planned or unforeseen disruptions occur such as substitute staff, make up meetings, special events, etc.
Use, care and ordering of classroom materials, supplies, texts and equipment and maintenance of related rooms
Provide input in to all Intake and Discharge and grade level decisions
Conduct parent/guardian conferences and maintain quality communication with student homes consistent with treatment program guidelines
Develop effective classroom management techniques consistent with the use of back-up systems, IEP goals and treatment plans and agency policy
Provide assistance to the Coordinator in monitoring DIS services
Participate in agency in-service training program
Public relation duties as requested
Instruct subordinates concerning all LCC safety policies, procedures, and rules, and enforcing these within work group. Ensure that subordinates attend all required safety training sessions.
Require immediate reporting of all workplace hazards, safety rule violations, near misses, and work related injuries.
SPECIFIC SKILLS:
Demonstrated awareness of, sensitivity to and competence in dealing with cultural and socioeconomic diversity of client population.
Good written and verbal communication skills.
The ability to relate effectively and professionally with children, supervisor, co-workers, family and extra-agency personnel.
A commitment to empowering others to solve their own problems
Valuing a nurturing family as the ideal environment for a person
A conviction about the capacity of people to grow and change
The ability to establish a respectful relationship with persons served to help them gain skills and confidence
The ability to work collaboratively with other personnel and/or service providers or professionals
The capacity to maintain a helping role and to intervene appropriately to meet service goals
The ability to set appropriate limits
POSITION REQUIREMENTS:
BA/BS degree from an accredited college or university, MA in reading or learning disabilities desirable.
CA, LH or SH credential as a Special Education Teacher from accredited college or University. Eligibility for CA Emergency Specialist credential also considered.
Minimum of one year experience teaching a special day class for seriously emotionally disturbed children.
Valid California driver's license, a clear driving record and personal vehicle insurance coverage
Must meet eligibility requirements to bill for Medi-Cal services
PHYSICAL REQUIREMENTS:
The willingness and the ability to be first aid and CPR trained
The willingness and the ability to manage acting out behavior of children ages 6-15 years old
The willingness and the ability to be trained, using our therapeutic and relationship-building philosophy that includes Collaborative Problem-Solving, Life Space Crisis Intervention (LSCI), and SAFE Environments training programs
Physical fitness with the ability to bend, stoop, kneel, drop to one knee and get back up
CLASSIFICATION: Regular, full-time, exempt, non-union, benefited position.
COMPENSATION: Teacher Salary Scale
BENEFITS: Competitive benefits package available
Please apply directly at the following link:
https://home.eease.com/recruit/?id=504182
***************************************************
Dover, NH 03820
Job Category: Full Time
Measured Progress is an Equal Opportunity/Affirmative Action Employer committed to workforce diversity.
Special Education Specialist I
Location: Dover, NH 100 Education Way
Full Time/Part Time: Full time
Position Summary
The Special Education Specialist I will provide program leadership across multiple contracts in administering assessment programs for students with significant cognitive disabilities. This role will develop special education content materials for professional development, item development, and the administration of alternate assessments. The Special Education Specialist I will provide content knowledge on contracts in an autonomous manner, and may be assigned new contract, client, and assessment work. Additional responsibilities include the following:
Collaborate with and provide technical assistance to Measured Progress program manager, subcontractor, and/or state education agencies regarding the program's design, planning, and implementation.
Conduct in-state professional development workshops with educational professionals on the implementation and scoring of alternate assessments.
Develop and write administration manuals, resource guides, scoring guides, and presentation materials as needed.
Collaborate with Measured Progress Curriculum and Assessment staff to develop and revise alternate assessment items, as well as the overall assessment design, as needed.
Act as the main liaison with Measured Progress staff and state agencies on all test design and development issues for the contract, conducting in-state development meetings as required.
Collaborate with the Measured Progress program manager and/or subcontractor with communicating the program's design, objectives, deliverables, budget, and deadlines to internal personnel to ensure the contract is carried out on time and according to specifications.
Assist with the creation of contract-specific test designs and specifications for current contracts and/or proposals.
All interested applicants apply online -
https://employment.measuredprogress.org/careers/
Qualifications
Bachelor's degree required
A minimum of four (4) years of teaching experience in special education, or two (2) years of teaching experience in special education plus two (2) years of professional experience in alternate assessment
Experience teaching students with significant cognitive disabilities
Knowledge of alternate assessment design, development, implementation, impacts, and issues
Excellent verbal and written communication skills
Strong interpersonal skills and the ability to work independently
Benefits
Measured Progress's corporate campus is located 65 miles north of Boston in the New Hampshire Seacoast region. Measured Progress offers an exceptional benefits package and work environment, featuring on-site child care and gym facilities, generous paid time off and retirement savings plans, and immediate eligibility for health, dental, vision and life insurance.
Contact
All interested applicants apply online - https://employment.measuredprogress.org/careers/
*******************************************************
Rangely and Meeker Colorado
Job Category: BOCES Administration
Directs the BOCES program which is comprised of two seperate districts. Ensures compliance with regulations (State and Federal) for all programs within the BOCES.
ESSENTIAL DUTIES AND RESPONSIBILITIES: Other duties may be assigned.
Acts as an agent of the Board of Directors.
Establishes and prepares meeting agendas, presents items for consideration to the Board and responds to inquiry from the Board.
Ensures the communication and interpretation of Board decisions and requests to staff.
Provides goal setting and problem solving to staff.
Responds to staff and community regarding questions or problems about BOCES operations.
Recommends policy and program decisions to the Board.
Develops administrative rules and procedures to implement Board policy.
Makes frequent visits to school sites.
Attends various organizational meetings outside the BOCES.
Plans, supervises and evaluates all BOCES personnel.
Consults with staff, parents and outside agencies regarding special education students and programs offered.
Responds to parents regarding the evaluation and placement of their children.
Educates and discusses special education programs, personnel and students with building administrators and superintendents of districts within the BOCES.
Obtains funding from the local, state and federal programs to ensure a free and appropriate educational program for all students.
Submits program documentation for approval, applies for grants, submits budgets and financial reports and prepares and submits program reports to agencies.
Develops and administers the BOCES budget.
Ensures compliance with appropriate State and Federal Constitutional and statutory rules and regulations..
Monitors staff caseloads and student progress.
Recruits, selects and recommends personnel to be hired for the BOCES.
Maintains complete and cumulative individual records of all children receiving special services.
Assists in the adaptation of district policies to include special education needs.
Keeps informed of all legal requirements governing special education and other federal programs within the BOCES.
Plans staff in service training activities.
SUPERVISORY RESPONSIBILITIES:
Supervises all BOCES employees. Carries out supervisory responsibilities in accordance with the organization's policies and applicable laws. Responsible for the overall direction, coordination, and evaluation of all programs within the BOCES. Responsibilities include interviewing, hiring and training employees; planning, assigning, and directing work; appraising performance; rewarding and disciplining employees; addressing complaints and resolving problems.
Requirements:
Must be capable of working in a team oriented special education department and ensure compliance with regulations (State and Federal) for all programs within the BOCES. Prospective candidate must have a master's degree or equivalent, in administration with a special education endorsement from as approved program. Three years of successful professional practice or administrative experience in special education, or combined thereof.
Benefits:
Salary Negotiable
Full health, dental, vision
PERA retirement
Rangely Recreation Center use
Contact:
402 West Main Street, Room #219,
Rangely CO. 81648
or for more information please call 970-675-206
*****************************************************
New York, New York
Job Category: Special Education Coordinator
WHAT MAKES HARLEM VILLAGE ACADEMIES DIFFERENT?
At Harlem Village Academies, we know that excellent teachers are the most important element of excellent schools. Therefore, we have thoughtfully designed every aspect of our schools to support, develop, respect, and empower our teachers. We are people-driven, not program-driven — and the difference is profound.
We serve children from low-performing school districts in Harlem, and the academic gains achieved by our students are among the highest in the country. Our middle schools performed among the top schools in the state and outperformed suburban Westchester County.
RESPONSIBILITIES
Communicate regularly with the Center for Special Education regarding special education students' needs
Write and update Individualized Education Plans (IEPs)
Refer students for initial and repeat evaluations
Ensure compliance with all pertinent special education laws and policies
Provide guidance to classroom teachers on differentiating instruction so that all students succeed
Develop effective assessments, lesson plans, materials
Analyze assessment data and use data to inform instruction and develop tutoring plans
Collaborate with colleagues to share best practices and ensure student mastery of standards
Maintain close relationships with students' families
QUALIFICATIONS
Minimum two years full-time elementary classroom experience as a special education teacher, preferably in an urban setting
New York State SPED certification strongly preferred
Experience with effectively addressing diverse special needs of elementary students
Experience teaching English as a Second Language/English Language Learners
Outstanding instructional skills, including the ability to motivate and challenge students
Strong background in elementary literacy
Demonstrated ability to create and maintain a warm, strict, orderly classroom environment
Personal accountability for student achievement
A belief that all students can learn at a high level and should be held to high academic standards
The ability to communicate effectively with parents
The ability to work effectively with colleagues as a positive, professional member of a team
DO YOU WANT TO JOIN OUR REVOLUTIONARY TEAM?
Interested candidates may apply directly through our website or may email a resume and cover letter, including how you heard about the position, to our founding Principals, Sam Fragomeni and Elliot Evans at teach@harlemvillage.orgwith "Elementary SPED Coordinator" in the subject line. Candidates with less than two years of full-time teaching experience will not be considered, but are urged to contact us after completing a second year of teaching.
**************************************************************
New York, New York
Job Category: Master Middle School Teacher
$125,000 Salary for Master Middle School Teachers!
Earn a $125,000 salary and join a team of master teachers at The Equity Project (TEP) Charter School, recently featured on the front page of the New York Times:http://www.tepcharter.org/nytimes.php
TEP is a 480-student 5th through 8th grade middle school in the Washington Heights neighborhood of New York City.
Learn more and apply today at http://www.tepcharter.org/apply.php
You can learn more about teaching at TEP by participating in our Live Online Information Session (link below):
http://www.tepcharter.org/info-session-for-teachers.php
About TEP Charter School
TEP aims to put into practice the central conclusion of a large body of research related to student achievement: teacher quality is the most important school-based factor in the academic success of students, particularly those from low-income families. In singling out teacher quality as the essential lever in educational reform, TEP is uniquely focused on attracting and retaining master teachers. To do so, TEP uses a three-pronged strategy that it terms the 3 R's: Rigorous Qualifications, Redefined Expectations, & Revolutionary Compensation. For more information, visit us online at   http://www.tepcharter.org
Info Session @ TEP
Thinking about applying for a teaching position at TEP? Attend an in-person information session with TEP's Principal, Zeke Vanderhoek. Take a tour of the school, learn more about the teacher application process and teaching at TEP, and have an opportunity to ask questions
When: Wednesday, May 23rd at 6PM
Where: TEP Charter School
Learn how to RSVP for the event by clicking the following link:http://www.tepcharter.org/session-for-teachers.php
Requirements:http://www.tepcharter.org/overview-the-3Rs.php
Contact:jobs@tepcharter.org
*********************************************************
River Forest, IL
Job Category: Department of Curriculum, Language, and Literacy
Description
The Department of Curriculum, Language, and Literacy, within the College of Graduate and Innovative Programs at Concordia University Chicago, invites applications for a tenure-track faculty position at the rank of Assistant or Associate Professor in Special Education. The appointment will begin on July 1, 2012, or later. Applications will be accepted until the position is filled. Interviews begin the week of April 23, 2012.
The Position: Duties include teaching graduate-level Special Education courses for PreK-12 SPED teacher education endorsement, advising graduate students, conducting research, and providing local, state, and national service. The successful candidate is expected to conduct an active research agenda that addresses the issues that P-12 educators and learners face.
Key Job Elements
Provides competency-, standards-based education which aligns with the Concordia University conceptual framework, Council on Special Needs standards, as well as supports the Concordia University style and system of learner-centered instructional delivery.
Guides student learning in the facts, skills, dispositions, and appreciations pertaining to the course.
Designs and delivers class instruction through the development of instructional plans to meet course competencies, the development of activities which support course objectives, and delivers the instruction as approved.
Considers the general and special needs of the graduate students, assists them in meeting those needs, and when necessary, seeks additional help from other college services.
Cooperates with the Department Chairperson and Program Leaders, department members, and the appropriate administrators in the development of the curriculum, in the preparation and update of course syllabi, course outlines, and selection of textbooks and other curricular materials.
Recommends texts, instructional materials, and other resources as needed.
Consults with Program Leaders and/or Department Chairperson on matters pertaining to departmental issues or concerns; observes proper channels of communications.
Work to continuously improve the curriculum, instructional delivery, and assessment of all program requirements in accordance with NCATE and IBHE requirements.
Submits midterm and final grade reports, NCATE data, and any other reports pertaining to the assigned course.
Manages the learning environment through keeping accurate records, submitting attendance and grades and other reports on time, and enforcing school/college academic and attendance policies.
Participates in faculty and professional organizations. Relates professional/life/industry experience to learning by the introduction of industry perspectives into courses, and the active awareness of professional/industry trends, research, and opportunities.
Attends scheduled semi-annual professional development program meetings.
Required Education
Candidates must hold an earned doctorate or be ABD in special education, special needs populations, curriculum and instruction with an emphasis in special or gifted education, or a related field of research.
Required Experience
Must have teaching experience at some level of PreK-12 special education and/or involvement with PreK-12 special education teacher education. ABD candidates must complete the doctorate in one year by the time of start date. Applicants must show potential for developing, or have earned, a strong scholarly record as well as commitment to teaching and service. Documentation of the following will strengthen an application: knowledge and experience of special education education; engagement with high-needs schools; and experience or potential to work collaboratively and across disciplines.
Contact
To apply for the position, include a letter of interest; a curriculum vitae; official copies of transcripts; a list of three references including their name, addresses, and telephone numbers/e-mail addresses; and, if available, a sample publication or manuscript that reflects the applicant's scholarly work. Application reviews will begin immediately and will continue until the position is filled. For more information, email Dr. Carol Schefelbein at carol.schefelbein@cuchicago.edu.
Dr. Carol Schefelbein, Associate Professor Department of Curriculum, Language, and Literacy Concordia University Chicago
7400 Augusta Street CC339C
River Forest, IL 60305
Fax: 708.209.3571
Phone: 708.209.3158
Email: carol.schefelbein@cuchicago.edu
*****************************************************
Washington, DC
Opening Date: February 1, 2012
Closing Date: Open Until Filled
Salary: Earn up to $83,199 your 1st year with DCPS http://bit.ly/DCPSTeachers
Location: Washington, D.C.
How to Apply:www.dcps.dc.gov/careers
Our public school students need your expertise, passion, and leadership.
We are looking for highly motivated and skilled educators to join our team at the District of Columbia Public Schools (DCPS). We seek individuals who are passionate about transforming the DC school system and making a significant difference in the lives of public school students, parents, educators, and central office employees. As part of a comprehensive reform effort to become the preeminent urban school system in America, DCPS intends to have the highest-performing, best paid, most satisfied, and most honored educator force in the nation and a distinctive central office staff whose work supports and drives instructional excellence and significant achievement gains for DCPS students.
Position Overview
Situated at the center of national government, DCPS aims to provide students with a quality education that prepares them to become future leaders, productive citizens, and individuals engaged in their communities. This position reports directly to the principal of the school. The incumbent is responsible for instruction as a lead teacher in DCPS.
Responsibilities
Under the direction of the school principal, the teacher plans and provides appropriate learning experiences for students. The teacher is responsible for providing an atmosphere and environment conducive to the intellectual, physical, social, and emotional development of every student. The incumbent is expected to review and select text and supplemental materials appropriate to the grade level and specific subject matter. The incumbent will design or modify teacher guides and activity materials and encourage the integration of various components, in an effort to challenge students and provide appropriate learning experiences for the specific subject.
Teachers will:
Prepare lesson plans with short and long-range curriculum goals and objectives in compliance with all standards
Establish clear objectives for all lessons, units, projects, etc. and communicate objectives to students
Plan a program of study that meets the needs, interests, and abilities for all students, including students with disabilities
Monitor student progress toward mastery of standards through frequent formal and informal assessments
Use a variety of instructional materials, resources, and experiences to enrich student learning
Use appropriate techniques and strategies that promote and enhance critical, creative, and evaluative thinking of students
Create a learning environment that reflects subject matter being taught through displays of student work and teacher created materials
Develop leadership and special talents among students by sponsoring out¬-of-class activities such as student government, dramatics, participation in science fairs and contests. etc
Confer with parents regarding progress of individual students
Monitor and evaluate student testing environments and outcomes
Use effective positive interpersonal communication skills
Perform other duties as assigned.
Desired Qualities
Commitment to improving the academic achievement of all students
Commitment to professional growth and eagerness to learn
Ability to provide instruction that reflects multiple perspectives and multicultural education
Experience working with linguistically and ethnically diverse student populations
Commitment to assist the administration in implementing all policies and rules governing student life and conduct
Knowledge of current behavioral management techniques, educational trends, methods, research and technology, and subject area knowledge
Ability to develop reasonable rules for classroom behaviors and procedures and maintain order in the classroom in a fair and just manner
Ability to establish relationships with colleagues, students, parents, and community which reflect recognition of and respect for every individual
Experience incorporating technology into curriculum
Excellent oral and written communication skills
Qualifications
Bachelor's degree
Completion of a state approved teacher preparation program (i.e. Bachelor's or Master's degree in education, or another state approved teacher certification program)
Eligibility toward a valid District of Columbia Teaching Certificate or License (Standard or Provisional)
Successful completion of Praxis I* and II exams, unless you hold your state's highest teaching license and have taught for at least 3 years outside of the District of Columbia
*Visit www.osse.dc.gov to review equivalent exams for Praxis I exams and other licensure requirements.
Apply Now!
www.dcps.dc.gov/careers
Be a part of public education's greatest turnaround story. APPLY NOW
**********************************************
Bradenton, FL
Job Category: Private Teacher
Description
My son has several diagnoses... SPD, ASD and Aspergers. Who knows which is most acurate. Not sure it matters. I need someone that understands he is moving so he can pay attention not because he is being disobient. He also makes vocal sounds on a regular basis. You will have to be tolerant. His need for moving is like the need for oxygen. We have a playground and trampoline, plenty of area to fun and climb or swim. It doesn't matter in which fashion he learns (while swimming, running, etc) as long as he is having fun.
As you can imagine he has had difficulty in typical private schools, so that is why we have chosen to home school. Learning can be fun... handson... I just need to find that person capable of doing that.
He is an 8 year old boy that is ALL boy. He is our angel.. and we love him beyond belief.
I would like someone to push him beyond grade level in Math. That's the good thing about homeschool, you can be on different grade levels in different subjects.
He is in several therapies which could take place after school, or before.
I am thinking that perhaps 4 hours may be all that is needed to teach curriculum.
He has advanced remarkably in FastForward. I have tons of equipment and supplies for the new teacher.
Times are flexible but I do prefer early mornings to early afternoons. (perhaps 8-11 or 12) Please email questions and salary requirement.
Requirements
The person we seek will be a Christian, have a huge amount of patience, and someone that will make learning a fun adventure.
Benefits
Flexible hours. Nice home to work in.
Contact
Email is best:
Lee@Santilli.us