November 2007 - Special Educator e-Journal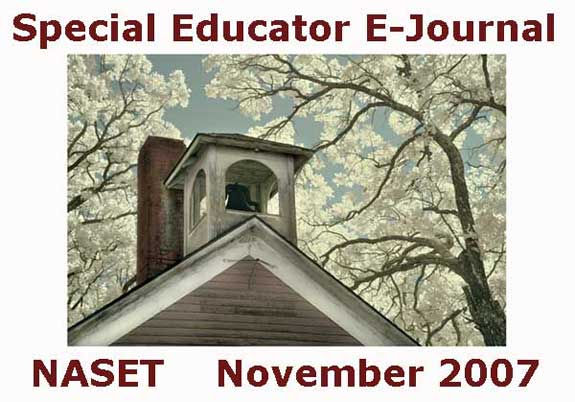 Table of Contents
Message from the Executive Directors
Legal Issues Corner
Calls to Participate
Special Education Resources
Upcoming Conferences, Workshops, and Events
Funding Forecast and Award Opportunities
Acknowledgements
---
NASET Members - Login Below to access the latest Special Educator e-Journal.
Site visitors: You may access a sample e-Journal - Sample e-Journal
---
---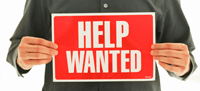 Latest Career Center Classifieds
Superintendent
Vancouver, WA
Job Category: Superintendent
CLOSES: Open until filled (initial review begins November 16, 2007)
The Washington State School for the Deaf (WSD) has an excellent opportunity for qualified individuals looking to make a difference by improving the education of deaf and hard of hearing students throughout the state. We are seeking a student-oriented, compassionate leader dedicated to providing the finest instructional services possible to all students regardless of where they attend school.
About the School:
Founded in 1886, WSD serves eligible deaf and hard of hearing children ages birth through twenty-one. It is responsible for the educational programs of residential and non-residential deaf and hard of hearing students attending the school. Of equal importance, the school also provides consultation and outreach services to school districts and deaf and hard of hearing children attending public schools within the State of Washington.
Located in Vancouver, Washington, the WSD campus is divided into three programs – academic, residential and outreach. WSD is fully accredited by the Northwest Association of Schools and Colleges and the Conference of Educational Administrators of Schools and Programs for the Deaf. For more information, click here to visit the website http://www.wsd.wa.gov/index1.aspx.
Responsibilities:
With the support and direction of the Board of Trustees, the Superintendent serves as the chief administrator for the school and oversees its day-to-day operations. This position is appointed by the Governor, and provides supervision, guidance, and leadership to staff, parents and students. In conjunction with members of the Board of Trustees, the Superintendent works closely with the Governor and legislators to improve state deaf education policy and services, and collaborates with both public and private organizations to improve learning.
Other key responsibilities include:
Providing a healthy and safe environment for the students and staff by closely monitoring the implementation of policies and procedures designed to ensure student and staff safety
Anticipating and assessing the school's needs in order to develop the appropriate budget requests
Assessing the current and future status of the school's educational programs and ensuring that it is the major conduit for "best practices"
Ensuring compliance with local, state and federal laws which affect the education of deaf and hard of hearing students
Encouraging students, teachers, parents, and community members to share in the school's decision-making processes
Developing and maintaining effective partnerships and collaborative relationships with public school districts and agencies throughout the state
Serving as a facilitator among legislators, special education professionals, parent and staff organizations, school alumni, the Washington State Association of The Deaf and other interested parties for the purpose of developing an integrated statewide educational delivery system.
Continuing to develop the school's post-graduate and occupational preparation programs
Qualifications:
Candidates must have the knowledge and experience necessary to provide the highest caliber learning and growth opportunities possible to deaf and hard of hearing students. They will have previously worked in a school management/administrator role, and will have experience working with the deaf and hard of hearing community. We are looking for someone with a record of leadership derived from the power of ideas and persuasion who will advocate for students, staff, programs and ideas. The most successful candidates will also have the communications skills to clearly communicate innovative new ideas and the organizational abilities and leadership competencies to implement them. A collaborative and open minded approach to communicating with students, parents, educators, staff, and other stakeholders is essential in order to be successful in this role.
Successful candidates must also have:
A graduate degree or doctoral degree in Deaf Education, School Administration, or Special Education
Experience in deaf education, as well as complying with and implementing rules regarding the education of students with disabilities, including those with behavioral problems
Knowledge of P-12 education and the post-graduate learning needs of the deaf and hard of hearing
Knowledge of federal law in Special Education, and the ability to quickly learn Washington's laws and educational framework
Fluency in American Sign Language (ASL) and a successful track record advocating for the deaf culture
Experience working with a board or other oversight committee, and demonstrated ability to work with legislators and other educational policy makers
Application Instructions:
Email your resume and a letter of interest outlining your skills and abilities as they relate to this announcement to: ExecutiveCareers@dop.wa.gov
Please Note:
Candidate evaluation will be ongoing and it will be to the applicant's advantage to submit materials as soon as possible. Please be aware that the hiring authority reserves the right and may exercise the option to make a hiring decision prior to the conclusion of the recruitment process.

The State of Washington is an equal opportunity employer. Persons with a disability who need assistance in the application process, or those needing this announcement in an alternative format should call (360) 664-6266 or TDD (360) 664-6211.
Contact Information:
Evan Oderman
WA State Dept of Personnel
Executive Careers Office
Ph: 360-664-6266
Email: evano@dop.wa.gov
---



Special Education Teachers
Bronx, NY
Job Category: Special Education Teacher
Description: Saint Dominic's Home seeks Special Education Teachers, NYS certified in Birth-2nd grade, for the Torch Preschool Program in the Bronx. Join us in helping 3-5 year old children develop socially, emotionally and intellectually. Visit our website www.stdominicshome.org EOE
Contact: Email jobs@stdominicshome.org; Fax Resume: (718) 798-3354
---
Special Education Teacher
Charleston, SC
Job Category: Part-time multi-categorical Secondary Education

SUMMARY OF POSITION:
Under direction of school director, will provide quality services to special education students grades nine through grade twelve in a charter school setting, through a commitment to team participation in planning and implementation of student programs including special instruction, tutorial assistance, and consultation to general education staff.
ESSENTIAL FUNCTIONS:
Essential functions may include, but are not limited to the following:
1. Prepare student education plans in consultation with parents and IEP team members.
2. Design instruction, both individual and small group, which parallels the general education curriculum.
3. Act as coordinator of IEP implementation with general education staff.
4. Monitor student progress, participates in review and revision of IEP, as appropriate.
REQUIREMENTS:
Possession of or qualification for a South Carolina Credential with multi-categorical certification. Commitment to education least restrictive normalized settings. Ability to diagnose learning disorders, prescribe remediation and evaluate student progress. Ability to function as a member of an educational team, collaborate with general education staff, support personnel, community agencies, and parents. Strong behavior management and positive discipline skills. Ability to be flexible and receptive to change.
BENEFITS:
South Carolina Health, Life, Dental, Retirement
CONTACT:
Renee Chewning, Director
Sea Islands YouthBuild
P.O. Box 867
Johns Island, SC 29457
(843) 557-1611
siybdirector@gmail.com
---
Special Education Teacher
PENNSYLVANIA
Job Category: Certified Special Education Teacher
Description: While functioning as a certified Special Education Teacher and Group Therapist to Head Start (preschool) children enrolled in the Therapeutic Activities Program - Head Start, you will prepare and teach daily lessons, lead group therapy sessions, and maintain liaisons with community school personnel. This includes:
1. Developing and teaching daily lesson plans, stressing participatory lessons in language arts, social studies, sciences, mathematics, and handwriting in the Head Start (preschool) grade skill levels and working with individual students to assess education levels and provide remedial assistance as needed.

2. Serving as a liaison between TAP-HS Program and public/private school teachers, counselors, principals, nurses, speech therapists, and other school personnel, while soliciting and assisting in referrals to Child and Family TDP.

3. Participating in the evaluation of TAP-HS referrals with other Child and Family staff, attending regularly scheduled treatment reviews of children's progress assessment and planning goals, and participating in continuity of care and aftercare planning for children.

4. Participating in initial treatment planning meetings with children and their parents/guardians and in regularly scheduled treatment progress interviews with parents.

5. Providing Insight Oriented, Supportive, Activity, and Recreation Group Therapy to children in the TAP-HS Program.

6. Maintaining accurate observational records for the children attending the TAP-HS Program.
Requirements: The qualified candidate must possess a Bachelor's Degree and certification in special education, and at least two years of prior special education classroom teaching experience with background/knowledge in early childhood education. This is a year round position which follows the school schedule during the school year (approx. 30 hrs. per week) and a summer camp schedule during the summer (approx. 35 hrs. per week).
Contact: To learn more about us, and to apply on-line, please visit www.pennhealth.com/jobs. Please search by the Job Code # 20491. AA/EOE, M/F/D/V.
---
Special Education Teacher
Denver, CO
Description: The Denver Department of Human Services is seeking qualified individuals for Special Education Teachers at the Family Crisis Center.
This list will be established for future openings at the Family Crisis Center.
These teachers provide full performance level education services to learning, emotionally and developmentally challenged students/patients including assessing, testing and developing learning strategies. Evaluates, assesses, and analyzes the results of tests performed on the student. Charts and sends results to the next placement.
Develops individual treatment plans for students in coordination with other staff members and family of the students at staff meetings.
Prepares billing forms, monitors the budget, orders supplies, and prepares grant proposals.
Develops curriculum for school age students/patients.
The Department of Human Services will conduct criminal background checks as part of the hiring process. Successful candidates must be able to successfully complete this criminal background investigation.
Denver Human Services promotes the well-being, protection and independence of Denver residents through its many services for low-income and at-risk families, children, seniors and other adults.
For more information on the Family Crisis Center, please visit our website at www.denvergov.org/HumanServices/
Requirements: Requires a Bachelor's Degree and three years experience teaching primary/secondary school students with special learning difficulties and social emotional disabilities.
Additional appropriate education may substitute for the minimum experience requirements on a year for year basis.
Also requires a State of Colorado Teachers License and a Special Education Endorsement as Teacher II - Severe Affective Needs or Special Education Endorsement.
Some positions may require a Colorado Class & Drivers License by the completion of probation.
Contact: Applicants are encouraged to apply on line at www.denvergov.org/jobs.
Questions? Contact Francine Crusan at 720-944-2849, or francine.crusan@ci.denver.co.us. EOE
---
Special Education/SDC Moderate to Severe 1.0 FTE
Alameda, CA
Job Category: Special Education Full Time High School
Description: Special Education - Special Day Class - Moderate to Severe - Full Time - Alameda High School.
Requirements: Hold a valid California Educational Specialist - Moderate to Severe Teaching Credential. Must meet the "No Child Left Behind" compliance requirements. CLAD certification required or an alternate. Desired: Bilingual- Spanish, Cantonese, Tagalog.
Benefits: Starting Salary Range - $40,270.03 - $76,788.52 - $1,328.91 Stipend for a Master Degree. Medical/Dental/Vision
Contact: If interested in this position, please download an online application by visiting our website- www.alameda.k12.ca.us click employment / employment / certificated.
Once you have printed and completed the application, please submit it (and the other requested documents listed on the back of the application form) to:
Alameda Unified School District
Human Resources
2200 Central Avenue
Alameda, CA 94501
Feel free to call 510-337-7070 if you should have any questions.
---
Resource Spec 100% & Resource Spec.60%
Alameda, CA
Job Category: Resource Spec. Teachers - PT & Full Time
Description: Seeking two Resource Specialist teachers, at two different schools. The full time Resource Specialist position (1) would be at both Lincoln and Wood Middle Schools. The 60% position is at Edison Elementary School.
Requirements: Must hold a valid California Education Specialist (1) Mild to Moderate or Resource Specialist Credential or (2) Moderate to Severe Teaching Credential. Must meet the "No Child Left Behind" compliance requirements. CLAD certification required or an alternate. Desired: Bilingual: Spanish, Cantonese, Tagalog.
Benefits: Starting salary range: $40,270.03 - $76,788.52 - $1,328.91 Stipend for a Master Degree.
Medical/Dental/Vision.
Contact: If interested in these positions, please download an online application at our website: www.alameda.k12.ca.us click employment, employment, certificated.
Once you have printed and completed the application, please submit it and the other documents requested on the last page of the employment form to:
Alameda Unified School District
Human Resources
2200 Central Avenue
Alameda, CA 94501
You may also call us with any questions at 510-337-7070
---
PRESCHOOL TEACHER, SPECIAL ED
San Jose, CA
Job Category: Early Childhood Special Education (ECSE)
The Oak Grove School District announces the following position opening to both inside and outside applicants:
PRESCHOOL TEACHER, SPECIAL ED. SDC – 80%
BALDWIN ELEMENTARY

POSITION DESCRIPTION: Complies with local, state, and federal regulations governing program planning and evaluation for each child placed in a special day class.
REQUIRED QUALIFICATIONS: Education Specialist Instruction Credential
Early Childhood Special Education (ECSE) which authorizes service to children ages birth to pre-kindergarten only.
80% OF THE FOLLOWING STARTING SALARY RANGE: $42,852 - $82,284 plus $2,421 for Master's/Doctorate Degree
APPLICATION PROCEDURE: For inside applicants, by the deadline date, the Human Resource Department must be in receipt of a letter of intent and updated resume.
For outside applicants, by the deadline date, the Human Resource Department (OAK GROVE SCHOOL DISTRICT, 6578 Santa Teresa Blvd., San Jose, CA 95119) must be in receipt of a complete application packet which consists of the following:
1) completed District application
2) resume
3) letter of intent
4) copy of appropriate credential
5) three letters of recommendation
6) copies of transcripts (job posted on www.ed-join.org)
Download Application Packet (1.8 Mb) - RIGHT CLICK AND SAVE HERE
APPLICATION DEADLINE: Open until filled
---
Assistant Professor of Special Education
Bethlehem, PA
Job Category: College Professor
Description: The Moravian College Education Department offers a tenure-track position in special education beginning Fall Term 2008.
Responsibilities: Undergraduate courses in special education, assistance in integrating special education throughout the education curriculum, and opportunities to teach in both the undergraduate and graduate programs. The undergraduate program offers certificates in elementary education (K-6), most areas in secondary education (7-12), and certification in the K-12 areas of art, music, and foreign language.
Qualified applicants must have a record of successful public school teaching at the elementary or secondary level; hold an appropriate doctorate degree, but ABD considered; demonstrate a genuine desire to participate fully in a liberal arts environment; and be committed first to teaching and next to scholarship and service. The candidate must also be ready to share in the work of a thriving education department engaged in processes of both growth and redesign.
Complete applications will be considered beginning October 1, 2007 and continue until an appointment is made.
Contact: Please send a letter of application, curriculum vitae, and three letters of reference to Dr. Robert Mayer, Chair, Education Department, Moravian College, 1200 Main Street, Bethlehem, PA 18018-6650.
---
SPECIAL EDUCATION TEACHER
Chicago, IL
Job Category: Special Education Teacher
Keeping You Well Inspired
Adventist Midwest Health is a faith-based health care leader serving Chicago's southwest and western suburbs. Dedicated to providing whole-person care and promoting wellness, our system comprises Adventist GlenOaks Hospital, Adventist Hinsdale Hospital, Adventist La Grange Memorial Hospital, a number of affiliated facilities and Adventist Bolingbrook Hospital, which will open later this year.
Adventist GlenOaks Hospital operates a Therapeutic Day School, located in Glendale Heights. We are currently seeking a Special Education Teacher, who will conduct educational programs for 10 or more learning-disabled and/or behaviorally disordered inpatient students and will assume responsibility for instructing students in selected, specific subject areas.
Requirements include:
Bachelor's degree in Education, and Special Education Illinois Teacher's Certificate, Type 10, K-12 for Social Emotional Disorders (SED) or Illinois Secondary Teacher's Certification, Type 09, grades 6-12 with SED approval.
2 years Special Education teaching experience preferred with secondary experience in specific subject areas. New graduate teachers are welcome to apply.
*We are also seeking Substitute Teachers for our school year.
To explore generous rewards with an expanding organization, apply at www.keepingyouwell.com. EOE m/f/d/v
Adventist GlenOaks Hospital
Keeping You Well
---
Early Intervention Official Designees
NEW YORK CITY
Job Category: Sr. Health Care Program/Analyst
Description: The New York City Department of Health and Mental Hygiene, one of the oldest and largest public health agencies in the nation, is seeking several Early Intervention Official Designees for the Division of Mental Hygiene. The Division with 500 staff and an $800 million budget, plans, funds and monitors services for individuals with mental health disorders, chemical dependency, mental retardation and/or developmental disabilities; and operates the Early Intervention Program, which provides services to children 0 to 3 years of age with a significant developmental delay or disability.
Job Responsibilities:
Conducting initial and updated Individualized Family Services Plan (IFSP) meetings consistent with the federal state and local EI regulations and policies.
Chairing and facilitating meetings effectively
Ensuring the rights of families are upheld, documenting meeting outcomes and completing required paperwork, reviewing Early Intervention eligibility evaluations for completeness and accuracy.
Attending regularly scheduled meetings, responding to, preparing for, and attending mediations and fair hearings, as assigned
Returning messages and communications in a timely fashion
Establishing a demeanor conducive to an open exchange of information
Reporting concerns and submitting requests for technical assistance to supervisors and other EI staff when appropriate.
Educational Qualifications and Preferred Skills:
A Master's or Baccalaureate Degree in Social Sciences, Health Care Specialization, Physical Sciences or related programs; and a minimum of four years of progressive, responsible experience related to Health Care Program Planning, Research, Design, Operation, Evaluation and Analysis.
Excellent people skills and effective communication with service providers, families, service coordinators and other colleagues, as appropriate.
Understanding of child development and handicapping conditions, in addition to having knowledge of services for young children and family centered services.
Knowledge of EI regulations and philosophy
Good communication & organizational skills
Ability to work well under pressure and responding to time frames.
Location: Staten Island, Bronx, Brooklyn, Queens, Manhattan. (Multiple positions available. Please state your location preference in your cover letter)
Salary Range: 41,217 - $ 81,874 (Full-time)
How to Apply: If you are interested in a career opportunity with our organization, please visit the following link: http://sh.webhire.com/servlet/av/jd?ai=741&ji=2082206&sn=I (You will be prompted to register) Enter your contact information and paste in a copy of your resume. Also, where applicable, please be sure to identify the job(s) you are applying for. Please state explicitly in your cover letter the source from which you heard about this job.
The position requires New York City residency or willingness to relocate within ninety days of appointment.
An Equal Opportunity Employer. M/F/D/V.
---