---
NEWS ALERT
Questions and Answers on Providing Services to Children with Disabilities During the COVID-19 Outbreak
---
What You Need to Know about Teaching Students with Special Needs Online During School Closings
To Learn More - Click here
---
See what members have to say about
NASET -

Explore the wealth of information and resources available to registered NASET members!
NASET has always provided an online platform that supplied the resources required for Special Education Professional Development. Over the years, we have added numerous courses, lectures, PowerPoint presentations, resources and e-Publications. In fact, the sheer volume of content has reached a point where another approach to maximize the primary function of professional development was needed. From this need for a better layout to allow for easier access and use of our website for Professional Development we created the PDP. To learn more - Click here
Hundreds of e-Publications available for online viewing and as PDF files for downloading. All past articels are archived. Take a moment to review the large list of our e-Publications that grows monthly. - To learn more - Click here
Comprehensive resources from audio lectures, databases of informational resources, IEP development tool, Conferences, Teacher Forum and Much More...To learn more - Click here
From the latest job listings to professional development courses, NASET's Career Center provides you with tools and information to further your Career as a Special Educator. To learn more - Click here
---
Click on the JAASEP Image for the Table of Contents
Career Center

NASET's Career Center showcases the latest job openings in special education.
Also, you'll find:
Career Advice
Book Resources
Tips on Resumes & Cover Letters
Interviewing Techniques
Special Ed Career Fact Sheets
Guidelines for Licensing and Certification in all 50 States
Latest Job Listings
* SEIS Contract Administrator - The Collaborative for Educational Services (CES) is seeking an SEIS Contract Administrator to direct the SEIS contract for the benefit of children and youth residing in facilities operated by the Massachusetts Departments of Mental Health, Public Health, Youth Services, and the County Houses of Correction. CES's mission is to develop and foster educational excellence and opportunity for all learners through collaboration and leadership. To learn more - Click here
* Elementary ICT Teacher (2021-2022) - Reporting to the Academic Dean, the Elementary ICT Teacher will be responsible for providing tailored support to students with special education needs, primarily through integrated co-teaching. This is an exciting opportunity for a seasoned educator who is passionate about ensuring all students succeed and thrive in school. To learn more - Click here
* Lower Elementary SPED Teacher - Reporting to the Academic Dean, the Lower Elementary SPED Teacher will be responsible for providing tailored support to students with special education needs, primarily through integrated co-teaching. This is an exciting opportunity for a seasoned educator who is passionate about ensuring all students succeed and thrive in school. Toe learn more - Click here
* Private Special Education Teacher (Guanacaste, Costa Rica) - This is a part-time, live-in position working with two bright and energetic boys, ages 9 and 10, in their fourth-grade homeschool, starting ASAP. Ideal candidates will have bachelors or masters in Special Education, Applied Behavioral Analysis, Certified Behavioral Analysis or a related field. To learn more - Click here
* Intermediate School District 917 is seeking an exceptional leader to serve as Superintendent - ISD 917 is one of four intermediate school districts in Minnesota created by the Minnesota Legislature in the late 1960s. The ISD 917 School Board was organized in March 1970, and is comprised of one board member from each of the nine member school districts. Currently, member districts include Bloomington, Burnsville-Eagan-Savage, Farmington Area, Hastings, Inver Grove Heights, Lakeville Area, Randolph, South St. Paul, and West St. Paul-Mendota Heights-Eagan Area. To learn more - Click here
* [2021-2022] Middle School Science Teacher - Through our commitment to rigorous academics, social-emotional learning, deep family and community engagement, and health and wellness, we create lifelong learners who are equipped to fulfill their vision of success in and out of the classroom. We dream big, as well, with an aggressive five-year plan to expand to serve 3,500 students across seven schools—growing our organization's impact and leveling the playing field for all children. To learn more - Click here
* SETSS (Special Education Teacher Support Services) Teacher - At Zeta, we pursue an unprecedented combination of high academic achievement and social-emotional development. We insist that every child receives a world-class education while fostering a love for learning. We are changing the public education landscape for all of New York City's children, and we are uncompromising in our mission. To learn more - Click here
* Special Education Teacher - $60,000/school year (185 days), summers off with year-round pay and year round appreciation. Special Education Teachers needed in Arizona (Phoenix and surrounding cities). Needs are in the self-contained and resource settings serving students with emotional disabilities (ED), Autism (A), Severe/Profound (S/P), and Intellectual Disabilities (ID). STARS is the largest school contract agency in AZ. You will be an employee and receive full benefits. To learn more - Click here
* Special Education Director - 15,000 student school district is looking for special education leader. 27J Schools is one of the fastest growing school districts in Colorado and located in the North Denver Metro Area - 30 minutes from Denver and Boulder and adjacent to Denver International Airport. The Director of Special Education is responsible for the leadership, supervision, guidance and support for all school support staff providing services to students with disabilities across special populations, including preschool. To learn more - Click here
* Special Education Teachers - All areas - We are looking for highly motivated and skilled talent to join our team at District of Columbia Public Schools (DCPS). We seek individuals who are passionate about transforming the DC school system and making a significant difference in the lives of public school students, parents, principals, teachers, and central office employees. To learn more - Click here
---
Latest NASET
Special Educator
e-Journal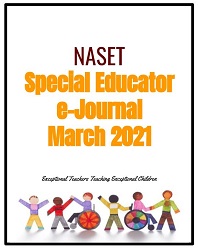 Click on the e-Journal Image for the Table of Contents
Click on the JAASEP Image for the Table of Contents


NEW IEP APP with CCSS
IEP Goals, & Objectives with Common Core State Standards
To learn more  - Click Here
NOW WITH COMMON CORE STATE STANDARDS & More!
---
Members ONLY Savings
To learn more - Click here
---

Take a moment to review the various e-Publications, professional development and special education resources.
NASET is proud to offer its' members free access to one of the most extensive and comprehensive sources of Professional Development courses available today. With over 100 courses ranging from 1 to 3 hours each, NASET provides it's members the opportunity for over 100 hours of professional development included with your membership in NASET.
Board Certification in Special Education establishes a much needed standard for professionals, across disciplines, who work with exceptional children.
NASET provides the multiple areas with valuable information about IEPs. From a ePublication IEP Components to mutlple articles resources, forms, NASET has a wealth of information for the special education professional.
The online Special Educator e-Journal is published monthly throughout the year and provides timely information on what's current in special education.
This list is provided to all members of NASET to help facilitate the numerous tasks required on a daily basis. All documents are available to view online or download as a PDF file for offline printing.
NASET's Week in Review is a weekly emailed publication that provides members with some of the most interesting stories, topics and issues reported during the week in the field of special education.
NASET News Alerts provide the latest special education news as it happens. News Alerts are emailed, posted and through RSS feeds.
This series provides NASET members with an in-depth look at the step-by-step process of assessing students for eligibility and educational placement in special education.
This series is devoted to lesser known disorders that you may encounter in special education. While not as prevalent as other disorders experienced by most special education teachers, you should be aware of these disorders in order to become more knowledgeable, and increase your ability to assist patents of children with these disorders if they should appear in your classroom or school. Each month we will present a list of 3 disorders that appear in the special education population. Some of these disorders may contain subtypes which will also be presented.
The NASET LD Report is an education resource that provides NASET members with a comprehensive overview of learning disabilities. The NASET LD Report covers many areas of study in the field of LD.
The Practical Teacher is a monthly education resource that provides NASET members with practical tools, strategies, and relevant information that they can use both in and outside of the classroom.
Parent Teacher Conference Handouts can be given at the end of parent teacher conferences to reinforce concepts and help parents better understand information discussed at the conference. New additions are added monthly.
The NASET RTI Roundtable is an educational resource that provides members with the latest information on RTI.
The NASET Autism Spectrum Disorder Series is an education resource that focused on the research, writing, and practical information that we have obtained on causes, characteristics, eligibility, assessment, and teaching strategies.
NASET's Behavior Management Series is a unique guide for all teachers in helping to understand what their student's behavior really means and how to identify and resolve the issue. This series offers teachers the insight into the inner dynamics, conflicts, fears, symptoms, tension, and so on of students who may be experiencing difficulty learning or behaving in the classroom.
The Classroom Management Series provide teachers with practical guidelines covering a variety of topics and supportive information which may help improve their classroom.
A Journal of Research Based Articles in Special Education are provided courtesy of The Journal of the American Academy of Special Education Professionals (JAASEP). Each issue contains articles that are derived from multiple authors and are based upon the latest research in our profession.
This series is devoted exclusively to students with severe disabilities. This series will cover all aspects of students with severe disabilities focusing especially on understanding this population and what skills and information are necessary if you are asked to teach this population of students.
At NASET, we get many questions from our members about certain areas of interest. The NASET Q & A Corner provides all members with the opportunities to have access to these questions, and more importantly, answers to them from professionals in the field.
This series is intended to provide teachers, related service personnel, administrators, and other individuals charged with assisting in the development of the paraprofessional workforce with information and strategies to build strong, effective, supportive teams to ensure successful educational services for all students.
---