Week in Review - June 12, 2020

---
NASET
WEEK IN REVIEW
National Association of Special Education Teachers
June 12, 2020 Vol 16 Issue #24
---

---
Dear NASET Members and Guests,

Welcome to NASET's WEEK in REVIEW. Here, we provide you with the latest publications fromNASET to read and or download, as well as some of the most interesting articles that have happened this week in the field of special education. We hope you enjoy this publication. Feel free to send us articles for this publication or let us know your thoughts about the WEEK in REVIEW at news@naset.org. Have a great weekend.

Sincerely,
---
NEW THIS WEEK ON NASET
JAASEP SPRING/SUMMER 2020
Table of Contents
---
Effects of Mass Trials versus Distributed Trials During a Shared Story Reading for Students with Moderate to Severe Disabilities
A Pilot Study of a Self-Determination Curriculum on Secondary Students
Student Voices: A Qualitative Self-Awareness Study of College Students with Disabilities
Effects of Physical Activity on Executive Function of Children with ADHD
Inclusive Book Club: Perspectives of Undergraduate Participants
Constructivism, Zone of Proximal Development and Target in a Multi-Dimensional Classroom
Playgrounds for "All" Children
Challenges to Collaboration, Inclusion and Best Practices within the Special Education Community
Use of Visual Performance Feedback to Increase Teacher Use of Behavior-Specific Praise among High School Students with Severe Disabilities
Empowering Refugee Families of Students with Disabilities
Individual Education Plan Considerations for Online Learning: Accommodations

To access full articles Click Here
---
For Some Students with Learning Disabilities, Distance Learning Has Been a Disappointment
Isaac Richert has always had a hard time focusing on school. Distance learning has made it even harder. "I have ADHD and dyslexia," he explained. "Since school's been online, it's been really easy for me to look at my laptop across the room, not pick it up and decide that I want to go outside instead." Richert, a Hopkins High School senior, said that in-person learning helped motivate him to keep up with his assignments. Now, with only a few days left before graduation, he's struggling with low motivation. He's dropped all but three classes - newspaper, chemistry and creative writing - that he needs to pass in order to earn his degree. "It's easier to get stuff done at school because you are in a working environment," he said. Read More
---
---
Inclusive Playground for Children with Disabilities Opens
For months, outdoor playground equipment has been closed due to coronavirus, but for some children, playgrounds have always been inaccessible. An inclusive playground in Commerce Township is a project Detroit News personality Stephen Clark has spent years raising money to build. Clark's granddaughter uses a wheelchair and the new park is the largest ramped playground in the Midwest. More than a million dollars were raised to build the accessible wonderland. Named after Clark's granddaughter, Scarlet's Playground is groundbreaking for children with special needs. "I wish there was something like this when I was a boy," said Vic Doucette. "I have cerebral palsy, grew up in leg braces didn't fit i /and being scorekeeper isn't same as being a pitcher." Read More
---
Bureau of Indian Education Shortchanges Students with Disabilities
The Bureau of Indian Education did not provide or could not account for almost 40 percent of the special education service time it's required to provide for Native American students with disabilities, according to a new a report from a federal watchdog agency. Inadequate monitoring and a lack of qualified staff were among the factors that left the bureau unable to "ensure that the schools it funds are meeting their responsibilities" under the Individuals with Disabilities Education Act, the nation's primary special education law, the Government Accountability Office found. Through an analysis of school records, investigators found that the bureau knowingly failed to provide 20 percent of the service time outlined in students' Individualized Education Programs. For another 18 percent of service time, the federally run schools indicated that services were provided, but could not provide documentation that they were. Read More
---
All In: A Southern California School with a Radical - and Successful - Vision for Students with Disabilities
Making his way up the ramp that connects the first and second stories of his middle school, Erin Studer turns and gestures back at the long, gently sloped passage. "You just walked up a quarter of a million dollars of philosophy," he chortles, clearly having delivered this object lesson before at the school he leads, the CHIME Institute's Schwarzenegger Community School, located in Woodland Hills, California. What Studer wants visitors to see from the top of the ramp is not just the campus's collection of sunny brick bungalows, but evidence - literally concrete - of the school community's core belief. Everyone at CHIME, whether walking or using a motorized chair or other mobility support, can move up and down the ramp together. Read More
---
---
TRIVIA QUESTION OF THE WEEK
Congratulations to: Sandra McEwen, Joanna Blau, Olumide Akerele, Kathi Handy, Karen Frantz-Fry, Jennifer Fahnbulle, Patsy Ray, Wanda Routier, Cindi Maurice, Jerrica Hawkins, and Brad Johnson who all knew the answer to last week's trivia question:
Michael Phelps, Howie Mandel, Karina Smirnoff, Adam Levine, Justin Timberlake, Paris Hilton, and Simone Biles all share a common diagnosis. What diagnosis do these famous people acknowledge having?
Answer: ATTENTION DEFICIT HYPERACTIVITY DISORDER (ADHD)
This Week's Trivia Question:
What Part of the federal special education law, the Individuals with Disabilities Education Act (IDEA), specifically pertains to the birth to 3 year old population. Is it Part A, B, C, or D?
If you know the answer to this week's trivia questions, email it to us at contactus@naset.org by June 15, 2020. If you are correct, you will be acknowledged in next week's NASET's Week in Review
---
Special Olympics: Athletes on Central Coast gear up for 'Virtual Weekend'
The sports world has been hit hard over the last few months. One of the organizations impacted by Covid-19 is the Special Olympics, but athletes on the Central Coast are making the most of it. A group of athletes joined their partners at Centennial Park in Paso Robles this week in preparation for a weekend of 'Virtual Inclusion.' Due to the coronavirus pandemic, athletes will not be able to compete in the Summer Games this season, but instead all of the activities will be available online to accommodate social distancing guidelines. "Our athletes really depend on the social part and they haven't had that for the last three months," Special Olympics Sports Manager Lindsay Franklin said. "This was just a great time to get out, socially distanced, but to get out and just get to hang out with each other." Read More
---
Board Certification in Special Education Available to NASET Members

Through an agreement with The American Academy of Special Education Professionals(AASEP), NASET members now have the opportunity to achieve AASEP Board Certification in Special Education - (B.C.S.E.) at a reduced fee. AASEP Board Certification in Special Education - (B.C.S.E.) is a voluntary choice on the part of the candidate. The candidate for Board Certification wishes to demonstrate a commitment to excellence to employers, peers, administrators, other professionals, and parents. From the standpoint of the Academy, board certification will demonstrate the highest professional competency in the area of special education. Board Certification in Special Educationestablishes a much needed standard for professionals, across disciplines, who work with exceptional children. Read More
---
Autism Tests Gauge Traits Equally Well in Girls and Boys
Three widely used tests for assessing autism measure trait severity equally well in girls and boys, according to the largest study addressing this question to date. The tests - the Autism Diagnostic Observation Schedule (ADOS), the Autism Diagnostic Interview-Revised (ADI-R), and the Social Responsiveness Scale (SRS) - show small differences in how they rate autism traits in girls compared with boys, but those differences should not keep the tests from routine clinical use, says lead investigator Somer Bishop, associate professor of psychiatry at the University of California, San Francisco. Read More
---
NJ School Districts' 'Too Expensive' Defense in Special Ed Lawsuits Does Not Fly
School districts in New Jersey frequently push back against parents of children with disabilities, their advocates, and their lawyers seeking special education services for those children. The districts argue that, even if a child needs certain services, they need not provide those services because the costs, which come from public funds, are prohibitive. So, the argument goes, schools should be given a pass for "doing their best," so long as they acted in good faith. School districts routinely make this argument publicly, privately, in courtrooms, and in amicus briefs. (Unfortunately, parents' advocates and lawyers expect to hear this argument more and more frequently during and in the aftermath of the financial crisis brought about by the COVID-19 pandemic.) But the "it's too expensive" defense is nonsense in the special education law context, even now, during an unprecedented global pandemic and an attendant financial crisis. If a school district accepts federal funding, it must provide a minimum level of special education services to its students. Read More
---
---
Lehigh University Special Education Law Symposium-Responsive Revisions
Now to be offered in distance learning format (via secure password access) and at reduced rates, the Lehigh University Special Education Law Symposium will be held, as scheduled, from June 21-26, 2020. Weekly or "per day" registration options available. Dr. Perry Zirkel has added a new session to the originally advertised program: COVID-19 Issues under the IDEA and Section 504. Featuring a keynote by OSEP director Laurie VanderPloeg, eight new "hot topic" sessions by paired attorneys for a duel perspective, and a culminating comprehensive update from Professor Zirkel, this year's symposium promises to be the best ever in this nationally prominent program. The week also includes the overlapping, but separable Lehigh Section 504 Institute on June 25-26. In light of the pandemic, consider this uniquely safe opportunity to learn from experienced and prominent attorneys (both sides), which includes password access to their detailed outlines with complete legal citations. For complete information, see the symposium website: go.lehigh.edu/spedlaw.
---
Limited Number of Students Will be Allowed to Attend In-Person Summer School in Illinois
Summer school in Illinois will be limited in how many students can attend in person classes, the state's Board of Education announced. A plan for the 2020-2021 school year is still being worked out, but for now plans for how summer school will work have been released. This is part of Phase 3 of Illinois' reopening plan. While Phase 3 allows for the resumption of limited face-to-face instruction, schools cannot yet return to pre-pandemic operations. Extensive social distancing, enhanced sanitation measures, and other accommodations will be necessary to ensure the safety of students, staff, and their families. All public and private schools must follow IDPH requirements in Phase 3. Read More
---
NASET BOARD CERTIFICATION PROGRAM IN SPECIAL EDUCATION ADVOCACY
The National Association of Special Education Teachers (NASET) and the American Academy of Special Education Professionals (AASEP) recognize the increasing need for qualified special education advocates. In order to enhance this area of concern, they have created a comprehensive special education advocacy program whereby upon completion, you become a Board Certified Advocate in Special Education (BCASE). The BCASE program offers you all the materials to be an effective, articulate, and qualified special education advocate. completion of the BCASE program will provide you with the knowledge, skills and abilities to be confident as an advocate for children with special needs and their parents.­ To learn more about becoming a Board Certified Advocate in Special Education (BCASE), click here
---
Special Education Students Have Lost Many Services. Here's How SEL Strategies Can Help
The necessary and rapid move to distance learning in response to the COVID-19 pandemic has been disabling for our education system. All teachers and students are currently experiencing challenges with accessibility, the promotion of emotional and physical wellness, and academic progress-issues that the special education community knows all too well. And our teachers are under tremendous pressure. It's no wonder in a recent survey more than 5,000 teachers across the country reported feeling overwhelmed, anxious and stressed daily. We asked the same questions to more than 1,000 special educators and they added feeling exhausted, frustrated and confused. Read More
---
Let Me Drive the Bus:' People with Disabilities Want Inclusive COVID-19 Reconstruction
For many people with disabilities, social isolation was the norm long before COVID-19 arrived. But they have still experienced a bumpy adjustment as the pandemic both exacerbates challenges and increases accommodations. As a person with autism and wheelchair user, Riki Entz understands this tension better than most. Sitting in a small apartment that has lost balcony access due to construction, Entz recalled a period when the space was even more claustrophobia-inducing. Due to a potential exposure to COVID-19, Entz and their partner - who is also disabled - had their care hours significantly cut for two weeks. While the couple was able to support each other to take showers, they couldn't access the shared laundry space and they quickly ran out of fresh clothes. They struggled to clean their apartment, and their recycling and garbage started to pile up. Read More
---

---
Families Impacted by Autism Struggle with Isolation, Change During COVID-19 Crisis
Families all over Michigan have been at home with their kids for months during the COVID-19 pandemic. Life has been interrupted and looks a lot different now. And families with the added challenge of caring for a family member with autism are in a tight spot, as resources are limited and safety is more difficult to maintain. Without school or therapy centers providing care and structure to individuals with autism during the COVID-19 pandemic, their lives lose valuable routine and support structures, said Jill Matson, clinical specialist at the Autism Alliance of Michigan. Staff at the Bingham Farms-based organization instantly knew what shutdowns would mean for families with autism. The fear, isolation and uncertainty families would face during social isolation prompted the alliance to send out a statewide survey to families days after the announcement of Michigan's stay-home order, Matson said. Read More
---
Autism Traits in Childhood Linked to Eating Disorders in Adolescence
Children with social difficulties are more likely than those without to develop disordered eating by age 14, according to a new study. The researchers analyzed data from a longitudinal study to understand the relationship between autism and eating disorders over time. At least 20 percent of adults and 3 percent of children with eating disorders also have autism. But much of what researchers know about link between the two conditions has come from studies of people seeking treatment for eating disorders, which makes it difficult to understand whether one condition sets the stage for the other or something else explains the overlap. Read More
---
Special Teachers Put Positive Punctuation Point on an Extraordinary School Year
For many, the last day of school - school as it should be - was March 13. They just didn't know it then. There was hope that online learning would only be a two-week inconvenience. Maybe the coronavirus pandemic wasn't as bad as it seemed. Then two weeks became a month. A month turned into the rest of the school year. Wednesday marked the end of an extraordinary school year that no one could've predicted for Miami-Dade County Public Schools, punctuated by unrelenting mass protests across the nation. Amy Scott never imagined she would end a 44-year teaching career like this. "It just felt like no closure. I think that's the tragedy of the whole year," said Scott, who will no longer teach language arts to seniors in the International Baccalaureate program at Coral Reef Senior High. "The year didn't end with a bang. It ended with a whimper." Read More
---
Honor Society for Special Education Teachers

---
Impact of Children's Loneliness Today Could Manifest in Depression for Years to Come
Children and adolescents are likely to experience high rates of depression and anxiety long after current lockdown and social isolation ends and clinical services need to be prepared for a future spike in demand, according to the authors of a new rapid review into the long-term mental health effects of lockdown. The research, which draws on over 60 pre-existing, peer-reviewed studies into topics spanning isolation, loneliness and mental health for young people aged 4 -- 21, is published today (Monday 1 June 2020) in the Journal of the American Academy of Child and Adolescent Psychiatry. According to the review, young people who are lonely might be as much as three times more likely to develop depression in the future, and that the impact of loneliness on mental health could last for at least 9 years. Read More
---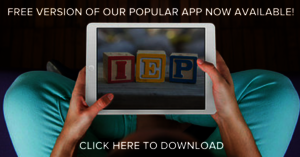 ---
To the Parents of Graduates with Disabilities
To the Parents of Children with Disabilities in the Class of 2020. For the first time in the history of parenthood, every parent is standing in a place you know well. They are celebrating as well as grieving. You experience this daily, mostly with grace, and courage, and sometimes with anger, tears, and unbridled emotion. The world, in a small way, now understands how you feel. Preparations for this moment have been in motion for years. You have worried, worked, begged, prayed (if that's your thing), and fought to make it to this point. For some of you, your student's exit from high school occurs long after your child turned 18. For others, school, as you imagined it would happen, never existed. For some, somewhere along the line, things clicked into place, and a job, higher education, or the military is in your children's future. Soak it in; there is no need to pinch yourself; this moment is real. And at the center of all of these stories stands a warrior, and that warrior is you. Read More
---

---
LATEST JOB LISTINGS POSTED ON NASET
* Special Education Teacher PreK-12 - Essential duties are: aid each student, consistent with his or her abilities and educational needs to develop competence in the basic learning skills, progress on the basis of achievement, qualify for further education and/or employment, develop ethical standards of behavior and participate in society as a responsible family member and citizen. To learn more - Click here
* Assistant Principal - Avondale House is a 501(c)(3) not-for-profit agency that provides, educational services to individuals with autism, a day habilitation program for young adults, where clients receive training in daily living skills and pre-vocational activities, employment services for those with disabilities and four residential homes for adults unable to live in their own home. This position will assist the Principal in order to maintain smooth operations, administratively and pro-grammatically, of the Avondale House School. To learn more - Click here
* Exceptional Student Education, Teacher - Responsible for the educational leadership of students placed in exceptional education programs, including gifted students and students with disabilities. This position encompasses the three standards included in Teacher Professional Expectations in School Board Policy, which are high student achievement, safe learning environment, and effective and efficient operations. To learn more - Click here
* Academic Resource Center Math Specialist/Teacher - Academic Resource Center (ARC) Mathematics Specialist/Teacher is a teacher leader who is responsible for supporting effective Grade 9 through 12 mathematics instruction and student learning with a particular focus on students with service plans and exceptional needs. To learn more - Click here
* Diverse Learner Teacher - We are seeking experienced full-time Diverse Learner Teachers (K-8 Grades) to join CICS Avalon, CICS Basil, and CICS Washington Park Campuses for the 2020-2021 school year. A Diverse Learner Teacher holds primary responsibility for providing academic, emotional, and physical services for students who require additional support to thrive within the school's core academic program. To learn more - Click here
* Special Education Teacher - We are looking for highly motivated and skilled Special Education teachers to join our team at District of Columbia Public Schools (DCPS). DCPS serves more than 51,000 students through the e?orts of approximately 4,000 educators in 117 schools. DCPS intends to have the highest-performing, best paid, most satis?ed, and most honored educator force in the nation and a distinctive central o?ce sta? whose work supports and drives instructional excellence and signi?cant achievement gains for DCPS students. To learn more- Click here
* Special Education Teacher - $60,000/school year (185 days), summers off with year round pay and year round appreciation. Special Education Teachers needed in Arizona (Phoenix and surrounding cities). Needs are in the self-contained and resource settings serving students with emotional disabilities (ED), Autism (A), Severe/Profound (S/P), and Intellectual Disabilities (ID). STARS is the largest school contract agency in AZ. STARS is owned and operated by Occupational Therapists. To learn more - Click here
* Special Education Teacher - The Special Education Teacher provides individual, small group, and whole-group instruction. Monitors student progress in the school environment including academic achievement and behaviors. Maintains a safe and orderly environment, which may include monitoring specific health concerns of students in the classroom and teaches social skills. To learn more - Click here
* Special Education Teacher - Environmental Charter Schools is seeking a talented and dynamic Special Education Teacher who is passionate about preparing low-income students of color for college success. The mission of the Environmental Charter Schools (ECS) is to reimagine public education in low-income communities of color to prepare conscious, critical thinkers who are equipped to graduate from college and create a more equitable and sustainable world. To learn more - Click here
If you are an Employer looking for excellent special education staff - Click here for more information
---
Food For Thought..........
We all do better when we work together. Our differences do matter, but our common humanity matters more.
William Jefferson Clinton