Week in Review - May 15, 2020
---
NASET
WEEK IN REVIEW
National Association of Special Education Teachers
May 15, 2020 Vol 16 Issue #20
---

---
Dear NASET Members and Guests,

Welcome to NASET's WEEK in REVIEW. Here, we provide you with the latest publications fromNASET to read and or download, as well as some of the most interesting articles that have happened this week in the field of special education. We hope you enjoy this publication. Feel free to send us articles for this publication or let us know your thoughts about the WEEK in REVIEW at news@naset.org. Have a great weekend.

Sincerely,
---
NEW THIS WEEK ON NASET
NASET's Classroom Management Series
Behavior Management Systems in the Classroom: A Review of Literature
---
This issue of NASET's Classroom Management series was written by Desiree D. DeBlois. Classroom management is essential to learning. Many teachers have not been trained efficiently to manage students' behaviors and teach a lesson with no interruptions. Classroom management is a range of systematic plan(s) to ensure all students are being treated fairly, rewarded, corrected, and reprimanded for their behaviors; programs can vary from the whole group to individual. Classroom behavior systems are used in all sorts of classroom settings, including general education, inclusion, resource, and self-contained. All students have behaviors that must be corrected or rewarded, and it is the teachers' job to ensure they are being addressed. Teachers already have a plethora of responsibilities in the classroom, and behavior is one of the leading causes for the teacher to leave the profession. Studies have shown that these systems work, but due to all the other responsibilities teachers hold, at times, the behavior is not prioritized in the classroom. Read More
---
---
UN Leader Says One Billion People with Disabilities Hard Hit by Virus
The U.N.'s leader said Wednesday the world's 1 billion people living with disabilities are among the hardest hit by the coronavirus and called for them to have equal access to prevention and treatment of COVID-19. Secretary-General Antonio Guterres said the pandemic is revealing the extent to which people are marginalized and is intensifying the inequalities that people with disabilities already face, such as poverty and higher rates of violence, neglect and abuse. His video message was released alongside a U.N. report that said people with disabilities are estimated to be 15% of the world's population and 46% of the world's people who are older than 60. Read More
---
NASET BOARD CERTIFICATION PROGRAM IN SPECIAL EDUCATION ADVOCACY
The National Association of Special Education Teachers (NASET) and the American Academy of Special Education Professionals (AASEP) recognize the increasing need for qualified special education advocates. In order to enhance this area of concern, they have created a comprehensive special education advocacy program whereby upon completion, you become a Board Certified Advocate in Special Education (BCASE). The BCASE program offers you all the materials to be an effective, articulate, and qualified special education advocate. completion of the BCASE program will provide you with the knowledge, skills and abilities to be confident as an advocate for children with special needs and their parents.­ To learn more about becoming a Board Certified Advocate in Special Education (BCASE), click here
---
---
RIVIA QUESTION OF THE WEEK
Congratulations to: Mariola Papa, Velma Brockland, Sharon Johnson-Hiltz, Olumide Akerele, Stephanie Jenkins, Melody Owens, Patsy Ray, Kathi Handy, Michelle Garland, Cindi Maurice, Durojaiye Titilayom, Amanda Johnson, Elizabeth Ciccarelli-Ross, Al Slater, Teresa Wendelburg, Daniel Rayder, and Michelle Suetsugu who all knew the answer to last week's trivia question:
FILL IN THE BLANK:
According to the definition of special education under the federal law (IDEA), it is "specially designed instruction, at no cost to parents, to meet the unique needs of a child with a _____".
Answer: DISABILITY
This Week's Trivia Question: What was the name of the first federal special education law enacted in 1975, often referred to as Public Law 94-142?
If you know the answer to this week's trivia questions, email it to us at contactus@naset.org by May 18, 2020. If you are correct, you will be acknowledged in next week's NASET's Week in Review
---
Tips for Parents Teaching Special Education at Home
Due to the COVID-19 pandemic, parents have had to also take on the role of teacher. However there may be some extra barriers and challenges for parents who have children in special education programs. Dr. Sarah Parker, Director of Special Education at Great Lakes Cyber Academy, shares some tips on how to create a better learning environment at home for families with special education children. Read More
---
Special Education Teacher Gives Students 'Super' Surprise
No matter what costume she's wearing, Cherry Malaque is showing her students the heart is still the greatest superpower. When she's not singing to her students online, she's making house calls as their favorite superhero. "I felt like 'I don't know if I'm doing that much. I don't know if I'm doing as much as the others are doing,' and I felt like I had to do something." she said. The special education teacher at Sombra Del Monte Elementary talked about how her students reacted. "They were so shocked and surprised. They were like...oh my goodness...their smiles. I just want them to be happy," she said. Read More
---
Special Education Classes Find Ways to Excel in Tough Times
Distance learning is a two-way street. Conducting classes outside of the classroom takes effort from both the teacher and the students. In Alexandria Public Schools, teachers say they've seen their students put forth a great deal of energy in the last two months while they continue schooling virtually. And special education classes are no exception. On March 15, Gov. Tim Walz ordered a schooling shutdown outside the classroom, and it was up to each district to come up with a plan for how to carry out the school year. The spread of the COVID-19 virus challenged Alexandria schools with a new form of education called distance learning. Read More
---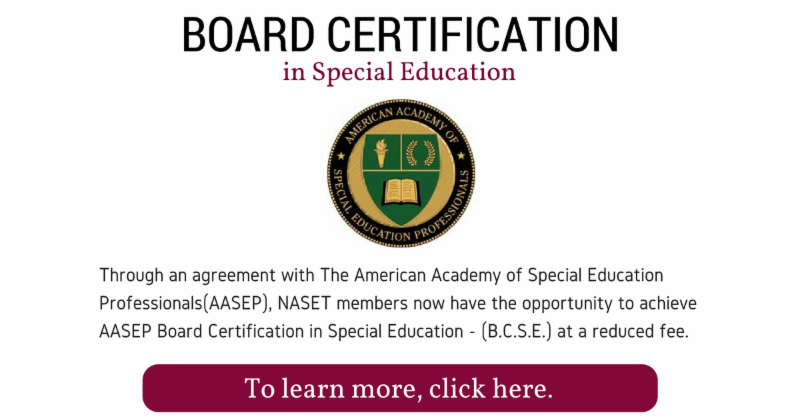 ---
Lehigh University Special Education Law Symposium-Responsive Revisions
Now to be offered in distance learning format (via secure password access) and at reduced rates, the Lehigh University Special Education Law Symposium will be held, as scheduled, from June 21-26, 2020. Weekly or "per day" registration options available. Dr. Perry Zirkel has added a new session to the originally advertised program: COVID-19 Issues under the IDEA and Section 504. Featuring a keynote by OSEP director Laurie VanderPloeg, eight new "hot topic" sessions by paired attorneys for a duel perspective, and a culminating comprehensive update from Professor Zirkel, this year's symposium promises to be the best ever in this nationally prominent program. The week also includes the overlapping, but separable Lehigh Section 504 Institute on June 25-26. In light of the pandemic, consider this uniquely safe opportunity to learn from experienced and prominent attorneys (both sides), which includes password access to their detailed outlines with complete legal citations. For complete information, see the symposium website: go.lehigh.edu/spedlaw.
---
Special Education Teacher Gets Students Moving and Grooving
Meet truck driving, dance party hosting teacher Gena Shapiro. Her moxie's from Jersey, her accent's from Georgia, and her work ethic comes from her mom and dad. "I believe if you're going to do something, then do it," she said. "Don't do it halfway." Mrs. Shapiro's students at J.P. Stevens High School in Edison have autism, are 16-20 years old, and learn self-confidence, great manners, and real-life skills."Opening the Snack Shack, my kids some of them who couldn't even county money, you know, a year ago couldn't count money, and now they're totaling up the drawer at the end," she said. "They're counting money, they're making change."Her students aren't the only ones who've taken notice. Read More
---
Teachers, Staff Bring Graduation Home to Students with Special Needs
C.J. Scott is a high school senior and a woman with special needs. Like other students, she hasn't been in a classroom for nearly two months, but on Wednesday, she received her cap and gown during a very special visit. Teachers and staff from the North Florida School of Special Education arrived at Scott's house to give her balloons, gifts, and congratulations for reaching the pinnacle of high school-graduation. "When I heard the doorbell ring, I didn't expect it," said Marissa Scott, C.J.'s mother. "(There was) this group of people in our cul-de-sac--cars and people. I thought, one of the teachers will just drop off the cap and gown, so that was a huge surprise." Read More
---
Children with Autism Struggle to Cope Amid COIVID-19 Pandemic
Being away from school, family and friends during the coronavirus pandemic has been hard on kids across the Maritimes, especially those who live with autism. A Moncton therapist said it's been a difficult time for kids with autism who thrive on the routines that have been drastically altered as a result of COVID-19. "These children have lost their structure and their routine and a lot of them are really worried about it," said André Collin, a therapist specializing in the care and treatment of children with autism. Read More
---
Students with Dyslexia Need Structured Reading Instruction
The history of reading instruction in the United States is surprisingly well-documented. This history includes the various theories and practices for teaching reading that have existed over the last century. There are podcasts, radio, and print pieces on what have been called the "reading wars," an ongoing debate among educators, researchers, politicians, and more about the best way students should be taught to read. Much of the debate centers on the teaching of phonics-connecting the sounds of speech to the letters that represent them in order to decode words that are unfamiliar-versus a whole language approach that relies on exposure to text rather than teaching the components of the language. Read More
---
---
How Can Educators Tap into Research to Increase Engagement During Remote Learning?
As university professors and researchers who work closely with K-12 online teachers and learners, we've heard from many newly remote educators who are struggling. Recent class discussions have focused on the difficulties of getting through to students without in-person contact, especially during a time of enormous stress. Some teachers report that their students lack interest and in the worst cases, that students are dropping from classes entirely. From our experience both in the online classroom and in training teachers to teach online, this is familiar territory and typically happens about six weeks into a new school session. The newness has worn off, the excitement around technology wanes and teachers often struggle finding ways to engage with their students. Read More
---
Special Needs Teaching Online Brings Special Challenges
In Nebraska, students with disabilities who qualify for special education services are given an individualized education program. The COVID-19 pandemic has left educators faced with the challenges of adapting each of those IEPs to a digital environment. "Special education provides specially designed instruction to meet the unique needs of a child with a verified disability," Special Education Director at ESU13's Pam Brezenski said. There are a number of services available to students including vocational education and support, speech-language pathology, occupational or physical therapy, supports for hearing or visual impairment and behavioral support, as well as strategies for reading, writing or math, she said. Read More
---
Teacher Surprises Students with Special Needs: 'I Have the Best Job in the World'
As Americans celebrate educators around the world for Teacher Appreciation Week, "The View" is shining a spotlight on a special education teacher who visited his students with an extra special surprise. Michael Tricarico, better known to his students as Mr. T, went above and beyond by hand delivering laptops to the children he's been virtually teaching amid the coronavirus pandemic. "I'll tell anybody who's willing to listen: I have the best job in the world," Tricarico said to "The View" co-hosts Wednesday. "They are genuinely unique and I wouldn't trade them for the world." "I don't teach typical kids because typical kids give you typical answers and typical experiences," he continued. "My students, you never know what kind of day you're gonna have. You never know what they're going to say, what they're gonna do or what kind of milestones they actually achieve." Read More
---
Honor Society for Special Education Teachers
---
The Symptomatology of Autism Spectrum Disorder: An Overview of Clinical Features
Autism Spectrum Disorder (ASD) is a biologically based mental disorder with a broad range of clinical presentations that can lead to difficulties in social communication and social interactions, in addition to unique repetitive behaviors and restricted interests. Because Autism Spectrum Disorder is also considered to be neurodevelopmental in nature, it usually presents in the first two years of life, with approximately two-thirds of patients presenting with poor communication skills prior to two years old. Because of the significant impact of ASD on a patient's quality of life, it is very crucial for parents and medical providers alike to be knowledgeable about the symptomatology of ASD. Early recognition, identification, and confirmation of Autism Spectrum Disorder can ultimately lead to timely management of any behavioral difficulties that may interfere with a patient's social, academic, and occupational functioning. Read More
---
---
Chronic Illness in Childhood Linked to Higher Rates of Mental Illness
Children with long-term health conditions may be more likely to experience mental illness in early adolescence than healthy children, according to new research from Queen Mary University of London. In the study, published in Development and Psychopathology, children reported to have chronic health problems showed higher rates of mental illness at 10 years, and those health problems continued to be associated with poor mental health at the ages of 13 and 15. To carry out the study, researchers reviewed a sample of approximately 7000 children to investigate the occurrence of mental health disorders, including anxiety or depression, and chronic illness. The measure of chronic illness was based on mothers assessing their child's health at 10 and 13. Since chronic conditions are defined as those that cannot be cured but can be controlled by medication and other therapies, and may have little disease activity, this measure included children presenting with minor health problems. Read More
---
Distance Learning: Difficult for Children with Disabilities
Schools are places in which children learn to read, write, count and grow. But now, homes have become schools and parents have had to take on extra responsibilities as a result of distance learning. And, while distance learning has been an adjustment for all, some argue-it has been even more of an adjustment for students with disabilities. Jason Crane, Director of the Special Services Department at Duluth Public Schools said special education teachers have, at times, 17 or 18 students on their case load. "We have an obligation to provide service, but at no time could a case manager provide the same services that they would if we were in school face to face with kids, so it is a challenge," Crane said. Read More
---

---
LATEST JOB LISTINGS POSTED ON NASET
* Special Education Teacher - $60,000/school year (185 days), summers off with year round pay and year round appreciation. Special Education Teachers needed in Arizona (Phoenix and surrounding cities). Needs are in the self-contained and resource settings serving students with emotional disabilities (ED), Autism (A), Severe/Profound (S/P), and Intellectual Disabilities (ID). STARS is the largest school contract agency in AZ. STARS is owned and operated by Occupational Therapists. To learn more - Click here
* Special Education Teacher - Environmental Charter Schools is seeking a talented and dynamic Special Education Teacher who is passionate about preparing low-income students of color for college success. The mission of the Environmental Charter Schools (ECS) is to reimagine public education in low-income communities of color to prepare conscious, critical thinkers who are equipped to graduate from college and create a more equitable and sustainable world. To learn more - Click here
* Teacher-Special Education - Tacoma Public Schools is looking for exceptional special education professionals ready to inspire and make a positive impact on students. Our special education program serves approximately 4,000 students from preschool through high school; serving ages three to twenty-one. Specially designed instruction and related services are based upon the need of each student. To learn more - Click here
* Principal New York Institute for Special Education - The ideal candidate will be a well-respected special educator with experience teaching the blind and visually impaired who possesses knowledge of students with emotional disabilities and who, preferably, has administrative experience at the departmental or building level. A proven instructional leader who will maintain a safe and healthy school environment that is conducive to learning. To learn more - Click here
* Upper Division Learning Specialist - Casady School - Collaborate with the Student Support Services Team to provide assistance and resources for students with learning and behavioral differences. Consult with the Upper Division problem solving team to review supports and monitor the progress of students with learning and behavioral differences. To learn more - Click here
* Special Education Teacher - Under the direction of the building principal and special education director, the special education teacher will develop and provide specialized instruction to meet the individual and unique needs of students with disabilities, evaluate and assess student progress based on instructional goals and objectives, and adhere to federal and state statutes and regulations governing special education services. To learn more - Click here
* Special Education Teacher - $50,000/school year (185 days), summers off with year round pay and year round appreciation. Special Education Teachers needed in Arizona (Phoenix and surrounding cities). Needs are in the self-contained and resource settings serving students with emotional disabilities (ED), Autism (A), Severe/Profound (S/P), and Intellectual Disabilities (ID). To learn more - Click here
If you are an Employer looking for excellent special education staff - Click here for more information
---
Food For Thought..........
Conviction is worthless unless it is converted into conduct.
Thomas Carlyle