Week in Review - May 8, 2020
---
NASET
WEEK IN REVIEW
National Association of Special Education Teachers
May 8, 2020 Vol 16 Issue #19
---
---
Dear NASET Members and Guests,

Welcome to NASET's WEEK in REVIEW. Here, we provide you with the latest publications fromNASET to read and or download, as well as some of the most interesting articles that have happened this week in the field of special education. We hope you enjoy this publication. Feel free to send us articles for this publication or let us know your thoughts about the WEEK in REVIEW at news@naset.org. Have a great weekend.

Sincerely,
---
NEW THIS WEEK ON NASET
NASET's Early Intervention Series
The Effectiveness of Early Intervention on Children with Autism
---
By Danielle Aycardi
This issue of NASET's Early Intervention series was written by Danielle Aycardi. The focus is to evaluate the effectiveness of early intervention on children on the Autism Spectrum Disorder (ASD). Early intervention (EI) is defined as intervention implemented as soon as the disability is first identified, with the aim of reducing the impact of disability for the individual, their family, and the wider community (Productivity Commission, 2011). Studies have shown that early intervention has a significant positive impact on students with ASD. This literature review provides evidence of the effectiveness of early interventions when used with children on the Autism spectrum. In addition, the review focuses on the developmental and social skills improvement during early intervention. Read More
---
---
Remote Learning Extra Challenging for Students with Learning Disabilities
Remote learning is a challenge for students who are out of school because of the COVID-19 pandemic, but some students need that classroom time to succeed. Allen Sexton, the Director of Special Programs for Raleigh County Schools, said more than 2,000 students in the Raleigh County school system live with a learning disability. Those disabilities range in severity. "Attention deficit disorder, reading disorders, mathematics disorders, health impairments, intellectual disabilities, behavior disorders, autism," Sexton listed. Sexton said these students thrive better in a classroom with one-on-one time with their teachers.Because students are not returning to school, parents are taking on that role. Read More
---
NASET BOARD CERTIFICATION PROGRAM IN SPECIAL EDUCATION ADVOCACY
The National Association of Special Education Teachers (NASET) and the American Academy of Special Education Professionals (AASEP) recognize the increasing need for qualified special education advocates. In order to enhance this area of concern, they have created a comprehensive special education advocacy program whereby upon completion, you become a Board Certified Advocate in Special Education (BCASE). The BCASE program offers you all the materials to be an effective, articulate, and qualified special education advocate. completion of the BCASE program will provide you with the knowledge, skills and abilities to be confident as an advocate for children with special needs and their parents.­ To learn more about becoming a Board Certified Advocate in Special Education (BCASE), click here
---
Children Who Have Difficult Relationships with Their Moms are Clingy Towards Teachers
Children who experience "dependent" or clingy relationships with their preschool teachers tend to also have difficulties in their relationships with their mothers finds researchers at the NYU Steinhardt School of Culture, Education, and Human Development. The research, published in peer-reviewed academic research journal Attachment and Human Behavior, went even further to find that later in elementary school, these children were prone to being anxious, withdrawn, and overly shy. "Our research suggests that preschool teachers have the potential to play a pivotal role for children who are more dependent," said Robin Neuhaus, lead researcher and doctoral student in NYU Steinhardt's Department of Teacher and Learning. "By being warm and supportive, and by encouraging children to explore, preschool teachers may be able to reset the trajectories of children who may otherwise struggle with anxiety in elementary school." Read More
---
'Make Physical Activity Part of Children's Routine' During Lockdown
Parents and caregivers should ensure that physical activity is part of the routine for children and families during the COVID-19 lockdown, according to an international study involving the University of Strathclyde. The study, detailed in a comment article published in The Lancet Child & Adolescent Health, covers 15 nations. It found that time spent in places such as parks, beaches and community gardens reduced by nearly a third between the week ending 23 February -- before the World Health Organization (WHO) declared a COVID-19 pandemic -- and the week ending 5 April. Travel by public transport was down by more than half -- 59% -- over the same period. Read More
---
---
TRIVIA QUESTION OF THE WEEK
This Week's Trivia Question:
FILL IN THE BLANK:
According to the definition of special education under the federal law (IDEA), it is "specially designed instruction, at no cost to parents, to meet the unique needs of a child with a _____".
If you know the answer to this week's trivia questions, email it to us at contactus@naset.org by May 11, 2020. If you are correct, you will be acknowledged in next week's NASET's Week in Review
---
---
Disability Will Be Part of the New Normal
Predicting the highlights of the post-pandemic new normal is the new rage. But how should we begin to think about the new normal for people with disabilities? With "abnormal" a common stand-in for "disabled," let's jettison the "ab." Disability is normal, even common, affecting some 20% of the U.S. population. The only abnormal part of disability is that much of society still blanches at moving beyond lip service or grudging regulatory compliance when it comes to providing access to the disabled in normal work, school and social environments. As unwelcome and threatening as the novel coronavirus is, its arrival during the run-up to the 30th anniversary of the passage of the Americans with Disabilities Act commands attention. Read More
---
Coronavirus and Human Rights: New Guidance Highlights Support for Persons with Disabilities
As Michelle Bachelet explained, not only are people with disabilities at higher risk because of the crisis, they also are disproportionately affected by response measures such as lockdowns. "People with disabilities are in danger in their own homes, where access to day-to-day support and services may be limited due to lockdowns, and some may suffer greatly from being isolated or confined", she said. "Persons with disabilities face even greater threats in institutions, as care facilities have recorded high fatality rates from COVID-19 and horrific reports have emerged of neglect during the pandemic." Read More
---
Board Certification in Special Education Available to NASET Members

Through an agreement with The American Academy of Special Education Professionals(AASEP), NASET members now have the opportunity to achieve AASEP Board Certification in Special Education - (B.C.S.E.) at a reduced fee. AASEP Board Certification in Special Education - (B.C.S.E.) is a voluntary choice on the part of the candidate. The candidate for Board Certification wishes to demonstrate a commitment to excellence to employers, peers, administrators, other professionals, and parents. From the standpoint of the Academy, board certification will demonstrate the highest professional competency in the area of special education. Board Certification in Special Educationestablishes a much needed standard for professionals, across disciplines, who work with exceptional children. Read More
---
COVID-19 Teaches Us a lot About Differences in the Disability Community
COVID-19 is drawing increased attention to longstanding inequities and divisions in society. But while this is an extremely broad phenomenon involving just about everyone, it's also happening in narrower, more specific ways among people with disabilities. The iron vice of pandemic is making some major cracks in the disability community a lot more visible. It's not difficult to see how COVID-19 affects various parts of society differently and unevenly. For example: Employment status - People are divided not just by whether they are able to keep working, but whether they can work from home or are in "essential" jobs where they are forced to work at higher risk of infection. Read More
---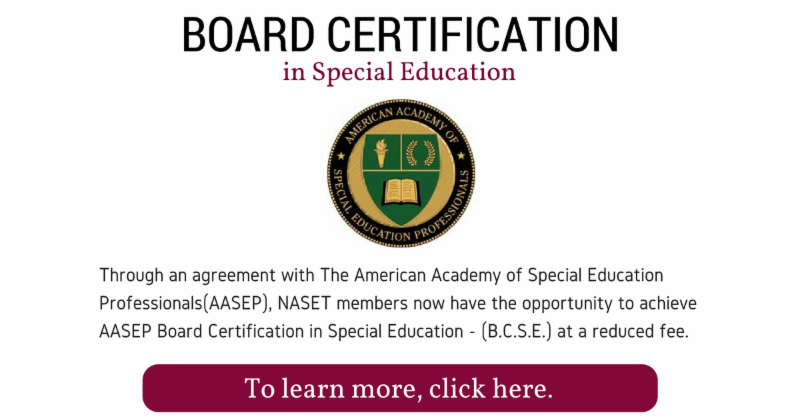 ---
Returning to School Buildings in the Fall Will be Complicated
When school buildings started to close due to the coronavirus, many teachers and parents thought the disruption would last a few weeks. As the school closures extended, many have clung to the idea that if they made it to fall, life would return to normal. That's not looking so certain right now. Teachers unions are warning that sending educators into crowded buildings without widespread testing for coronavirus will amount to an unacceptable risk. Officials in big city districts are finding that some ideas for keeping students further apart, like running extra bus routes and reducing class sizes, could be expensive at a time when budgets are tight. And worries about a second wave of infections have some wondering what once felt far-fetched: Should students just keep staying home? Read More
---
COVID-19 Hits People with Intellectual Disabilities Hard
My brother was supposed to move into his first "independent" home in mid-March. In his late 20s, and a person with an intellectual disability, he had finally gathered up the courage and the will to move out of our family home and live in a group home. Because of the coronavirus pandemic, my brother's move is now delayed indefinitely, and his world remains mostly his bedroom. He can't go to his part-time job, the library, or to church. My brother and many others with intellectual disabilities face the additional burden of increased loneliness during COVID-19. Read More
---
Lehigh University Special Education Law Symposium-Responsive Revisions
Now to be offered in distance learning format (via secure password access) and at reduced rates, the Lehigh University Special Education Law Symposium will be held, as scheduled, from June 21-26, 2020. Weekly or "per day" registration options available. Dr. Perry Zirkel has added a new session to the originally advertised program: COVID-19 Issues under the IDEA and Section 504. Featuring a keynote by OSEP director Laurie VanderPloeg, eight new "hot topic" sessions by paired attorneys for a duel perspective, and a culminating comprehensive update from Professor Zirkel, this year's symposium promises to be the best ever in this nationally prominent program. The week also includes the overlapping, but separable Lehigh Section 504 Institute on June 25-26. In light of the pandemic, consider this uniquely safe opportunity to learn from experienced and prominent attorneys (both sides), which includes password access to their detailed outlines with complete legal citations. For complete information, see the symposium website: go.lehigh.edu/spedlaw.
---
Betsy DeVos Sees 'No Reason' to Waive Core Elements of Special Education Law
Congress should not grant flexibility from the federal special education law's key components in response to the coronavirus pandemic, U.S. Secretary of Education Betsy DeVos has told federal lawmakers, but should consider granting some waivers on a few narrow administrative issues. In a report to Congress released by the U.S. Department of Education, DeVos said that in spite of the challenge presented to schools by the novel coronavirus, there should be no waivers provided from the part of the Individuals With Disabilities Education Act. DeVos said in a statement announcing her recommendations, which she was required to submit to Congress under a recently adopted law focused on the coronavirus, that "there is no reason that a student's access to FAPE cannot continue online, through distance education or other alternative strategies." Read More
---
Are Professors, Parents and Others Ready for College Students with Autism?
This spring, high school students across America will open a letter - or an email or a post on a web portal - from one or more of the thousands of universities across the country. There will be swells of disappointment for some, and a collective sigh from those who receive news of acceptance. Conservatively, 2% of the latter will be individuals with autism who were held to the same rigorous admissions criteria as everyone else. Are they - and we - really ready for this moment? Once accepted, individuals with autism have the legal right to attend college. Read More
---
CDC Officials Say Autism Rates Rising
There are new numbers from the Centers for Disease Control that show autism rates rising. As the prevalence grows so does the need for more care later in life. "We found that Brian had an interesting ability. We don't know where this art came from," said Tim Watkins about his son. Watkins is the owner of Renegade a video production company in Maryland. "We've created a greeting card business for him," said Watkins. "It's a firecracker popsicle I'd like to think I was the inspiration behind that," said Watkins. Read More
---
Teletherapy and Autism: How a Mother is Helping Her Daughter Cope During the Pandemic
As the weeks of stay-at-home orders and school closures continue amid the coronavirus pandemic, many families who have children with special needs are enduring the suspension of both school and essential services that their children are used to receiving. For Forest Hills resident Rachel Sokol, it's been quite challenging as a mother taking on the role of a therapist to help her 2-year-old daughter, Aimee, who is diagnosed with autism spectrum disorder (ASD) and is non-verbal. Autism, or ASD, refers to a broad range of conditions characterized by challenges with social skills, repetitive behaviors, speech and non-verbal communication. Read More
---
---
Visual-Spatial Learning Disorder is More Common than Thought
Nonverbal learning disability (NVLD), a poorly understood and often-overlooked disorder that causes problems with visual-spatial processing, may affect nearly 3 million children in the United States, making it one of the most common learning disorders, according to a new study by led by Columbia University Irving Medical Center. The study, the first to estimate the prevalence of NVLD in the general population, was published online today in JAMA Network Open. "NVLD is a huge and hidden public health burden," said Jeffrey Lieberman, Chair of Psychiatry at the Columbia University Vagelos College of Physicians and Surgeons and Director of the New York State Psychiatric Institute. "This important work might never have come to light if not for the support of dedicated advocate and their philanthropic support. We hope that these findings raise awareness of the disorder and lead to an understanding of its neurobiology and better treatments." Read More
---
A Child's Home Environment Can Impact the Risk of Developing Depression
New research, published online today in the American Journal of Psychiatry, finds that children's rearing environment has a meaningful impact on their risk for major depression later in life, and notes the importance supporting of nurturing environments when children are at risk. In the study, authors analyzed the health records of full and half siblings with at least one biological parent with depression who were raised by either their biological parents or in carefully screened adoptive homes. Generally, the children in adopted homes showed lower risk, but whatever the setting, episodes of major depression in the parents meant the children were more susceptible to depression themselves. Read More
---
New Understanding of Asthma Medicines Could Improve Future Treatment
New research has revealed new insights into common asthma aerosol treatments to aid the drug's future improvements which could benefit hundreds of millions of global sufferers. Lung diseases such as asthma are a major global health burden, with an estimated 330 million asthma sufferers worldwide. The most effective treatments are through direct inhalation of medicine to the lungs. However, generating the aerosols for inhalation is a scientific challenge because of our limited knowledge of the microstructure of drug products before they are aerosolized. In new research announced today University of Manchester-based scientists demonstrate how they have used x-ray CT scanning to quantify the tiny microstructures of individual particles from the drug product at the nano-scale. Read More
---
Honor Society for Special Education Teachers
---
LATEST JOB LISTINGS POSTED ON NASET
* Teacher-Special Education - Tacoma Public Schools is looking for exceptional special education professionals ready to inspire and make a positive impact on students. Our special education program serves approximately 4,000 students from preschool through high school; serving ages three to twenty-one. Specially designed instruction and related services are based upon the need of each student. To learn more - Click here
* Principal New York Institute for Special Education - The ideal candidate will be a well-respected special educator with experience teaching the blind and visually impaired who possesses knowledge of students with emotional disabilities and who, preferably, has administrative experience at the departmental or building level. A proven instructional leader who will maintain a safe and healthy school environment that is conducive to learning. To learn more - Click here
* Special Education Teacher - Stars is seeking Special Education Teachers in Arizona (Phoenix and surrounding cities). With a proven track record, STARS is able to offer you an unbeatable support system and resources. We are hiring for the 2020-2021 school year. STARS places Special Education Teachers throughout the Phoenix, Tucson and the surrounding area public schools. to learn more - Click here
If you are an Employer looking for excellent special education staff - Click here for more information
---
Food For Thought..........
When someone tells me "no," it doesn't mean I can't do it, it simply means I can't do it with them.
Karen E. Quinones Miller