September 2023 - Special Educator e-Journal
---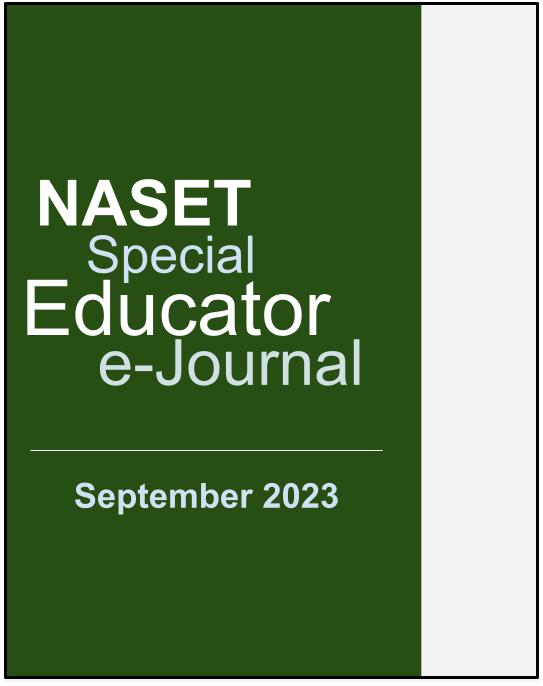 ---
NASET Members - Login Below to access the latest Special Educator e-Journal.
Site visitors: You may access a sample e-Journal - Sample e-Journal
---
Special Education Legal Alert
By Perry A. Zirkel
© August 2023
This month's update identifies a pair of recent court decisions that illustrate varied IDEA issues arising from, but not at all exclusive to, safety concerns. For related publications and earlier monthly updates, see perryzirkel.com.
NASET Members- Login to Access the Full Article
---
Buzz from the Hub
All articles below and many more can be accessed through login:
The results of the Parent Center data collection for 2021-2022 are now posted on CPIR's website, and we invite everyone to take a detailed look at the impact that Parent Centers have. We also share with you:
An Action-Packed Year for Parent Centers | Here's the infographic CPIR produced with the data Parent Centers submitted. It's 2 pages (designed to be printed front/back to become a 1-page handout or mini-poster). It's a stunning portrait of what can be achieved by a few, extremely dedicated people for the benefit of so many.
Adaptable Infographic for Parent Centers to Use | This infographic is designed so Parent Centers can insert just their Center's numbers, data results, and branding into key blocks of information. Adapt the PowerPoint file, and shine the spotlight on the work of your Center!
Quick Guide to Adapting the Infographic | This 2-page guide shows you where to insert your Center-specific information, just in case having such a "checklist" would be helpful.
NASET Members - Login to Access the Full Article
---
Understanding Anxiety Disorders: From the National Institute of Mental Health
What is anxiety?
Occasional anxiety is a normal part of life. Many people worry about things such as health, money, or family problems. But anxiety disorders involve more than temporary worry or fear. For people with an anxiety disorder, the anxiety does not go away and can get worse over time. The symptoms can interfere with daily activities such as job performance, schoolwork, and relationships.
There are several types of anxiety disorders, including generalized anxiety disorder, panic disorder, social anxiety disorder, and various phobia-related disorders.
What are the signs and symptoms of anxiety?
NASET Members- Login to Access the Full Article
---
Education, Labor Departments Announce New Efforts to Advance Teacher Preparation Programs and Expand Registered Apprenticeships for Educators
The U.S. Departments of Education and Labor today announced a series of new efforts to expand Registered Apprenticeships for educators and invest in teacher preparation programs. These efforts advance a key focus area of the Department of Education's Raise the Bar: Lead the World initiative to boldly improve learning conditions by eliminating educator shortages and build on a joint letter sent by the Secretaries of Education and Labor last summer, which called on state education and workforce leaders to take action to address educator shortages. Today's announcement includes:
New National Guidelines for Apprenticeship Standards (NGS) for Registered Apprenticeships for K-12 teachers developed by

The Pathways Alliance;

More than $27 million from the Department of Education to support educator preparation programs;

More than $65 million from the Department of Labor to develop and scale Registered Apprenticeship programs in critical sectors across 45 states—with 35 targeting education;

The Department of Labor is announcing a new industry intermediary to launch, promote and expand Registered Apprenticeship programs for K-12 educators; and

A policy brief authored by the Department of Education that highlights how states are taking strategic steps outlined by the Biden-Harris Administration to support the effective recruitment, preparation, and retention of teachers.
NASET Members- Login to Access the Full Article
---
U.S. Department of Education Strengthens Guidance to Improve Equal Educational Opportunity for Children with Disabilities
The U.S. Department of Education's Office of Special Education Programs (OSEP) released updated policy guidance, which takes immediate effect, to ensure and strengthen the rights and protections guaranteed to children with disabilities and their families under the Individuals with Disabilities Education Act (IDEA).
The guidance and accompanying Dear Colleague Letter address the IDEA's "general supervision" requirement, which necessitates states monitor local educational agencies (LEAs) as required by IDEA Part B, and early intervention service (EIS) programs and providers as required by IDEA Part C to ensure children with disabilities and their families access their rights under IDEA.
NASET Members - Login to Access the Full Article
---
Latest Employment Opportunities Posted on NASET
* [2023-2024] Elementary Reading Interventionist - Like all DREAM employees, the Reading Interventionist should demonstrate a strong commitment to the mission and values of DREAM and should have substantial expertise in all areas of responsibility. Candidates must also value DREAM's comprehensive approach to education and desire to make a lasting impact in underserved communities as part of a growing organization. To learn more- Click here
* Teacher of Special Education - The Newark Board of Education is where passion meets progress. We want you to discover a rewarding career with us. If the opportunity to make learning limitless excites you then, join our community of educators. To learn more- Click here
* Certified Teachers Assistant - Under the supervision of the classroom teacher, assist with all aspects of classroom functioning, including instruction and care of the children. Be familiar with weekly lesson plans. To learn more- Click here
* Special Education Middle School Teacher - (11-Month Position) Are you looking to teach in a community that values diversity, communication, professional development, collaboration, and innovation? Become a teacher at Academy360, a program of Spectrum360, and make a difference in a student's life today. To learn more- Click here
* Special Education Teacher - Under the direction of the School Principal instructs special education students in a classroom setting. Prepares lesson plans and instructional materials designed to meet needs of individual students. Evaluates and monitors student's performance and may implement therapeutic programs for students. To learn more- Click here
* [2023-2024] Middle School Math Learning Specialist - Reporting to the Academic Dean, the Middle School Math Learning Specialist will be responsible for building meaningful relationships with students, implementing a Common Core-aligned curriculum, and working with their grade team to analyze data to drive instruction. This is an exciting opportunity for an educator who is passionate about improving student outcomes by leading excellent instruction and building a positive school culture. To learn more- Click here
* Special Education Math and/or ELA Certified Teacher - Virtual- Become a part of our Teacher Network, which will enable you to take permanent teaching assignments as well as substitute teaching opportunities. At Elevate, your curriculum is provided, your administrative duties are minimal, and your support team is strong! To learn more- Click here
* [2023-2024] Elementary Reading Interventionist - Like all DREAM employees, the Reading Interventionist should demonstrate a strong commitment to the mission and values of DREAM and should have substantial expertise in all areas of responsibility. Candidates must also value DREAM's comprehensive approach to education and desire to make a lasting impact in underserved communities as part of a growing organization. To learn more- Click here
* Special Education Teacher - New Story Schools, is seeking a qualified full-time Special Education Teacher to manage all functions within their assigned classrooms, including service delivery, reporting, and management of classroom assistants and aides. To learn more- Click here
* Special Education- Preschool, Preschool Autism (PAC), Visual Impairment Teacher - Provides and is accountable for the planning, assessment, instruction, communication, human relations, safety, and management of a classroom or assigned instructional setting. Supports FCPS mission to "inspire, enable, and empower students to meet high academic standards, lead ethical lives, and demonstrate responsible citizenship." To learn more- Click here
* Special Ed – Middle/High School ED/ID/LD/MD/Severe Disabilities Teacher - Provides and is accountable for the planning, assessment, instruction, communication, human relations, safety, and management of a classroom or assigned instructional setting. Supports FCPS mission to "inspire, enable, and empower students to meet high academic standards, lead ethical lives, and demonstrate responsible citizenship." To learn more- Click here
* Special Ed – Elementary School ED/ID/MD/Severe Disabilities Teacher - Provides and is accountable for the planning, assessment, instruction, communication, human relations, safety, and management of a classroom or assigned instructional setting. Supports FCPS mission to "inspire, enable, and empower students to meet high academic standards, lead ethical lives, and demonstrate responsible citizenship." To learn more- Click here
* Special Education Teacher (Sub-Acute Adolescent Care Unit / Hospital Setting) - Uphold all principles of confidentiality, Health Insurance Portability and Accountability Act (HIP AA), and patient care to the fullest extent. Adhere to all FDIHB policies and the professional and ethical behavior standards of the healthcare industry. Interact in an honest, trustworthy and dependable manner with patients, employees and vendors. To learn more- Click here
---
Acknowledgements
Portions of this or previous month's NASET's Special Educator e-Journal were excerpted from:
Center for Parent Information and Resources
Committee on Education and the Workforce
FirstGov.gov-The Official U.S. Government Web Portal
Journal of the American Academy of Special Education Professionals (JAASEP)
National Collaborative on Workforce and Disability for Youth
National Institute of Health
National Organization on Disability
Substance Abuse and Mental Health Services Administration
U.S. Department of Education
U.S. Department of Education-The Achiever
U.S. Department of Education-The Education Innovator
U.S. Department of Health and Human Services
U.S. Department of Labor
U.S. Food and Drug Administration
U.S. Office of Special Education
The National Association of Special Education Teachers (NASET) thanks all of the above for the information provided for this or prior editions of the Special Educator e-Journal
---
Download a PDF Version of This e-Journal
NASET Members - Login to Access