November 2021 - Special Educator e-Journal
---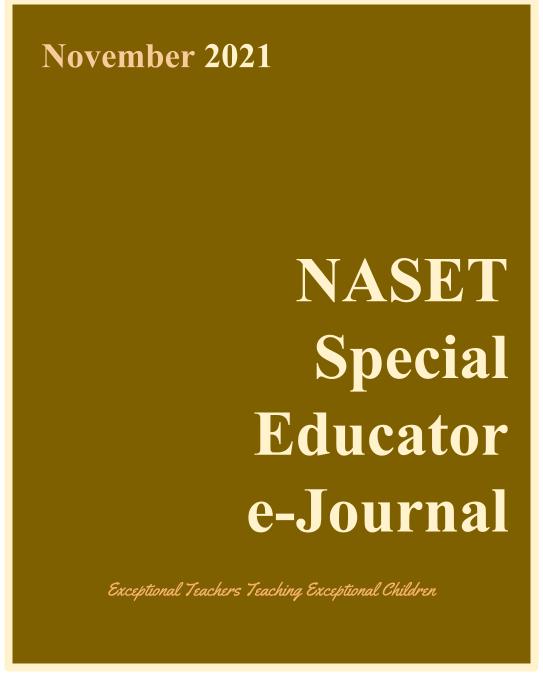 ---
NASET Members - Login Below to access the latest Special Educator e-Journal.
Site visitors: You may access a sample e-Journal - Sample e-Journal
---
---
Special Education Legal Alert
By Perry A. Zirkel
© October 2021
This month's update identifies recent, appeals court decisions illustrating the remedial consequences of child find violations under the IDEA and the liability consequences of bullying claims under Section 504. For automatic e-mailing of future legal alerts, sign up at perryzirkel.com; this website also provides free downloads of various related articles and special supplements.
NASET Members- Login to Access the Full Article
---
Buzz from the Hub
All articles below can be accessed through login:
Supporting and Protecting the Rights of Students at Risk of Self-Harm
Connect to Care
For Parents of Children Who Were Just Diagnosed With a Health Condition
New to Disability?
Autism | Have you seen what Sesame Street offers?
Return to School Roadmap: Development and Implementation of IEPs in the Least Restrictive Environment
Video on Supported Decision Making
2 New Toolkits for Child Welfare and Juvenile Justice Agencies
Brain Injury in Children
What is a Behavior Intervention Plan (BIP)?
NASET Members - Login to Access the Full Article
---
Communication Challenges Elementary School Teachers Experience Due to the COVID-19 Pandemic, and the Consequences to Those Impacated Areas
Matthew Miller
Abstract
The COVID-19 virus has had an impact on elementary school education in almost every way. Yet, as it is a relatively new issue in the field of research, there are few peer-reviewed studies that examine this specifically to the world of elementary education. The purpose of this study is to examine several aspects of an elementary teacher's teaching environment narrowed to two specific categories – Learning and Relationships. The study will investigate the impact of remote learning as the means to communicate, to teach, to assess and manage a remote classroom as well as how relationships that were built so much more quickly, naturally and were relied upon, had now become challenged and in many ways compromised.
NASET Members- Login to Access the Full Article
---
5 Steps to Working with Your School Board
According to this article from Great Schools, it may be time to go to a school board meeting. The article discusses how to work with your local school board — the people who can make or break your child's education.
This is the secret place where parents can make the biggest difference in their child's education. It's far beyond the principal's office and the school cafeteria where the monthly PTA meeting is held. It's where the real decisions about your child's education take place: The school board.
NASET Members - Login to Access the Full Article
---
Family Engagement and Children with Disabilities: A Resource Guide for Educators and Parents
This resource guide has been compiled to help parents and special educators establish a comfortable and effective partnership in service of promoting successful outcomes for children with disabilities. Highlighted are research reports, journal articles, examples of best practices, and tools that suggest methods for developing productive collaborations so that educators and families can, together, ensure better services for children in their care.
NASET Members - Login to Access the Full Article
---
Book Review: The New One Minute Manager
Jessica Garcia
Ken Blanchard is not only an American author, but he is also a motivational speaker and business consultant. Spencer Johnson was an American physician and author. These two authors worked together to write the One Minute Manager series of books. Although they wrote several of the books on their own, they worked together to write the New One Minute Manager which was published in 2015. Two years later in 2017 author Spencer Johnson lost his battle to cancer. Ken Blanchard continues to write books.
---
Book Review: Impactful Instructional Leadership & Framework for Success
Natalia M. Hayter
School Principal and award-winning author Jack Hunter shares his vision, strategies, and experiences on what it means to be an impactful instructional leader in his guide for educators and administrators. His book details a step-by-step structured framework for establishing effective leadership, with opportunities for readers to interact directly and purposefully with the content. Hunter encourages readers to evaluate their own vision, consider evidence-based practices, establish protocol to review data, and engage in shared leadership for school improvement. This is accomplished using pre-assessment questions, checklists, fill-in-the blank questions, rating scales, evaluation of conceptual data, and reflecting on results. Jack Hunter offers a relevant, meaningful, and evidence-based framework for educators and administrators as they focus on the positive change movement. His theories utilize practical and learning-focused protocol to influence successful outcomes for impactful leadership.
NASET Members - Login to Access the Full Article
---
Book Review: The Making of a Manager: What to do When Everyone Looks at you
Austyn Johnson
Julie Zhou was 25 working for a startup company when she became a manager. Her idea of what management consisted of was meetings and promotions. Julie said yes to the promotion which was the beginning of the adventure. Just the idea of I get along with everyone, but what else was she missing to understand that management was more than that. Julie wondered what else it would take for her to be a manager. During her first meeting after her promotion with one of her old coworkers she could sense that everyone knew she had no idea what she was doing. Julie Zhou grew up in the dense streets of Shanghai and then the suburbs of Huston. She didn't understand the significance of certain aspects of the American culture of shows and movies. She began understanding what website designing was and learned what an HTML was. The new beginning of understanding what an HTML was and had allowed her and her friend to combine their hobbies of drawing and making websites to show their work.
NASET Members - Login to Access the Full Article
---
Latest Employment Opportunities Posted on NASET
* Middle School Special Education Teacher - Christopher Columbus Charter School is located in in the heart of South Philadelphia's "Italian Market" area. At its inception in 1999, the school served students in grades K, 1, 2, and 3. Each year a grade was added, until it became a K-8 school. Presently, the school is serving 772 students. There are two facilities: the North Building, located at 916 Christian Street, houses students in grades K-5, and the South Building, located at 1242-46 South 13th Street, houses students in grades 5-8. Christopher Columbus Charter School students are a microcosm of the city. CCCS is a multicultural school serving families with various levels of income. To learn more- Click here
* Preschool Special Education Teacher - Buffalo Hearing & Speech Center has openings at our Buffalo, Amherst, and Fredonia locations for Preschool Special Education Teachers in Western New York. We are open to considering Early Childhood Teacher candidates who are willing to obtain additional Students with Disabilities, Birth - 2 certification. Tuition assistance may be available. To learn more- Click here
* Middle School and High School Special Needs Teacher at the Anglo-American School of Sofia - We are a school of extraordinary families and outstanding teachers. We are an inspiring educational community - nestled in the stunning foothills of Mount Vitosha on the outskirts of Sofia. We are an exceptional IB world school offering children from 4 to 18 years a world class educational experience. We take pride in academic achievement, and value creativity and athletic talent with equal vigor. We offer a curriculum and approach that looks beyond the classroom and prepares our students for the challenges and opportunities that the world has to offer. To learn more- Click here
* Coordinator, Residential Program for Students with Intellectual Disabilities - Lakeland University seeks a mission-oriented individual passionate about creating a more inclusive world to develop and coordinate an innovative residential program for students with intellectual disability slated to open on its campus in Fall 2022. The program is designed to provide students with a residential collegiate experience while preparing them for the next steps in their lives, whether that would be continuing with higher education or moving into employment and the community. To learn more- Click here
* Special Education Teacher - This position is responsible for the instruction of educational programs and curricula for exceptional students. The Emotional Support Special Education Teacher develops and implements the Individual Education Plan (IEP) for each student and collaborates with members of the instructional team in the planning and implementation of behavioral and academic interventions and supports to ensure students receive a quality educational program. To learn mor- Click here
* Middle School and High School Special Needs Teacher at the Anglo-American School of Sofia - We are a school of extraordinary families and outstanding teachers. We are an inspiring educational community - nestled in the stunning foothills of Mount Vitosha on the outskirts of Sofia. We are an exceptional IB world school offering children from 4 to 18 years a world class educational experience. We take pride in academic achievement, and value creativity and athletic talent with equal vigor. We offer a curriculum and approach that looks beyond the classroom and prepares our students for the challenges and opportunities that the world has to offer. To learn more- Click here
* College & Career Development Teacher - Gateway Academy is the only private day school in the State of Arizona, specializing in a pure population of students diagnosed with High Functmmng Autism. We are seekmg a unique individual who is orgamzed, creative, has a positive mindset, is solution minded, energetic, fun, and whose passion is to make a difference in student's lives. Ultimately, assisting our students to find their unique path to success! This position requires working with students individually and in a group setting of 10 to 24 students, and collaborating with a variety of school personnel, outside agencies, families, and community partners. To learn more- Click here
* Interim On-call Paraprofessional - The Paraprofessional should be flexible, self-motivated, and a team player. To be successful as a paraprofessional, the candidate should demonstrate patience, compassion, and empathy when working with students, as well as professionalism when representing DREAM. The candidate should have strong management and organizational skills, as well as excellent communication and interpersonal skills. To learn more- Click here
* Early Childhood Special Education Teacher - Located in St. Louis, City Garden is in its 14th year as a charter school, having received a second 10 Year Charter with the state of Missouri in 2017. We began in 2008 with 53 students; we now have 400 children in preschool through eighth grade. As we grow, we continue to seek individuals to join us who share our vision for academic excellence for all children and holistic Montessori education, rooted in equity and social justice. To lean more- Click here
* Executive Director, Program for Students with Exceptionalities - Pittsburgh Public Schools employs over 4,000 individuals in various capacities to support the academic achievement and strength of character of the 25,000 students we serve. Candidates must be enthusiastic about the fundamental goal of advancing student achievement in an urban public school district. To learn more- Click here
* Special Education Teacher, Animas Valley Elementary School, 1.0 FTE - Durango School District 9-R is accepting applications for a Special Education Teacher - Animas Valley Elementary School. Must meet CDE and ESSA's requirement for Special Education Teacher. Includes full benefits and begins ASAP. To learn more- Click here
* Special Education Teacher - Avondale House is a 501(c)(3) not-for-profit agency that provides educational services to children with autism/ Avondale House offers a generous benefit program that includes medical with an employer contribution, dental, vision, life, and disability insurance, vacation, holiday, and sick leave. To learn more - Click here
* Learning Disabilities Teacher, ES/MS/HS - Provides and is accountable for the planning, assessment, instruction, communication, human relations, safety, and management of a classroom or assigned instructional setting. Supports FCPS mission to inspire, enable, and empower students to meet high academic standards, lead ethical lives, and demonstrate responsible citizenship. To learn more - Click here
* Emotional Disabilities Teacher, MS/HS - Supports FCPS mission to inspire, enable, and empower students to meet high academic standards, lead ethical lives, and demonstrate responsible citizenship. Provides and is accountable for the planning, assessment, instruction, communication, human relations, safety, and management of a classroom or assigned instructional setting. To learn more - Click here
* Multiple Disabilities Teacher, ES/MS/HS - Provides and is accountable for the planning, assessment, instruction, communication, human relations, safety, and management of a classroom or assigned instructional setting. Supports FCPS mission to inspire, enable, and empower students to meet high academic standards, lead ethical lives, and demonstrate responsible citizenship. To learn more - Click here
*Special Education Teachers - Pennsylvania Virtual Charter School (PA Virtual), an online school providing over 20 years of home-based, public education to K-12 students across Pennsylvania, has a vacancy for Special Education Teachers. All Pennsylvania Counties are welcome to apply!! To learn more- Click here
*Special Education Teacher - Plan, prepare and deliver a quality instructional program based upon student Individual Education Plan goals, state standards, district curriculum, and effective instruction to students of diverse backgrounds and learning needs in inclusive settings. To learn more- Click here
* Special Education Teacher, Institutional Settings- The Collaborative for Educational Services (CES) has an opening for a licensed Special Education Teacher for 2021-2022 School Year to work in Department of Youth Services program sites in the Metro Region of Massachusetts as a member of our Special Education in Institutional Settings (SEIS) team. We are especially excited about candidates with experience working in institutional settings. To learn more- Click here
---
Acknowledgements
Portions of this or previous month's NASET's Special Educator e-Journal were excerpted from:
Center for Parent Information and Resources
Committee on Education and the Workforce
FirstGov.gov-The Official U.S. Government Web Portal
Journal of the American Academy of Special Education Professionals (JAASEP)
National Collaborative on Workforce and Disability for Youth
National Institute of Health
National Organization on Disability
Substance Abuse and Mental Health Services Administration
U.S. Department of Education
U.S. Department of Education-The Achiever
U.S. Department of Education-The Education Innovator
U.S. Department of Health and Human Services
U.S. Department of Labor
U.S. Food and Drug Administration
U.S. Office of Special Education
The National Association of Special Education Teachers (NASET) thanks all of the above for the information provided for this or prior editions of the Special Educator e-Journal
---
Download a PDF Version of This e-Journal
NASET Members - Login to Access