May 2022 - Special Educator e-Journal
---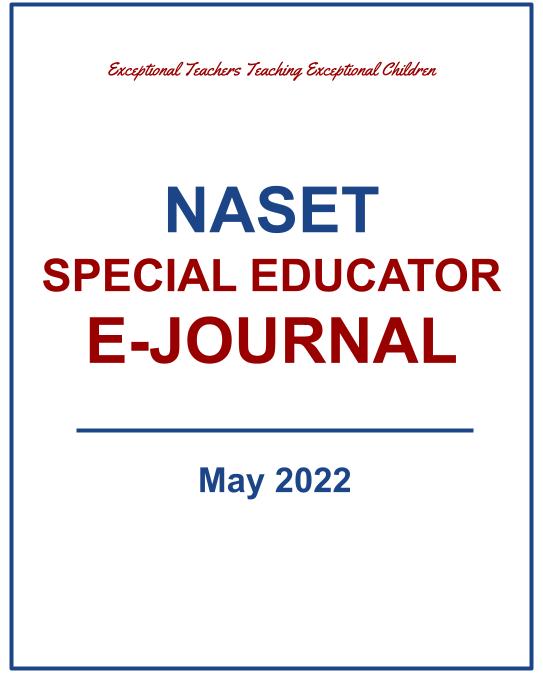 ---
NASET Members - Login Below to access the latest Special Educator e-Journal.
Site visitors: You may access a sample e-Journal - Sample e-Journal
---
Special Education Legal Alert
By Perry A. Zirkel
© April 2022
This month's update identifies two recent court decisions that respectively address attorneys' fees for parents and FAPE disputes for students with dyslexia. For various related articles, special supplements, and earlier monthly updates, see perryzirkel.com.
NASET Members- Login to Access the Full Article
---
Buzz from the Hub
All articles below can be accessed through login:
Advancing Equity and Support for Underserved Communities
Fast Facts: Students with disabilities who are English learners (ELs) served under IDEA Part B
Asian Americans with Disabilities Resource Guide
Strategies for Partnering on Culturally Safe Research with Native American Communities

And many more!!
NASET Members - Login to Access the Full Article
---
Department of Education Releases Equity Action Plan as Part of Biden-Harris Administration's Efforts to Advance Racial Equity and Support Underserved Communities
The U.S. Department of Education released its inaugural equity action plan as part of the Biden-Harris Administration's continued commitment to advancing racial equity and support for underserved communities through the federal government. This plan aligns with President Biden's executive order,Advancing Racial Equity and Support for Underserved Communities Through the Federal Government.
NASET Members- Login to Access the Full Article
---
Education Department Continues Push to Invest in Highly Effective Educators and Address Teacher Shortage
The U.S. Department of Education is continuing to take action to support and invest in the teaching profession and address the teacher shortage many schools and districts across the country face. The Supporting Effective Educator Development (SEED) grant program is now accepting applications for efforts that increase the pipeline of highly effective educators.
The SEED program will award $65 million to support the implementation of evidence-based practices that prepare, develop, or enhance the skills of educators. These grants also will enable recipients to develop, expand, and evaluate practices that can serve as models that can be sustained, replicated, and scaled. This program is part of the Biden-Harris Administration's broader commitment to supporting targeted efforts that will provide comprehensive, high-quality pathways into the profession, such as residency and Grow Your Own programs, and evidence-based professional development all focused on building and supporting a more diverse educator pipeline and combating the teacher shortage nationally.
NASET Members - Login to Access the Full Article
---
U.S. Education Secretary Miguel Cardona Calls on States, Districts, Higher Ed Institutions to Address Nationwide Teacher Shortage and Bolster Student Recovery with American Rescue Plan Funds
U.S. Secretary of Education Miguel Cardona will issue a nationwide call to action for states, higher education leaders, and schools to tap federal resources and work together to address the teacher shortage and aid student recovery. Today's announcement builds on President Biden's call in the State of the Union encouraging leaders to use American Rescue Plan funds to address this critical challenge schools and districts across the country are facing. The call to action coincides with Secretary Cardona's participation in the Carnegie Foundation for the Advancement of Teaching's Summit on Improvement in Education in San Diego.
NASET Members - Login to Access the Full Article
---
Professionalisation of School Leadership Theoretical and Analytical Perspectives: A Literature Review
Kimberly J. Soderholm
Abstract
ProfessionalisationofSchoolLeadership: TheoreticalandAnalyticalPerspectives explores the question of whether school leadership is a profession and if school leaders are professionals. By combining research from professional studies and school leadership the authors walk readers through their research and to its conclusion.
---
Book Review: Lead like a Pirate: Make Schools Amazing for your Students and Staff
Johanna Mirino
The book "Lead like a Pirate" written by Shelley Burgess and Beth Houf, is an inspirational and easy to read text for every passionate leader in the educational field. The authors of the book wrote it with the purpose of creating a practical guide for leaders in the educational field that brings out the passion of teaching in a classroom and incorporates it into leadership. The book is centered on reviving the passion and purpose that educational leaders may have lost through their day to day struggles of juggling their responsibilities as a principal. The authors strive to relight that spark of passion in every principal, by reminding them why they came into the field of education in the first place. Along with reigniting passion for education, the authors demonstrate the parallels in teaching and the role of a principal.
NASET Members - Login to Access the Full Article
---
Book Review: Instructional Leadership: Creating Practice Out of Theory
Jasmine A. Suarez
Abstract
Peter M. Dewitt has held a position in education for 19 years as to which he was a principal for 8 years. It was during Dewitt's sixth year as principal that he noticed a shift coming within the educational realm. The shift that came cause Dewitt to change his career path and become a well-known instructional leadership coach. Instructional leadership is a term that has risen to popularity, and many are trying to define it. In Dewitt's book Instructional Leadership: Creating Practice Out of Theory, he defines six components that instructional leaders should focus on. He uses his simplified version of Program Logic Model to demonstrate just how these components fit into a school site based on scenarios. As each chapter develops, Author Dewitt takes the reader on a step-by-step guide as to how to use his version of the Program Logic Model while focusing on the six components listed.
NASET Members - Login to Access the Full Article
---
Book Review: Swimming in the Deep End: Four Foundational Skills for Leading Successful School Initiatives
Yvana Puerto
School leaders face many complex and difficult challenges when implementing new initiatives in their school. Jennifer Abrams addresses these challenges and explains how to overcome it in her book Swimming in the Deep End. Abrams has dedicated over 26 years of her life to providing support to adults in communication and collaboration skills. She has led professional developments on varying topics, facilitated workshops for teachers and administrators, and presented at different annual conferences. Abrams has received recognition for all her work and was named Entrepreneur of the Year by the International Academy of Educational Entrepreneurship. She has published several books with Swimming in the Deep End being one of her newest books. Abrams wrote this book in response to the ever-growing nature of change in schools, and the need for leaders to be able to overcome these challenges in positive ways.
NASET Members - Login to Access the Full Article
---
Latest Employment Opportunities Posted on NASET
* [2022-2023] High School Learning Specialist - Reporting to the Academic Dean, the High School Learning Specialist will be responsible for building meaningful relationships with students, implementing a Common Core-aligned curriculum, and working with their grade team to analyze data to drive instruction. This is an exciting opportunity for an educator who is passionate about improving student outcomes by leading excellent instruction and building a positive school culture. To learn more- Click here
* Teaching-/Special Education (Elementary and High School) - Come join the largest employer in Montrose County and work in an area where you can enjoy scenic drives, wilderness treks, a round of golf, and visits to our many local restaurants or brewpubs. Montrose and Olathe offer a little something for everyone – shopping, fishing, biking, photography, camping, snowshoeing, Telluride skiing, swimming, motor-sports – you name it! We hope you can join us at MCSD. To learn more- Click here
* [2022-2023] 6th Grade Learning Specialist - Reporting to the Academic Dean, the Learning Specialist will be responsible for providing tailored support to students with special education needs, through integrated co-teaching, in small group settings, or a combination of both. This is an exciting opportunity for a seasoned educator who is passionate about ensuring all students succeed and thrive in school. To learn more- Click here
* The SEED Public Charter School of Washington DC: Multiple Positions - SEED DC is looking for its new cohort of intentional, proactive, and enthusiastic teachers in Washington, D.C. As a SEED DC teacher, you'll teach SEED DC's curriculum in dynamic, participation-oriented classes and cultivate a learning environment that supports and encourages students to develop and realize their academic potential. You'll also collaborate with other instructional staff, school personnel, and SEED DC's senior leadership team to help advance SEED's mission of supporting scholars to and through college completion. To learn more- Click here
* [2022-2023] Middle School Learning Specialist - Reporting to the Academic Dean, the Learning Specialist will be responsible for providing tailored support to students with special education needs, through integrated co-teaching, in small group settings, or a combination of both. This is an exciting opportunity for a seasoned educator who is passionate about ensuring all students succeed and thrive in school. To learn mor- Click here
* Coordinator, Life and Career Studies - Residential Program for Students with Intellectual Disabilities - Lakeland University seeks a mission-oriented individual passionate about creating a more inclusive world to develop and coordinate an innovative program for students with intellectual disability slated to open on its Sheboygan campus in Fall 2023. This four-year residential program is designed to prepare students for meaningful employment, as well as independent and community living. The coordinator will play an important leadership role in designing the program as well as overseeing its implementation. To learn more- Click here
* [2022-2023] 7th Grade Learning Specialist - Reporting to the Academic Dean, the Learning Specialist will be responsible for providing tailored support to students with special education needs, through integrated co-teaching, in small group settings, or a combination of both. This is an exciting opportunity for a seasoned educator who is passionate about ensuring all students succeed and thrive in school. To learn more- Click here
* The Lecturer/Senior Lecturer and Practicum Coordinator in Early Intervention and Early Childhood Special Education - will provide instruction and academic support to graduate-level students in the College of Education, primarily in the Department of Special Education and Clinical Sciences (SPECS). Course content areas will focus on Early Intervention/Early Childhood Special Education Methods and clinical supervision. Additionally, this position will be responsible for advising, mentoring, and chairing student masters applied project committees. To learn more- Click here
* [2022-2023] Middle School Learning Specialist - Reporting to the Academic Dean, the Learning Specialist will be responsible for providing tailored support to students with special education needs, through integrated co-teaching, in small group settings, or a combination of both. This is an exciting opportunity for a seasoned educator who is passionate about ensuring all students succeed and thrive in school. To learn more- Click here
* Executive Director, Partners for Youth with Disablities - The mission of Partners for Youth with Disabilities (PYD) is to empower youth with disabilities to reach their full potential by providing transformative mentoring programs, youth development opportunities, and inclusion expertise. PYD motivates youth to reach their personal, educational, and career goals, and guides organizations in becoming more inclusive to youth with disabilities. To learn more- Click here
* Special Education Teacher - The Moffat County School District truly believes that students, staff, families and community all play a vital role in the success and growth of our students and school district as a whole. As our district works on getting back to a new normal the following statement has never been more true than it is today. Moffat County School District strives to find qualified, skilled and motivated individuals to join our great team that is committed to educate and inspire students to thrive in an environment of change. To learn more- Click here
* Special Education Teacher - The Halton School, an independent school for students with Asperger's, is looking for a Special Education teacher. The teacher will provide special education instruction to students in a small multi-grade class. The teacher will utilize a variety of teaching methods to meet students' educational needs and adapt and develop instructional materials accordingly. To learn more- Click here
* Special Education Teacher (Multiple Positions) - Located in the Salish Sea off the northwest coast of Washington State, San Juan Island is the largest of the many islands in the world-famous archipelago of the same name. Approximately seven thousand permanent residents share this fifty-five square mile natural paradise. Connected to the mainland by ferry, float plane and small airlines, island living combines a cohesive small-town community with comprehensive services and commercial diversity unusual in a rural setting. The community has a comprehensive library, a state-of-the-art theater that features diverse performing arts, many wonderful restaurants, an historic museum, two national parks, miles of public shoreline, and a vibrant agricultural community. To learn more- Click here
* Director of Student Services - Emphasis is on program development and support to schools in delivering services. Manage state and federal reports, supervise, and evaluate staff, problem solve and troubleshoot issues that arise, collaborate with district leadership and all departments, and remain current on all relevant student services practices. Responsible for leading and providing knowledge, guidance, and support of building level administrators and Student Services staff for students with special learning and behavioral challenges in professional development, programming, and service delivery to increase student achievement. To learn more- Click here
* Special Education Instructional Coordinator - Pennsylvania Virtual Charter School (PA Virtual), an online school providing over 20 years of home-based, public education to K-12 students across Pennsylvania, has a vacancy for a Special Education Instructional Coordinator. All Pennsylvania Counties are welcome to apply!! To learn more - Click here
* New Visions Special Education Teacher for SY 2022-23 - Our teachers are dynamic and innovative pedagogues who are committed to urban students and the issues they face every day. Every New Visions teacher can expect to receive enhanced instructional support, a range of professional development opportunities, the data tools they need to succeed and the opportunity to be part of a passionate team of colleagues. To learn more - Click here
* Special Education Teacher (2022-23 school year) Methow - The Special Education Teacher provides services to special education students with a range of moderate to severe disabilities ages three to 21 years of age. The Special Education Teacher leads the IEP team to develop data driven student learning and behavioral goals. To learn more- Click here
* Quest Academy Day Treatment Special Education Teacher (2022-23 School Year) - The Special Education Teacher designs a positive learning environment and delivers instruction to students whose educational needs are primarily the result of significant social, emotional and behavioral challenges. The teacher is responsible for assessment of each student's individual academic and behavioral needs, individualization of the general education curriculum (K-12), development of IEPs as appropriate and coordination with agency and/or consulting behavioral staff to support achievement of school and treatment goals. To learn more- Click here
* Senior Researcher, Mathematics Disabilities - AIR is looking to hire a Senior Researcher to work with leading AIR scholars in the area of mathematics disabilities, joining our Learning Supports Program Area within AIR's Human Services Division. Candidates hired for the new position might initially start working remotely but will ultimately have the option to work from one of our offices located in Crystal City, VA; Rockville, MD; Austin, TX; Chicago, IL; Chapel Hill, NC; or Sacramento, CA. To learn more - Click here
* Strategist II: ID Teacher - Join Ames Community School District, where your journey matters! ACSD promotes an educational environment that is racially, ethnically, linguistically, and culturally diverse to broaden students' academic experience and to enrich our District. We are focused on creating and supporting diversity, equity, and inclusion within the organizational culture and in our community. To learn more- Click here
* Integrated Services Teacher - Join Ames Community School District, where your journey matters! ACSD promotes an educational environment that is racially, ethnically, linguistically, and culturally diverse to broaden students' academic experience and to enrich our District. We are focused on creating and supporting diversity, equity, and inclusion within the organizational culture and in our community. To learn more- Click here
* Strategist I Teacher - Join Ames Community School District, where your journey matters! ACSD promotes an educational environment that is racially, ethnically, linguistically, and culturally diverse to broaden students' academic experience and to enrich our District. We are focused on creating and supporting diversity, equity, and inclusion within the organizational culture and in our community. To learn more- Click here
* Behavior Interventionist - Join Ames Community School District, where your journey matters! ACSD promotes an educational environment that is racially, ethnically, linguistically, and culturally diverse to broaden students' academic experience and to enrich our District. We are focused on creating and supporting diversity, equity, and inclusion within the organizational culture and in our community. To learn more- Click here
* Special Education Teacher - Do you aspire to help children with diverse challenges build skills for their future? Are you ready to make a real impact in their lives? As a Special Education Teacher at Bancroft, you will draw upon a wealth of curriculum and clinical resources to design individualized student goals. To learn more- Click here
---
Acknowledgements
Portions of this or previous month's NASET's Special Educator e-Journal were excerpted from:
Center for Parent Information and Resources
Committee on Education and the Workforce
FirstGov.gov-The Official U.S. Government Web Portal
Journal of the American Academy of Special Education Professionals (JAASEP)
National Collaborative on Workforce and Disability for Youth
National Institute of Health
National Organization on Disability
Substance Abuse and Mental Health Services Administration
U.S. Department of Education
U.S. Department of Education-The Achiever
U.S. Department of Education-The Education Innovator
U.S. Department of Health and Human Services
U.S. Department of Labor
U.S. Food and Drug Administration
U.S. Office of Special Education
The National Association of Special Education Teachers (NASET) thanks all of the above for the information provided for this or prior editions of the Special Educator e-Journal
---
Download a PDF Version of This e-Journal
NASET Members - Login to Access