March 2022 - Special Educator e-Journal
---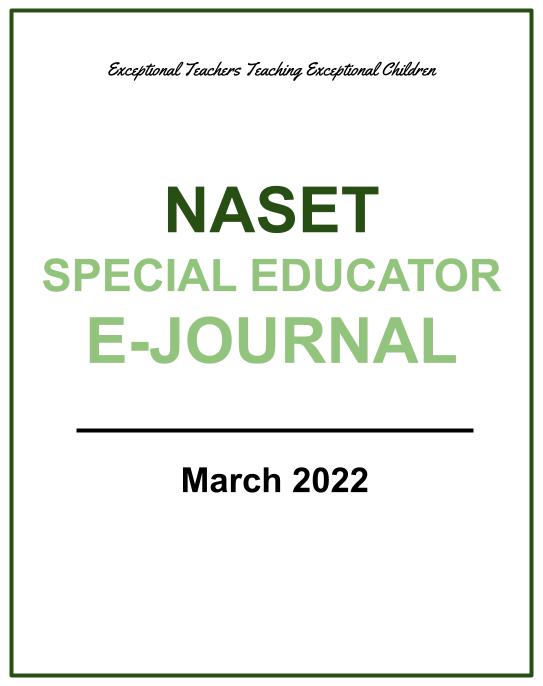 ---
NASET Members - Login Below to access the latest Special Educator e-Journal.
Site visitors: You may access a sample e-Journal - Sample e-Journal
---
---
Special Education Legal Alert
By Perry A. Zirkel
© February 2022
This month's update identifies court decisions that address current issues for students with disabilities, including dyslexia identification/ interventions and masking policies. For various related articles, special supplements, and earlier monthly updates, see perryzirkel.com.
NASET Members- Login to Access the Full Article
---
Buzz from the Hub
All articles below can be accessed through login:
Sharing Info about State Assessments with Families

Return to School | Child Find and Early Intervention Services

Introduction to the Vocational Rehabilitation Program

Honoring Black History Month: Unsung Heroes of the Disability Rights Movement

Return to School Roadmaps now available in Spanish

Federal Funding Support Specifics

The Department's January 2022 press release

And many more!!
NASET Members - Login to Access the Full Article
---
Update from the U.S. Department of Education
U.S. Department of Education Invites Applicants for Javits Gifted and Talented Program
The U.S. Department of Education (Department) released the FY 2022 notice inviting applications (NIA) for the Jacob K. Javits Gifted and Talented Students Education Program (Javits). The program will award up to $6.6 million in new grants for five-year projects that support evidence-based research, demonstration projects, innovative strategies, and similar activities that enhance elementary and secondary schools' capacity to identify gifted and talented students and meet their unique educational needs.
Supporting all students, including gifted and talented students, with accelerated learning opportunities is critical to addressing the impacts of lost instructional time and supporting positive academic outcomes for all children. Accelerated learning opportunities can help to ensure students excel and thrive.
NASET Members- Login to Access the Full Article
---
Getting Ready for Healthcare at the Age of Majority
This resource is part of the series Getting Ready for When Your Teen Reaches the Age of Majority: A Parent's Guide.
When young people with disabilities reach the "age of majority," they gain the right to manage their own affairs, including choosing their own doctor and seeing to their own healthcare needs. In most states, this happens at age 18. Legally considered as adults, they may take charge of healthcare decisions large and small. But will they be ready to make such decisions for themselves? Will they have the skills and basic information they need?
This tip sheet considers steps that you (as parents) and others (such as teachers or transition specialists) can take to help your teenager with disabilities learn what's involved in taking care of one's own health and healthcare as an adult.
NASET Members - Login to Access the Full Article
---
Financial Planning Guide for Parents of a Child with Special Needs
This article from eParent.com discusses a topic of great importance of parents of a child with disabilities. As A Financial Planning Guide for Parents of a Child with Special Needs states, "Raising a child with special needs can be one of the richest experiences life has to offer, but it is also one of the most costly." Depending on the nature and severity of the child's disability, the costs can be quite staggering. Should something happen to the parents, the financial security of the child (even as an adult) can be devastated. This is why it's crucial for parents to start long-term financial planning as early as possible. This guide from eParent.com can help parents plan for the best possible future for their son or daughter.
The guide is divided into sections, beginning with 5 steps important to defining the parents' future goals. The guide discusses:
early intervention services for very young children;
different kinds of federal benefits and what's involved in applying for them;
non-profit grants and scholarships for students with disabilitie:
what special-needs trusts are (did you know there are several different kinds?) and how to fund such trusts for the future security of the person with the disability;
types of life insurance policies; and
the role that transition planning (for adulthood) can play in reassessing and establishing a sound financial plan for the child's future.
NASET Members - Login to Access the Full Article
---
Latest Employment Opportunities Posted on NASET
* [2022-2023] 7th Grade Learning Specialist - Reporting to the Academic Dean, the Learning Specialist will be responsible for providing tailored support to students with special education needs, through integrated co-teaching, in small group settings, or a combination of both. This is an exciting opportunity for a seasoned educator who is passionate about ensuring all students succeed and thrive in school. To learn more- Click here
* [2022-2023] Middle School Learning Specialist - Reporting to the Academic Dean, the Learning Specialist will be responsible for providing tailored support to students with special education needs, through integrated co-teaching, in small group settings, or a combination of both. This is an exciting opportunity for a seasoned educator who is passionate about ensuring all students succeed and thrive in school. To learn more- Click here
* Elementary Special Education Teacher - Castle Rock School District #401 is excited to announce the opening of an elementary teaching positions in Special Education for the current school year. Candidates must hold the proper Washington State credentials and/or endorsement. Applicants must meet current ESSA standards for highly qualified teachers. To learn more- Click here
* Special Education Teacher - The job of CLASSROOM TEACHER is done for the purpose/s of providing support to the instructional process by serving as a teacher with specific responsibility for supervising students within the classroom and other assigned areas; developing lesson plans and delivering group and individual student instruction within established curriculum guidelines. To learn more- Click here
* [2021-2022] Reading Interventionist - The Reading Interventionist will be responsible for providing tailored support to students that are reading significantly below grade level in grades K-2 through small group instruction (3-4 students) and push-in support. This is an exciting opportunity for a seasoned educator who is passionate about ensuring all students succeed and thrive in school. To learn more- Click here
* Director of Special Services - Establishes a safe, supportive, positive and productive learning and working environment. Provides leadership in planning, developing and implementing a comprehensive instructional program for special education; supervises all special programs for students with disabilities. Develops district procedures to coordinate the identification, evaluation and placement of students into programs for students with disabilities. To learn more- Click here
* Assistant Principal - DC Public Schools' mission is to recruit, develop, and invest in a talented, caring, and diverse team. We know that when our educators are given the tools, opportunities, and recognition to thrive, our students will thrive in school and in life. RISE - Rigorous Instruction Supports Equity - is a new program to support educators through professional development, performance-based incentive awards, and support for new teachers at our highest-need schools. At its core, RISE is about honoring our educators as professionals and providing opportunities to learn and grow within the district. To learn more- Click here
* Special Education Teacher - The Knapp School staff members believe the best educational program for our students focuses on fostering each child's academic and personal potential through assisting them in discovering and developing their strengths and passions while preparing them for success in the larger community. Our Special Education Teachers play a critical role in this process by prioritizing each students' development and growth through strong, supportive relationships and highly individualized academic and social emotional activities each day. To learn more - Click here
* Support Specialist - The purpose of this position is to assist in the establishment and maintenance of a safe environment for all students and staff within the school through close collaboration with School Teachers, Teacher's Aides, Social Workers and School Administration. Must be able to enact principles of trained methodologies in order to provide emotional and environmental support for students throughout the school day. To learn more - Click here
* Executive Director, GROW Associates - GROW provides services for individuals with disabilities in the greater Brockton area to plan their individual goals and supports them in achieving those goals. GROW provides a wide range of services to almost 300 people. These programs include Day Habilitation, Community- Based Day Supports, Vocational Training and Employment Services. GROW Associates' services helps adults with developmental disabilities achieve a sense of accomplishment and self-worth. To learn more- Click here
* Principal - We work with Chicago Public Schools and with school districts from the Suburban Cook County, Lake County, and the Western Suburbs to serve students who are referred based on their need for a highly structured, therapeutic school setting and individualized approach to learning. Students who are referred by a public school district are educated at Knapp School & Yeshiva at no cost to their families. In doing so we provide both academic and social and emotional supports that are aligned with each student's specific strengths and needs. To learn more- Click here
* Senior Director of Program Operations Aspire Living & Learning - Aspire Living & Learning is a non-profit human services agency making a meaningful difference in the lives of neurodiverse adults and children. We provide residential programs, day support, special education, and employment services in partnership with families and in collaboration with public and private health, human service, education and other government agencies. Headquartered in Vermont, our 1,200 team members serve individuals across four Northeast and Mid-Atlantic states. To learn more- Click here
* Teach SPED 22-23 School Year - At New Visions for Public Schools, we work to make great public schools common in New York City. We believe that all of New York City's students deserve public schools that make successful futures possible, especially Black, Latinx, and low-income students who have historically had inequitable access to a great public education. To learn more- Click here
* Strategist II: ID Teacher - Join Ames Community School District, where your journey matters! ACSD promotes an educational environment that is racially, ethnically, linguistically, and culturally diverse to broaden students' academic experience and to enrich our District. We are focused on creating and supporting diversity, equity, and inclusion within the organizational culture and in our community. To learn more- Click here
* Integrated Services Teacher - Join Ames Community School District, where your journey matters! ACSD promotes an educational environment that is racially, ethnically, linguistically, and culturally diverse to broaden students' academic experience and to enrich our District. We are focused on creating and supporting diversity, equity, and inclusion within the organizational culture and in our community. To learn more- Click here
* Strategist I Teacher - Join Ames Community School District, where your journey matters! ACSD promotes an educational environment that is racially, ethnically, linguistically, and culturally diverse to broaden students' academic experience and to enrich our District. We are focused on creating and supporting diversity, equity, and inclusion within the organizational culture and in our community. To learn more- Click here
* Behavior Interventionist - Join Ames Community School District, where your journey matters! ACSD promotes an educational environment that is racially, ethnically, linguistically, and culturally diverse to broaden students' academic experience and to enrich our District. We are focused on creating and supporting diversity, equity, and inclusion within the organizational culture and in our community. To learn more- Click here
* Special Education Teacher, Institutional Settings - Dedicated and collaborative teams of educators committed to supporting teaching excellence through coaching, professional development and excellent administrative support. CES prides itself on providing robust and engaging learning opportunities to all its teachers. To learn more- Click here
* Special Education Teacher - Do you aspire to help children with diverse challenges build skills for their future? Are you ready to make a real impact in their lives? As a Special Education Teacher at Bancroft, you will draw upon a wealth of curriculum and clinical resources to design individualized student goals. To learn more- Click here
* Director of Oregon Migrant Education Service Center - The Director position for the Oregon Migrant Education Service Center (OMESC) will provide leadership for the 3rd largest migrant education program in the nation that includes nine education service districts and nine district regional program. To learn more- Click here
* Special Education Teacher (All Specializations) - 2022-23 School Year - DCPS serves approximately 49,000 students in the nation's capital through the efforts of approximately 4,200 educators in 117 schools. As part of a comprehensive reform effort to become the preeminent urban school system in America, DCPS intends to have the highest-performing, best paid (Salary Range: $56,313 - $90,905), most satisfied, and most honored educator force in the nation and a distinctive central office staff whose work supports and drives instructional excellence and significant achievement gains for DCPS students. To learn more- Click here
* Middle School Special Education Teacher - The Halton School, an independent school for students with Asperger's, is looking for a Middle School Special Education teacher. The teacher will provide special education instruction to students in a small multi-grade class. The teacher will utilize a variety of teaching methods to meet student's educational needs and adapt and develop instructional materials accordingly. To learn more- Click here
* Director of McKay Academic Center (Academic Support) - The Dunham School is a PK-12, non-denominational Christian, independent school serving 785 students on one campus. The school offers fee paid tutoring, coaching, small group instruction and individual courses for students with a range of learning challenges including ADD, ADHD, dyslexia, dysgraphia and high functioning autism. To learn more - Click here
* Special Education Teacher - STARS is owned and operated by Occupational Therapists. You will be an employee and receive full benefits. Summers off with year-round pay and year-round appreciation. With a proven track record, STARS is able to offer you an unbeatable support system and resources. STARS is hiring for the 2021-2022 and 2022-2023 school years. STARS places Special Education Teachers throughout the Phoenix, Tucson and the surrounding area public schools. To learn more- Click here
---
Acknowledgements
Portions of this or previous month's NASET's Special Educator e-Journal were excerpted from:
Center for Parent Information and Resources
Committee on Education and the Workforce
FirstGov.gov-The Official U.S. Government Web Portal
Journal of the American Academy of Special Education Professionals (JAASEP)
National Collaborative on Workforce and Disability for Youth
National Institute of Health
National Organization on Disability
Substance Abuse and Mental Health Services Administration
U.S. Department of Education
U.S. Department of Education-The Achiever
U.S. Department of Education-The Education Innovator
U.S. Department of Health and Human Services
U.S. Department of Labor
U.S. Food and Drug Administration
U.S. Office of Special Education
The National Association of Special Education Teachers (NASET) thanks all of the above for the information provided for this or prior editions of the Special Educator e-Journal
---
Download a PDF Version of This e-Journal
NASET Members - Login to Access