June 2023 - Special Educator e-Journal
---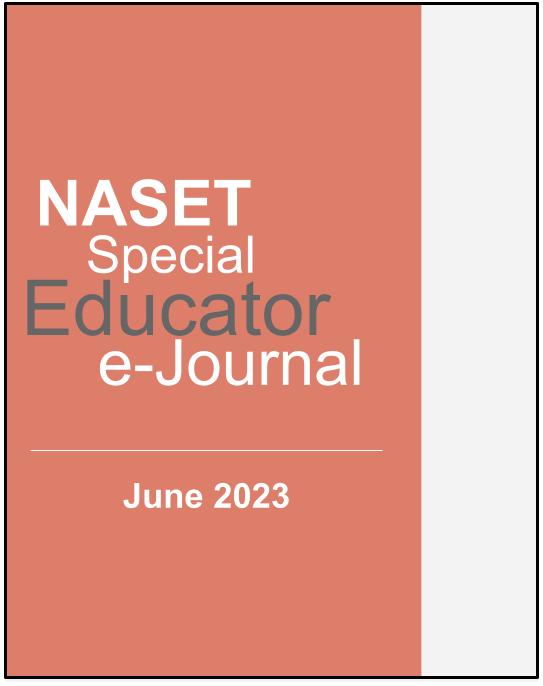 ---
NASET Members - Login Below to access the latest Special Educator e-Journal.
Site visitors: You may access a sample e-Journal - Sample e-Journal
---
Special Education Legal Alert
By Perry A. Zirkel
© May 2023
This month's update identifies a pair of recent court decisions that illustrate the increasing, although here inconclusive, use of § 504/ ADA as an addition or alternative to the IDEA. For related publications and earlier monthly updates, see perryzirkel.com.
NASET Members- Login to Access the Full Article
---
Buzz from the Hub
All articles below and many more can be accessed through login:
RTI/MTSS May Not Be Used to Delay or Deny IDEA Evaluation
In March 2023, OSEP emailed copies of two memoranda to IDEA Part B Directors and Section 619 Coordinators regarding the child find requirements in IDEA. OSEP took this action in response to concerns that initial evaluations to determine whether a child has a disability have sometimes been delayed or denied by LEAs until a child goes through a state's multi-tiered system of supports (MTSS) process, sometimes referred to as Response to Intervention (RTI). Read OSEP's correspondence and connect with the memos at the link above.
Outreach and Engagement of Underserved Populations
Effective community engagement and outreach takes careful planning and acknowledgement that each population that we work with is unique and offers us opportunities to broaden our understanding of what makes a community. Lots of useful resources can be found in this article, which shares 6 essential strategies for inclusive engagement and culturally competent outreach. From the Vocational Rehabilitation Technical Assistance Center for Quality Employment (VRTAC-QE).
Partnering with Hard-to-Connect Families
Often, when people with disabilities consider seeking employment, their families strongly influence the decision. Especially with transition-aged youth, family influence can sway whether a consumer decides to try working. There is still a persistent belief that work income will cancel out any benefits the person with disability receives. Also from VRTAC-QE.
Native American Resource Collection
Don't forget about this invaluable resource collection designed expressly for Parent Centers to support new and current staff in their outreach to Native American parents of children with disabilities. The collection is organized in 4 tiers of learning that reflect what we know about journeys of multicultural growth. Each product within contains current information about the traditional culture and contemporary issues important to Native families. Consider, for example, articles such as Cultural Awareness and Connecting with Native Communities and The Impact of Traditional Native Values on Transition Planning
And many more!
NASET Members - Login to Access the Full Article
---
An Exploration of Educator Attitudes and Perceptions of Serving Students with Disabilities in the Inclusive Classroom
Christopher T. Closson, PhD
Assistant Professor in the College of Education
State University of New York at Fredonia
280 Central Ave
Fredonia, NY 14063
716-673-3433
christopher.closson@fredonia.edu
David W. Rausch, PhD
Professor and Associate Dean
University of Tennessee at Chattanooga
651 McCallie Ave
Chattanooga, TN 37403
423-425-5270
david-rausch@utc.edu
Abstract
Inclusive classrooms are now the norm in many K-12 schools across the United States, which has made the job of general education teachers all the more difficult. The research indicated teacher perceptions regarding students with special needs can affect the success of students with disabilities in an inclusive classroom. This mixed methods study examined educator attitudes and perceptions in three northeast Tennessee school districts, regarding students with disabilities in the inclusive classroom. Participants completed the Attitudes Towards Teaching All Students (ATTAS-mm) survey to assess their attitude towards teaching all students and volunteered for the interview portion of the study to get a deeper understanding of educator attitudes and perceptions. Findings indicated teachers' attitudes and perceptions are mainly positive regarding the inclusion of students with disabilities. This study also provided data to discern the theoretical construct educators are aligned to related to the human capability theory or deficit theory.
NASET Members- Login to Access the Full Article
---
Auditory Processing Disorder: A Literature Review
By Nori Llizo
Abstract
This literature review examines Auditory Processing Disorder (APD). This review will define APD, state the importance of utilizing appropriate assessments to properly diagnose APD, and the process of assessment. The use of the correct assessment tools to diagnose APD can be incredibly beneficial to a developing child.
Key words: APD (Auditory Processing Disorder), ADHD (Attention Deficit Hyperactivity Disorder), FAPE (Free Appropriate Public Education), IQ (Intelligence Quotient), SLI (Speech and Language Impaired), SLT (Speech and Language Therapist, AP (Auditory Processing)
---
Barriers for Intellectual Disability Students in a Regular Classroom Setting
By Sandra Juntunen
Abstract
In today's school settings, students with disabilities are integrated into the regular classroom setting or the least restrictive classroom setting depending on their level of needs. Schools follow the Individuals with Disabilities Education Act to ensure students' needs are being met. Students with disabilities are provided free appropriate public education (FAPE). IDEA governs states and public agencies on how to provide interventions to children in the United States public school systems. Students with disabilities can be placed in a regular classroom or in an inclusive classroom depending on the student's disability severity. Being placed in a regular classroom or an inclusive classroom can lead to barriers. The articles I reviewed regarding common barriers were school, economics, communication, school, and family.
Key Words: Free Appropriate Public Education (FAPE); Individual with Disabilities Education Act (IDEA), Children with Disabilities, barriers.
NASET Members - Login to Access the Full Article
---
The Lifelong Impacts of Language Deprivation in Deaf Children
By Carolyn Sweeney
Abstract
Language deprivation in Deaf and Hard-of-Hearing children is rampant within the United States. An entire population is impacted by the simple lack of accessible language, the impacts of which are lifelong and widespread. Research regarding everything from academic success to prevalence of physical abuse can be traced back to a lack of early exposure to language within the Deaf community. This review hopes to disclose a brief synopsis of the effects of language deprivation and ultimately add to the academic discussion on what can be done by both educational and medical professionals with the goal of eradicating language deprivation within the Deaf population.
Key Words: Language Deprivation (LDS), American Sign Language, Executive Functioning, Deaf
NASET Members - Login to Access the Full Article
---
Latest Employment Opportunities Posted on NASET
* TEACHER OF SPECIAL EDUCATION - The Superintendent invites qualified and interested persons to apply for the position of Teacher of Special Education. The Newark Board of Education is where passion meets progress. We want you to discover a rewarding career with us. If the opportunity to make learning limitless excites you then, join our community of educators. To learn more - Click here
* Special Education Teacher - WHIN Music Community Charter School staff actively contributes to creating a school environment where all students are valued, supported, and challenged academically. They strive to create a scholastic environment that nurtures as it challenges, works purposely and in partnership with scholars and families to lay the foundation of a life-long learning process which enables students to master the academic rigors of college, meet the challenges and opportunities of 21st century employment, and be empowered agents of social change. To learn more- Click here
* [2023-2024] High School Math Learning Specialist - Reporting to the Academic Dean, the High School Math Learning Specialist will be responsible for building meaningful relationships with students, implementing a Common Core-aligned curriculum, and working with their grade team to analyze data to drive instruction. This is an exciting opportunity for an educator who is passionate about improving student outcomes by leading excellent instruction and building a positive school culture. To learn more- Click here
* [2023-2024] 7th Grade Math Learning Specialist - Reporting to the Academic Dean, the Learning Specialist will be responsible for providing tailored support to students with special education needs, through integrated co-teaching, in small group settings, or a combination of both. This is an exciting opportunity for a seasoned educator who is passionate about ensuring all students succeed and thrive in school. To learn more- Click here
* [2023-2024] Middle School ELA Learning Specialist - Reporting to the Academic Dean, the Middle School ELA Learning Specialist will be responsible for providing tailored support to students with special education needs, through integrated co-teaching, in small group settings, or a combination of both. This is an exciting opportunity for a seasoned educator who is passionate about ensuring all students succeed and thrive in school. To learn more- Click here
* [2023-2024] High School Science Learning Specialist - Reporting to the Academic Dean, the High School Science Learning Specialist will be responsible for building meaningful relationships with students, implementing a Common Core-aligned curriculum, and working with their grade team to analyze data to drive instruction. This is an exciting opportunity for an educator who is passionate about improving student outcomes by leading excellent instruction and building a positive school culture. To lean more- Click here
* Special Education Teacher - Scoot Education is the leading expert in hiring and placing educators. We recently launched a new initiative to ensure ALL students don't go a day without a teacher and are now seeking additional Special Education Teachers to join our team. To learn more- Click here
* [2023-2024] High School Dean of Student Supports - Like all DREAM employees, the Dean of Student Supports should demonstrate a strong commitment to the mission and values of DREAM and have substantial expertise in all areas of responsibility. Candidates must also value DREAM's comprehensive approach to education and desire to make a lasting impact in underserved communities as part of a growing organization. To learn more- Click here
* [2023-2024] Dean of Student Supports - Reporting to the Principal, this position will serve as a leader for staff and parents with regard to special education services and regulations. In addition, the Dean of Student Supports will work closely with the Network Director of Special Education and the school-based leadership team to ensure the implementation of special education policies and the integration of student support services. To learn more- Click here
* Exceptional Education Teacher - *Sign on bonuses of $8,000* Hamilton County Schools, located in Chattanooga, TN, is building the best school district in Tennessee. We are committed to excellence for every student and are seeking outstanding teachers with the ability to inspire, engage, and who desire to make a difference in the lives of students. With nearly 80 schools located in urban, rural, and suburban communities, we are confident that you can find your place in Hamilton County. To learn more- Click here
* High School Special Education Teachers - We seek the most talented and dedicated educators to bring their skills, experience, and energy to a collaborative and innovative learning environment where teachers are empowered to meet each student's unique learning needs and open the doors to new and rich opportunities. Our teachers are dynamic and innovative pedagogues who are committed to urban students and the issues they face every day. To learn more- Click here
* Special Education Teacher 2023-2024 SY - At Epic Special Education Staffing, you will have the opportunity to apply your unique expertise to school-based special education as your singular focus. We offer stimulating and rewarding careers in special education which provide an opportunity to make a difference in a child's life while enhancing your personal and career growth! To learn more- Click here
* Special Education Teacher 2023-2024 SY - If you're looking to leverage your expertise to make a real difference in special education- you belong at Epic Special Education Staffing. We Go All In…we are fully invested in everything we do. Whether it's work or play, we bring our strengths and passion to give our team and our partners 100%. To learn more- Click here
* Special Education Teacher 2023 2024 SY - Epic Special Education Staffing is partnering with an exceptional school district who is looking for several contract Special Education Teachers for the 2023-2024 school year. To learn more- Click here
* Special Education Teacher 2023-2024 SY - If you're looking to leverage your expertise to make a real difference in special education- you belong at Epic Special Education Staffing. We Go All In…we are fully invested in everything we do. Whether it's work or play, we bring our strengths and passion to give our team and our partners 100%. To learn more- Click here
* Special Education Teacher (Sheppard Pratt School- Hunt Valley) - The Sheppard Pratt School - Hunt Valley is a year round special education program that provides educational services to students ages five to 21 with complex intellectual and behavioral disabilities, including autism spectrum disorder and other related disorders. Sheppard Pratt offers tuition reimbursement as well as offering fast track Standard Professional Certificate in Special Education and Masters of Arts in Leadership in Teaching programs in partnership with Notre Dame of Maryland University. To learn more- Click here
---
Acknowledgements
Portions of this or previous month's NASET's Special Educator e-Journal were excerpted from:
Center for Parent Information and Resources
Committee on Education and the Workforce
FirstGov.gov-The Official U.S. Government Web Portal
Journal of the American Academy of Special Education Professionals (JAASEP)
National Collaborative on Workforce and Disability for Youth
National Institute of Health
National Organization on Disability
Substance Abuse and Mental Health Services Administration
U.S. Department of Education
U.S. Department of Education-The Achiever
U.S. Department of Education-The Education Innovator
U.S. Department of Health and Human Services
U.S. Department of Labor
U.S. Food and Drug Administration
U.S. Office of Special Education
The National Association of Special Education Teachers (NASET) thanks all of the above for the information provided for this or prior editions of the Special Educator e-Journal
---
Download a PDF Version of This e-Journal
NASET Members - Login to Access