June 2022 - Special Educator e-Journal
---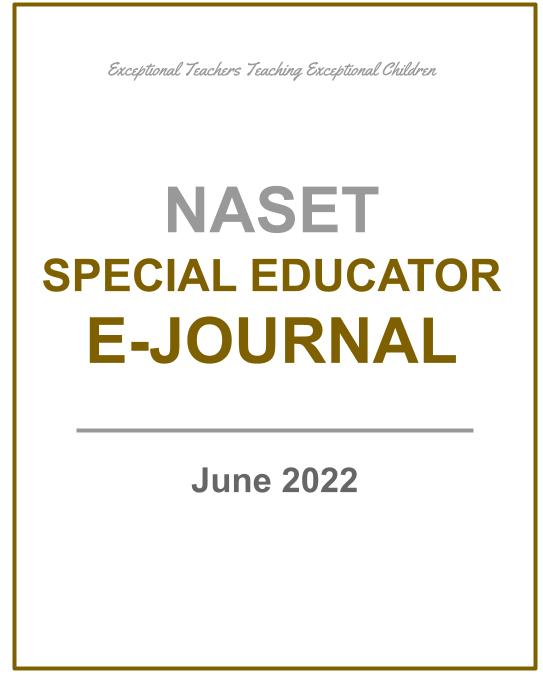 ---
NASET Members - Login Below to access the latest Special Educator e-Journal.
Site visitors: You may access a sample e-Journal - Sample e-Journal
---
Special Education Legal Alert
By Perry A. Zirkel
© May 2022
This month's update identifies two recent court decisions that address various FAPE issues and remedies for students with dyslexia or behavioral disorders. For related articles, special supplements, and earlier monthly updates, see perryzirkel.com.
NASET Members- Login to Access the Full Article
---
Buzz from the Hub
All articles below can be accessed through login:
Advancing Equity and Support for Underserved Communities
Fast Facts: Students with disabilities who are English learners (ELs) served under IDEA Part B
Asian Americans with Disabilities Resource Guide
Strategies for Partnering on Culturally Safe Research with Native American Communities

And many more!!
NASET Members - Login to Access the Full Article
---
Parental Right to Participate in Meetings
The right to participate in meetings related to their child is one of the most important and powerful of parent rights.
Responsibilities of the School System
It's interesting to note the direct connection between the parents' right to participate in specific meetings and groups and the responsibilities that the school system has as a result. For example, IDEA states:
(b) Parent participation in meetings. (1) The parents of a child with a disability must be afforded an opportunity to participate in meetings with respect to—
(i) The identification, evaluation, and educational placement of the child; and
(ii) The provision of FAPE to the child. [§300.501(b)(1)]
NASET Members- Login to Access the Full Article
---
Right to Receive a Complete Explanation of IDEA's Procedural Safeguards
What is the purpose of the procedural safeguards notice?
The purpose of the procedural safeguards notice is simple: to inform parents completely about the procedural safeguards available under IDEA. These represent their rights as parents and the protections they have—and their child as well—under the law and its implementing regulations.
When can you expect to receive the procedural safeguards notice?
IDEA states that schools must send the procedural safeguards notice to the parents only one time a school year, except that schools must also give a copy to parents:
in their child's initial referral for evaluation under IDEA, or when the parents ask for such an evaluation of their child;
the first time in the school year that a State complaint is filed and when the first due process complaint is received in a school year;
in accordance with the discipline procedures en §300.530(h); and
when a parent requests a copy of the procedural safeguards notice.
Your local school district may also post a current copy of the procedural safeguards notice on its website, if it has a website.
NASET Members - Login to Access the Full Article
---
Confidentiality and Access to Student Records
Personally Identifiable Information
Personally identifiable information refers to information that includes:
the name of the child, parent, or other family member;
the child's address;
a personal number (such as the social security number or a student number); or
a list of personal characteristics or other information that would permit the child's identification with reasonable certainty.
NASET Members - Login to Access the Full Article
---
Requesting an Initial Evaluation for Special Education Services
When would I request an evaluation for special education services?
If your child has been consistently struggling in school, his or her problems may be due to a disability. If the school thinks your child may have a disability, they will contact you to request your written permission to evaluate your child. Under the IDEA (the nation's special education law), you also have the right to ask the school to evaluate your child. The purpose of the evaluation is to see if he or she has a disability and needs special education services. This evaluation is free of charge.
---
Education Department Urges Colleges to Use American Rescue Plan Funds to Provide Mental Health Supports to Students
The U.S. Department of Education published new guidance to assist institutions in providing mental health supports for students, faculty, and staff. The guidance will help colleges support students as they navigate mental health challenges exacerbated by the pandemic. It also includes specific examples of how colleges can use Higher Education Emergency Relief Funds (HEERF) to invest in evidence-based mental health supports for students and connect the campus community to providers and care. The guidance highlights leading colleges already using HEERF funds for these efforts. The Department's efforts build on President Biden's Unity Agenda goal of transforming how Americans understand, access, and treat mental health and is being released during Mental Health Awareness Month.
NASET Members - Login to Access the Full Article
---
U.S. Department of Education Announces Intent to Strengthen and Protect Rights for Students with Disabilities by Amending Regulations Implementing Section 504
Forty-five years after publication of the regulations implementing Section 504 of the Rehabilitation Act of 1973, the landmark disability civil rights law, the U.S. Department of Education announced plans to gather public input on possible amendments to those regulations in order to strengthen and protect the rights of students with disabilities. Section 504 prohibits discrimination on the basis of disability in public and private programs and activities that receive federal financial assistance, including schools and postsecondary institutions.
NASET Members - Login to Access the Full Article
---
Office for Civil Rights Reaches Resolution Agreement with Nation's Second Largest School District, Los Angeles Unified, to Meet Needs of Students with Disabilities during COVID-19 Pandemic
The U.S. Department of Education's Office for Civil Rights (OCR) resolved an investigation of the Los Angeles Unified School District in California with an agreement requiring it to take steps necessary to ensure that students with disabilities receive educational services, including compensatory services, during and resulting from the COVID-19 pandemic.
NASET Members - Login to Access the Full Article
---
Latest Employment Opportunities Posted on NASET
*Special Education Teacher - The Special Education Teacher will teach at one of our Network campuses. The Special Education Teacher will be responsible for planning lessons and curricula, administering assessments, collecting and analyzing data, and relentlessly supporting students to achieve academic excellence. To learn more- Click here
* Special Education Teacher - Guides the learning process toward the achievement of IEP goals, establishes clear objectives for all lessons, units, and projects, and is able to communicate effectively with students, staff, and parents as supervised by the building principal. To learn more- Click here
* [2022-2023] High School Learning Specialist - Reporting to the Academic Dean, the High School Learning Specialist will be responsible for building meaningful relationships with students, implementing a Common Core-aligned curriculum, and working with their grade team to analyze data to drive instruction. This is an exciting opportunity for an educator who is passionate about improving student outcomes by leading excellent instruction and building a positive school culture. To learn more- Click here
* Special Ed Intellectual Disabilities Teacher, ES, MS, HS - Provides and is accountable for the planning, assessment, instruction, communication, human relations, safety, and management of a classroom or assigned instructional setting. Supports FCPS mission to "inspire, enable, and empower students to meet high academic standards, lead ethical lives, and demonstrate responsible citizenship." To learn more- Click here
* Special Ed Learning Disabilities Teacher, ES, MS, HS - Provides and is accountable for the planning, assessment, instruction, communication, human relations, safety, and management of a classroom or assigned instructional setting. Supports FCPS mission to "inspire, enable, and empower students to meet high academic standards, lead ethical lives, and demonstrate responsible citizenship." To learn more- Click here
* Special Ed Multiple Disabilities Teacher, ES, MS, HS - Provides and is accountable for the planning, assessment, instruction, communication, human relations, safety, and management of a classroom or assigned instructional setting. Supports FCPS mission to "inspire, enable, and empower students to meet high academic standards, lead ethical lives, and demonstrate responsible citizenship." To learn more- Click here
* Special Education Teacher - Autism - Responsible for planning, implementing, and evaluating instructional activities for special education students. Create a flexible class environment favorable to learning and personal growth; establish effective rapport with students; motivate students to develop skills, attitudes, and knowledge in accordance with each student's ability; and establish good relationships with parents and other staff members. To learn more- Click here
* Middle School Special Education (Directed Studies) Language Arts Teacher - The Upper School Special Education (Directed Studies) Language Arts Teacher is given the duty of instructing students on such a level as to allow them to obtain proficiency in their subject levels at a grade-appropriate level. To learn more- Click here
* Rockstar Elementary Trained Special Education Teacher - Our school works as a team. If you are looking for a job where you can fulfill your passion for working with students with learning differences, we would like to hear from you. As one of the few schools in Oregon devoted to students with learning differences and the only one focused exclusively on middle school, Bridges offers its 5th through 8th grade students small class sizes, differentiated instruction, and a safe place to learn and grow. To learn more- Click here
* Educational Specialist - Environmental Charter Schools is seeking a talented and dynamic Educational Specialist with a Moderate/Severe credential who is passionate about ensuring educational equity for students with exceptionalities. This position provides the opportunity to partner with special education and general education teachers across three campuses in order to prepare low-income students of color with exceptionalities for college success. To learn more- Click here
* Special Education Teacher - We are recruiting for three Special Education Teachers to serve Quest Academy Day Treatment Center in Longview, WA for the 2022-2023 school year. These positions are full time, 192 day contracts. To learn more- Click here
* Coordinator of Academic and Disability Services - Centenary College of Louisiana invites applications for the position of Coordinator of Academic and Disability Services. This is a full-time, twelve-month position. Reporting to the Director of the Center for Teaching and Learning, the Coordinator will work closely with the College's student success team and faculty to coordinate academic support and disability services in accordance with the ADA and in support of Centenary's mission to prepare global citizens to live productive lives of vitality and purpose. To learn more- Click here
* The SEED Public Charter School of Washington DC: Multiple Positions - SEED DC is looking for its new cohort of intentional, proactive, and enthusiastic teachers in Washington, D.C. As a SEED DC teacher, you'll teach SEED DC's curriculum in dynamic, participation-oriented classes and cultivate a learning environment that supports and encourages students to develop and realize their academic potential. You'll also collaborate with other instructional staff, school personnel, and SEED DC's senior leadership team to help advance SEED's mission of supporting scholars to and through college completion. To learn more- Click here
* Coordinator, Life and Career Studies - Residential Program for Students with Intellectual Disabilities - Lakeland University seeks a mission-oriented individual passionate about creating a more inclusive world to develop and coordinate an innovative program for students with intellectual disability slated to open on its Sheboygan campus in Fall 2023. This four-year residential program is designed to prepare students for meaningful employment, as well as independent and community living. The coordinator will play an important leadership role in designing the program as well as overseeing its implementation. To learn more- Click here
* Special Education Teacher - The Moffat County School District truly believes that students, staff, families and community all play a vital role in the success and growth of our students and school district as a whole. As our district works on getting back to a new normal the following statement has never been more true than it is today. Moffat County School District strives to find qualified, skilled and motivated individuals to join our great team that is committed to educate and inspire students to thrive in an environment of change. To learn more- Click here
* Special Education Teacher - The Halton School, an independent school for students with Asperger's, is looking for a Special Education teacher. The teacher will provide special education instruction to students in a small multi-grade class. The teacher will utilize a variety of teaching methods to meet students' educational needs and adapt and develop instructional materials accordingly. To learn more- Click here
* Special Education Teacher (Multiple Positions) - Located in the Salish Sea off the northwest coast of Washington State, San Juan Island is the largest of the many islands in the world-famous archipelago of the same name. Approximately seven thousand permanent residents share this fifty-five square mile natural paradise. Connected to the mainland by ferry, float plane and small airlines, island living combines a cohesive small-town community with comprehensive services and commercial diversity unusual in a rural setting. The community has a comprehensive library, a state-of-the-art theater that features diverse performing arts, many wonderful restaurants, an historic museum, two national parks, miles of public shoreline, and a vibrant agricultural community. To learn more- Click here
* Strategist II: ID Teacher - Join Ames Community School District, where your journey matters! ACSD promotes an educational environment that is racially, ethnically, linguistically, and culturally diverse to broaden students' academic experience and to enrich our District. We are focused on creating and supporting diversity, equity, and inclusion within the organizational culture and in our community. To learn more- Click here
* Integrated Services Teacher - Join Ames Community School District, where your journey matters! ACSD promotes an educational environment that is racially, ethnically, linguistically, and culturally diverse to broaden students' academic experience and to enrich our District. We are focused on creating and supporting diversity, equity, and inclusion within the organizational culture and in our community. To learn more- Click here
* Strategist I Teacher - Join Ames Community School District, where your journey matters! ACSD promotes an educational environment that is racially, ethnically, linguistically, and culturally diverse to broaden students' academic experience and to enrich our District. We are focused on creating and supporting diversity, equity, and inclusion within the organizational culture and in our community. To learn more- Click here
* Behavior Interventionist - Join Ames Community School District, where your journey matters! ACSD promotes an educational environment that is racially, ethnically, linguistically, and culturally diverse to broaden students' academic experience and to enrich our District. We are focused on creating and supporting diversity, equity, and inclusion within the organizational culture and in our community. To learn more- Click here
---
Acknowledgements
Portions of this or previous month's NASET's Special Educator e-Journal were excerpted from:
Center for Parent Information and Resources
Committee on Education and the Workforce
FirstGov.gov-The Official U.S. Government Web Portal
Journal of the American Academy of Special Education Professionals (JAASEP)
National Collaborative on Workforce and Disability for Youth
National Institute of Health
National Organization on Disability
Substance Abuse and Mental Health Services Administration
U.S. Department of Education
U.S. Department of Education-The Achiever
U.S. Department of Education-The Education Innovator
U.S. Department of Health and Human Services
U.S. Department of Labor
U.S. Food and Drug Administration
U.S. Office of Special Education
The National Association of Special Education Teachers (NASET) thanks all of the above for the information provided for this or prior editions of the Special Educator e-Journal
---
Download a PDF Version of This e-Journal
NASET Members - Login to Access