July 2023 - Special Educator e-Journal
---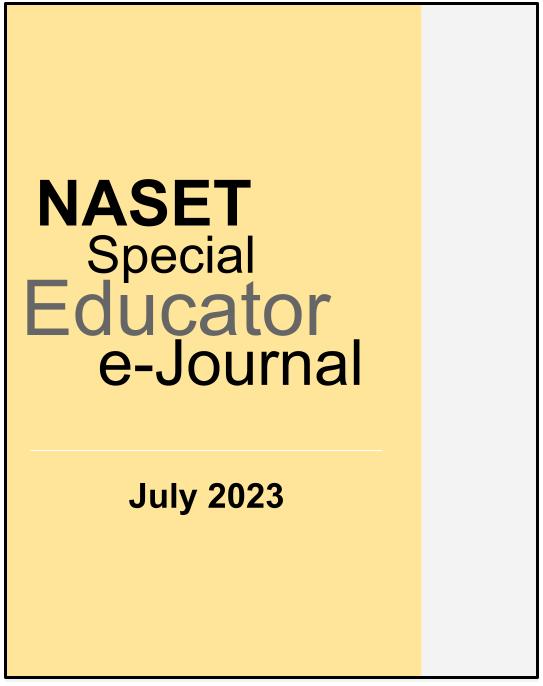 ---
NASET Members - Login Below to access the latest Special Educator e-Journal.
Site visitors: You may access a sample e-Journal - Sample e-Journal
---
Special Education Legal Alert
By Perry A. Zirkel
© June 2023
This month's update identifies a pair of recent court decisions that illustrate the continuing diversity of judicial rulings with regard to the IDEA's overlapping issues of child find and FAPE. For related publications and earlier monthly updates, see perryzirkel.com.
NASET Members- Login to Access the Full Article
---
Buzz from the Hub
All articles below and many more can be accessed through login:
Sports and Children with Disabilities
All children can benefit from the exercise, energy release, and pure enjoyment of playing sports. This includes children with disabilities. This article talks about the benefits of sports, the types of sports for children with special needs, and how to get started with sports.
Fun Activities to Stay Active with Physical Disabilities
Just because a child is in a wheelchair or has other physical disabilities does not mean that he or she can't stay active. There are plenty of games and sports that children can play when properly modified. (Example: Lower the basketball hoop for children in wheelchairs or place a ball on a tee instead of having it be pitched.) Let children try a variety of activities and adapt those activities to their needs. From PediaPlex.
Physical Activity for Students with Disabilities
Check out this 5-step plan from Action for Healthy Kids that starts with "safety first" and includes consideration of each child's IEP and how wellness activities can support the overall educational plan for each child. After explaining the steps in the plan, the article also covers general inclusion ideas for all students and concludes with ways to adjust physical activities to include students with disabilities.
And many more!
NASET Members - Login to Access the Full Article
---
Statement from U.S. Secretary of Education Miguel Cardona on Recent Long-Term Trend Assessment for 13-Year-Olds
U.S. Secretary of Education Miguel Cardona issued the following statement on the recent National Assessment of Educational Progress (NAEP) long-term trend assessment in math and reading for 13-year-olds:
"The latest data from the National Assessment of Educational Progress is further evidence of what the Biden-Harris administration recognized from Day One: that the pandemic would have a devastating impact on students' learning across the country and that it would take years of effort and investment to reverse the damage as well as address the 11-year decline that preceded it.
"Today's results underscore why the Biden-Harris administration remains laser-focused on our plan to Raise the Bar for the academic achievement of all students and maximize the American Rescue Plan's historic investments in recovery. Schools have committed nearly 60 percent of their American Rescue Plan funds to address lost learning time and accelerate academic recovery by hiring more teachers, counselors, and support staff, providing more tutoring and one-on-one support to students, and extending learning time through high quality afterschool and summer learning programs.
NASET Members- Login to Access the Full Article
---
U.S. Department of Education and Civic Nation Launch Nationwide Campaign to Help Students and Families Cut Costs and Access Affordable High-Speed Internet
Over 300 local and national organizations joined Civic Nation and the U.S. Department of Education to launch Online for All, a digital equity campaign working to close the digital divide by focusing on internet access, affordability, and equity for students, families, and all Americans. Online For All is kicking off today with a Week of Action to drive enrollment in the Affordable Connectivity Program. The Week of Action will bring together the federal government and over 300 organizations to raise awareness about the program and help eligible families sign up.
An estimated 28 million households in the U.S. do not have high-speed internet at home, and two-thirds of these households are offline because they need help affording an available internet connection. The Affordable Connectivity Program, created through President Biden's Bipartisan Infrastructure Law, significantly lowers the cost of internet, and millions more eligible households could still benefit. With a community of supporting organizations and trusted messengers, Online For All will meet people where they are and ensure Americans across the country are connected.
---
U.S. Departments of Education and Justice Release Resource on Confronting Racial Discrimination in Student Discipline
The U.S. Department of Education's Office for Civil Rights (OCR) and the U.S. Department of Justice's Civil Rights Division (Justice) jointly released a Resource on Confronting Racial Discrimination in Student Discipline. The Departments recognize and appreciate school administrators, teachers, and educational staff across the nation who work to administer student discipline fairly, and to provide a safe, positive, and nondiscriminatory educational environment for all students, teachers, and other educators.
The Resource demonstrates the Departments' ongoing commitment to the vigorous enforcement of laws that protect students from discrimination on the basis of race, color, or national origin in student discipline. The Resource provides examples of the Departments' investigations of such discrimination over the last 10 years, reflecting the long-standing approach and continuity in the Departments' enforcement practices over time and the continuing urgency of assuring nondiscrimination in student discipline in our nation's schools.
NASET Members - Login to Access the Full Article
---
Guide to Helping Children Cope After a Traumatic Event
Communities around the world have been shocked by increasingly frequent reports of violence – in Paris, Nigeria, San Bernadino, and elsewhere. These events are hard even for adults to comprehend and, sadly, we can't shield our children from pain and fear when they're exposed to such tragedy. But we can help them process what they're experiencing in the healthiest way possible.
NASET Members - Login to Access the Full Article
---
Supporting the Whole Child through Trauma-Informed Practice
Equipped with rapidly growing knowledge about how trauma can undermine young people's healthy development and ability to learn, many youth-serving professionals, community leaders, and policymakers are infusing principles of trauma-informed practice into program design, implementation, and policy proposals. Creating Cultures of Care: Supporting the Whole Child through Trauma-Informed Practice shares important insights about trauma-informed practice, drawing from both the prevailing literature and on-the-ground community expertise.
NASET Members - Login to Access the Full Article
---
Latest Employment Opportunities Posted on NASET
* Learning Specialist (Year-Round) - Gifted young artists from all over the world come to Interlochen Arts Academy to turn their passion and potential into a purposeful future. As their trusted faculty, we work side by side with our students to help them refine their talents and develop the skills they need to become creators of successful, fulfilling lives. Because this is where raw aptitude is refined, elevated, and maximized. To learn more- Click here
* Special Education Teacher - Functional Life Skills- Be part of a team that includes a full-time Occupational Therapist that provides required IEP services and is embedded in the program throughout the day to provide additional support to students, in-the-moment coaching, and support for carry-over skills. To learn more- Click here
* [2023-2024] High School Science Learning Specialist - Reporting to the Academic Dean, the High School Science Learning Specialist will be responsible for building meaningful relationships with students, implementing a Common Core-aligned curriculum, and working with their grade team to analyze data to drive instruction. This is an exciting opportunity for an educator who is passionate about improving student outcomes by leading excellent instruction and building a positive school culture. To learn more- Click here
* Special Education Teacher - Based at our South Pasadena campus, our exciting, collaborative, and multidisciplinary teaching team is seeking dedicated teachers to join our school team. In this 40-hour-per-week position, you'll have the chance to make a real difference in the lives of young learners while working alongside a supportive and collaborative team of professionals. Don't miss out on this exciting opportunity to grow your skills and contribute to a worthy organization– apply today! To learn more- Click here
* [2023-2024] Dean of Student Supports - Like all DREAM employees, the Dean of Student Supports should demonstrate a strong commitment to the mission and values of DREAM and have substantial expertise in all areas of responsibility. Candidates must also value DREAM's comprehensive approach to education and desire to make a lasting impact in underserved communities as part of a growing organization. To learn more- Click here
* Special Education Teacher (Sheppard Pratt School- Severna Park High School) - The Sheppard Pratt School - Severna Park High School, is a 10-month special education program, located in Anne Arundel County, Maryland, that provides educational services to students ages 14 to 21 with autism spectrum disorder and emotional disabilities. To learn more- Click here
* SPED/ DHH/ O&M/ Psych/OT/SLP/SLPA - CareStaff Partners is looking for Special Education Teachers, Deaf and hard of hearing teachers, Orientation and mobility specialists, school psychologists, Occupational therapists, Speech and language pathologists and assistants for contract assignments for the 2023/24 school year in Lakewood, WA! To learn more- Click here
* Special Education- Preschool, Preschool Autism (PAC), Visual Impairment Teacher - Provides and is accountable for the planning, assessment, instruction, communication, human relations, safety, and management of a classroom or assigned instructional setting. Supports FCPS mission to "inspire, enable, and empower students to meet high academic standards, lead ethical lives, and demonstrate responsible citizenship." To learn more- Click here
* Special Ed – Middle/High School ED/ID/LD/MD/Severe Disabilities Teacher - Provides and is accountable for the planning, assessment, instruction, communication, human relations, safety, and management of a classroom or assigned instructional setting. Supports FCPS mission to "inspire, enable, and empower students to meet high academic standards, lead ethical lives, and demonstrate responsible citizenship." To learn more- Click here
* Special Ed – Elementary School ED/ID/MD/Severe Disabilities Teacher - Provides and is accountable for the planning, assessment, instruction, communication, human relations, safety, and management of a classroom or assigned instructional setting. Supports FCPS mission to "inspire, enable, and empower students to meet high academic standards, lead ethical lives, and demonstrate responsible citizenship." To learn more- Click here
* Special Education Teacher (Phoenix, AZ) - Great Hearts Academies is committed to serving the students within our special education population in a manner that reflects and affirms their dignity and rightful participation within the larger student body. Through the use of consultation, resource, and inclusion models in a variety of academic environments, the Special Education team aims to provide support for students while working to ensure as much time as appropriate is spent within the general classroom. To learn more- Click here
* Special Education Teacher (San Antonio, TX) - At Great Hearts, our Special Education Teachers and Coordinators are integral members of our faculty, participating in all faculty-wide events and PD, while also bringing the specialized expertise that is necessary for the success of all our students. To learn more- Click here
* Special Education Teacher (Dallas/Ft. Worth, TX area) - Great Hearts Academies is a growing network of 43 public, open-enrollment, tuition-free schools in San Antonio (TX), Dallas/Ft. Worth (TX), Phoenix (AZ), and (opening in fall 2023) Baton Rouge (LA). We currently provide over 24,000 K-12 students with access to a high quality, classical liberal arts education, without the barriers that often come with private prep schools. To learn more- Click here
* Special Education Teacher (Sub-Acute Adolescent Care Unit / Hospital Setting) - Uphold all principles of confidentiality, Health Insurance Portability and Accountability Act (HIP AA), and patient care to the fullest extent. Adhere to all FDIHB policies and the professional and ethical behavior standards of the healthcare industry. Interact in an honest, trustworthy and dependable manner with patients, employees and vendors. To learn more- Click here
* Exceptional Education Teacher - *Sign on bonuses of $8,000* Hamilton County Schools, located in Chattanooga, TN, is building the best school district in Tennessee. We are committed to excellence for every student and are seeking outstanding teachers with the ability to inspire, engage, and who desire to make a difference in the lives of students. With nearly 80 schools located in urban, rural, and suburban communities, we are confident that you can find your place in Hamilton County. To learn more- Click here
* Special Education Teacher 2023-2024 SY - At Epic Special Education Staffing, you will have the opportunity to apply your unique expertise to school-based special education as your singular focus. We offer stimulating and rewarding careers in special education which provide an opportunity to make a difference in a child's life while enhancing your personal and career growth! To learn more- Click here
* Special Education Teacher 2023-2024 SY - If you're looking to leverage your expertise to make a real difference in special education- you belong at Epic Special Education Staffing. We Go All In…we are fully invested in everything we do. Whether it's work or play, we bring our strengths and passion to give our team and our partners 100%. To learn more- Click here
* Special Education Teacher 2023 2024 SY - Epic Special Education Staffing is partnering with an exceptional school district who is looking for several contract Special Education Teachers for the 2023-2024 school year. To learn more- Click here
* Special Education Teacher 2023-2024 SY - If you're looking to leverage your expertise to make a real difference in special education- you belong at Epic Special Education Staffing. We Go All In…we are fully invested in everything we do. Whether it's work or play, we bring our strengths and passion to give our team and our partners 100%. To learn more- Click here
---
Acknowledgements
Portions of this or previous month's NASET's Special Educator e-Journal were excerpted from:
Center for Parent Information and Resources
Committee on Education and the Workforce
FirstGov.gov-The Official U.S. Government Web Portal
Journal of the American Academy of Special Education Professionals (JAASEP)
National Collaborative on Workforce and Disability for Youth
National Institute of Health
National Organization on Disability
Substance Abuse and Mental Health Services Administration
U.S. Department of Education
U.S. Department of Education-The Achiever
U.S. Department of Education-The Education Innovator
U.S. Department of Health and Human Services
U.S. Department of Labor
U.S. Food and Drug Administration
U.S. Office of Special Education
The National Association of Special Education Teachers (NASET) thanks all of the above for the information provided for this or prior editions of the Special Educator e-Journal
---
Download a PDF Version of This e-Journal
NASET Members - Login to Access