July 2022 - Special Educator e-Journal
---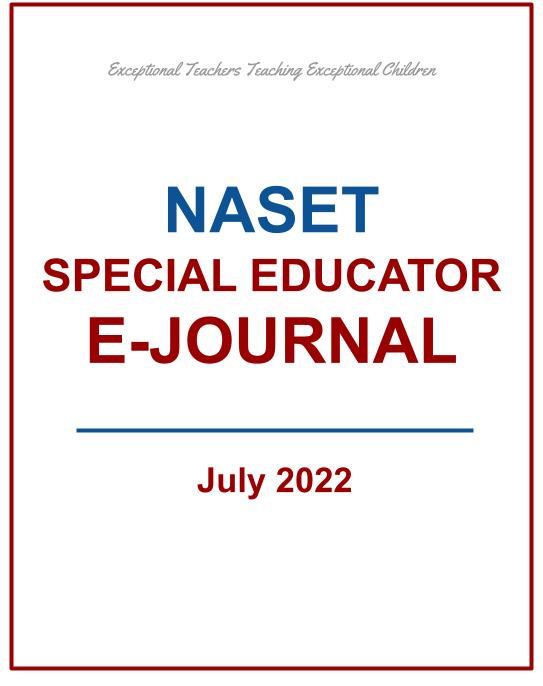 ---
NASET Members - Login Below to access the latest Special Educator e-Journal.
Site visitors: You may access a sample e-Journal - Sample e-Journal
---
Special Education Legal Alert
By Perry A. Zirkel
© June 2022
This month's update identifies two recent court decisions that respectively address (a) various FAPE issues and (b) the less frequent but ongoing issue of LRE under the IDEA. For related articles, special supplements, and earlier monthly updates, see perryzirkel.com.
NASET Members- Login to Access the Full Article
---
Buzz from the Hub
All articles below can be accessed through login:
Babies and Toddlers Indeed!
Just want an quick step-by-step overview of early intervention?
10 Basics of the Special Education Process under IDEA
Parent Rights
All about the IEP Suite

And many more!!
NASET Members - Login to Access the Full Article
---
The U.S. Department of Education Releases Proposed Changes to Title IX Regulations, Invites Public Comment
In celebration of the 50th anniversary of Title IX – the landmark civil rights law that has opened doors for generations of women and girls – the U.S. Department of Education released for public comment proposed changes to the regulations that help elementary and secondary schools and colleges and universities implement this vital legislation. The proposed amendments will restore crucial protections for students who are victims of sexual harassment, assault, and sex-based discrimination – a critical safety net for survivors that was weakened under previous regulations. The proposed regulations will advance educational equity and opportunity for women and girls across the country to ensure that every student in America, from kindergarten through a doctorate degree, can achieve her dreams.
NASET Members- Login to Access the Full Article
---
Secretary Cardona Lays Out Vision to Support and Elevate the Teaching Profession
U.S Secretary of Education Miguel Cardona will lay out his vision for how the nation can support teachers across the country and elevate the teaching profession. During an address and fireside chat at the Bank Street College of New York, Secretary Cardona will discuss how the Department, states and districts, and higher education institutions can recruit, prepare, and retain great teachers and, in turn, improve our education system across the country. He also will highlight the work the Department has done to support teachers since the beginning of the Biden-Harris Administration and share his own experience and perspective as a former teacher, principal, and school administrator. In addition to Secretary Cardona's visit, the Department is releasing a fact sheet on how American Rescue Plan (ARP) fund investments in our nation's educators can be sustained for the long-term using other existing sources of federal funds.
NASET Members - Login to Access the Full Article
---
Transition to Preschool
Kids grow fast, don't they? And early intervention is designed for children from birth up to age three. At that point, services under EI end. If the child will need continued support once he or she moves on to preschool, it's very important to plan ahead so that the transition is smooth. The resources below will help you do just that.
NASET Members - Login to Access the Full Article
---
Providing Early Intervention Services in Natural Environments
Early intervention services are to be provided in natural environments to the maximum extent appropriate for the child and for the EI service itself.
So–what's considered a "natural environment"? What isn't? This webpage focuses upon answering these questions and on connecting you with resources of additional information and best practice.
Part C of the Individuals with Disabilities Education Act (IDEA) requires that eligible infants and toddlers with disabilities receive needed early intervention services in natural environments to the maximum extent appropriate. The 2011 regulations for Part C define the term as follows:
---
Examining General Education and Special Education Teacher Preparedness for Co-Teaching Students with Disabilities
Cindy Causey, Ed.S.
Lina Soares, Ph.D.
Catherine S. Howerter, Ph.D.
Peggy Shannon-Baker, Ph.D.
Georgia Southern University
Abstract
It is imperative to understand how teachers are prepared for their role as co-teacher. The purpose of this study was to investigate how general education and special education teachers in one elementary school in Georgia are trained in the instructional practice of co-teaching and their perceptions on how prepared they feel to implement the method. A mixed methods approach was used and included a qualitatively-oriented survey and semi-structured interviews. Data collected in this study revealed that over half of all co-teachers at the elementary school had received some type of training on co-teaching and also felt adequately prepared to serve in the co-teaching role. Overall, participants reported positive perspectives on co-teaching despite there being challenges. The benefits of co-teaching noted a supportive and safe environment, instructional support for students and teachers, and confidence builder due to collaboration. The challenges reported included insufficient time for collaboration, inconsistent teaching schedules, and student behavior problems.
Keywords: co-teaching, teacher preparation, students with disabilities
---
---
Latest Employment Opportunities Posted on NASET
* Middle School Teacher: Grades 6-8 - Students are broken into small groups for math, reading, and written language. The team-teaching model requires good communication and professional collaboration skills to provide the best educational experience for our students. To learn more- Click here
* Special Education Teacher K-12 - To develop students' interest, abilities, talents and skills for education and understanding by implementing district approved curriculum; documenting teaching and student progress/activities/outcomes; developing lesson plans; modeling the necessary skills to performing assigned tasks; providing a safe and optimal learning environment; and providing feedback to students, parents and administration regarding student progress, expectations, goals, etc. To learn more- Click here
* High School Math Teacher - Gateway Academy is the first 6th-12th Grade Private Day School in the State of Arizona, specializing in a pure population of Exceptional students. We are seeking a unique Teacher to add to our team of Warriors. To learn more- Click here
* Special Education Teacher for Private New York Schools Program - Under general direction, is responsible for conducting educational classes for special education pre-school and school age students or Early Intervention, Universal Pre-Kindergarten (UPK) or Day Care programs in accordance with the needs of the students and in accordance with the regulations and requirements of the applicable governmental and other regulatory agencies. Acts as team leader of each student's team. The Teacher is a management and supervisory position. To learn more- Click here
* Special Education Teacher - Watertown, NY - Responsible for the supervision of all other staff in the classroom. Ensures that the appropriate staff/child ratio for the classroom is maintained at all times. Support the contribution of parent involvement and to assist in the implementation of this in all aspects of the educational program. Provide homebound services as requested by supervisor as schedule permits. To learn more- Click here
* [2022-2023] Middle School Learning Specialist - Reporting to the Academic Dean, the Learning Specialist will be responsible for providing tailored support to students with special education needs, through integrated co-teaching, in small group settings, or a combination of both. This is an exciting opportunity for a seasoned educator who is passionate about ensuring all students succeed and thrive in school. To learn more- Click here
* [2022-2023] High School Learning Specialist - Reporting to the Academic Dean, the High School Learning Specialist will be responsible for building meaningful relationships with students, implementing a Common Core-aligned curriculum, and working with their grade team to analyze data to drive instruction. This is an exciting opportunity for an educator who is passionate about improving student outcomes by leading excellent instruction and building a positive school culture. To learn more- Click here
* Special Education Teacher and Paraprofessional Positions – District Wide - The purpose of these positions is to help each student learn subject matter and skills that will contribute to his/her development as a mature, capable, and responsible adult. Provide a positive, healthy, and safe environment in which the student can achieve his/her maximum potential. To learn more- Click here
* Chief of Adult Services, Aspire Living & Learning - Reporting to the Chief Executive Officer, the Chief of Adult Services will serve on the eight-person Executive team that provides leadership across the entire organization. In this capacity, the CAS will play an integral role in informing, creating, and executing the strategic direction of Aspire. The CAS will directly manage five staff members, four of whom oversee program operations in an Aspire state (CT, MA, MD, NH) and one of whom oversees facilities. To learn more- Click here
* Special Education Teacher (Sign on Bonus) - The Special Education Teacher works closely with all members of the dedicated, inter-disciplinary therapeutic team supporting the students and classroom. Teachers also collaborate with parents and guardians to ensure the greatest wrap around services, school -to-home communications, and understanding of the student. Collaboration with our partnering school districts is also essential. To learn more- Click here
* Physical Education Teacher (Sign on Bonus) - The Physical Education Teacher works closely with all members of the dedicated, inter-disciplinary therapeutic team supporting the students and classroom. This teacher also collaborates with parents and guardians to ensure the greatest wrap around services, school -to-home communications, and understanding of the student. Collaboration with our partnering school districts is also essential. To learn more- Click here
* Teacher's Aide I (Sign on Bonus) - The purpose of this position is to provide support and performs duties as assigned under the direct supervision of the classroom teacher(s) and by the general direction of the Principal or Assistant Principal. To learn more- Click here
*Special Education Teacher - The Special Education Teacher will teach at one of our Network campuses. The Special Education Teacher will be responsible for planning lessons and curricula, administering assessments, collecting and analyzing data, and relentlessly supporting students to achieve academic excellence. To learn more- Click here
* Special Ed Intellectual Disabilities Teacher, ES, MS, HS - Provides and is accountable for the planning, assessment, instruction, communication, human relations, safety, and management of a classroom or assigned instructional setting. Supports FCPS mission to "inspire, enable, and empower students to meet high academic standards, lead ethical lives, and demonstrate responsible citizenship." To learn more- Click here
* Special Ed Learning Disabilities Teacher, ES, MS, HS - Provides and is accountable for the planning, assessment, instruction, communication, human relations, safety, and management of a classroom or assigned instructional setting. Supports FCPS mission to "inspire, enable, and empower students to meet high academic standards, lead ethical lives, and demonstrate responsible citizenship." To learn more- Click here
* Special Ed Multiple Disabilities Teacher, ES, MS, HS - Provides and is accountable for the planning, assessment, instruction, communication, human relations, safety, and management of a classroom or assigned instructional setting. Supports FCPS mission to "inspire, enable, and empower students to meet high academic standards, lead ethical lives, and demonstrate responsible citizenship." To learn more- Click here
* Special Education Teacher - Autism - Responsible for planning, implementing, and evaluating instructional activities for special education students. Create a flexible class environment favorable to learning and personal growth; establish effective rapport with students; motivate students to develop skills, attitudes, and knowledge in accordance with each student's ability; and establish good relationships with parents and other staff members. To learn more- Click here
* Educational Specialist - Environmental Charter Schools is seeking a talented and dynamic Educational Specialist with a Moderate/Severe credential who is passionate about ensuring educational equity for students with exceptionalities. This position provides the opportunity to partner with special education and general education teachers across three campuses in order to prepare low-income students of color with exceptionalities for college success. To learn more- Click here
* Special Education Teacher - We are recruiting for three Special Education Teachers to serve Quest Academy Day Treatment Center in Longview, WA for the 2022-2023 school year. These positions are full time, 192 day contracts. To learn more- Click here
---
Acknowledgements
Portions of this or previous month's NASET's Special Educator e-Journal were excerpted from:
Center for Parent Information and Resources
Committee on Education and the Workforce
FirstGov.gov-The Official U.S. Government Web Portal
Journal of the American Academy of Special Education Professionals (JAASEP)
National Collaborative on Workforce and Disability for Youth
National Institute of Health
National Organization on Disability
Substance Abuse and Mental Health Services Administration
U.S. Department of Education
U.S. Department of Education-The Achiever
U.S. Department of Education-The Education Innovator
U.S. Department of Health and Human Services
U.S. Department of Labor
U.S. Food and Drug Administration
U.S. Office of Special Education
The National Association of Special Education Teachers (NASET) thanks all of the above for the information provided for this or prior editions of the Special Educator e-Journal
---
Download a PDF Version of This e-Journal
NASET Members - Login to Access