January 2021 - Special Educator e-Journal
---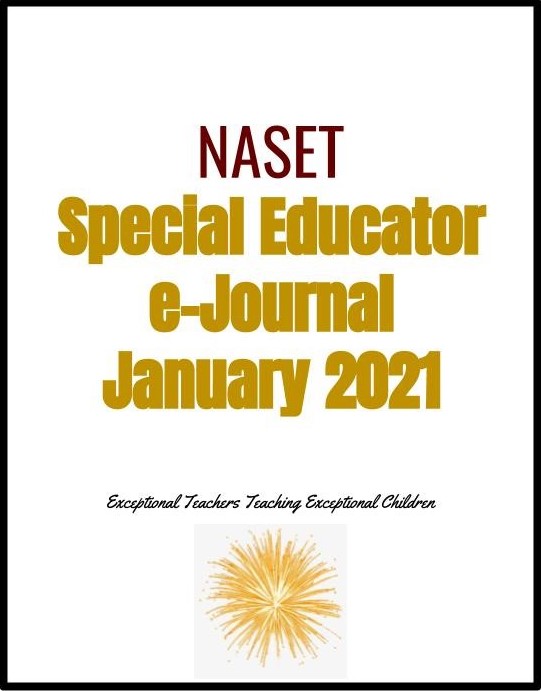 ---
---
NASET Members - Login Below to access the latest Special Educator e-Journal.
Site visitors: You may access a sample e-Journal - Sample e-Journal
---
Special Education Legal Alert
By Perry A. Zirkel
© December 2020
This month's update identifies recent court decisions of general significance, specifically addressing issues of (a) settlements for special education students, and (b) system-wide claims arising under COVID-19. For related information, see perryzirkel.com.
NASET Members- Login to Access the Full Article
---
Buzz from the Hub
All articles below can be accessed through login:
OSEP Fast Facts: IDEA 45th Anniversary
IDEA Presentation Materials at Your Fingertips
Do you know the History of the Parent Centers?
Creating Effective Partnerships to Improve Early Intervention | Webinar
It's Official: National Test Is Postponed Due to COVID-19 Concerns
GAO Report: Challenges Providing Services to K-12 English Learners and Students with Disabilities during COVID-19
Map: Where Are Schools Closed?
Why School Board Diversity Matters
Playtime's Guide to Activities Families Can Do Together
Self-Care in the Time of Coronavirus
Holidays During the Pandemic
NASET Members - Login to Access the Full Article
---
Considerations for Culturally Linguistically Diverse Nonverbal Children and Families when Introducing Augmentative and Alternative Communication Systems
By Laurinda Flores
Abstract
Augmentative and Alternative Communication (AAC) systems are effective communication tools for individuals with an Autism Spectrum Disorder (ASD) or any other form of low to nonverbal disability. Historically, many advances and success stories have been made possible with the implementation practices for using Assistive Technology in monolingual families. This Literature Review provides an analysis of available information regarding promoting successful communicators in the culturally diverse community using Augmentative and Alternative Communication systems (AAC). It reflects an insufficient sensitivity to cultural factors which can potentially lead to the family's rejection of the AAC device or even abandonment of use. The literature describes a need for a closer look at the parent-practitioner partnerships for treatment, planning, and supporting the family home language, but more importantly the influencing cultural factors needed for successful communications. This need for current formal studies on this topic confirms our need to continue to find relevant research on intervention practices for bilingual and bi-cultural children with an Autism Spectrum Disorder. More general training for the teachers, paraprofessionals, speech-language pathologists, and families is needed for using AAC. In students with a culturally and linguistically diverse background, learning to use the AAC device presents its own set of problems and obstacles that continue to be present, although 25 years have passed. Guiding the multicultural child and family to feel respected and accepted within their social circle with the help of all stakeholders, through long-term training on how to use an AAC device, can lead to self-efficacy and independence for the future. Nonverbal does not mean non-communicative. To be successful communicators, nonverbal children need to see that their actions influence those around them. They must intrinsically want to communicate, or they will continue to use previous methods, including gesturing, pulling, or tantrums to get their wants and needs met. Culturally and linguistically diverse families can be overwhelmed by the level of requirements to help the child learn one, two, or three languages: their home language, the school language, and the language of the AAC device. Strategies to be addressed in the future should include the effects of social emotional learning with cultural factors, along with ongoing training for families and all stakeholders, when introducing AAC to culturally diverse students.
Keywords: Augmentative, and Alternative Communication System, Autism, Culturally Linguistically Diverse families, Assistive Technology, Communication Skills, Special Education, Nonverbal
NASET Members- Login to Access the Full Article
---
Take Nothing Personal
By Sandra Davis (Special Education Teacher)
TNP – (take nothing personal)
Suggestions for Behavioral programs
I have worked with emotional/socially challenged students for over 30 years and have found that it is best to have a consistent program for the teacher to introduce on the first day of school. The program may be changed/strengthened as the students start to get more comfortable in the class and become more themselves; in other words, after they get settled with a routine their behavior sometimes become more challenging. Often after a few months (yes, it takes a while) when an effective, consistently applied program is used daily, you will find that the students have learned how to complete their work with respect of others and themselves and will look forward to earned activities.By then most behavior problems have decreased significantly.
NASET Members - Login to Access the Full Article
---
Do Haitians Parents of Children with Disabilities Fully Understand their Roles and Services Provided to their Children?
By Stephania P. Desir
Abstract
The aim of this literature review is to evaluate Haitian parents of children with disabilities awareness and understanding of their role along with the services that are available to their children in the educational system. The findings from the articles showed there are many barriers that will hinder many immigrant parents of children with disabilities to gain the imperative information and services for their child which are the following: life stressors, lack of social support and resources; unemployment, financial insecurity, adjusting to a new culture, as well as language barrier (Brassart, Prévost, Bétrisey, Lemieux, & Desamarais, 2017; Gregoire, & Cramer, 2015). There are many Haitians parents who are lacking resources and knowledge of available services along with programs that can assist with the development of their children with disabilities.
Keywords: Haitian parents, children with disability, special education services, immigrant parents
NASET Members - Login to Access the Full Article
---
Reading Education for Students with Cerebral Palsy in the School and Home: A Literature Review
Abstract
There is very little research contributed to teaching educators how to provide reading instruction to children with cerebral palsy (CP) and their families. Specifically, this literature review will take a closer look at educational needs, family dynamics, and stressors parents may have as educators prepare to provide families with educational support and strategies in the content area of Reading during the Coronavirus 2019 (COVID-19) pandemic. Two studies that were reviewed were specific to the reading needs of students with CP. One study focused on the comparison of reading skills in typically developing children and students with CP. Data showed students with CP relied on their phonemic awareness skills longer than typically developing students. The second study focused on students with CP who have developed language skills in order to determine whether there is a large discrepancy between cognitive ability and reading skills. The data of this study reinforced the first study's conclusion of the importance of phonemic awareness in reading for students with CP. Three additional studies focused on behavior issues of students with CP, family stress, and family-centered services are also discussed in the literature review. Studies showed students who had greater limitations may experience more difficulty with prosocial behaviors and that student behaviors, although it may increase parental stress, does not cause it. The final study focused on the use of a family-centered service (FCS) in an Israeli population to increase parental involvement. The data showed more improvement was needed in the area of providing general information to parents. Overall, these studies offered insight to various aspects required to support families of children with CP in providing reading education to their child using a family-centered approach. Further research is needed to determine how to best provide reading instruction to children with CP who have difficulty with phonological processes in the home.
NASET Members - Login to Access the Full Article
---
Book Review: Feeding Teachers Through Their Masks: Applying the themes of Neila A. Connors' If You Don't Feed the Teachers They Eat the Students in the Times of COVID-19
By Rebecca Nicks
Abstract
In If You Don't Feed the Teachers They Eat the Students, Neila A. Connors outlines specific strategies for administrators to use to make sure their teachers feel appreciated and respected. While this is always an important job of administrators, it is especially essential as schools return during the COVID-19 pandemic. In this book review, the author analyzes how Connors' strategies can be implemented during the challenging times of teaching during the pandemic.
NASET Members - Login to Access the Full Article
---
Book Review: The 360-Degree Leader: Developing Your Influence from Anywhere in the Organization
By Melisa F. Hughes
Abstract
Individuals among educational and business organizations are an integral part of the team. The characteristics that are displayed throughout the book indicate that the ability of a leader to lead from any position within an organization helps to build confidence of everyone on the team. The type of leadership that is discussed can be applied at any level and sets the tone when opportunities are presented.
Maxwell, John. The 360-Degree Leader: Developing Your Influence from Anywhere in the Organization. Nashville, Tennessee: Thomas Nelson, Inc. 2005. 314 pp. $14.99
NASET Members - Login to Access the Full Article
---
Book Review: Is My School A Better School Because I Lead It? By Baruti K. Kafele
By Zarkia Jones
Baruti K. Kafele was an educator in the New Jersey school system for over 20 years, an author of eight books and a highly distinguished master teacher. Kafele was highly sought after for his transformational leadership and his ability to teach people how to be effective leaders. He has traveled around the world to share his knowledge and ask the critical question "is my school a better school because I lead it". During his experiences, he was shocked to learn that many educators and so-called leaders hadn't even thought about that question. He would usually have to poke, prod or coach to get the true answers he was looking for. That led to him writing and publishing his book, Is My School A Better School Because I Lead It?
NASET Members - Login to Access the Full Article
---
Latest Employment Opportunities Posted on NASET
* Special Education Teachers - All areas - We are looking for highly motivated and skilled talent to join our team at District of Columbia Public Schools (DCPS). We seek individuals who are passionate about transforming the DC school system and making a signi?cant di?erence in the lives of public school students, parents, principals, teachers, and central o?ce employees. To learn more - Click here
* Teacher - JHU is looking for an energetic, flexible, and motivated teacher needed to work full-time with a young adult with autism. Teachers work on a multi-disciplinary team with specialists in autism, special education, speech-language pathology, fitness, art, and behavior analysis to address communication, academic, daily living, vocational, and leisure skills in home, educational, and community settings in and around New York City, Connecticut, and via Zoom. To learn more - Click here
* Assistant Professor; Collaborative Special Ed - The University of North Alabama invites applications for the position of tenure-track, Assistant Professor in the Department of Teaching, Learning, & Leadership. Qualifications include: an earned doctorate in special education; a minimum of three years of successful public school experience with students who have either mild, moderate, or severe disabilities in grades K-6, 6-12, or K-12; demonstrated university teaching experience to teach undergraduate courses required for a dual K-6 certification in elementary and special education, along with online graduate courses; excellent verbal and writing skills; the ability to advise teacher education candidates; and the ability to work with P-12 students as well as P-12 schools and administrators. To learn more - Click here
* Educational Instructional Support Specialists - The Collaborative for Educational Services (CES) is seeking Educational Instructional Support Specialists to assist with onsite coordination of hybrid and/or remote teaching and learning. The Specialist will provide structure, onsite support and the connection to teachers as needed. The Specialist's purpose is to make sure that students have what they need in order to actively, and successfully engage with their learning when done via remote instruction, or through a combination of in person and on-line (hybrid) programming. To learn more- Click here
* FT Special Education Teachers, (K-4, 5-8, 9-12) - PA Virtual has openings for Full Time Special Education Teachers at the Elementary, Middle and High School Levels. All teaching positions are remote and we require candidates to have a current, valid certification to teach in the state of Pennsylvania. The Teacher position is responsible for the planning, organization and implementation of an appropriate instructional program, in an elementary or secondary virtual learning environment. To learn more - Click here
* Special Education Teacher - A local school district in Charleston, SC has partnered with an industry leading healthcare job placement agency, to fill several vacant Special Education Teacher positions in Charleston, SC for the entire 2020-21 School Year. The Special Education Teacher is responsible for planning, coordinating and the provision of special education services to eligible students. This position assures adherence to timelines and federal and state requirements for special education services and the responsibility for monitoring compliance with Individualized Services Plans (ISP) and/or Individualized Education Plan (IEP). To learn more - Click here
* Special Education Teacher - Merakey is seeking a Special Education Teacher to join our Education Services within our Children's and Family division in our school in Chambersburg PA for the 2020-2021 school year. The Merakey Children's and Family Division focuses on a continuum of care throughout the lifespan. The core, fundamental principles of Applied Behavior Analysis (ABA) are incorporated into a specialized approach across all service offerings. To learn more - Click here
* Special Education (Autism) PreK-4 - General responsibilities indlude aiding each student consistent with his or her abilities and educational needs. Develop competence in the basic learning skills, progress on the basis of achievement, and to qualify for further education and/or employment. To learn more - Click here
* Virtual Special Education Teacher Positions - K12 believes in education for everyone. We provide families an online option for a high-quality, personalized education experience. Students can thrive, find their passion, and learn in an environment that encourages discovery at their own pace. In support of this, we are committed to creating and maintaining a culture of inclusion and diversity. To learn more - Click here
* Special Education Teacher - $60,000/school year (185 days), summers off with year-round pay and year round appreciation. Special Education Teachers needed in Arizona (Phoenix and surrounding cities). Needs are in the self-contained and resource settings serving students with emotional disabilities (ED), Autism (A), Severe/Profound (S/P), and Intellectual Disabilities (ID). STARS is the largest school contract agency in AZ. STARS is owned and operated by Occupational Therapists. You will be an employee and receive full benefits - To learn more - Click here
---
Acknowledgements
Portions of this or previous month's NASET's Special Educator e-Journal were excerpted from:
Center for Parent Information and Resources
Committee on Education and the Workforce
FirstGov.gov-The Official U.S. Government Web Portal
Journal of the American Academy of Special Education Professionals (JAASEP)
National Collaborative on Workforce and Disability for Youth
National Institute of Health
National Organization on Disability
Substance Abuse and Mental Health Services Administration
U.S. Department of Education
U.S. Department of Education-The Achiever
U.S. Department of Education-The Education Innovator
U.S. Department of Health and Human Services
U.S. Department of Labor
U.S. Food and Drug Administration
U.S. Office of Special Education
The National Association of Special Education Teachers (NASET) thanks all of the above for the information provided for this or prior editions of the Special Educator e-Journal
---
Download a PDF Version of This e-Journal
NASET Members - Login to Access