February 2023 - Special Educator e-Journal
---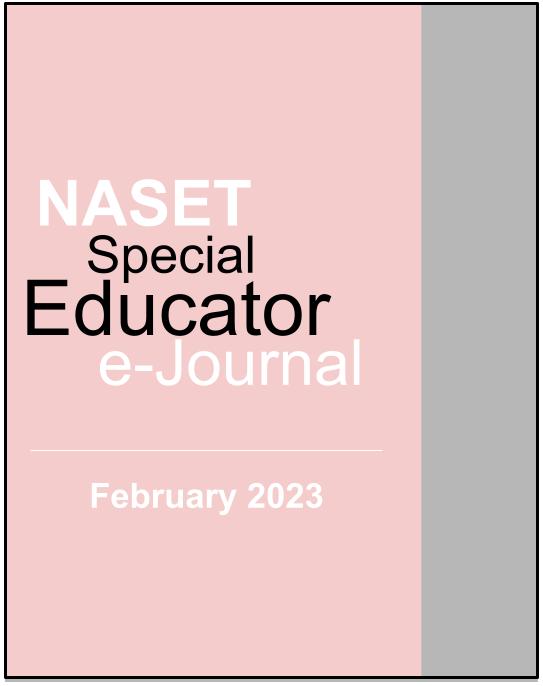 ---
NASET Members - Login Below to access the latest Special Educator e-Journal.
Site visitors: You may access a sample e-Journal - Sample e-Journal
---
Special Education Legal Alert
By Perry A. Zirkel
© January 2023
This month's update identifies recent court decisions that illustrate the intersection of the continuing IDEA issues of child find and least restrictive environment (LRE) with current concerns, such as threats of school shootings and interpretations of the Supreme Court's Endrew F. decision, respectively. For related publications and earlier monthly updates, see perryzirkel.com.
NASET Members- Login to Access the Full Article
---
Buzz from the Hub
All articles below and many more can be accessed through login:
RAISE the Standard
Culturally competent transition practices can play a significant role in improving post-school outcomes for youth with disabilities. The November issue of RAISE The Standard explores what it means to bring a culturally competent approach to transition planning and why it is vital to do so. Be sure to check out the great list of resources in the newsletter, such as the one listed below.
Life after High School: A Guide for Culturally and Linguistically Diverse Families of Youth with Disabilities
This guide is offered in nine languages: English, Arabic, Chinese, Korean, Russian, Somali, Spanish, Tagalog, and Vietnamese. Wow, eh? From Open Doors for Multicultural Families.
Addressing the Impacts of Parent and Caregiver Loss on Children
(Also available in Spanish: Cómo afrontar el impacto de la pérdida de padres y cuidadores en los niños)
This Dear Colleague Letter from the Administration for Children and Families (ACF) discusses the urgent need to support children and youth who've experienced the traumatic loss of a parent or caregiver. It also includes an astoundingly thorough list of programs and resources available to address the spectrum of needs a child or family might have, from economic supports to behavioral health, to kinship and family supports, and more.
How to Work With Your Child's School
Children with emotional or learning challenges are entitled to support from their schools. Who should parents talk to? This suite of articles from the Child Mind Institute can sure help! It includes 6 separate briefs, with titles such as Building Your Education Team, Supporting Trans and Nonbinary Kids at School, How to Get Assistive Technology for Your Child in School, How to Make the Most of Your IEP Meeting, and About Section 504 Plans. All are also available in Spanish.
NASET Members - Login to Access the Full Article
---
U.S. Department of Education's "Raise the Bar: Lead the World" Initiative
In a major address, U.S. Secretary of Education Miguel Cardona laid out his vision for the direction the agency will follow in 2023 to promote academic excellence, improve learning conditions, and prepare our students for a world where global engagement is critical to our nation's standing. In his address Secretary Cardona remarked that "Raise the Bar: Lead the World" is not a list of new priorities, but a call to strengthen our will to transform education for the better, building on approaches that we know work in education. Secretary Cardona outlined how the nation has moved forward but emphasized it will take everyone working together to produce lasting change in the pursuit to ensure our nation's schools, students, and teachers have everything they need to be successful.
NASET Members- Login to Access the Full Article
---
U.S. Department of Education Awards Grants to Improve Opportunities and Outcomes for Nation's Postsecondary Students
U.S. Secretary of Education Miguel Cardona today announced 38 awards totaling more than $30 million to colleges and universities from five competitive grant programs of the Fund for the Improvement of Postsecondary Education (FIPSE), which aims to improve higher education opportunities and outcomes for students from underrepresented communities.
"We cannot be complacent with a higher education system that leaves so many college students from diverse and underserved backgrounds without the supports and resources they need to succeed in school and, ultimately, graduate," said U.S. Secretary of Education Miguel Cardona. "The $30 million in grants announced today – including those of the new Postsecondary Student Success Program -- will help colleges and universities advance innovative and evidence-based strategies to better support their students and help address students' basic needs, launch affordable open textbook programs, improve campus resources for veterans, and create opportunities for youth who've struggled with violence to get their lives back on track. These investments reflect the Biden-Harris Administration's continued commitment to raising the bar for equitable outcomes in higher education and making sure students from all walks of life can thrive."
NASET Members - Login to Access the Full Article
---
U.S. Department of Education Announces $63 Million to Expand Community Schools and Increase Social, Emotional, Mental Health, and Academic Support for Students, Educators, and Families
The U.S. Department of Education (Department) announced $63 million in new five-year Full-Service Community Schools (FSCS) grants to support 42 local educational agencies, non-profits, or other public or private organizations and institutions of higher education working to expand existing community schools or establish new programs in eight new states and territories, including Alabama, Alaska, Louisiana, Maryland, New Mexico, Oklahoma, Tennessee and Puerto Rico.
Meeting the needs of the whole child is essential to help America's students grow academically and improve their well-being. That's why the Biden-Harris Administration is committed to supporting the adoption of community school models across the country, which provide comprehensive, integrated supports to our nation's students, their families, and their communities. Community schools meet the unique needs of the neighborhoods they serve by leveraging local non-profit, private sector, and agency partnerships to bring services into school buildings. This includes services such as high-quality tutoring, health, mental health and nutrition services, and high-quality early learning programs, among others, for students and the community.
NASET Members - Login to Access the Full Article
---
Moving Upstream: Confronting Racism to Open Up Children's Potential
The scientific evidence is clear and growing: racism imposes unique and substantial stressors on the daily lives of families raising young children of color. Understanding how these stressors affect child health and development provides a compelling framework for new ideas about how communities, policies, programs, and funding streams might confront and dismantle these inequities and build a stronger future for us all.
NASET Members - Login to Access the Full Article
---
Sensory Processing Issues Explained
Kids with sensory processing issues behave in ways that their parents often find confusing. They might react strongly to loud noises or bright lights or complain that their clothes are uncomfortable. They may be clumsy or have trouble with fine motor skills like fastening buttons. Some kids show extreme behaviors like screaming when their face gets wet.
These behaviors happen because the child is having trouble processing the information they receive from their senses. In addition to the traditional five senses, there are also two internal senses that give us information about movement and where our body is in space. Hyposensitive kids need more sensory stimulation. They often love to move around and crash into things. Hypersensitive kids avoid strong sensory stimulation and get overwhelmed easily.
NASET Members - Login to Access the Full Article
---
Supporting the Whole Child through Trauma-Informed Practice
Equipped with rapidly growing knowledge about how trauma can undermine young people's healthy development and ability to learn, many youth-serving professionals, community leaders, and policymakers are infusing principles of trauma-informed practice into program design, implementation, and policy proposals. Creating Cultures of Care: Supporting the Whole Child through Trauma-Informed Practice shares important insights about trauma-informed practice, drawing from both the prevailing literature and on-the-ground community expertise.
NASET Members - Login to Access the Full Article
---
Guide to Helping Children Cope After a Traumatic Event
Communities around the world have been shocked by increasingly frequent reports of violence – in Paris, Nigeria, San Bernadino, and elsewhere. These events are hard even for adults to comprehend and, sadly, we can't shield our children from pain and fear when they're exposed to such tragedy. But we can help them process what they're experiencing in the healthiest way possible.
NASET Members - Login to Access the Full Article
---
Latest Employment Opportunities Posted on NASET
* Special Education Teacher in Arizona - $70,000/year - STARS is owned and operated by Occupational Therapists. You will be an employee and receive full benefits. Summers off with year-round pay and year-round appreciation. With a proven track record, STARS is able to offer you an unbeatable support system and resources. STARS places Special Education Teachers throughout the Phoenix, Tucson and the surrounding area public schools. To learn more- Click here
* Workplace Coach - The How Skills provides highly individualized workplace coaching services to corporate employees. We are a quickly growing startup, and excited to expand our team! This coaching role, primarily supporting adults and working professionals with ADHD, autism, learning disabilities, other neurodiversity, and mental health conditions. To learn more- Click here
* Special Education Teacher - Resource- Potential to extend and potential for temp to perm. Use assessments and data to inform instructional practices. Utilize IEP information to adapt instruction to reach the needs of students. To learn more- Click here
* Early Intervention Special Education Teacher - Early Intervention teachers provide early intervention strategies and supports in the areas of assessment, instruction, and consultation to staff and families of children age birth to three in natural environments as a primary service provider. Early Intervention teachers serve as a liaison with medical and community service providers on behalf of children with disabilities and their families. To learn more- Click here
* Teacher of the Deaf/Special Educator - Early Intervention - The Early Intervention preschool classroom teacher is a Teacher of the Deaf and Hard of Hearing, though candidates with Early Childhood Special Education certification will be considered, who works with students ages three to five in a classroom setting and is responsible for planning and leading all aspects of the daily learning environment. To learn more - Click here
* Fellow in Special Education: Specialism in Autism Studies - The Department of Special Education is seeking to fill a full-time, faculty fellow position to begin August 2023. The successful candidate will be responsible for teaching special education and autism courses at the undergraduate and graduate level. The fellow will be assigned to teach five courses per year. In addition to teaching responsibilities, the faculty fellow will be required to engage in scholarship, service to the department and University, professional participation and student advising. To learn more- Click here
---
Acknowledgements
Portions of this or previous month's NASET's Special Educator e-Journal were excerpted from:
Center for Parent Information and Resources
Committee on Education and the Workforce
FirstGov.gov-The Official U.S. Government Web Portal
Journal of the American Academy of Special Education Professionals (JAASEP)
National Collaborative on Workforce and Disability for Youth
National Institute of Health
National Organization on Disability
Substance Abuse and Mental Health Services Administration
U.S. Department of Education
U.S. Department of Education-The Achiever
U.S. Department of Education-The Education Innovator
U.S. Department of Health and Human Services
U.S. Department of Labor
U.S. Food and Drug Administration
U.S. Office of Special Education
The National Association of Special Education Teachers (NASET) thanks all of the above for the information provided for this or prior editions of the Special Educator e-Journal
---
Download a PDF Version of This e-Journal
NASET Members - Login to Access