February 2022 - Special Educator e-Journal
---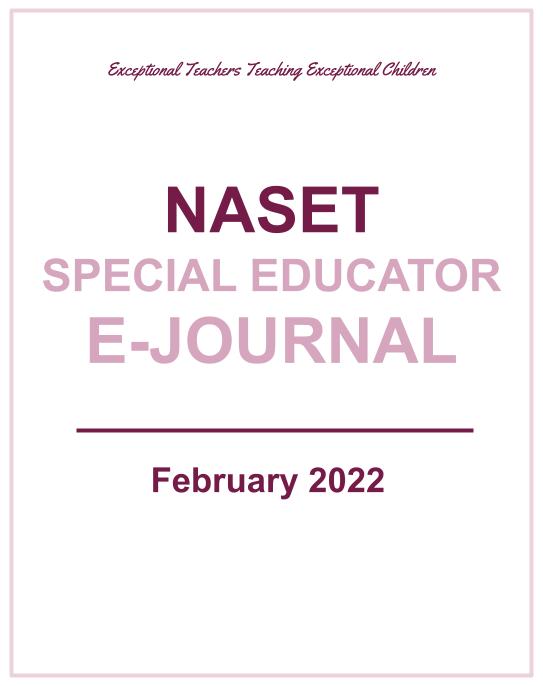 ---
NASET Members - Login Below to access the latest Special Educator e-Journal.
Site visitors: You may access a sample e-Journal - Sample e-Journal
---
---
Special Education Legal Alert
By Perry A. Zirkel
© January 2022
This month's update identifies two court decisions that address current issues, including the provision of ABA services and specialized reading methodologies. For various related articles, special supplements, and earlier monthly updates, see perryzirkel.com.
NASET Members- Login to Access the Full Article
---
Buzz from the Hub
All articles below can be accessed through login:
Getting Ready for the 2021-22 School Year: FAQs About Testing Children with Disabilities
Questions Often Asked by Parents about Special Education Services
The School Evaluation Process: What to Expect
Understanding Evaluation Results and Next Steps
How to Understand your Child's IEP Evaluations | Preparing for an IEP Eligibility Meeting
Information for LEP Parents and Guardians and for Schools and School Districts that Communicate with Them
Civil Rights Protect Language Access for Parent Participation in Child's Education
Facing Fears, Supporting Students
Updated CDC Guidance for Operating Early Care and Education/Child Care Programs
Webinar on Development and Implementation of IEPs
How Parent Support Groups Can Help
Special Needs Trusts and ABLE Accounts: How Are They Different?
Development and Implementation of the IEP in the LRE
Behavior Challenges: Conversation Starters to Use with Your Child's Teacher
Cutting and Other Self-Injury
Part C Finance Glossary
Supporting and Protecting the Rights of Students at Risk of Self-Harm
Connect to Care
For Parents of Children Who Were Just Diagnosed With a Health Condition
NASET Members - Login to Access the Full Article
---
Update from the U.S. Department of Education
Secretary Cardona Lays Out Vision for Education in America
In a major address at the Department of Education, U.S. Secretary of Education Miguel Cardona laid out his vision for continued recovery through the pandemic and his priorities for broader investments in America's education system to ensure all students can succeed and thrive. During the address, Secretary Cardona discussed key strategies the Department, schools, and colleges and universities must take to help students, educators, and school communities – from preschool through postsecondary education – continue to recover from the pandemic and address inequities that have long existed in our education system.
"Reopening schools—and keeping them open—while critical, is insufficient. Our hardest and most important work lies ahead," said Secretary Cardona in the address. "Our students' success is at stake. Not just the students we serve today, but for those who have yet to be born. Our task is not only to improve our education system from where it was before the pandemic, but also to take bolder action to elevate it to lead the world."
NASET Members- Login to Access the Full Article
---
Key Definitions in Part B of IDEA | Defining and Understanding Related Services
This page focuses on howIDEAdefines the term "related services." (Note: To print out or share the ENTIRE reference list as one Word or PDF file, use the links at the very top of this page.)
You can use the reference list in staff or board training, to refresh or deepen your understanding of what key terms in IDEA mean, and to find easy-to-read summaries about these terms on CPIR's site in English and Spanish.
NASET Members - Login to Access the Full Article
---
Section 504 of the Rehabilitation Act of 1973
No otherwise qualified individual with a disability in the United States . . . shall, solely by reason of her or his disability, be excluded from the participation in, be denied the benefits of, or be subjected to discrimination under any program or activity receiving Federal financial assistance…
Section 504 of the Rehabilitation Act of 1973
Section 504 of the Rehabilitation Act of 1973, as amended, is a civil rights law that prohibits discrimination on the basis of disability. This law applies to public elementary and secondary schools, among other entities.
Eligibility under Section 504
For more info on Section 504
NASET Members - Login to Access the Full Article
---
Latest Employment Opportunities Posted on NASET
* Director of Student Recruitment - Reporting to the Chief Operating Officer, the Director of Student Recruitment is responsible for creating and leading the student recruitment, enrollment, and retention strategy for all DREAM schools, ensuring we achieve 100% enrollment across all grades and schools. This includes, but is not limited to collaborating with key network and schools leaders and staff, reporting, training, accountability management, data analysis, and developing and rolling out new practices and updates to existing practices. To learn more- Click here
* [2022-2023] 7th Grade Learning Specialist - Reporting to the Academic Dean, the Learning Specialist will be responsible for providing tailored support to students with special education needs, through integrated co-teaching, in small group settings, or a combination of both. This is an exciting opportunity for a seasoned educator who is passionate about ensuring all students succeed and thrive in school. To learn more- Click here
* [2022-2023] Middle School Learning Specialist - Reporting to the Academic Dean, the Learning Specialist will be responsible for providing tailored support to students with special education needs, through integrated co-teaching, in small group settings, or a combination of both. This is an exciting opportunity for a seasoned educator who is passionate about ensuring all students succeed and thrive in school. To learn more- Click here
* Executive Director, MARCH Inc. of Manchester (CT) - MARCH, Inc. of Manchester (MARCH) seeks a leader experienced in intellectual and developmental disabilities to position the organization for growth and sustainability by anticipating trends and changes in the developmental disabilities field in Connecticut. We are looking for an Executive Director skilled in external relations, partnership building, fundraising, and communications, balanced with being able to build its people and agency operations. To learn more- Click here
* Special Education Teacher, Institutional Settings - Dedicated and collaborative teams of educators committed to supporting teaching excellence through coaching, professional development and excellent administrative support. CES prides itself on providing robust and engaging learning opportunities to all its teachers. To learn more- Click here
* [Immediate Hire] High School Math Learning Specialist - Reporting to the Academic Dean, the High School Math Learning Specialist will be responsible for providing tailored support to students with special education needs, through integrated co-teaching, in small group settings, or a combination of both. This is an exciting opportunity for a seasoned educator who is passionate about ensuring all students succeed and thrive in school. To learn more- Click here
* [2021-2022] Reading Interventionist - The Reading Interventionist will be responsible for providing tailored support to students that are reading significantly below grade level in grades K-2 through small group instruction (3-4 students) and push-in support. This is an exciting opportunity for a seasoned educator who is passionate about ensuring all students succeed and thrive in school. To learn more- Click here
* Special Education Teacher - Rivermont, is a subsidiary of New Story Schools, which is an educational organization comprised of special education schools in Pennsylvania, Virginia, Ohio, New Jersey, and Massachusetts. We offer an academic learning environment integrated with behavior support services for students diagnosed with autism or emotional/behavioral disorders. To learn more- Click here
* Principal - Our multidisciplinary teams collaborate with families, school districts and community partners to empower children in overcoming challenges and creating new stories in their lives. Do you have a passion for education and being a part of a mission-driven organization? Do you want to join a fast-growing company with excellent benefits, such as tuition reimbursement, generous paid time off, and so much more? To learn more- Click here
* Special Education Teacher - Do you aspire to help children with diverse challenges build skills for their future? Are you ready to make a real impact in their lives? As a Special Education Teacher at Bancroft, you will draw upon a wealth of curriculum and clinical resources to design individualized student goals. To learn more- Click here
* [SY 21-22] High School Lunch Coach - Originally founded in 1991 as Harlem RBI, DREAM has grown to annually serve more than 2,500 youth across East Harlem and the South Bronx through a network of six PreK-12, extended-day, extended-year DREAM Charter Schools and community sports-based youth development programs. Through our commitment to rigorous academics, social-emotional learning, deep family and community engagement, and health and wellness, we create lifelong learners who are equipped to fulfill their vision of success in and out of the classroom. To learn more- Click here
* Director of Oregon Migrant Education Service Center - The Director position for the Oregon Migrant Education Service Center (OMESC) will provide leadership for the 3rd largest migrant education program in the nation that includes nine education service districts and nine district regional program. To learn more- Click here
* Executive Director of Special Education - Willamette Education Service District is accepting applications for a full-time (40 hours per week) Executive Director of Special Education position. Successful candidate will work as a member of the Special Education Department and will follow a 240-day calendar. This position will be based at the Willamette ESD Marion Center in Salem, OR and will begin July 1, 2022. To learn more - Click here
* Special Education Teacher-Options Program - The teacher would need to be passionate about supporting inclusion in an academically rigorous environment as well as qualified to teach differentiated, developmental instruction based on student needs. The options Program teacher would help support success for both the student and general education teacher in the inclusion classroom. The teacher is also a key member of the larger Special Services team and should be excited to not only teach, but also work collaboratively to grow this new program. To learn more- Click here
* Special Education Teacher (All Specializations) - 2022-23 School Year - DCPS serves approximately 49,000 students in the nation's capital through the efforts of approximately 4,200 educators in 117 schools. As part of a comprehensive reform effort to become the preeminent urban school system in America, DCPS intends to have the highest-performing, best paid (Salary Range: $56,313 - $90,905), most satisfied, and most honored educator force in the nation and a distinctive central office staff whose work supports and drives instructional excellence and significant achievement gains for DCPS students. To learn more- Click here
* Middle School Special Education Teacher - The Halton School, an independent school for students with Asperger's, is looking for a Middle School Special Education teacher. The teacher will provide special education instruction to students in a small multi-grade class. The teacher will utilize a variety of teaching methods to meet student's educational needs and adapt and develop instructional materials accordingly. To learn more- Click here
* Director of McKay Academic Center (Academic Support) - The Dunham School is a PK-12, non-denominational Christian, independent school serving 785 students on one campus. The school offers fee paid tutoring, coaching, small group instruction and individual courses for students with a range of learning challenges including ADD, ADHD, dyslexia, dysgraphia and high functioning autism. To learn more - Click here
* Special Education Teacher - STARS is owned and operated by Occupational Therapists. You will be an employee and receive full benefits. Summers off with year-round pay and year-round appreciation. With a proven track record, STARS is able to offer you an unbeatable support system and resources. STARS is hiring for the 2021-2022 and 2022-2023 school years. STARS places Special Education Teachers throughout the Phoenix, Tucson and the surrounding area public schools. To learn more- Click here
* Middle School and High School Special Needs Teacher at the Anglo-American School of Sofia - We are a school of extraordinary families and outstanding teachers. We are an inspiring educational community - nestled in the stunning foothills of Mount Vitosha on the outskirts of Sofia. We are an exceptional IB world school offering children from 4 to 18 years a world class educational experience. We take pride in academic achievement, and value creativity and athletic talent with equal vigor. We offer a curriculum and approach that looks beyond the classroom and prepares our students for the challenges and opportunities that the world has to offer. To learn more- Click here
---
Acknowledgements
Portions of this or previous month's NASET's Special Educator e-Journal were excerpted from:
Center for Parent Information and Resources
Committee on Education and the Workforce
FirstGov.gov-The Official U.S. Government Web Portal
Journal of the American Academy of Special Education Professionals (JAASEP)
National Collaborative on Workforce and Disability for Youth
National Institute of Health
National Organization on Disability
Substance Abuse and Mental Health Services Administration
U.S. Department of Education
U.S. Department of Education-The Achiever
U.S. Department of Education-The Education Innovator
U.S. Department of Health and Human Services
U.S. Department of Labor
U.S. Food and Drug Administration
U.S. Office of Special Education
The National Association of Special Education Teachers (NASET) thanks all of the above for the information provided for this or prior editions of the Special Educator e-Journal
---
Download a PDF Version of This e-Journal
NASET Members - Login to Access