December 2022 - Special Educator e-Journal
---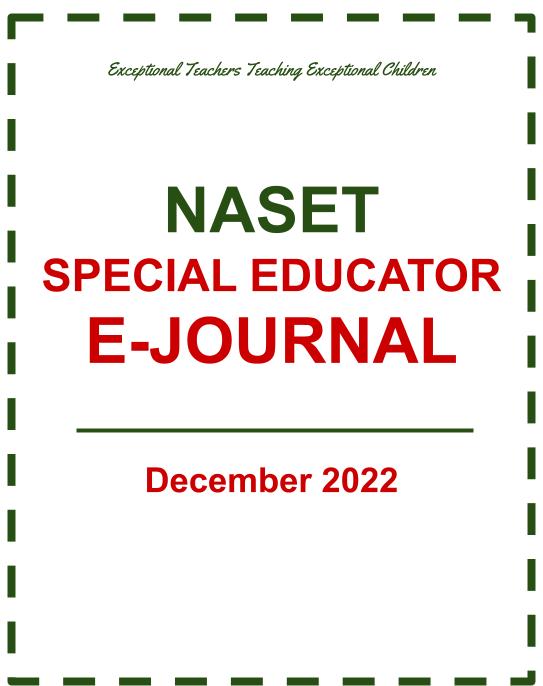 ---
NASET Members - Login Below to access the latest Special Educator e-Journal.
Site visitors: You may access a sample e-Journal - Sample e-Journal
---
Special Education Legal Alert
By Perry A. Zirkel
© November 2022
This month's update identifies two recent court decisions addressing a range of IDEA issues, including child find and both the procedural and substantive dimensions of FAPE. For related publications and earlier monthly updates, see perryzirkel.com.
NASET Members- Login to Access the Full Article
---
Buzz from the Hub
All articles below and many more can be accessed through login:
RAISE the Standard
Culturally competent transition practices can play a significant role in improving post-school outcomes for youth with disabilities. The November issue of RAISE The Standard explores what it means to bring a culturally competent approach to transition planning and why it is vital to do so. Be sure to check out the great list of resources in the newsletter, such as the one listed below.
Life after High School: A Guide for Culturally and Linguistically Diverse Families of Youth with Disabilities
This guide is offered in nine languages: English, Arabic, Chinese, Korean, Russian, Somali, Spanish, Tagalog, and Vietnamese. Wow, eh? From Open Doors for Multicultural Families.
Addressing the Impacts of Parent and Caregiver Loss on Children
(Also available in Spanish: Cómo afrontar el impacto de la pérdida de padres y cuidadores en los niños)
This Dear Colleague Letter from the Administration for Children and Families (ACF) discusses the urgent need to support children and youth who've experienced the traumatic loss of a parent or caregiver. It also includes an astoundingly thorough list of programs and resources available to address the spectrum of needs a child or family might have, from economic supports to behavioral health, to kinship and family supports, and more.
How to Work With Your Child's School
Children with emotional or learning challenges are entitled to support from their schools. Who should parents talk to? This suite of articles from the Child Mind Institute can sure help! It includes 6 separate briefs, with titles such as Building Your Education Team, Supporting Trans and Nonbinary Kids at School, How to Get Assistive Technology for Your Child in School, How to Make the Most of Your IEP Meeting, and About Section 504 Plans. All are also available in Spanish.
NASET Members - Login to Access the Full Article
---
U.S. Department of Education Launches New Initiative to Support Career-Connected Learning and Increase Job Pathways for Young Americans
The U.S. Department of Education (Department) announced the launch of Raise the Bar: Unlocking Career Success, a new Biden-Harris Administration initiative supported by the Departments of Commerce and Labor to increase and expand access to high-quality training programs to help young Americans pursue jobs in today's in-demand fields, and be prepared for careers of the future.
This new effort unites key agencies of the Biden-Harris Administration to strengthen the connection between K-12 education, postsecondary education, and workforce programs. With the support of the $120 billion dollars dedicated to K-12 education in the American Rescue Plan (ARP) and Perkins funding, the Administration is ensuring the next generation is building the skills necessary to fill high-paying jobs like those created by the Bipartisan Infrastructure Law and CHIPS and Science Act. This includes expanding access to skills-based learning and training pathways, like Registered Apprenticeships in key industries such as advanced manufacturing, automotive, and cybersecurity.
NASET Members- Login to Access the Full Article
---
U.S. Department of Education Sends Letter to State Directors of Special Education about Highly Mobile Children
The Department of Education released a letter to State Directors of Special Education addressing high-quality education for highly mobile children, Nov. 10.
The Office of Special Education and Rehabilitative Services (OSERS) Deputy Assistant Secretary Katy Neas and the Office of Special Education Programs (OSEP) Director Valerie C. Williams emphasized the need for states, school districts, school staff, and families to help ensure the rights of highly mobile children with disabilities.
NASET Members - Login to Access the Full Article
---
Individuals with Disabilities Education Act Services Provided in Head Start Programs
Government offices released documents last month to encourage collaboration between state and local education agencies and Head Start programs to effectively meet Individual with Disabilities Education Act (IDEA) requirements.
NASET Members - Login to Access the Full Article
---
Guidance Helps Schools Support Students with Disabilities and Avoid Disparities in the Use of Discipline
The U.S. Department of Education announced the release of guidance from its Office for Civil Rights (OCR) and Office of Special Education and Rehabilitative Services (OSERS) to help public elementary and secondary schools fulfill their responsibilities to meet the needs of students with disabilities and avoid the discriminatory use of student discipline. These newly released resources are the most comprehensive guidance on the civil rights of students with disabilities concerning student discipline and build on the Department's continued efforts to support students and schools through pandemic recovery.
NASET Members - Login to Access the Full Article
---
Cultural Issues: Treating & Diagnosing ADHD
Noe Ramos, Ph.D.
John Lowdermilk, Ph.D.
University of Texas Rio Grande Valley
***Article Excerpted from the Winter 2020 Journal of the American Academy of Special Education Professionals (JAASEP).
Abstract
ADHD refers to a diagnostic category applied to children exhibiting inattention, impulsivity, and hyperactivity. Approximately 1.2 to 2 million children are currently diagnosed with ADHD, making ADHD is considered to be the most common child psychiatric diagnosis in the United States. Public schools are constantly faced with the over-representation of students from minority populations in special education. Children with ADHD may be protected by three federal statutes: Section 504 of the Rehabilitation Act of 1973 (Section 504), the Americans with Disabilities Act of 1990 (ADA), and the Individuals with Disabilities Education Act, Part B (IDEA). Given that minorities constitute approximately one-third of the public school population, the purpose of this paper is to obtain a better understanding of the role culture plays in the diagnosis and treatment of ADHD.
NASET Members - Login to Access the Full Article
---
Book Review: Leading Change
By Itzel Rodriguez

Leadership in education plays an important role in the learning environment of teachers, administers, and studentts. Leadership it means supporting societal change that will increase all students' learning and advocating externally and internally for student learning. Leadership plays an important to in education and administration. In the administration position leadership can play an integral role in creating a positive school culture. It can influence student learning and achieving. Effective school leadership is increasingly viewed as the key to far reaching education transformation.
NASET Members - Login to Access the Full Article
---
---
---
Latest Employment Opportunities Posted on NASET
* Special Education Teacher- Multiple Positions - STRIVE Prep is a Denver-based community of public charter schools that challenges every student to strive for college and thrive throughout life by helping them to discover and develop the knowledge, skills and confidence necessary to succeed in college and beyond. We encourage you to read our 2021 Impact Report and learn more about what a career at STRIVE Prep is like here. To learn more- Click here
* Special Education Resource Teacher - Galapagos is looking for driven educators who truly believe in the ability of all children to succeed at the highest levels. Our staff works incredibly hard to deliver rigorous, individualized, data-driven and explicit instruction to our scholars. To learn more- Click here
* [2022-2023] Reading Intervention Specialist - Like all DREAM employees, the Intervention Specialist should demonstrate a strong commitment to the mission and values of DREAM and should have substantial expertise in all areas of responsibility. Candidates must also value DREAM's comprehensive approach to education and desire to make a lasting impact in underserved communities as part of a growing organization. To learn more- Click here
* Special Education/Transition Teacher - Do you want to play an integral role in a dynamic organization? We are looking for a Special Education/Transition Teacher who wants to assist our organization. The right candidate will enjoy learning new tasks and taking on a variety of responsibilities while working in an up-beat, nonprofit environment. To learn more- Click here
* Special Education Teachers $50/hr -Maxim Healthcare Staffing is looking to hire a Special Education Teacher provide quality services to special education students, kindergarten through grade 12, through a commitment to team participation in planning and implementation of student programs including special instruction, tutorial assistance and consultation with general education staff. To learn more- Click here
* Teacher of the Deaf/Special Educator - Early Intervention - The Early Intervention preschool classroom teacher is a Teacher of the Deaf and Hard of Hearing, though candidates with Early Childhood Special Education certification will be considered, who works with students ages three to five in a classroom setting and is responsible for planning and leading all aspects of the daily learning environment. To learn more- Click here
* Teacher - Virtual - Interested in teaching online courses? You can work full time or part time for supplemental income. Set your own hours, work from your own home, and earn your equivalent teaching salary or more! To learn more- Click here
* School Principal - We strive to give our clients support, resources, and the ability to heal through the work of animal-assisted therapy and nature-based learning all while developing the skills and confidence to grow into independent young adults. To learn more- Click here
* Special Education Teacher, Learning Disabilities - Provides and is accountable for the planning, assessment, instruction, communication, human relations, safety, and management of a classroom or assigned instructional setting. Supports FCPS mission to "inspire, enable, and empower students to meet high academic standards, lead ethical lives, and demonstrate responsible citizenship." To learn more- Click here
* Special Education Teacher, Multiple Disabilities ES/MS/HS - Provides and is accountable for the planning, assessment, instruction, communication, human relations, safety, and management of a classroom or assigned instructional setting. Supports FCPS mission to "inspire, enable, and empower students to meet high academic standards, lead ethical lives, and demonstrate responsible citizenship." To learn more- Click here
* Special Education Teacher Preschool - Provides and is accountable for the planning, assessment, instruction, communication, human relations, safety, and management of a classroom or assigned instructional setting. Supports FCPS mission to "inspire, enable, and empower students to meet high academic standards, lead ethical lives, and demonstrate responsible citizenship." To learn more- Click here
* Special Education Teacher-(Elementary, Middle, or High School) - The EC Teacher plans and provides for appropriate learning experiences for students with disabilities in a variety of educational settings. To learn more- Click here
* Special Education - Elementary Teacher - Career opportunities where you can choose your path. From coaching to administration, there are many options to grow your career, while pursuing your interests and passions. We are hiring immediately for a full-time Special Education - Elementary Teacher. Come grow your career with the Clark County School District! To learn more- Click here
---
Acknowledgements
Portions of this or previous month's NASET's Special Educator e-Journal were excerpted from:
Center for Parent Information and Resources
Committee on Education and the Workforce
FirstGov.gov-The Official U.S. Government Web Portal
Journal of the American Academy of Special Education Professionals (JAASEP)
National Collaborative on Workforce and Disability for Youth
National Institute of Health
National Organization on Disability
Substance Abuse and Mental Health Services Administration
U.S. Department of Education
U.S. Department of Education-The Achiever
U.S. Department of Education-The Education Innovator
U.S. Department of Health and Human Services
U.S. Department of Labor
U.S. Food and Drug Administration
U.S. Office of Special Education
The National Association of Special Education Teachers (NASET) thanks all of the above for the information provided for this or prior editions of the Special Educator e-Journal
---
Download a PDF Version of This e-Journal
NASET Members - Login to Access