December 2021 - Special Educator e-Journal
---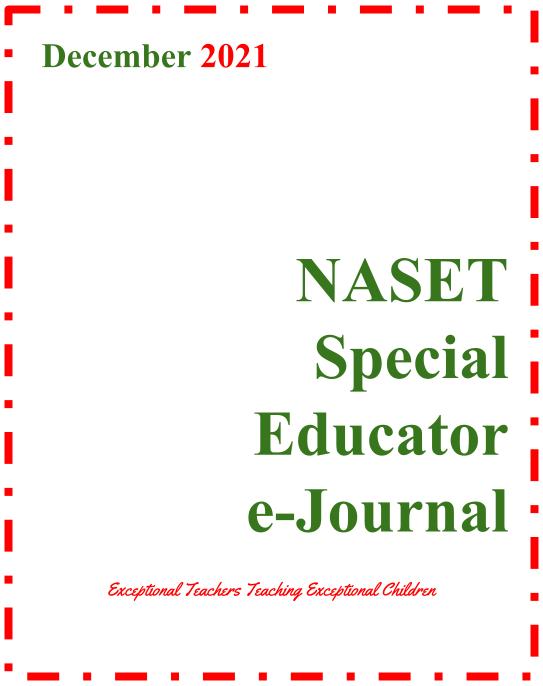 ---
NASET Members - Login Below to access the latest Special Educator e-Journal.
Site visitors: You may access a sample e-Journal - Sample e-Journal
---
---
Special Education Legal Alert
By Perry A. Zirkel
© November 2021
This month's update identifies a pair of recent court decisions that seem to differ from the traditional district-deferential approach in methodology disputes. For various related articles, special supplements, and earlier monthly updates, see perryzirkel.com.
NASET Members- Login to Access the Full Article
---
Buzz from the Hub
All articles below can be accessed through login:
Development and Implementation of the IEP in the LRE
Behavior Challenges: Conversation Starters to Use with Your Child's Teacher
Cutting and Other Self-Injury
Part C Finance Glossary
Supporting and Protecting the Rights of Students at Risk of Self-Harm
Connect to Care
For Parents of Children Who Were Just Diagnosed With a Health Condition
New to Disability?
Autism | Have you seen what Sesame Street offers?
Return to School Roadmap: Development and Implementation of IEPs in the Least Restrictive Environment
Video on Supported Decision Making
2 New Toolkits for Child Welfare and Juvenile Justice Agencies
Brain Injury in Children
What is a Behavior Intervention Plan (BIP)?
NASET Members - Login to Access the Full Article
---
Engaging Special Education Teacher Candidates with Disability-Themed Novels During the Pandemic
Sadia Warsi, Ph.D.
Karen Fitzgerald, Ph.D., CCC-SLP/L
Abstract
Novels are used in almost all our courses, but during the pandemic we had to make a more intentional decision to help our candidates deconstruct the novels using specific criteria, analyze the social emotional aspects of the character's experiences in their classrooms and homes, extrapolate best practices in the teaching scenarios presented in the novels and most importantly provide a list of research based instructional accommodations and modifications that would serve as foundations for the candidate's own teaching of students with disabilities. We will provide our readers with a detailed template, which they can use to guide their teacher candidates in extrapolating methods of teaching students with disabilities.
NASET Members- Login to Access the Full Article
---
Ready for Inclusion? A Phenomenology on Elementary Teachers' Experiences with Inclusion in the Least Restrictive Environment
Deborah L. Boldt
Robyn Cooper
Catherine Gillespie
Darcie Whitlow
Abstract
Discussion and focus on past practices by school districts in implementing inclusion has been a topic in education for decades. Prior to today's views, the general belief was that children with special educational needs were different from their peers and, therefore, required separated education outside the mainstream school. However, there is a lack of research on focused efforts to properly implement inclusion programming in the least restrictive environment; this study addressed that gap. This qualitative study, using teachers' experiences in combination with the Strange and Banning Environmental Model, contributed to deepening current understanding of inclusion. Findings from this study indicated themes in the physical, aggregate, organizational, and construct environments. This manuscript concludes with a discussion of the expectations for inclusion programming and the implications of not properly implementing inclusivity for students with and without a disability.
Keywords: phenomenology, least restrictive, general education, inclusion, special education
NASET Members - Login to Access the Full Article
---
Inclusive University Experiences for Students with Disabilities
Cheryl Wold
Jessica Vogel
Northern State University
Abstract
For many high school students, going to college has always been their expectation. Although students with disabilities have attended higher education institutions for many years, for one group of students, access to higher education has been a more recent occurrence. Students with cognitive disabilities have had more opportunities for post-secondary education since the Higher Education Act of 2008 removed previous barriers such as requiring a standard high school diploma. Yet, there still appears to be some resistance to allowing students with disabilities to participate in post-secondary opportunities. The purpose of this study was to examine the perceptions of university faculty and typical college peers in regard to the inclusion of students with disabilities on a college campus. Participants were surveyed about their expectations, benefits, strengths, and limitations of a transition program on a university campus. Student and faculty participants found the program to be mutually beneficial and a great relationship producer.
Key words: Students with Disabilities, Secondary Transition, Inclusive College Experiences, Disability Studies in Higher Education
NASET Members - Login to Access the Full Article
---
Book Review: The New One Minute Manager
Carolina Arcaya
In the search for a special kind of manager, a bright young man traveled for many years. He was looking for someone who could lead and manage in today's ever-changing world, someone who encouraged people to balance their work and their life and make their job meaningful and enjoyable. It was a tough search; he went through many towns and cities; he talked to managers of different industries and heard them talking about their different management styles. After searching for a while, he started to get disappointed. It seemed there was no balance; he mostly found managers interested more in results than in people or managers who were more interested in people than results. Thinking there must be a middle ground, where managers manage themselves and the people they work for profit from their presence; he kept searching until he finally heard incredible stories about a special manager, whom people like to work with and together would produce great results.
---
Book Review: Leadership that Works: From Research to Results
Rebecca Martinez (Webster)
It takes more than just the right personality to demonstrate effective leadership. Strong leadership is affiliated with intentional behaviors and actions that directly impact student achievement. Simultaneously, it is also about finding the balance between how things have always been done and what can be done differently. This balance is what the authors of Leadership that Works: from Research to Results describe throughout their book, as they make future recommendations for administrators and leaders based on their research-based methodology that is depicted in their findings.
NASET Members - Login to Access the Full Article
---
---
Latest Employment Opportunities Posted on NASET
* Faculty - ABSE Special Needs and Learning Disabilities - Lane Community College Faculty members are expected to be skilled educators, with a passion for teaching and continuous improvement in best practices that support equitable student success. The primary responsibilities of full-time faculty is to provide quality education and teaching in a range of community college courses, which may include transfer and/or career technical courses, and to engage in academic professional activities which advance the goals of the College and Division. Faculty members are responsible for following College and Division policies and procedures in support of teaching and learning. To learn more- Click here
* Middle School Special Education Teacher - The Halton School, an independent school for students with Asperger's, is looking for a Middle School Special Education teacher. The teacher will provide special education instruction to students in a small multi-grade class. The teacher will utilize a variety of teaching methods to meet student's educational needs and adapt and develop instructional materials accordingly. To learn more- Click here
* Director of McKay Academic Center (Academic Support) - The Dunham School is a PK-12, non-denominational Christian, independent school serving 785 students on one campus. The school offers fee paid tutoring, coaching, small group instruction and individual courses for students with a range of learning challenges including ADD, ADHD, dyslexia, dysgraphia and high functioning autism. To learn more - Click here
* High School Learning Support Teacher - Established in 1972, the American Community School of Abu Dhabi (ACS) is a non-profit, U.S. accredited college preparatory school serving a culturally diverse student body. Our American, standards-based curriculum provides excellence in academics, the arts, athletics, and service. ACS is preparing for a 2023 move to a new, state-of-the-art campus in Abu Dhabi on nearby Saadiyat Island. To learn more- Click here
* Interim On-call Paraprofessional - DREAM is seeking a passionate Interim On-call Paraprofessional to support students with special needs in our integrated co-teaching classrooms. The Paraprofessional will assist in an as-needed, on-call capacity with behavior interventions to support the student in need with accessing their education. This position will serve as a school resource and support for students with regards to special education services and regulations. The Paraprofessional will work closely with the Student Support Team (SST) to directly support students in behavioral need. To learn more- Click here
* Emotional Support Teacher - At Spring-Ford Area School District's Senior High School and 7th Grade Center. Three contracted positions available at Spring-Ford Area School District. Two contracts are available at the Senior High School and one contract is available at the 7th Grade Center. Experience preferred in supporting children with emotional needs, behavioral planning, and working successfully with parents, interagency supports and school teams. To learn more- Click here
* Autism Resource Specialist - The Autism Resource Specialist assists in identifying and implementing appropriate behavior management and communication systems and occasionally will demonstrate evaluation and teaching procedures on-site in the classroom. The Autism Resource Specialist develops multimedia materials and plans, coordinates, and conducts in-service training workshops. To learn more- Click here
* Special Education Teacher - STARS is owned and operated by Occupational Therapists. You will be an employee and receive full benefits. Summers off with year-round pay and year-round appreciation. With a proven track record, STARS is able to offer you an unbeatable support system and resources. STARS is hiring for the 2021-2022 and 2022-2023 school years. STARS places Special Education Teachers throughout the Phoenix, Tucson and the surrounding area public schools. To learn more- Click here
* Middle School Special Education Teacher - Christopher Columbus Charter School is located in in the heart of South Philadelphia's "Italian Market" area. At its inception in 1999, the school served students in grades K, 1, 2, and 3. Each year a grade was added, until it became a K-8 school. Presently, the school is serving 772 students. There are two facilities: the North Building, located at 916 Christian Street, houses students in grades K-5, and the South Building, located at 1242-46 South 13th Street, houses students in grades 5-8. Christopher Columbus Charter School students are a microcosm of the city. CCCS is a multicultural school serving families with various levels of income. To learn more- Click here
* Preschool Special Education Teacher - Buffalo Hearing & Speech Center has openings at our Buffalo, Amherst, and Fredonia locations for Preschool Special Education Teachers in Western New York. We are open to considering Early Childhood Teacher candidates who are willing to obtain additional Students with Disabilities, Birth - 2 certification. Tuition assistance may be available. To learn more- Click here
* Middle School and High School Special Needs Teacher at the Anglo-American School of Sofia - We are a school of extraordinary families and outstanding teachers. We are an inspiring educational community - nestled in the stunning foothills of Mount Vitosha on the outskirts of Sofia. We are an exceptional IB world school offering children from 4 to 18 years a world class educational experience. We take pride in academic achievement, and value creativity and athletic talent with equal vigor. We offer a curriculum and approach that looks beyond the classroom and prepares our students for the challenges and opportunities that the world has to offer. To learn more- Click here
* Coordinator, Residential Program for Students with Intellectual Disabilities - Lakeland University seeks a mission-oriented individual passionate about creating a more inclusive world to develop and coordinate an innovative residential program for students with intellectual disability slated to open on its campus in Fall 2022. The program is designed to provide students with a residential collegiate experience while preparing them for the next steps in their lives, whether that would be continuing with higher education or moving into employment and the community. To learn more- Click here
* Special Education Teacher - This position is responsible for the instruction of educational programs and curricula for exceptional students. The Emotional Support Special Education Teacher develops and implements the Individual Education Plan (IEP) for each student and collaborates with members of the instructional team in the planning and implementation of behavioral and academic interventions and supports to ensure students receive a quality educational program. To learn mor- Click here
* College & Career Development Teacher - Gateway Academy is the only private day school in the State of Arizona, specializing in a pure population of students diagnosed with High Functmmng Autism. We are seekmg a unique individual who is orgamzed, creative, has a positive mindset, is solution minded, energetic, fun, and whose passion is to make a difference in student's lives. Ultimately, assisting our students to find their unique path to success! This position requires working with students individually and in a group setting of 10 to 24 students, and collaborating with a variety of school personnel, outside agencies, families, and community partners. To learn more- Click here
* Early Childhood Special Education Teacher - Located in St. Louis, City Garden is in its 14th year as a charter school, having received a second 10 Year Charter with the state of Missouri in 2017. We began in 2008 with 53 students; we now have 400 children in preschool through eighth grade. As we grow, we continue to seek individuals to join us who share our vision for academic excellence for all children and holistic Montessori education, rooted in equity and social justice. To lean more- Click here
* Executive Director, Program for Students with Exceptionalities - Pittsburgh Public Schools employs over 4,000 individuals in various capacities to support the academic achievement and strength of character of the 25,000 students we serve. Candidates must be enthusiastic about the fundamental goal of advancing student achievement in an urban public school district. To learn more- Click here
* Special Education Teacher, Animas Valley Elementary School, 1.0 FTE - Durango School District 9-R is accepting applications for a Special Education Teacher - Animas Valley Elementary School. Must meet CDE and ESSA's requirement for Special Education Teacher. Includes full benefits and begins ASAP. To learn more- Click here
* Learning Disabilities Teacher, ES/MS/HS - Provides and is accountable for the planning, assessment, instruction, communication, human relations, safety, and management of a classroom or assigned instructional setting. Supports FCPS mission to inspire, enable, and empower students to meet high academic standards, lead ethical lives, and demonstrate responsible citizenship. To learn more - Click here
* Emotional Disabilities Teacher, MS/HS - Supports FCPS mission to inspire, enable, and empower students to meet high academic standards, lead ethical lives, and demonstrate responsible citizenship. Provides and is accountable for the planning, assessment, instruction, communication, human relations, safety, and management of a classroom or assigned instructional setting. To learn more - Click here
* Multiple Disabilities Teacher, ES/MS/HS - Provides and is accountable for the planning, assessment, instruction, communication, human relations, safety, and management of a classroom or assigned instructional setting. Supports FCPS mission to inspire, enable, and empower students to meet high academic standards, lead ethical lives, and demonstrate responsible citizenship. To learn more - Click here
---
Acknowledgements
Portions of this or previous month's NASET's Special Educator e-Journal were excerpted from:
Center for Parent Information and Resources
Committee on Education and the Workforce
FirstGov.gov-The Official U.S. Government Web Portal
Journal of the American Academy of Special Education Professionals (JAASEP)
National Collaborative on Workforce and Disability for Youth
National Institute of Health
National Organization on Disability
Substance Abuse and Mental Health Services Administration
U.S. Department of Education
U.S. Department of Education-The Achiever
U.S. Department of Education-The Education Innovator
U.S. Department of Health and Human Services
U.S. Department of Labor
U.S. Food and Drug Administration
U.S. Office of Special Education
The National Association of Special Education Teachers (NASET) thanks all of the above for the information provided for this or prior editions of the Special Educator e-Journal
---
Download a PDF Version of This e-Journal
NASET Members - Login to Access