August 2023 - Special Educator e-Journal
---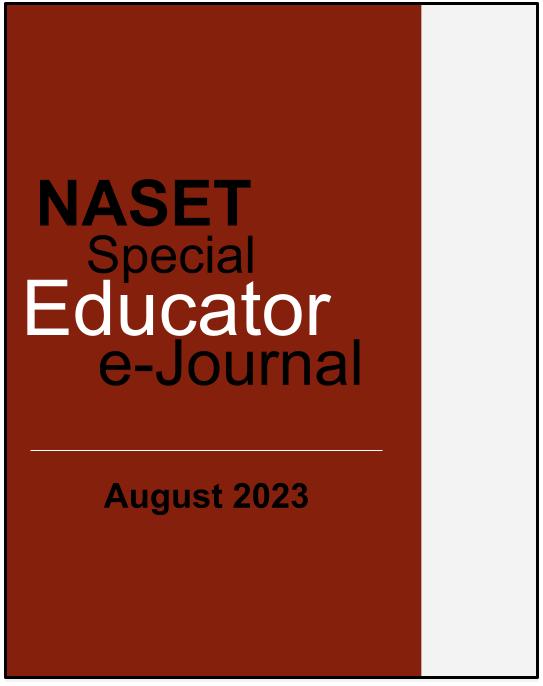 ---
NASET Members - Login Below to access the latest Special Educator e-Journal.
Site visitors: You may access a sample e-Journal - Sample e-Journal
---
Special Education Legal Alert
By Perry A. Zirkel
© July 2023
This month's update identifies a pair of recent court decisions that illustrate unusual issues that arise in school districts' implementation of their IDEA obligations. For related publications and earlier monthly updates, see perryzirkel.com.
NASET Members- Login to Access the Full Article
---
Buzz from the Hub
All articles below and many more can be accessed through login:
The results of the Parent Center data collection for 2021-2022 are now posted on CPIR's website, and we invite everyone to take a detailed look at the impact that Parent Centers have. We also share with you:
An Action-Packed Year for Parent Centers | Here's the infographic CPIR produced with the data Parent Centers submitted. It's 2 pages (designed to be printed front/back to become a 1-page handout or mini-poster). It's a stunning portrait of what can be achieved by a few, extremely dedicated people for the benefit of so many.
Adaptable Infographic for Parent Centers to Use | This infographic is designed so Parent Centers can insert just their Center's numbers, data results, and branding into key blocks of information. Adapt the PowerPoint file, and shine the spotlight on the work of your Center!
Quick Guide to Adapting the Infographic | This 2-page guide shows you where to insert your Center-specific information, just in case having such a "checklist" would be helpful.
NASET Members - Login to Access the Full Article
---
Public K-12 Education Response to Serving Special Education Students During COVID: A Content Analysis
Cheryl L. Burleigh, EdD
Andrea M. Wilson, PhD
Walden University
Erik Bean, EdD
University of Phoenix
***Adapted from the 2023 Spring/Summer edition of JAASEP
Abstract
From the onset of COVID-19, public K-12 schools were scrambling to keep classrooms open virtually providing all students with meaningful learning experiences. This study provides a synthesis of insights gained about K-12 special education service provision during COVID.
A content analysis benchmarking approaches to serving special education K-12 students during COVID-19 included a review of current literature, government, state documentation, and public advocacy data revealed the complexities of this issue. When services are not provided, the school is out of compliance, directly affecting students' educations and the funding the school district receives to support special education programs. Furthermore, when school districts lacked the forethought to anticipate the unexpected or address how to serve students remotely, students were left to fend for themselves. This disruption in legally mandated services detrimentally affected these students and their special education teachers, paraprofessionals, parents, as well as caregivers.
Keywords: Special education services, COVID, compliance, public K-12 schools, regions, special education teachers and caregivers
NASET Members- Login to Access the Full Article
---
IDEA Part B Regulations on Disproportionality
On December 12, 2016, the U.S. Department of Education released final regulations under Part B of the Individuals with Disabilities Education Act (IDEA), aimed at promoting equity by targeting widespread disparities in the treatment of students of color with disabilities. The regulations address a number of issues related to significant disproportionality in the identification, placement, and discipline of students with disabilities based on race or ethnicity. The Department also released a new Dear Colleague Letter addressing racial discrimination.
NASET Members- Login to Access the Full Article
---
Latest Employment Opportunities Posted on NASET
* Special Education Teacher - New Story Schools, is seeking a qualified full-time Special Education Teacher to manage all functions within their assigned classrooms, including service delivery, reporting, and management of classroom assistants and aides. To learn more- Click here
* [2023-2024] High School Science Learning Specialist - Reporting to the Academic Dean, the High School Science Learning Specialist will be responsible for building meaningful relationships with students, implementing a Common Core-aligned curriculum, and working with their grade team to analyze data to drive instruction. This is an exciting opportunity for an educator who is passionate about improving student outcomes by leading excellent instruction and building a positive school culture. To learn more- Click here
* [2023-2024] Dean of Student Supports - Like all DREAM employees, the Dean of Student Supports should demonstrate a strong commitment to the mission and values of DREAM and have substantial expertise in all areas of responsibility. Candidates must also value DREAM's comprehensive approach to education and desire to make a lasting impact in underserved communities as part of a growing organization. To learn more- Click here
* Special Education Teachers – Preschool - Brookville Center for Children's Services provides comprehensive services for children 3-21 years of age with intellectual and developmental disabilities, traumatic brain injury and autism. Approved by NYSED, DOH and OCFS, our mission is to educate and support children of all abilities. To learn more- Click here
* [2023-2024] Middle School ELA Learning Specialist - Reporting to the Academic Dean, the Middle School ELA Learning Specialist will be responsible for providing tailored support to students with special education needs, through integrated co-teaching, in small group settings, or a combination of both. This is an exciting opportunity for a seasoned educator who is passionate about ensuring all students succeed and thrive in school. To learn more- Click here
* [2023-2024] High School Math Learning Specialist- Reporting to the Academic Dean, the High School Math Learning Specialist will be responsible for building meaningful relationships with students, implementing a Common Core-aligned curriculum, and working with their grade team to analyze data to drive instruction. This is an exciting opportunity for an educator who is passionate about improving student outcomes by leading excellent instruction and building a positive school culture. To learn more- Click here
* Special Education Teacher - Functional Life Skills- Be part of a team that includes a full-time Occupational Therapist that provides required IEP services and is embedded in the program throughout the day to provide additional support to students, in-the-moment coaching, and support for carry-over skills. To learn more- Click here
* Special Education Teacher (Sheppard Pratt School- Severna Park High School) - The Sheppard Pratt School - Severna Park High School, is a 10-month special education program, located in Anne Arundel County, Maryland, that provides educational services to students ages 14 to 21 with autism spectrum disorder and emotional disabilities. To learn more- Click here
* SPED/ DHH/ O&M/ Psych/OT/SLP/SLPA - CareStaff Partners is looking for Special Education Teachers, Deaf and hard of hearing teachers, Orientation and mobility specialists, school psychologists, Occupational therapists, Speech and language pathologists and assistants for contract assignments for the 2023/24 school year in Lakewood, WA! To learn more- Click here
* Special Education- Preschool, Preschool Autism (PAC), Visual Impairment Teacher - Provides and is accountable for the planning, assessment, instruction, communication, human relations, safety, and management of a classroom or assigned instructional setting. Supports FCPS mission to "inspire, enable, and empower students to meet high academic standards, lead ethical lives, and demonstrate responsible citizenship." To learn more- Click here
* Special Ed – Middle/High School ED/ID/LD/MD/Severe Disabilities Teacher - Provides and is accountable for the planning, assessment, instruction, communication, human relations, safety, and management of a classroom or assigned instructional setting. Supports FCPS mission to "inspire, enable, and empower students to meet high academic standards, lead ethical lives, and demonstrate responsible citizenship." To learn more- Click here
* Special Ed – Elementary School ED/ID/MD/Severe Disabilities Teacher - Provides and is accountable for the planning, assessment, instruction, communication, human relations, safety, and management of a classroom or assigned instructional setting. Supports FCPS mission to "inspire, enable, and empower students to meet high academic standards, lead ethical lives, and demonstrate responsible citizenship." To learn more- Click here
* Special Education Teacher (Sub-Acute Adolescent Care Unit / Hospital Setting) - Uphold all principles of confidentiality, Health Insurance Portability and Accountability Act (HIP AA), and patient care to the fullest extent. Adhere to all FDIHB policies and the professional and ethical behavior standards of the healthcare industry. Interact in an honest, trustworthy and dependable manner with patients, employees and vendors. To learn more- Click here
* Exceptional Education Teacher - *Sign on bonuses of $8,000* Hamilton County Schools, located in Chattanooga, TN, is building the best school district in Tennessee. We are committed to excellence for every student and are seeking outstanding teachers with the ability to inspire, engage, and who desire to make a difference in the lives of students. With nearly 80 schools located in urban, rural, and suburban communities, we are confident that you can find your place in Hamilton County. To learn more- Click here
* Special Education Teacher 2023-2024 SY - At Epic Special Education Staffing, you will have the opportunity to apply your unique expertise to school-based special education as your singular focus. We offer stimulating and rewarding careers in special education which provide an opportunity to make a difference in a child's life while enhancing your personal and career growth! To learn more- Click here
* Special Education Teacher 2023-2024 SY - If you're looking to leverage your expertise to make a real difference in special education- you belong at Epic Special Education Staffing. We Go All In…we are fully invested in everything we do. Whether it's work or play, we bring our strengths and passion to give our team and our partners 100%. To learn more- Click here
* Special Education Teacher 2023 2024 SY - Epic Special Education Staffing is partnering with an exceptional school district who is looking for several contract Special Education Teachers for the 2023-2024 school year. To learn more- Click here
---
Acknowledgements
Portions of this or previous month's NASET's Special Educator e-Journal were excerpted from:
Center for Parent Information and Resources
Committee on Education and the Workforce
FirstGov.gov-The Official U.S. Government Web Portal
Journal of the American Academy of Special Education Professionals (JAASEP)
National Collaborative on Workforce and Disability for Youth
National Institute of Health
National Organization on Disability
Substance Abuse and Mental Health Services Administration
U.S. Department of Education
U.S. Department of Education-The Achiever
U.S. Department of Education-The Education Innovator
U.S. Department of Health and Human Services
U.S. Department of Labor
U.S. Food and Drug Administration
U.S. Office of Special Education
The National Association of Special Education Teachers (NASET) thanks all of the above for the information provided for this or prior editions of the Special Educator e-Journal
---
Download a PDF Version of This e-Journal
NASET Members - Login to Access