August 2022 - Special Educator e-Journal
---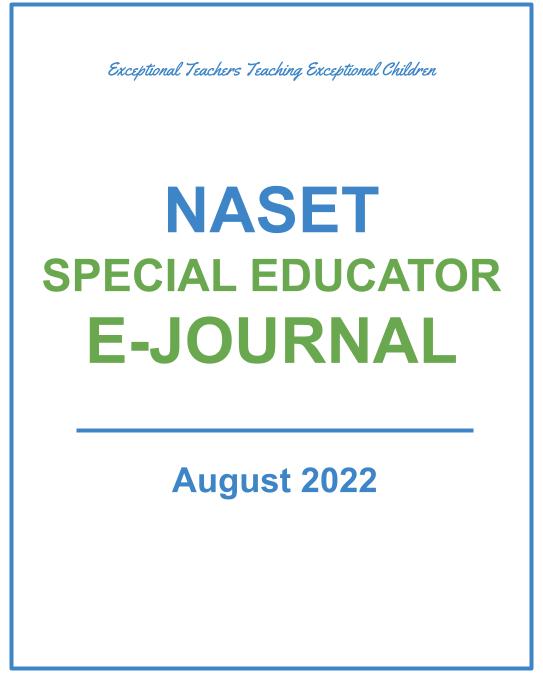 ---
NASET Members - Login Below to access the latest Special Educator e-Journal.
Site visitors: You may access a sample e-Journal - Sample e-Journal
---
Special Education Legal Alert
By Perry A. Zirkel
© July 2022
This month's update identifies two recent court decisions that respectively address (a) various FAPE issues, including predetermination, and (b) the problematic adjudicative hurdle of "exhaustion." For related publications and earlier monthly updates, see perryzirkel.com.
NASET Members- Login to Access the Full Article
---
Buzz from the Hub
All articles below can be accessed through login:
An Action-Packed Year for Parent Centers
Adaptable Infographic for Parent Centers to Use
Quick Guide to Adapting the Infographic
PTAs Leading the Way in Transformative Family Engagement
Summer and Sensory Processing Issues

And many more!!
NASET Members - Login to Access the Full Article
---
School Inclusion
Inclusion is part of a much larger picture than just placement in the regular class within school. It is being included in life and participating using one's abilities in day to day activities as a member of the community. Inclusion is being a part of what everyone else is, being welcomed and embraced as a member who belongs It is being a part of what everyone else is, and being welcomed and embraced as a member who belongs. Inclusion can occur in schools, churches, playgrounds, work and in recreation.
—Kids Together, Inc.
NASET Members- Login to Access the Full Article
---
U.S. Department of Education Announces Engage Every Student Initiative to Ensure Every Student Has Access to High-Quality Learning
To support President Biden's call last week for schools to use American Rescue Plan funds to support summer learning and afterschool programs, the U.S. Department of Education is announcing the Engage EveryStudent Initiative. The Initiative will help communities utilize American Rescue Plan funds alongside other state and local funds to ensure that every child who wants a spot in a high-quality out-of-school time (OST) program has one. This announcement coincides with National Summer Learning Week.
"Quality out-of-school time programs have always supported students' academic, social, and emotional growth, but as we recover from the pandemic, these opportunities have never mattered more," said Secretary Miguel Cardona. "We need bold action, especially for low-income students and students of color who have historically struggled to access quality afterschool programs and rich summer learning experiences. This new partnership cements the Department of Education's commitment to ensuring that more students have access to meaningful, enriching out-of-school programming, not just some of the day, but all day, all year round."
NASET Members - Login to Access the Full Article
---
U.S. Department of Education Announces $68 Million in Grants to Support Students Through Full-Service Community Schools
Last month, the U.S. Department of Education released a Notice Inviting Applications for the Full-Service Community Schools (FSCS) grant program that provides academic support and strengthens connections among schools, parents and families, and their surrounding communities. This program aligns with the priorities and vision set forth by the Biden-Harris Administration and U.S. Secretary of Education Miguel Cardona in support of high-quality educational opportunities for all students.
Full-service community schools play an important role in providing academic supports, integrated health and social services, and engagement opportunities to students while also creating stronger connections between families, communities, and their local public schools. These priorities align with the Biden-Harris Administration's work to scale evidence-based approaches to support students' academic, social, emotional, and physical well-being. President Biden requested Congress increase funding for the FSCS Program to $468 million in his fiscal year 2023 budget.
NASET Members - Login to Access the Full Article
---
"I'm not Prepared:" Experiences of Professionals Working with Students with Disabilities and Co-occurring Mental Health Disorders
Megan Fujita, Ph.D., MSW
Grace L. Francis, Ph.D.
Jodi Duke, Ed.D.
George Mason University
***Note: This article is from the 2022 Spring/Summer edition of the Journal of the American Academy of Special Education Professionals (JAASEP)
Abstract
Despite policies providing resources to students with disabilities (SWD), high school and college SWD are diagnosed with co-occurring mental health disorders (D/MH) at higher rates than their peers without disabilities. As these adolescents transition into young adulthood, education professionals become increasingly important in providing support and resources. As such, the purpose of this study was to examine high school and higher education professionals' perceptions related to factors exacerbating mental health among students with D/MH and barriers in supporting students with D/MH. Using a basic interpretive approach, researchers analyzed data from interviews and focus groups. Participants identified (a) missed diagnosis and unmet needs, (b) academic and social pressure, and (c) high school transition as factors exacerbating student mental health needs. They identified (a) professional tension, (b) limited training and professional development, and (c) structural barriers in schools as barriers limiting ability to support students with D/MH. Implications for practice and future research are discussed.
Keywords: disability, mental health, young adult, college, high school
---
Handout for Parents: 11 Questions to Ask About Your Child's Resource Room Placement
This article from Friendship Circle offers parents of children with disabilities a guiding list of 11 questions to ask if the school is proposing that their child receive part of his or her special education in a resource room, rather than completely within the general education classroom. As the article begins:
---
Handout for Parents: Taking the Alternate Assessment Does Not Mean Education in a Separate Setting
This 4-page Parent Brief comes from the TIES Center, is authored by Ricki Sabia and Martha Thurlow, and focuses on alternate assessments for students with the most significant cognitive disabilities. As the brief explains, alternate assessments are designed by states based on the state content standards for students in a particular grade, but have different performance expectations for students with significant cognitive disabilities. The brief discusses what qualifies as a "significant cognitive disability" and describes the IEP team's role in deciding whether or not a student will take the state's alternate assessment instead of the regular assessment given to all students in that grade.
NASET Members - Login to Access the Full Article
---
Latest Employment Opportunities Posted on NASET
* Middle School Teacher: Grades 6-8 - Students are broken into small groups for math, reading, and written language. The team-teaching model requires good communication and professional collaboration skills to provide the best educational experience for our students. To learn more- Click here
* Special Education Teacher K-12 - To develop students' interest, abilities, talents and skills for education and understanding by implementing district approved curriculum; documenting teaching and student progress/activities/outcomes; developing lesson plans; modeling the necessary skills to performing assigned tasks; providing a safe and optimal learning environment; and providing feedback to students, parents and administration regarding student progress, expectations, goals, etc. To learn more- Click here
* High School Math Teacher - Gateway Academy is the first 6th-12th Grade Private Day School in the State of Arizona, specializing in a pure population of Exceptional students. We are seeking a unique Teacher to add to our team of Warriors. To learn more- Click here
* Special Education Teacher for Private New York Schools Program - Under general direction, is responsible for conducting educational classes for special education pre-school and school age students or Early Intervention, Universal Pre-Kindergarten (UPK) or Day Care programs in accordance with the needs of the students and in accordance with the regulations and requirements of the applicable governmental and other regulatory agencies. Acts as team leader of each student's team. The Teacher is a management and supervisory position. To learn more- Click here
* Special Education Teacher - Watertown, NY - Responsible for the supervision of all other staff in the classroom. Ensures that the appropriate staff/child ratio for the classroom is maintained at all times. Support the contribution of parent involvement and to assist in the implementation of this in all aspects of the educational program. Provide homebound services as requested by supervisor as schedule permits. To learn more- Click here
* [2022-2023] Middle School Learning Specialist - Reporting to the Academic Dean, the Learning Specialist will be responsible for providing tailored support to students with special education needs, through integrated co-teaching, in small group settings, or a combination of both. This is an exciting opportunity for a seasoned educator who is passionate about ensuring all students succeed and thrive in school. To learn more- Click here
* [2022-2023] High School Learning Specialist - Reporting to the Academic Dean, the High School Learning Specialist will be responsible for building meaningful relationships with students, implementing a Common Core-aligned curriculum, and working with their grade team to analyze data to drive instruction. This is an exciting opportunity for an educator who is passionate about improving student outcomes by leading excellent instruction and building a positive school culture. To learn more- Click here
* Special Education Teacher and Paraprofessional Positions – District Wide - The purpose of these positions is to help each student learn subject matter and skills that will contribute to his/her development as a mature, capable, and responsible adult. Provide a positive, healthy, and safe environment in which the student can achieve his/her maximum potential. To learn more- Click here
* Chief of Adult Services, Aspire Living & Learning - Reporting to the Chief Executive Officer, the Chief of Adult Services will serve on the eight-person Executive team that provides leadership across the entire organization. In this capacity, the CAS will play an integral role in informing, creating, and executing the strategic direction of Aspire. The CAS will directly manage five staff members, four of whom oversee program operations in an Aspire state (CT, MA, MD, NH) and one of whom oversees facilities. To learn more- Click here
* Special Education Teacher (Sign on Bonus) - The Special Education Teacher works closely with all members of the dedicated, inter-disciplinary therapeutic team supporting the students and classroom. Teachers also collaborate with parents and guardians to ensure the greatest wrap around services, school -to-home communications, and understanding of the student. Collaboration with our partnering school districts is also essential. To learn more- Click here
* Physical Education Teacher (Sign on Bonus) - The Physical Education Teacher works closely with all members of the dedicated, inter-disciplinary therapeutic team supporting the students and classroom. This teacher also collaborates with parents and guardians to ensure the greatest wrap around services, school -to-home communications, and understanding of the student. Collaboration with our partnering school districts is also essential. To learn more- Click here
* Teacher's Aide I (Sign on Bonus) - The purpose of this position is to provide support and performs duties as assigned under the direct supervision of the classroom teacher(s) and by the general direction of the Principal or Assistant Principal. To learn more- Click here
*Special Education Teacher - The Special Education Teacher will teach at one of our Network campuses. The Special Education Teacher will be responsible for planning lessons and curricula, administering assessments, collecting and analyzing data, and relentlessly supporting students to achieve academic excellence. To learn more- Click here
* Special Ed Intellectual Disabilities Teacher, ES, MS, HS - Provides and is accountable for the planning, assessment, instruction, communication, human relations, safety, and management of a classroom or assigned instructional setting. Supports FCPS mission to "inspire, enable, and empower students to meet high academic standards, lead ethical lives, and demonstrate responsible citizenship." To learn more- Click here
* Special Ed Learning Disabilities Teacher, ES, MS, HS - Provides and is accountable for the planning, assessment, instruction, communication, human relations, safety, and management of a classroom or assigned instructional setting. Supports FCPS mission to "inspire, enable, and empower students to meet high academic standards, lead ethical lives, and demonstrate responsible citizenship." To learn more- Click here
* Special Ed Multiple Disabilities Teacher, ES, MS, HS - Provides and is accountable for the planning, assessment, instruction, communication, human relations, safety, and management of a classroom or assigned instructional setting. Supports FCPS mission to "inspire, enable, and empower students to meet high academic standards, lead ethical lives, and demonstrate responsible citizenship." To learn more- Click here
* Special Education Teacher - Autism - Responsible for planning, implementing, and evaluating instructional activities for special education students. Create a flexible class environment favorable to learning and personal growth; establish effective rapport with students; motivate students to develop skills, attitudes, and knowledge in accordance with each student's ability; and establish good relationships with parents and other staff members. To learn more- Click here
* Educational Specialist - Environmental Charter Schools is seeking a talented and dynamic Educational Specialist with a Moderate/Severe credential who is passionate about ensuring educational equity for students with exceptionalities. This position provides the opportunity to partner with special education and general education teachers across three campuses in order to prepare low-income students of color with exceptionalities for college success. To learn more- Click here
* Special Education Teacher - We are recruiting for three Special Education Teachers to serve Quest Academy Day Treatment Center in Longview, WA for the 2022-2023 school year. These positions are full time, 192 day contracts. To learn more- Click here
---
Acknowledgements
Portions of this or previous month's NASET's Special Educator e-Journal were excerpted from:
Center for Parent Information and Resources
Committee on Education and the Workforce
FirstGov.gov-The Official U.S. Government Web Portal
Journal of the American Academy of Special Education Professionals (JAASEP)
National Collaborative on Workforce and Disability for Youth
National Institute of Health
National Organization on Disability
Substance Abuse and Mental Health Services Administration
U.S. Department of Education
U.S. Department of Education-The Achiever
U.S. Department of Education-The Education Innovator
U.S. Department of Health and Human Services
U.S. Department of Labor
U.S. Food and Drug Administration
U.S. Office of Special Education
The National Association of Special Education Teachers (NASET) thanks all of the above for the information provided for this or prior editions of the Special Educator e-Journal
---
Download a PDF Version of This e-Journal
NASET Members - Login to Access