May 2023 - Special Educator e-Journal
---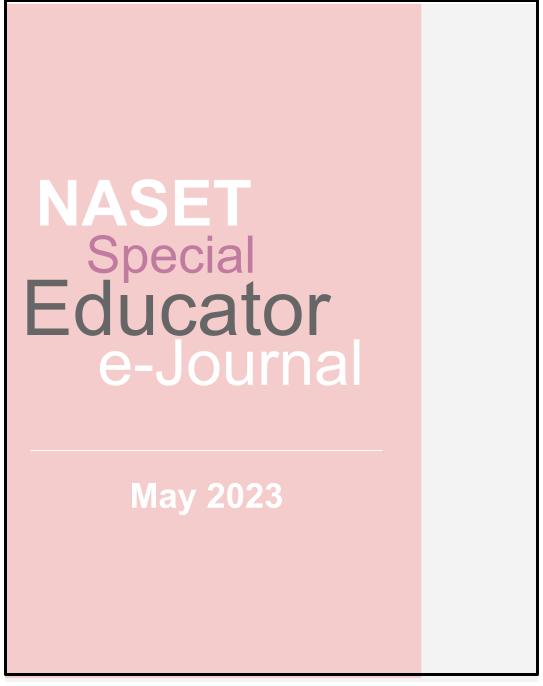 ---
NASET Members - Login Below to access the latest Special Educator e-Journal.
Site visitors: You may access a sample e-Journal - Sample e-Journal
---
Special Education Legal Alert
By Perry A. Zirkel
© April 2023
This month's update identifies a pair of recent court decisions that illustrate differing adjudicative systems and approaches for FAPE and related issues. For related publications and earlier monthly updates, see perryzirkel.com.
NASET Members- Login to Access the Full Article
---
Buzz from the Hub
All articles below and many more can be accessed through login:
Complete Guide to PANS and PANDAS
(Also available in Spanish: Guía completa sobre el PANS y PANDAS)
Step-by-step information from diagnosis to treatment for kids with sudden onset OCD and other confusing symptoms.
What Does OCD Look Like in the Classroom?
(Also available in Spanish: Cómo luce el TOC en el salón de clases)
Signs that a child may be struggling with OCD, even if they are hiding their anxiety.
Videos | Using a Telenovela to Explain the Special Education Process
(Also available in Spanish: Telenovela de educación especial)How do you demystify the special education process for parents, particularly parents for whom English is not their first language? Here's how Arlington Public Schools in Virginia tackled the challenge. The Grandma's Soup video series (La Sopa de la Abuela) is designed to support the engagement of families in the special education process, share information, encourage advocacy skills, and foster collaborative home-school partnerships that positively impact student success. There are 5 episodes in the series, beginning with "What's Going On with My Child?" and ending with "What If We Disagree?"
Family Toolkit: Pediatric-to-Adult Health Care Transition
(Also available in Spanish: Guía para la familia)
This 25-page toolkit from GotTransition has a set of resources for parents to use as they work with their youth during the transition from pediatric to adult health care. This includes sections such as Questions to Ask Your Doctor; Changing Roles; a Turning 18 tip sheet; a Transition Readiness Assessment; and a Health Care Transition Quiz for youth to take to see how ready they are to transition to adult care.
And many more!
NASET Members - Login to Access the Full Article
---
The Latest Supreme Court "Special Education" Decision: Perez v. Sturgis Public Schools
Perry A. Zirkel
© 2023
On average, the Supreme Court only decides one case specific to K­–12 students every four years. About a third of these cases focus on the practice of litigation rather than education, such as burden of proof (Schaffer – 2005), expert witness fees (Murphy – 2006), and pro se parents (Winkelman – 2007).
The latest case, Perez v. Sturgis Public Schools (March 21, 2023) is only understood in tandem with a previous decision focused on specialized litigation rather than special education, Fry v. Napoleon Community Schools (2017). Both concern the IDEA issue of "exhaustion," which refers to the general requirement to complete the administrative adjudication stage before proceeding to court. More specifically, a 1986 amendment to the IDEA allows for bringing non-IDEA federal claims, such as those under Section 504 or the ADA, on behalf of an IDEA-covered student but only after exhausting the due process hearing (and in the eight "two-tiered" states, the review officer) stage before going to court. The courts have gradually evolved limited exceptions to this exhaustion requirement.
NASET Members- Login to Access the Full Article
---
Family-Centered Approach to Teaching Students with Disabilities from Culturally-Linguistically Diverse Backgrounds Who Rely on Augmentative and Alternative to Communicate
By Mariateresa H. Muñoz
Florida International University
Authors' Note
Mariateresa H. Muñoz, Clinical Assistant Professor, https://orcid.org/0000-0002-6421-1291
We have no conflicts of interest to disclose.Correspondence concerning this article should be addressed to Mariateresa H. Muñoz, Florida International University, 11200 S.W. 8th St., AHC3-440, Miami, FL. 33199, United States. Email: munozt@fiu.edu
Abstract
The prevalence of students with disabilities from culturally-linguistically diverse backgrounds is rising in the United States. Many of these children rely on augmentative and alternative communication to communicate (AAC) to meet their daily and academic activities. One of the most significant challenges teachers face is providing culturally and linguistically relevant instruction using AAC. For these students to access their academic learning, a family-centered, interprofessional practice approach to teaching and learning should be implemented. A literature review was conducted to identify current practices using a family-centered, interprofessional practice approach when working with a child with disabilities using AAC to communicate. Peer-reviewed articles published between 2021 and 2023 were retrieved using keywords. Six of the 20 articles reviewed met the inclusion criteria. Findings identified facilitators and barriers to academic achievement using AAC with some cultural groups in the United States.
NASET Members - Login to Access the Full Article
---
Immigrant Student Education in the U.S.
By Shivanna N Birbal
Introduction
Immigrant students with disabilities face unique challenges in the United States. These challenges are compounded by the fact that they may have limited English proficiency and limited access to their cultural practices, making it difficult for them to communicate their needs and understand their rights. Immigrant students may feel alienated culturally and socially, even if they experience academic success (Ladson-Billings, 1995). This literature review aims to explore the social-emotional needs and cultural practices of immigrant students with disabilities.
NASET Members - Login to Access the Full Article
---
Special Education Online: A Review of Literature
By Candace Joshnick
Abstract
The literature review examines some common themes emerging in online education's evolution and how special education is impacted. It evaluates the perspectives of parents, students, educators, administrators, policymakers, and stakeholders' views on special education in digital classrooms. The main themes explored are positive experiences and barriers different stakeholders experience with online special education. Exploring these themes can inform efforts to improve the quality of education for exceptional learners and help address any barriers preventing them from receiving Free and Appropriate Public Education online.
NASET Members - Login to Access the Full Article
---
Latest Employment Opportunities Posted on NASET
* Exceptional Education Teacher - Hamilton County Schools, located in Chattanooga, TN, is building the best school district in Tennessee. We are committed to excellence for every student and are seeking outstanding teachers with the ability to inspire, engage, and who desire to make a difference in the lives of students. With nearly 80 schools located in urban, rural, and suburban communities, we are confident that you can find your place in Hamilton County. To learn more- Click here
* Special Education Teacher (Grand Junction) - At Ascent Classical Academy charter schools, well-educated and articulate faculty utilize direct instruction to convey real knowledge to students using traditional teaching methods. Teachers enjoy a wide array of resources as they create their own lessons within the content-rich curriculum to engage students in a positive and virtue-imbued learning experience in the liberal arts. To learn more- Click here
* Special Education Teacher - Teaching is more than instruction in curriculum, more than report cards, more than parent conferences. Teaching is sharing, giving, receiving, and learning. Teachers who excel in our program often describe their experiences among the most rewarding of their lives.The Stanislaus Academy Teacher is responsible for providing daily instruction for all students in the program. Major responsibilities include IEP development, educational assessment, file maintenance, violation reporting, compliance monitoring, and student discipline. To learn more- Click here
* Special Education Teacher - Ascent Classical Academies are dedicated to the intellectual and moral betterment of students and encourage teachers to take their own intellectual improvement seriously as part of a supportive and excellence-driven culture. At Ascent Classical Academy charter schools, well-educated and articulate faculty utilize explicit instruction to convey real knowledge to students using traditional teaching methods. To learn more- Click here
* High School Special Education Teachers - We seek the most talented and dedicated educators to bring their skills, experience, and energy to a collaborative and innovative learning environment where teachers are empowered to meet each student's unique learning needs and open the doors to new and rich opportunities. Our teachers are dynamic and innovative pedagogues who are committed to urban students and the issues they face every day. To learn more- Click here
* Special Education Teacher - Our Special Services staff provide specialty and individually designed instruction to approximately 4,000 students with disabilities. We are looking for a passionate energetic educator to join our partnership in teaching and learning! Throughout your career, the SFSD team will be there to support, guide, empathize, and celebrate with you. To learn more- Click here
* Special Education Teacher 2023-2024 SY - At Epic Special Education Staffing, you will have the opportunity to apply your unique expertise to school-based special education as your singular focus. We offer stimulating and rewarding careers in special education which provide an opportunity to make a difference in a child's life while enhancing your personal and career growth! To learn more- Click here
* Special Education Teacher 2023-2024 SY - If you're looking to leverage your expertise to make a real difference in special education- you belong at Epic Special Education Staffing. We Go All In…we are fully invested in everything we do. Whether it's work or play, we bring our strengths and passion to give our team and our partners 100%. To learn more- Click here
* Special Education Teacher 2023 2024 SY - Epic Special Education Staffing is partnering with an exceptional school district who is looking for several contract Special Education Teachers for the 2023-2024 school year. To learn more- Click here
* Special Education Teacher - Seeking Licensed Special Education Teacher for 3+ months working 7.5 Hours M-F in Kansas City, Kansas - 66104. To learn more - Click here
* [2023-2024] High School ELA Learning Specialist - Reporting to the Academic Dean, the High School ELA Learning Specialist will be responsible for building meaningful relationships with students, implementing a Common Core-aligned curriculum, and working with their grade team to analyze data to drive instruction. This is an exciting opportunity for an educator who is passionate about improving student outcomes by leading excellent instruction and building a positive school culture. To learn more- Click here
* [2023-2024] High School Math Learning Specialist - Reporting to the Academic Dean, the High School Math Learning Specialist will be responsible for building meaningful relationships with students, implementing a Common Core-aligned curriculum, and working with their grade team to analyze data to drive instruction. This is an exciting opportunity for an educator who is passionate about improving student outcomes by leading excellent instruction and building a positive school culture. To learn more- Click here
* [2023-2024] 7th Grade Math Learning Specialist - Reporting to the Academic Dean, the Learning Specialist will be responsible for providing tailored support to students with special education needs, through integrated co-teaching, in small group settings, or a combination of both. This is an exciting opportunity for a seasoned educator who is passionate about ensuring all students succeed and thrive in school. To learn more- Click here
* High School Teacher - MATERNITY LEAVE - We are currently collecting applications for an innovative, energetic, and committed Teacher to join us for the 2023-2024 school year to teach High School subjects such as personal finance, algebra 1, and computer applications. This is a one-year maternity leave position, with many teaching materials provided. There is the possibility of it becoming a permanent position at the end of the year. To learn More- Click here
* High School Teacher - Are you an educator seeking a position that provides a supportive environment with small class sizes of no more than 10 students, which allows you to provide an educational experience that changes kids' lives? Do you have a passion for using a hands-on approach to learning? If so, Fortune Academy is where you need to be! To learn more- Click here
* Special Education Early Elementary Teacher - Our integrated curriculum is tailored to the student's developmental level, sensory processing differences, and emotional-regulatory needs. At The Helix School, we emphasize our student's capabilities and provide motivation-based, kinesthetic, and sensory-based functional, social-emotional and academic learning. To learn more- Click here
* Special Education Teacher 2023-2024 SY - If you're looking to leverage your expertise to make a real difference in special education- you belong at Epic Special Education Staffing. We Go All In…we are fully invested in everything we do. Whether it's work or play, we bring our strengths and passion to give our team and our partners 100%. To learn more- Click here
* Special Education Teacher (Sheppard Pratt School- Hunt Valley) - The Sheppard Pratt School - Hunt Valley is a year round special education program that provides educational services to students ages five to 21 with complex intellectual and behavioral disabilities, including autism spectrum disorder and other related disorders. Sheppard Pratt offers tuition reimbursement as well as offering fast track Standard Professional Certificate in Special Education and Masters of Arts in Leadership in Teaching programs in partnership with Notre Dame of Maryland University. To learn more- Click here
* Special Education Teacher in Arizona - $70,000/year - STARS is owned and operated by Occupational Therapists. You will be an employee and receive full benefits. Summers off with year-round pay and year-round appreciation. With a proven track record, STARS is able to offer you an unbeatable support system and resources. STARS places Special Education Teachers throughout the Phoenix, Tucson and the surrounding area public schools. To learn more- Click here
---
Acknowledgements
Portions of this or previous month's NASET's Special Educator e-Journal were excerpted from:
Center for Parent Information and Resources
Committee on Education and the Workforce
FirstGov.gov-The Official U.S. Government Web Portal
Journal of the American Academy of Special Education Professionals (JAASEP)
National Collaborative on Workforce and Disability for Youth
National Institute of Health
National Organization on Disability
Substance Abuse and Mental Health Services Administration
U.S. Department of Education
U.S. Department of Education-The Achiever
U.S. Department of Education-The Education Innovator
U.S. Department of Health and Human Services
U.S. Department of Labor
U.S. Food and Drug Administration
U.S. Office of Special Education
The National Association of Special Education Teachers (NASET) thanks all of the above for the information provided for this or prior editions of the Special Educator e-Journal
---
Download a PDF Version of This e-Journal
NASET Members - Login to Access